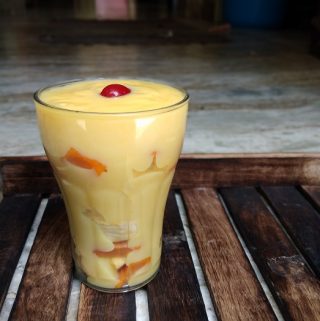 Mango Banana Custard Recipe
Super creamy and dreamy banana mango custard which taste so delicious. This delicious dessert is perfect for this summer. Taste so yummy.
For Custard:
Custard Powder - 2 tblspn

i used storebought vanilla flavour

Milk - 2 cup

Vanilla Essence - 1 tsp

Sugar - 4 tblspn
Start by making the custard, because it has to cool down.Take Custard powder in a bowl and add some of the milk. Mix well so no lumps are formed. Set aside. Take the remaining milk and sugar in a sauce pan and bring it to boil, add in the custard mix and keep cooking till it gets thick. Take it off the heat and add in vanilla. Mix well. Pour this into a bowl.Chill this in fridge till cold.

When serving, take small bowl, spoon fruit over it and top with custard. then top with more fruits and custard. Top with a cherry.

Chill for few hours in fridge.

Serve cold.