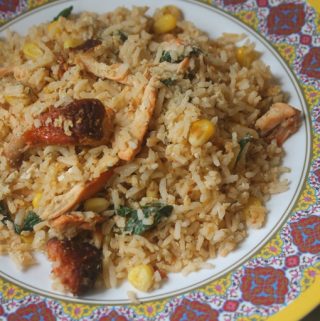 Stir Fry Rice for Kids
Super easy and quick to make stir fry rice for kids. This recipe can be made using leftover cooked rice and chicken. Great recipe to put in kids lunch box.
Cooked Rice - 1 cup

Eggs - 2

Cooked Chicken - ½ cup shredded

Sweet corn - ¼ cup

frozen, thawed

Spinach - ½ cup roughly chopped

Salt to taste

Pepper to taste

Butter - 2 tblsp
Mix eggs with salt and pepper and mix well.

Heat butter in a pan.

Add in cooked rice and stir fry for 1 mins.

Add in spinach, chicken and sweet corn and stir fry for 5 mins.

Now add in the egg mix and stir fry for 6 to 8 mins till the eggs are fried well.

Serve.