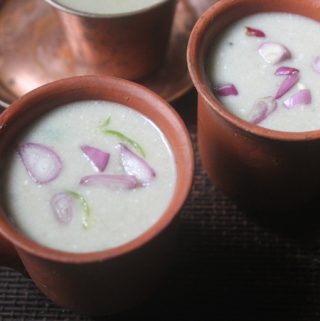 Instant Bajra Porridge Recipe - Kambu Koozh Recipe (Pearl millet)
Healthy bajra koozh which taste so refreshing and it very cooling for this summer time. This porridge is such a healthy way to start your day.
Bajra / Pearl Millet / Kambu - ½ cup powdered

Water - 1.5 cup

Salt to taste

Buttermilk -1 cup or to taste

Shallots / Sambar Onion - ¼ cup chopped
FOR SEASONING:
Oil - 1 tsp

Mustard Seeds / Kaduku - ½ tsp

Asafoetida / Hing / Kaya Podi - ¼ tsp

Green Chillies - 1 to 2 chopped finely

Curry leaves - 1 sprig
Take bajra, water in a sauce pan and mix well so there is no lumps.

Heat it and cook till it is thickened.

Take it off the heat and add salt. MIx well and set aside to cool down.

Once cooled add buttermilk and shallots and mix well.

Heat oil for seasoning, add all ingredients and let it sizzle.

Pour into the porridge and mix well.

Serve.