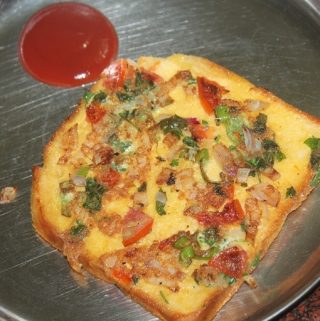 Spicy French Toast
Delicious spicy french toast which taste super yummy for breakfast or as a after school snack for kids. Perfect with some ketchup on the side.
Bread Slice - 2

Egg - 1

Onion - 4 to 5 tblsp chopped finely

Tomato - 2 tblsp chopped finely

Green Chillies - 1 chopped finely

Coriander Leaves - 3 tblsp chopped finely

Salt to taste

Oil or Butter as needed
Mix all ingredients. Coat bread in this.

Heat butter in a pan, cook bread till golden on both sides.

Serve.