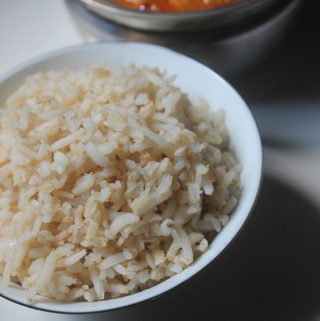 How to Cook Brown Basmati Rice - Absorption Method
Healthy rice which can be used in making pulao, biryani or fried rice. This basmati rice is rich in fiber and is very good for weight loss too.
Take rice in a bowl and wash it really well with different changes of water. Now take it in a bowl and cover with water..Let it soak for a minimum of 15 mins, you can soak it upto 1 hour max.

Now drain the rice and add it in a pot. Add water and bring it to a boil.

Cover the pot and simmer to the lowest flame. Cook this for 15 to 17 mins by which time the rice must have absorbed all the water.

Now off the flame open it and fluff it with a fork. Cover the pot again and leave to sit for 15 mins.

Now you can fluff it and serve or use in your cooking.