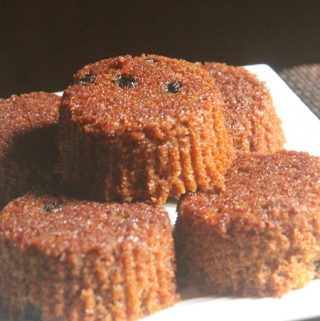 Raisin Bran Muffins Recipe
Healthy wheat bran raisin muffins which taste super moist and so soft. It is a perfect way to start a morning. Enjoy with a cup of milk and you are in business.
Egg - 1

Oil - ⅓ cup

80 ml

Honey - ½ cup

120 ml

Wheat Bran - 1.5 cup

Baking Powder - 1 tsp

Baking soda - ½ tsp

Salt a pinch

Milk - ½ cup

120 ml

Vanilla Extract - 1 tsp

Raisins - ½ cup
(MY 1 CUP MEASURES 240 ML)
Preheat oven to 180 degree C. Line muffin pan with cupcake cases.

Take egg, milk, oil, vanilla in a bowl and whisk well.

Add in bran, baking powder, baking soda, salt and mix well.

Add in raisins and mix well.

Spoon this into muffin pan and bake for 25 to 30 mins.

Serve.