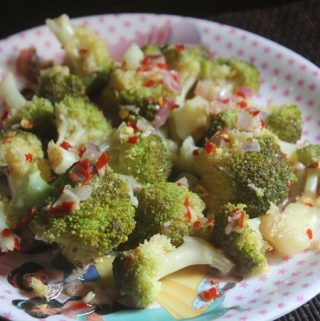 Healthy Broccoli Salad Recipe - Weight Loss Recipes
Healthy broccoli salad which taste so delicious and is so good for your body. The salad is highly nutritious and helps in weight loss.
Broccoli - 3 cups

Onion - 1 chopped

Garlic - 3 cloves grated

Salt to taste

Red Chilli Flakes - 1 tsp

Vinegar or Lemon Juice - 1 tblsp

Olive Oil - 3 tblsp
Take little water in a sauce pan, add a pinch of salt. Bring it to a boil.

Add in broccoli and cover and cook for 2 to 3 mins.

Drain and set aside.

Take onion, garlic, salt, chilli flakes, oil and vinegar in a bowl. Mix well.

Add in cooked broccoli and toss well.

Serve.