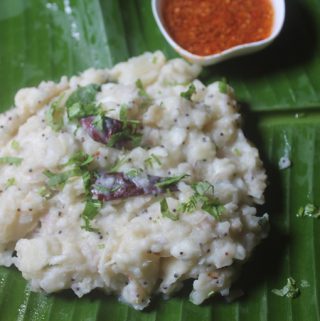 Mashed Tapioca Recipe - Maravalli Kilangu Masiyal Recipe
This mashed seasoned tapioca is so tasty and is a great alternative for mashed potatoes. This has so many health benefits in them too.
Tapioca / Maravalli Kilangu - 1 large boiled

Coconut Oil - 1 tblsp

Mustard Seeds / Kaduku - 1 tsp

Dry Red Chilli - 2

Curry leaves a sprig

Onion - 1 medium chopped finely

Salt to taste

Boiled Milk - 1 cup

Coriander Leaves as needed
Peel the skins of tapioca and boil them. Mash them roughly.

Heat oil in a pan, add mustard, curry leaves and chillies.

Add onions and salt and mix well.

Add mashed tapioca and salt and mix well.

Add boiled milk and mash well.

Serve.