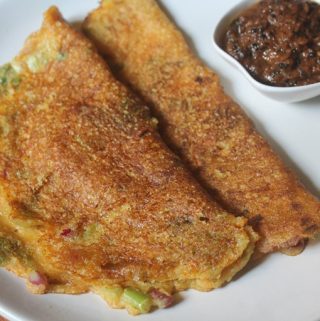 Sooji Cheela Recipe - Rava (Semolina) Cheela Recipe
Healthy and easy sooji cheela made easily in few mins. This is so easy to make and is great for busy morning. You can even make the batter in advance and make cheela the next day.
Sooji / Rava - 1 cup

Yogurt / Curd - 3 tblsp

Water as needed

Carrot - ½ cup grated

Spring Onion or Onion - ½ cup grated

Coriander Leaves - 3 tblsp chopped

Green Chilli - 1 chopped finely

Chilli Powder - 1 tsp

Cumin Powder - 1 tsp

Turmeric Powder - ½ tsp

Salt to taste

Oil for making cheela
Take sooji, curd and water in a blender and puree till smooth.

Take it in a bowl. Add all ingredients and extra water to make a batter like,

Heat a nonstick pan, make dosa using the batter,

Drizzle oil around the dosa. Cook till golden.

Flip and cook.

Serve.