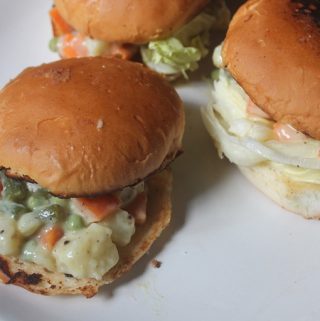 Russian Salad Sandwich
This is a creamy addictive salad burger made with lots of veggies and mayonnaise. Even though it is not the healthiest salad but it is a great way to include veggies in your diet.
Potato - 1 large peeled and cubed

Carrot - 1 large chopped

Beans - 10 chopped

Peas - 1 cup

Cauliflower - 1 cup cut into florets

Mayonnaise - ½ cup

Cream - ¼ cup

Mustard Sauce - 1 tblsp

Salt to taste

Sugar - ½ tsp

Pepper to taste

Lettuce as needed

Burger Buns - 4 to 5

Butter or oil as needed for making buns
Take all veggies in a steamer and steam for 10 mins till it is fork tender. Set aside to cool.

Take mayo, cream, mustard sauce, salt, sugar, pepper and mix well.

Add veggies in this and toss well.

Chill for few hours.

Serve cold.