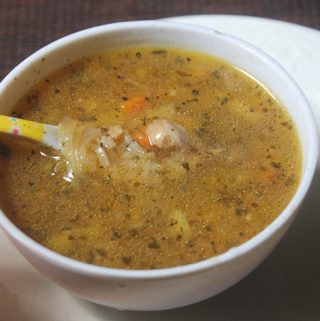 Chicken & Rice Soup for Flu
Healthy and nutritious chicken & rice soup which is very healing for flu or fever. This gives you the lost energy to your body and makes you super healthy.
Chicken - 500 grams with bones

Oil - 1 tsp

Onion - 1 medium size chopped finely

Carrot - 1 chopped finely

Garlic - 5 cloves chopped finely

Dried Parsley - 1 tblsp

Cooked Rice - 1 to 2 cups

Salt to taste

Pepper to taste

Water as needed
Take chicken, salt and water in a sauce pan. Cook till chicken done. Drain and chop chicken into small pieces. Set aside the stock.

Heat oil in a pot, Add onions and carrot and saute for 5 mins.

Add garlic and parsley and mix well.

Add stock, chicken, cooked rice and mix well.

Season with salt and pepper and mix well.

Serve hot.