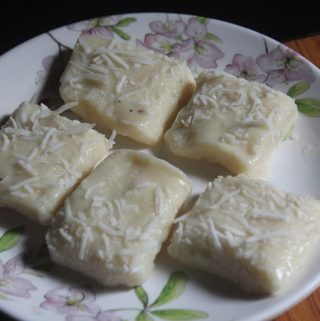 White Chocolate Coconut Bars
White chocolate coconut bars are super delicious. This bar is so sweet and full of coconut flavour. I enjoyed every bit of it.
White chocolate - 2 cups chopped

Cream - ¼ cup

Coconut Extract - 1 tsp

Desiccated Coconut - 1 cup
Take chocolate, cream in a sauce pan and melt it gently.

Add in coconut and coconut extract and mix well.

Spoon it in a parchment paper lined pan and let it set for 1 hour.

Cut into pieces and serve.