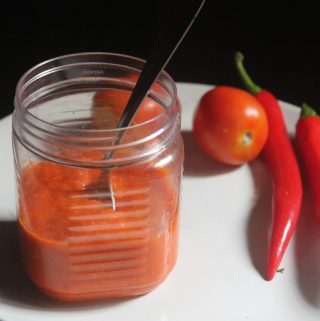 Homemade Red Chilli Sauce Recipe
Red Chilli Sauce makes a great dip or accompaniments for many dishes. This homemade version has so much flavour that store bought and taste so delicious.
Fresh Red Chillies - 10

Tomato - 2 chopped

Garlic - 6 cloves

Onion - 1 small chopped

Oil - 1 tblsp

Salt to taste

Sugar - 2 tblsp

Vinegar - ¼ cup
Heat oil in a pot, add garlic and onions and saute for a min.

Add in chillies and tomatoes and cook till it is mushy.

Add in salt and sugar and mix well.

Cool this and blend it with vinegar till smooth.

Store in a clean jar in fridge.