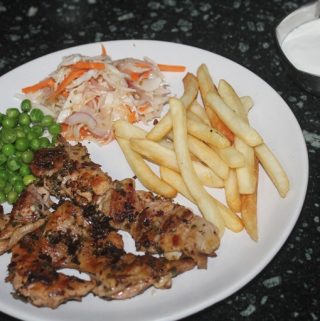 Greek Inspired Chicken Recipe
Greek inspired simple grilled chicken which has lots of flavours in them. These chicken turn out super juicy and flavourful.
Garlic - 1 tblsp minced

Coriander leaves or Parsley - 3 tblsp chopped finely

Red Chilli Flakes - 1 tsp

Oregano - 2 tsp

Black Pepper - 1 tsp

Salt to taste

Lemon Juice - 2 tblsp

Olive Oil - 3 tblsp

Boneless Skinless Chicken Thighs - 500 grams
Mix all ingredients together. Add chicken in and mix well.

Leave to marinade for 2 hours.

Heat a grill pan, cook chicken on grill for 8 to 10 mins on each side.

Remove and serve with sidedishes.