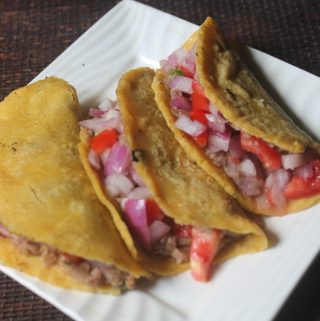 Refried Beans Tacos Recipe - Soft Vegetarian Tacos Recipe
Super delicious mexican refried beans tacos which taste so good. You can never resist with just one.
Corn Tortilla - 10

Refried Beans - 2 cups

Onion - 1 large chopped finely

Tomato - 2 large chopped finely

Green Chilli - 2 chopped finely

Lemon Juice to taste

Salt to taste

Coriander leaves as needed chopped finely
Take all ingredients from onions to coriander leaves and mix well.

Take corn tortilla, spread beans on top.

Top with some pico and serve.