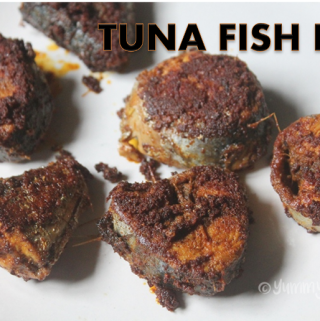 Tuna Fish Fry Recipe - Choorai Meen Fry Recipe
Spicy and delicious fish fry which has a simple marinate all over it. Taste so yummy with plain rice or rasam rice.
Tuna Fish - 8 pieces

Chilli Powder - 1.5 tblsp

Pepper Powder - 1 tsp

Garam Masala Powder - 1 tsp

Turmeric Powder - 1tsp

Salt to taste

Ginger Garlic Paste - 2 tblsp

Lemon Juice / Vinegar - 3 tblsp

Oil - 2 tblsp + for frying
Take all ingredients except oil for deep frying and fish into a bowl. Mix well to a paste.

Add it to fish and mix well. Let it marinate for 30 mins.

Fry it in hot oil till golden on both sides.

Drain and serve.