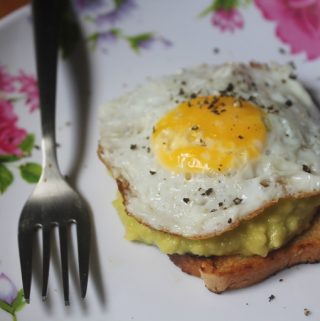 Breakfast Avocado & Eggs on Toast
This is a unusual combination but taste heavenly. The creamy avocado acts as a sauce over the bread and with the fried egg, it taste amazing.
Brown Bread as needed

Eggs as needed

Oil as needed

Avocado - 1

Lemon Juice - to taste

Salt to taste

Black Pepper to taste
Prepare toast as per your liking.

Heat oil in a pan and fry some eggs as per your liking.

Take avocado in a bowl, add salt and lemon juice and mash well.

Take bread toast, spoon avocado on top, top with fried eggs. Sprinkle salt and pepper on top.

Serve.