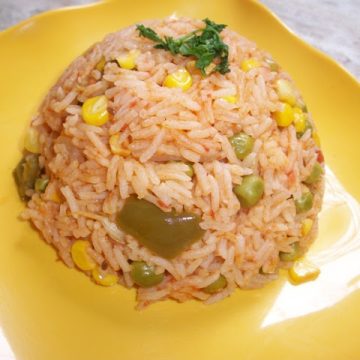 Mexican Rice Recipe | Spanish Rice Recipe
Mexican Rice Recipe with Step by Step Pictures. Spanish rice made with garlic, rice, onions, tomatoes which taste absolutely delicious.
Long grain rice-1 cup

Peas-½ cup

Sweet corn-½ cup

Tomato puree-1 cup

Garlic-4 cloves minced

Capsicum-½ chopped

Cumin seeds-1 tsp

Red chilli powder-1 tsp

Salt to taste

Olive oil-1 tblpsn

Vegetable Stock / Water-2 cup

Coriander leaves for garnishing
Heat oil in a pan and add in garlic, cumin seeds, onions, capsicum and saute for 2 min.

Add peas, sweet corn and mix well.

Season with salt..Add in rice and fry for few min.Throw in red chilli powder.

Pour in the stock or water. Add in Tomato puree and mix well..

Let it cook till the rice absorbs all stock or water.

Garnish with coriander leaves and serve hot..