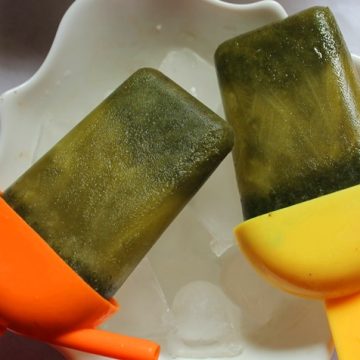 Mint & Lemon Popsicles Recipe | Easy Popsicle Recipes
Mint & Lemon Popsicles Recipe or Easy Popsicle Recipes with step by step pictures. This is made with Mimt, Lemon .It is easy make and make refreshingafter you have it.
Mint Leaves - 2 cups

Simple Syrup - 1 cup or to taste

Lemon Juice - 2 to 3 tblspn or to taste

Water - 1 cup

Sugar - 1 cup

Water - 1 cup
Start by making simple syrup, take sugar and water in a sauce pan, heat till the sugar dissolves and comes to a boil. Take it off the heat and let it cool down. Store it in a bottle in fridge for many many months.

Now take the other ingredients and simple syrup in a blender and make it into a fine puree.

Transfer this into a pourable jug, and fill the popsicle moulds. Dont fill it too much.

Pop this in the freezer and freeze for 6  to 8 hours. i freezed ovenight.

When you want to serve, run the mould in water and carefully remove it from case.

Serve..