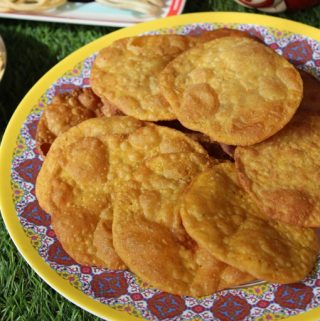 Gujarati Masala Puri Recipe
Delicious crispy spicy masala puri which is not only easy to make but taste amazing too. This is perfect for this diwali.
Wheat Flour - 1 cup

Gram

Flour - 1 tblsp

Salt to taste

Chilli powder - 1 tsp

Turmeric Powder - ½ tsp

Coriander powder - 1 tsp

Salt to taste

Oil or Ghee - 2 tsp

Oil for deep frying

Water as needed
Take flour and spices in a bowl. Add ghee and mix well.

Add in water and shape into a dough.

Divide it into equal portions.

Roll it out and prick top with fork.

Deep fry in hot oil.

Serve.