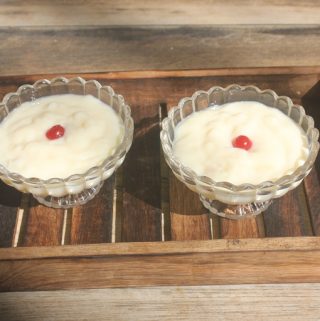 Eggless Vanilla Pudding Recipe
Delicious silky eggless vanilla pudding which taste so delicious. You can serve it with fruits or nuts. You can layer them between some cookies or cakes and enjoy them as dessert.
Milk - 2 cup

Cornflour / Cornstarch - 3 tblsp

Sugar - ½ cup

Salt - ¼ tsp

Unsalted Butter - 2 tblsp

Vanilla Extract - 2 tsp
Take cornflour, sugar, salt in a bowl. Add in ½ cup of water and whisk till creamy.

Heat milk in a sauce pan and bring it to a simmer.

Add in cornflour mix and cook till it thickens.

Take it off the heat and add in butter and vanilla and mix well.

Pour it into a bowl, cover with plastic wrap and chill overnight.

Serve.