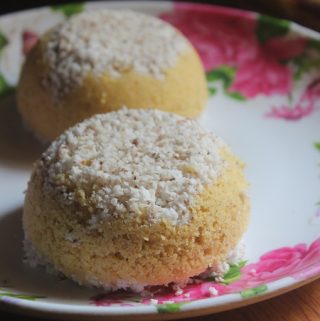 Makki Atta Puttu Recipe - Yellow Corn flour Puttu Recipe
Makki Atta Puttu is a healthy and delicious steamed cake which makes a great breakfast option. This is highly nutritious and taste good with banana and sugar.
Take cornflour, salt in a bowl and mix well. Sprinkle water and rub it well to form coarse breadcrumbs like.

Now take a puttu making pan,first add some coconut,then add the flour mixture, and again coconut.

Place this in the steamer or the vessel where we will put this puttu kolal..and cook for 10 min.Now slowly remove it and invert it.

Serve it hot.