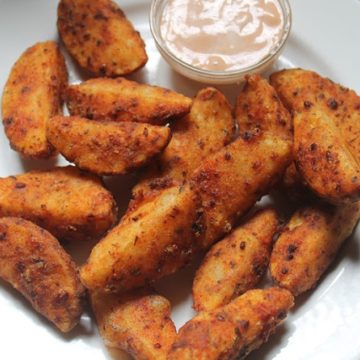 Crispy Potato Wedges Recipe
Crispy Potato Wedges Recipe with step by step pictures. This recipe is made using potatoes, maida, yogurt added with some spice mix. It is so crispy and tasty.
Medium Small Potatoes - 6

Buttermilk or Yogurt - ½ cup

dilute yogurt with some water

All Purpose Flour / Maida - ¾ cup

Oil for Deep Frying

For Spice Mix:

Parsley - 1 tsp

Basil - 1 tsp

Rosemary - 1 tsp

Oregano - 1 tsp

Chilli Flakes - 2 tsp

Marjoram - 1 tsp

Salt to taste

Pepper - 1 tsp

Sugar - ½ tsp

Citric Acid - a pinch
Take all the spice mix in a blender and pulse it few times. Set aside.

Now take buttermilk and flour in separate bowls, add half spice into buttermilk and other half into flour.

Now take your potatoes, wash them well. Cut it into wedges.

First dip it in buttermilk and then in flour. Set aside in a wire rack so it dries a little.

Drain it on some paper towel.

Serve.