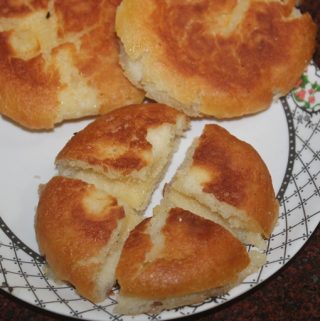 Madurai Special Butter Bun Recipe
A quite different madurai special recipe which is loaded with butter. It is so good you will be craving for it often.
Sweet Bun - 3 to 4

Butter - 4 tblsp or as needed

Sugar - 6 tblsp or as needed

Milk - 6 tblsp or as needed
Slit bun, spread butter on both side, sprinkle with sugar and spoon over some milk on both side. Cover it up.

Melt butter in a pan, place the buns and place some more butter on top.

Use a spatula to flatten the bun. Cook till golden on both sides, keep flattening it.

Cut it and serve.