As the chief caretaker of my home & family, I am always concerned about what my husband is eating and was trying to find out a few healthy meals
We usually have light dinner meals, and he ends up taking his lunch outside most of the time. So I thought about making the one meal-breakfast which also happens to be the most important meal of the day- as nutritious as possible for him! Coming from South India, my husband and I love our coffee and rice.
My dietician had suggested me to add more protein to our diets as the diet was good in carbs but was lacking protein! So, I thought of trying Coffee Protein shake. I was only weighing the options for the right kind of food options. I had heard some buzz about OZIVAshakes initially I was a bit hesitant but later I did some research and found that it is a Meal replacement shake with high protein content and also has Ayurvedic herbs.
I thought of giving it a try and ordered it from Amazon. My husband has been having it every morning. Infact, after buying my husband also got a call from one of their dieticians who helped him with a diet plan. He was very happy to see such a personalized touch to buying a product.
I also realized it's one of the easiest healthy wholesome options if someone doesn't have time to whip up a hearty breakfast. It takes less than 5 mins for me to get the breakfast done on a few days !
Here is what the product claims –
OZiva's simple logic behind helping with weight loss is to ensure the energy expenditure is more than total energy consumption. Nutritional Meal shake for Men is a well balanced and carefully crafted meal enriched with additional benefits of ayurvedic herbs such as ashwagandha, garcinia and musli that provides the complete nutrition of one meal.
A glass of nutritional meal shakes provides,
1) 28 gram of protein = to 4 serving lentils or 5 eggs
2) 28 Essential Vitamins and Minerals
3) Save 500-700 calories
4) Keeps one full for 3-4 hours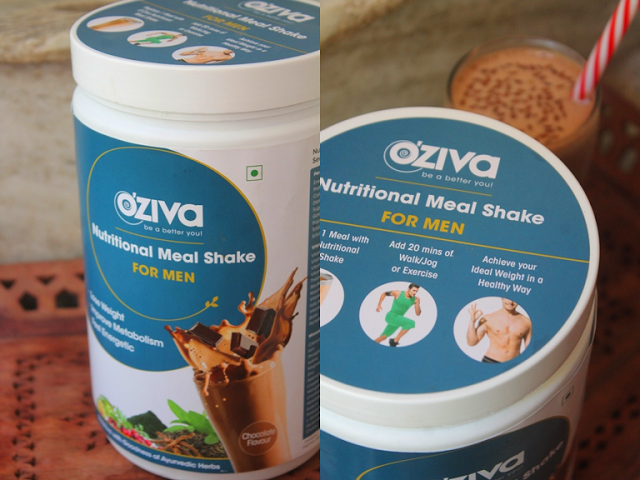 Pin
The unique blend of added Ayurvedic herbs helps to:
· Boost Metabolism
· Prevent Fat Buildup
· Help relieve stress and lower anxiety
· Fight Cravings
Deliver fantastic weight loss results while providing essential nutrients, all at your convenience
They have two separate products for both men and women, specific to their different body types.
Nutritional Meal Shake for Women is enhanced with Ayurvedic herbs such as Shatavari, Tulsi, Green tea extract and Garcinia. I am planning to get the women's shake for me as well
I made a delicious Protein Coffee shake using this; you can just make it as a normal shake by adding only milk.
To use this product, add a scoop of this powder to 300 ml of skimmed milk and blend till smooth and creamy. You can have it either for breakfast, lunch or dinner. If you are looking to achieve weight loss, It will be more effective if you add up 30 mins of walk, jog or exercise to it.
You can buy this product right here . It's also available on Amazon


Preparation Time : 5 mins
Serves: 1


Ingredients:
Soya Milk - 300 ml
OZIVA Nutritional Meal Shake - 1 scoop
Flax Seed Powder - 1 tsp
Instant Coffee Powder - 1 tsp
Icecubes as needed
Method:
Take all ingredients in a blender and puree till smooth.
Pour it into serving glass and serve.


Pictorial:
Take all your ingredients
This is OZIVA Nutritional meal shake powder for men
add coffee powder or decotion
add in a scoop of OZiva protein powder
pour it into serving glass
Serve

Try out the
recipe and let me know how did you feel?