I am really proud to be MasterChef Tamil season 1 contestant. I will cherish this moment for my life. This journey is going to be a life experience. Being a food blogger and food you tuber for over 12 years, this is like a trophy for me. This is going to take my culinary journey to a whole new level.
In this post I am sharing my whole masterchef journey in this post. Happy reading!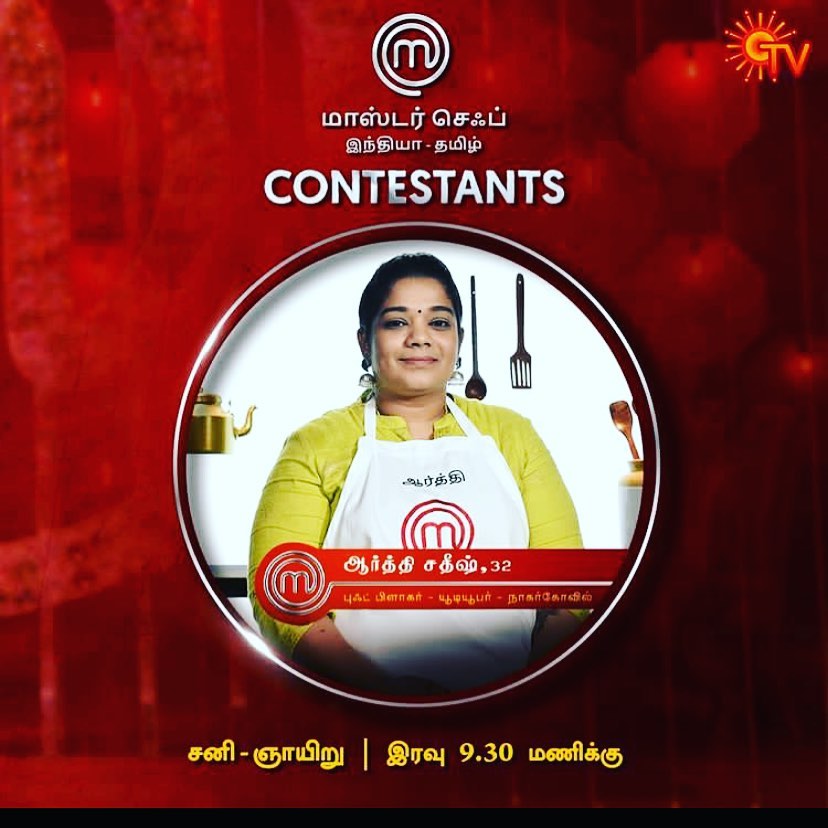 Why Masterchef?
For Every cook the Name "Masterchef" is like a dream. It is one show that popular all over the world. It is one of my dream too. I really wished to be on the show ever since I started watching masterchef australia.
One day I received a call from "cup of tea" media company. They told me that masterchef is planning to launch shows in regional languages and one of that is tamil. and I was shorlisted for the audition. At first I was quite skeptical about this and thought so many times whether I should apply or not. Later decided to give it a try.
I was told to attend the audition in madurai. I was brainstroming the whole time of what dishes to make for the audition.
Audition Dishes
First Level Audition
Trio of Dessert is what I made for my 1st audition of masterchef tamil. I attended my audition in Madurai. This dessert got me very good appreciation. The chefs who tasted this told me that, it is a restaurant quality dessert. They finished my entire plate in a matter of minutes. The comments on my dish made me float in cloud nine.
Trio of desert means, Three Flavoured, Three Textured Dessert in Three shapes.
—->Fudgy chocolate brownies with salted caramel sauce and chocolate shards (dense, fudgy texture with intense bitter chocolate flavour)
—-> Baked Mini Lemon Cheesecake with Strawberry compote and Strawberry drizzle (creamy texture and tangy lemon flavour)
—-> Butter Coconut Mochi (chewy texture, coconut flavour)
Second Level Audition
Second Level Audition is a Cook off which was conducted in the venue. It is a live cook off.
Tandoori chicken taquitos is what I made for my second level of cook off in Masterchef audition.
Flour tortillas
Tandoori chicken filling with onion tomato salsa
Tortilla chips
Guacamole
Avocado cream sauce
Homemade sour cream
Cantaloupe salsa
Lots of components and dish turned out as I expected.
After the audition I didn't hear anything from the team for few weeks. Finally on April 26 2021 I got a call from the team that I was shortlisted. The happiness in me is priceless I was jumping to the moon and back.
I had a week to pack. Since the masterchef shoot is happening in bangalore. Since It is pandemic, I couldn't take my husband with me and also travelling is restricted. So we were asked to carry enough sets of clothes to last the whole show.
I packed a whole lot of clothes and other essentials. I was as much excited and nervous at the same time. I had a mixed feeling leaving the kids and family. This was the first time I travelled all alone.
Masterchef Tamil Apron Winning Moment
Masterchef Tamil Apron Winning Moment. This is the moment i would cherish throughout my life. Such a proud moment. I made a platter representing my hometown Nagercoil.
I made Nanjil Meen Virundhu. It had Meen maangai kuzhambu (fish raw mango curry), Thayir inji (ginger curd), Mulgai pachadi (onion chilli relish) Smoked puli meen (Tamarind fish fry) and Ulundu choru (Urad dal rice).
I had few struggles which I faced in this challenge. But I executed what i planned to do. Very happy with the dish I made and presented.
I got my apron from the amazing actor vijaysethupathi. That is like a cherry on top.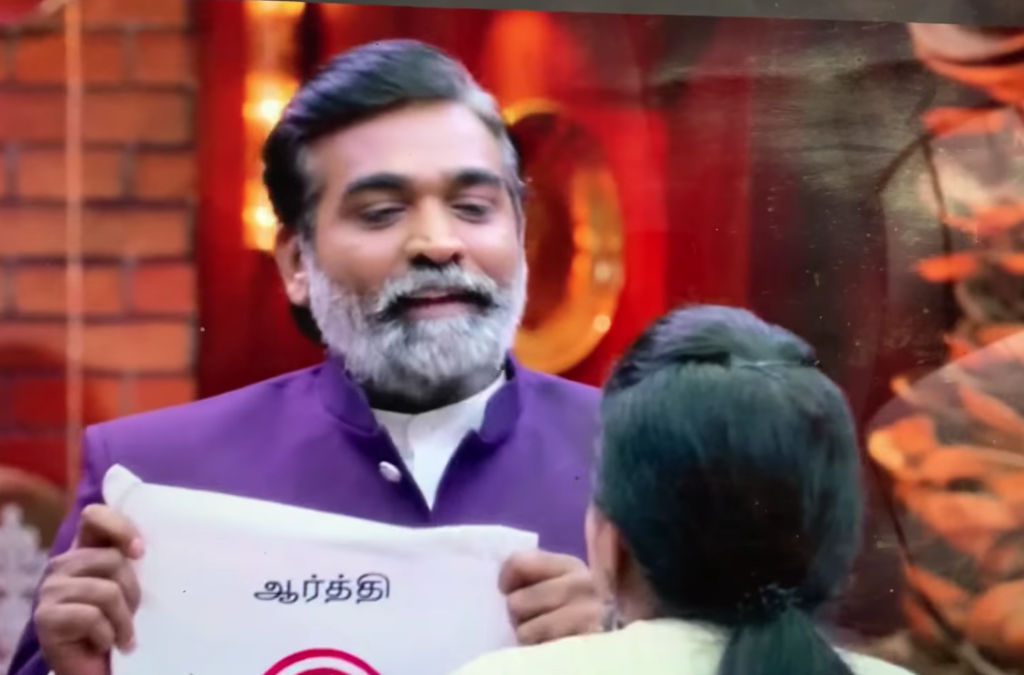 Journey Begins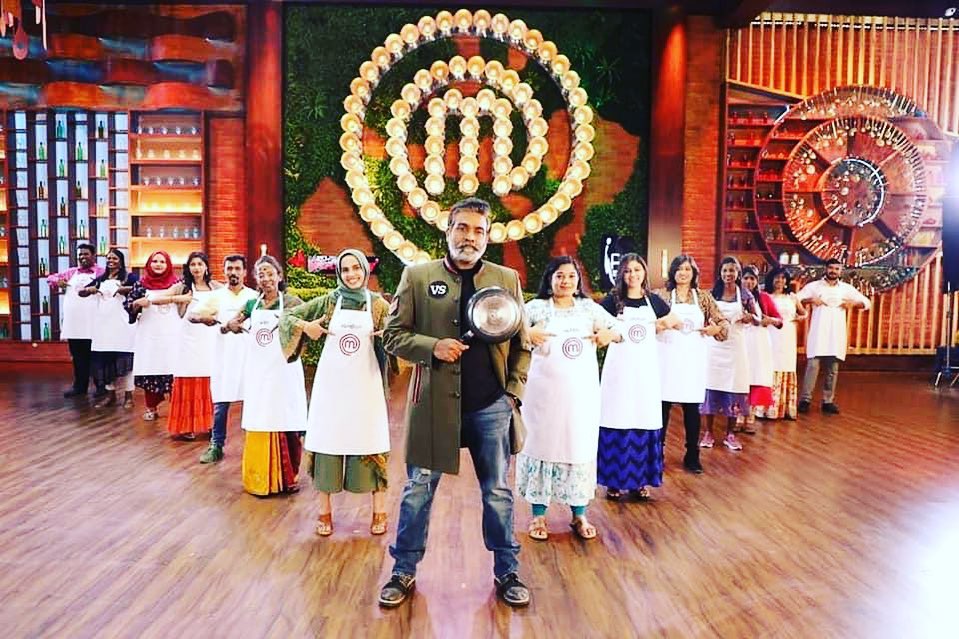 Along with me 13 others got their apron. All the 14 of us proudly entered the show. We were all put up in a hotel. The fun we all had was memorable. It was like once in a life experience.
1) Smoky Sambaram Received Best Mocktail
When my dish was recognized as best mocktail. The moment I will cherish for my life. I made " Smoky Sambaram"
I took the traditional dish and gave it my own twist of smoking it with rosemary and infusing beetroot extract.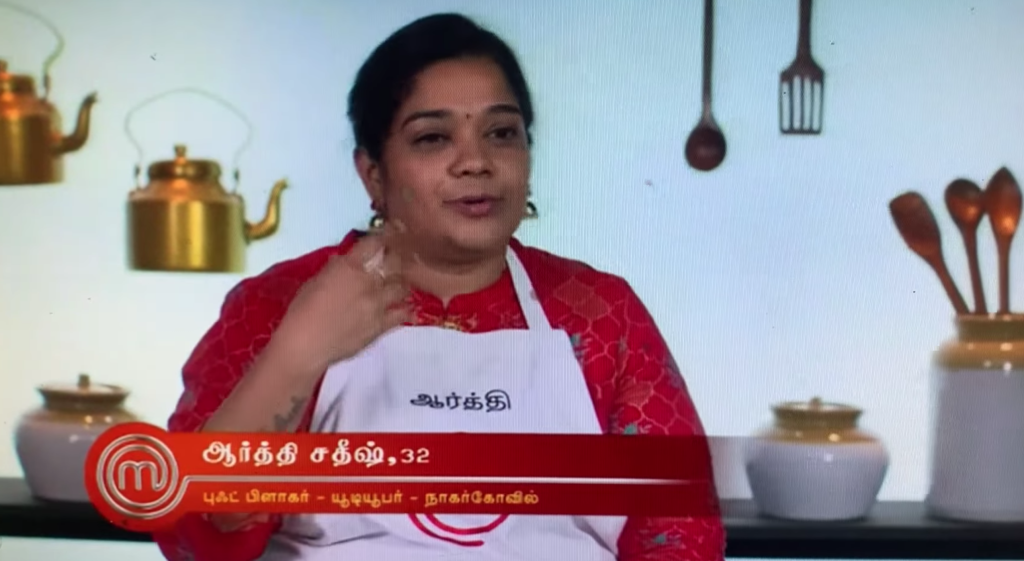 2) Balcony Winning Moment - Waste to Taste Challenge
Waste to taste challenge was very amazing. Shazia and myself was a team. We got chicken feet, egg shell and fish bones.
We decided to make thai fried chicken feet with raw mango salad. We boiled egg shells and fish bones to get fish stock which we used for the salad dressing and dipping sauce.
The chicken feet was fried and tossed in thai indo flavours. The salad is mamong salad which is a thai mango salad.
We decided to make an egg shell seasoning powder which was clearly a winner.
Roasted the egg shell in oven, added garlic powder, chilli flakes, onion powder and roasted peanut. Powdered it fine and sieved.
I was amazed how we can transfer ingredients which we usually consider as waste into an amazing dish. So Proud.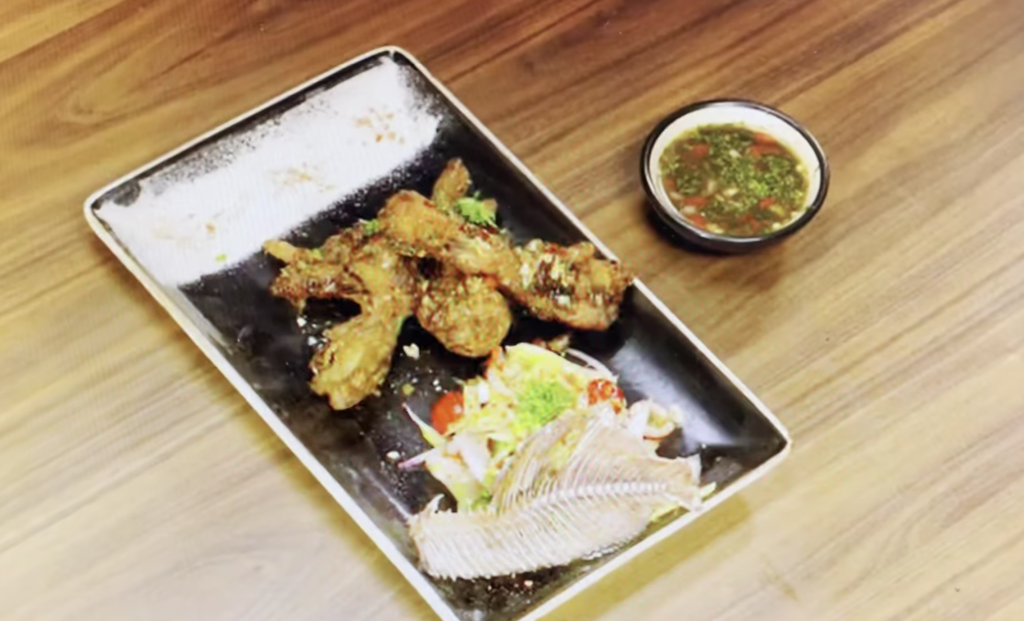 3)Masterchef Immunity Pin Challenge
What an exciting round. It was an egg challenge. There were three levels in the challenge. First level was " whipping meringue" using hands. I am used to electric beater, so it was extremely difficult at first.
But somehow managed to get stiff peaks and went to second level. Second challenge was "poached eggs" challenge. I was very confident because I make poached egg very often at home. But sadly it was not my day. I missed the poached egg challenge in a matter of few seconds .
But judges liked the consistency of the eggs. I am so happy and excited that I came till level 2 in the immunity pin challenge. Over all i enjoyed the challenge. My wishes to nausheen for winning the immunity pin.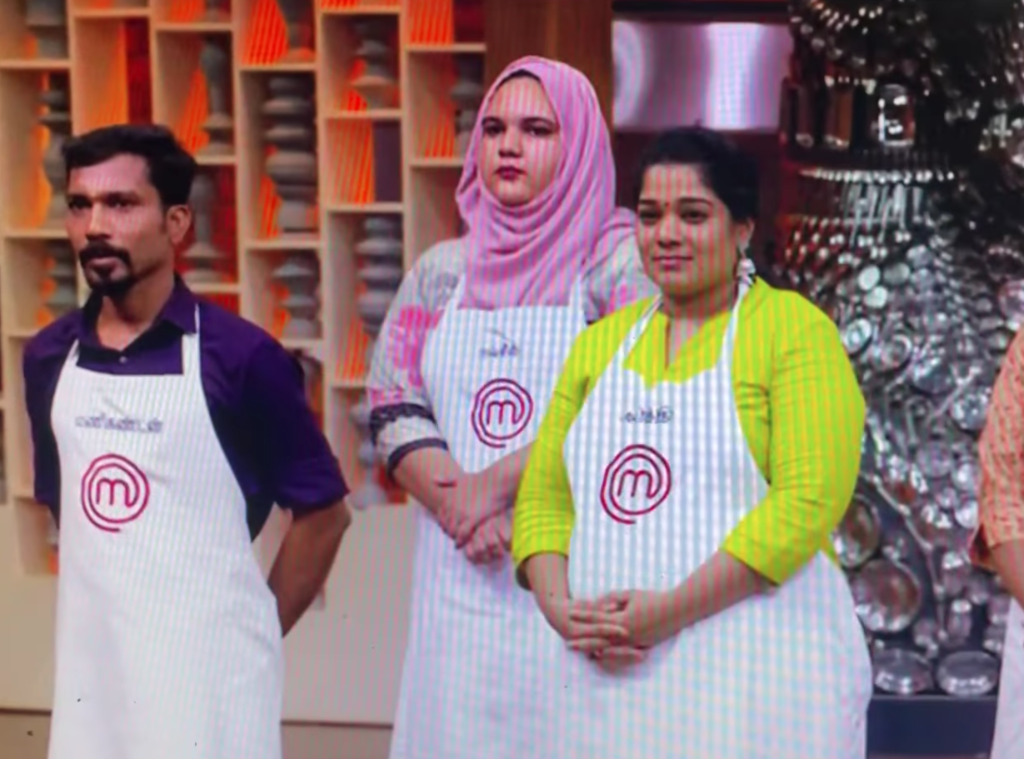 4) 5 Star Kitchen Challenge - Balcony Winning Moment
Wow. One of my most memorable challenge in Masterchef Tamil. Cooking in a 5 star jwmarriott kitchen was a wonderful experience. It was a team challenge. Myself, Kritaj, Mani, Devaki, Sumitra and Vinny was in a team.
I was chosen as team captain. It was a three course menu challenge. Me and Kritaj was incharge of main course and we made paalada pottalam(if you want the recipe, it is in my channel)Judges love the food and the plating of paalada pottalam.
It was an amazing feeling.My team mates were rocking. Everyone did a great job. We don't even know how the 90minutes went by. We cooked like a fire. I couldn't have done this without my team mates. Thankful to each and everyone of my team.
I was so worried whether our team would go to the balcony or not, because as a captain I got that responsibility. Thank god we won that challenge. It was another balcony winning moment. Such a proud moment.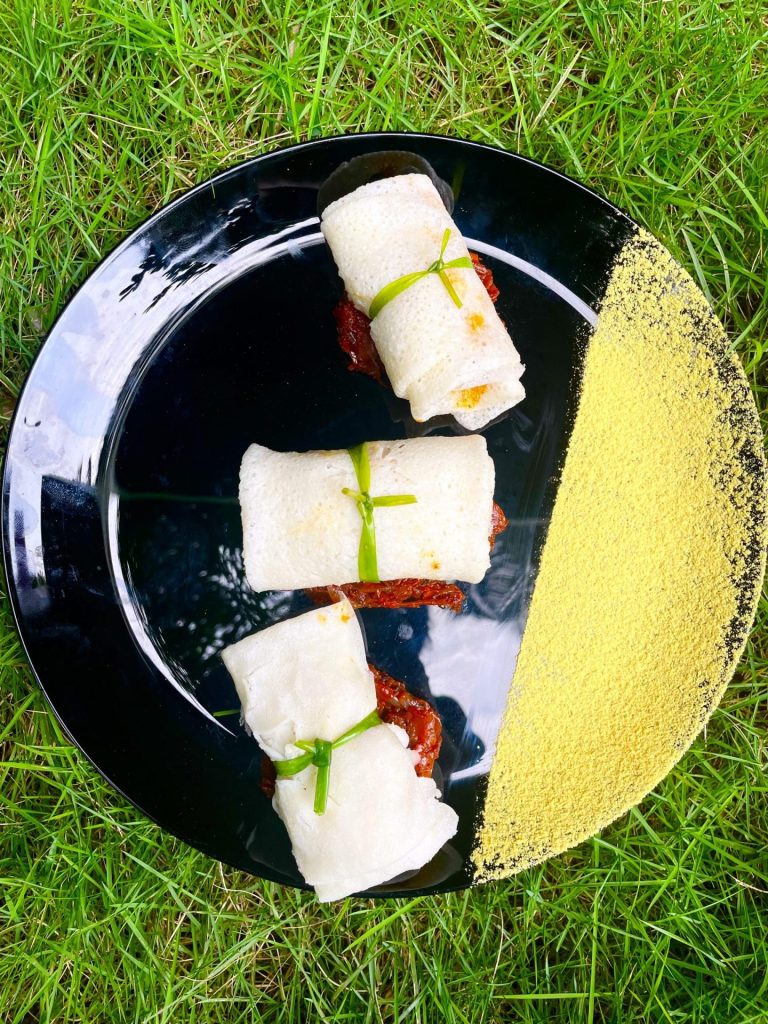 5)My Masterchef Journeys Ends
My Masterchef journey has come to an end.
Never imagined in my wildest dream that my journey would end so soon. I have so much yet to show in the competition. But everything happens is for the best.
The main reason I went to the competition, is to inspire all the women out there who really want to prove themselves. Never think cooking as an everyday chore. It is more than that.
Imagine what you want to become in the coming years. Work towards it, never stop, be consistent, never mind negativity, never expect the results, hard work, love your passion and work. I am damn sure you will shine like star.
If you want to start something in your life, this is the right time to do it. Start now, work towards it, you will succeed.
Masterchef was an amazing experience. Masterchef journey not only improved my culinary knowledge but it was an life experience too.
I am so grateful for each and everyone of you who showered me with your loving messages and comments. This is my success.
My journey in Masterchef may have ended, but my culinary journey has just began. Let's rise and shine together. Love you all so much, you are my inspiration and motivation. Keep supporting.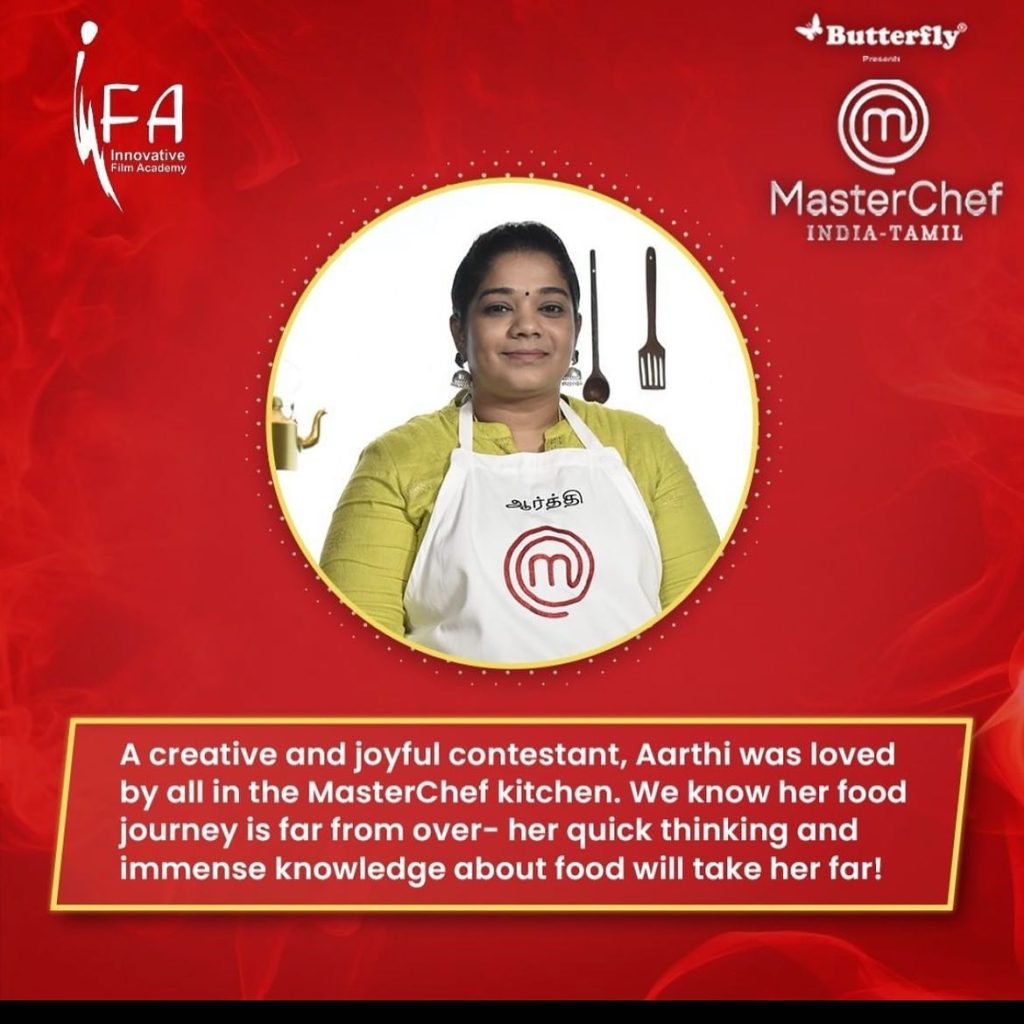 My Family Reaction for Me on Masterchef
My Masterchef Recipes Recreation
Trio of Desserts (Audition recipe)
Nanjil Meen Virundhu (Apron Winning Recipe)
Smoky Rosemary Sambaram (Best Mocktail )
Thai Poricha Kozhi (Waste to Taste Challenge)
Paalaada Pottalam (5 Star Team Challenge)
Life After Masterchef
The way I cook has completely changed after my masterchef journey. I got the opportunity to learn from professional chefs. Learned lots of techniques. Now I have to courage to put up a dish even when there is limited source.
I am showing interest in making some masterchef worthy desserts as well.
I have posted few of these recipe here as well.
Fun looking and candy shaped caramelle pasta which not only looks amazing but taste delicious. This is a special pasta dish for a special occasion.
Check out this recipe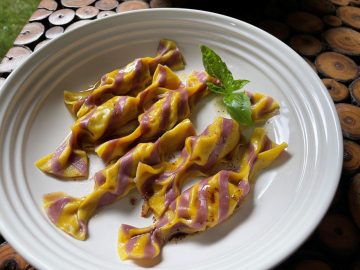 Chocolate mousse dome topped with a shiny mirror glaze. The mousse is creamy and taste absolutely delicious.
Check out this recipe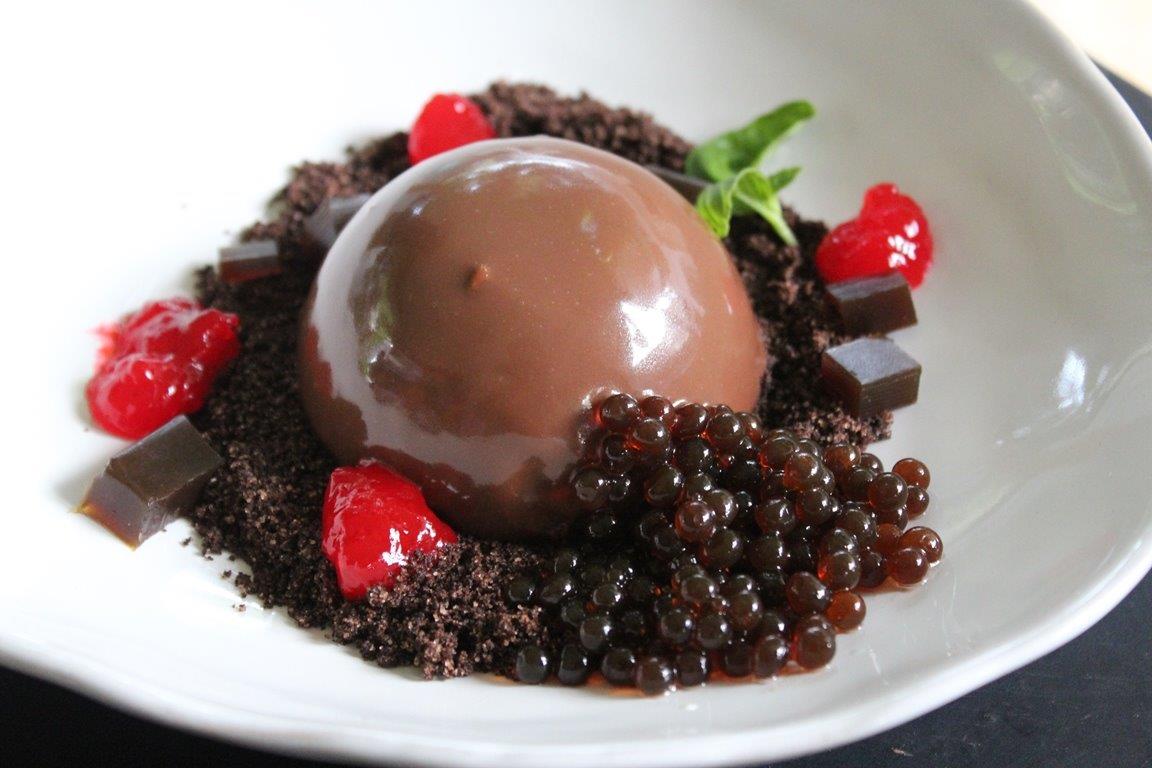 White Chocolate Mousse Dome is a very delicate and little extra dessert which I attempted for the first time. White Chocolate Mousse filled with Lemon Jelly and drizzled with salted caramel sauce.
Check out this recipe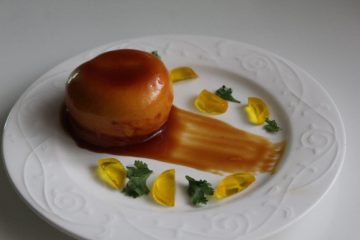 Few of my Experiments on Youtube
Media Mentions for Masterchef Tamil