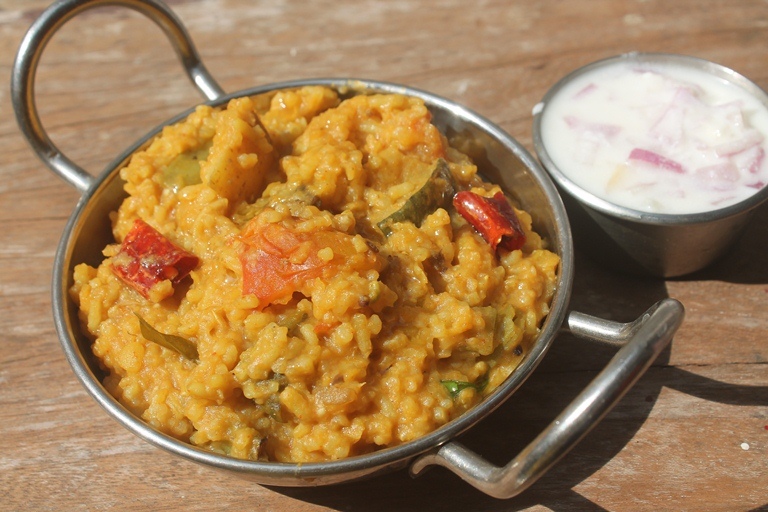 Pin
One pot meal are always a life saver. Because you don't have to baby sit near the stove in cooking rice separately, masala for the rice separately, layering them and cooking them together. Just throw everything in a pressure cooker or a pot and they will take care of themselves.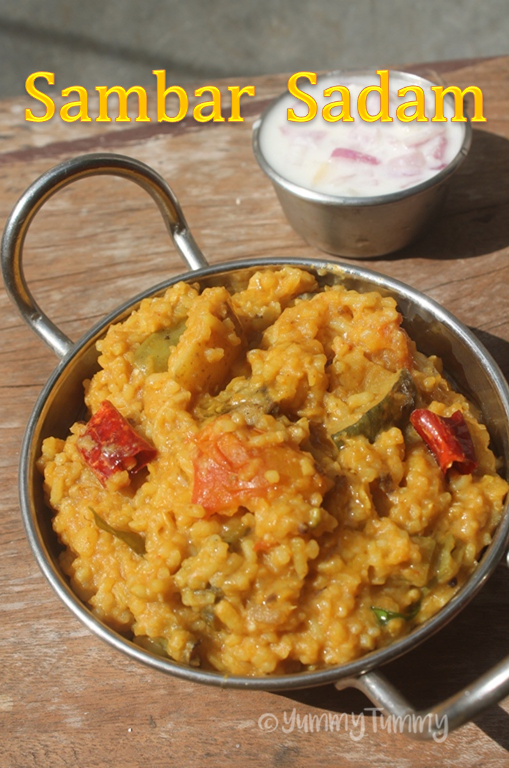 Pin
Specially this sambar sadam is my absolute favorite, because it is loaded with lots of veggies, cooked till they are mushy and they just melt in your mouth. You dont need heavy accompaniment with this too. Just serve it with fried papad and pickle and you are in business. I hope you will try this out and let me know what you think.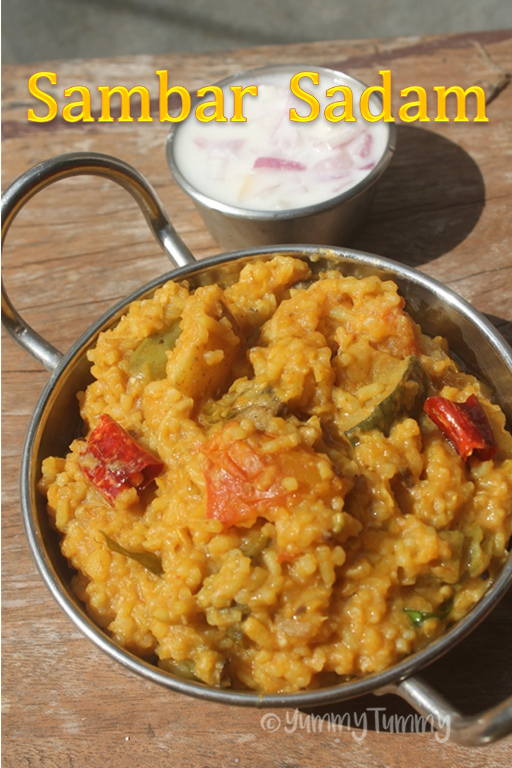 Pin

Preparation Time : 30 mins
Cooking Time: 45 mins
Serves : 6 to 7
Ingredients:
Rice - 1 ½ cup
Toor Dal / Tuvaram Paruppu - 1 cup
Onion - 1 chopped
Tomato - 2 chopped
Carrot - 1 chopped
Raw Banana / Raw Plantain / Vazhakai- 1 peeled and chopped
Brinjal - 1 chopped
Ladysfinger / Okra - 4 chopped
Elephant Yam / Chenai Kilangu- ½ cup chopped
Potato - 1 peeled and chopped
Snake Gourd / Pudalangai - ½ cup chopped
Pumpkin / Poosanikai - ½ cup chopped
Tamarind Pulp - 4 tblspn ( Click here for recipe )
Salt to taste
Sugar - 1 tblspn
Water - 7 ½ cup
Ghee - 1 tblspn to drizzle in the last
For Tempering:
Oil - ¼ cup
Mustard Seeds / Kaduku - 1 tsp
Cumin Seeds / Jeerakam - 1 tsp
Fenugreek Seeds / Methi / Vendayam - 1 tsp
Dry Red Chilli - 3
Curry leaves - a handful

Spice Powders:
Chilli Powder - 1 tblspn or to taste
Sambar Powder - 3 tblspn ( Store Bought )
Turmeric Powder / Manjal Podi - 1 tsp
Coriander Powder / Malli Podi - 2 tblspn
Method:
Wash rice and dal well in lots of water.

Heat oil in a pressure cooker, add in the tempering ingredients and saute for a min.
Now add in onions, tomatoes and toss well. Cook them for 5 mins.
Add in salt, sugar and all the spice powders and saute them for a min.
Now add in all the veggies and toss well with the masala.
Cook them for 5 to 10 mins till the raw smell leaves from them.
Pour in water. Add in dal, rice and tamarind extract.
Bring this to a boil and cover the pressure cooker.
Pressure cook for 5 whistle and simmer for 15 mins. Now switch off the flame and let them steam exscape all by itself.
Drizzle in some ghee and mix well.
Serve with papad and pickle.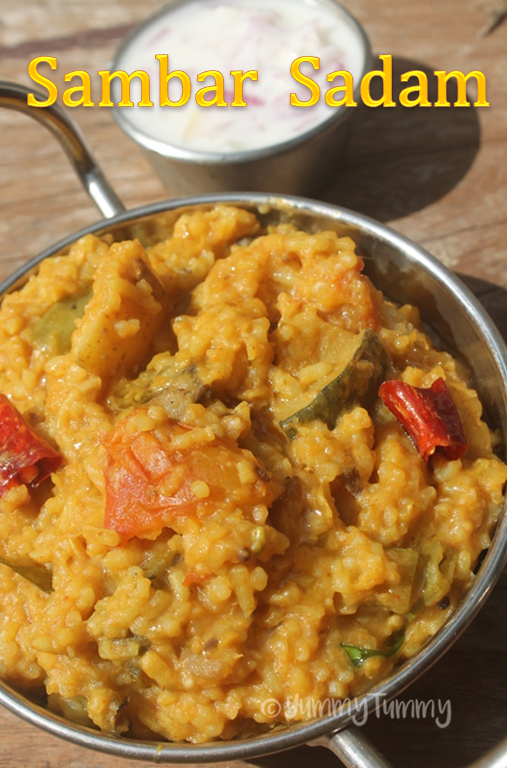 Pin
Pictorial:
Take all your ingerdients
You will need all country veggies
Take dal and rice and soak them
Heat oil in a pressure cooker..Add in tempering items
Add in onions and tomatoes
Season with salt and sugar
Saute them for a while, so that the raw smell leaves
Cook till done..Drizzle in some ghee