Barbeque Nation Crispy Corn Recipe with Step by Step Pictures. How to Make Crispy Corn. Crispy Sweetcorn Barbeque Nation Style with Step by Step Photos. Crispy Corn or Crunchy Corn Recipe. Peri peri fried corn Recipe. Fried Sweet Corn Recipe with Step by Step Guide.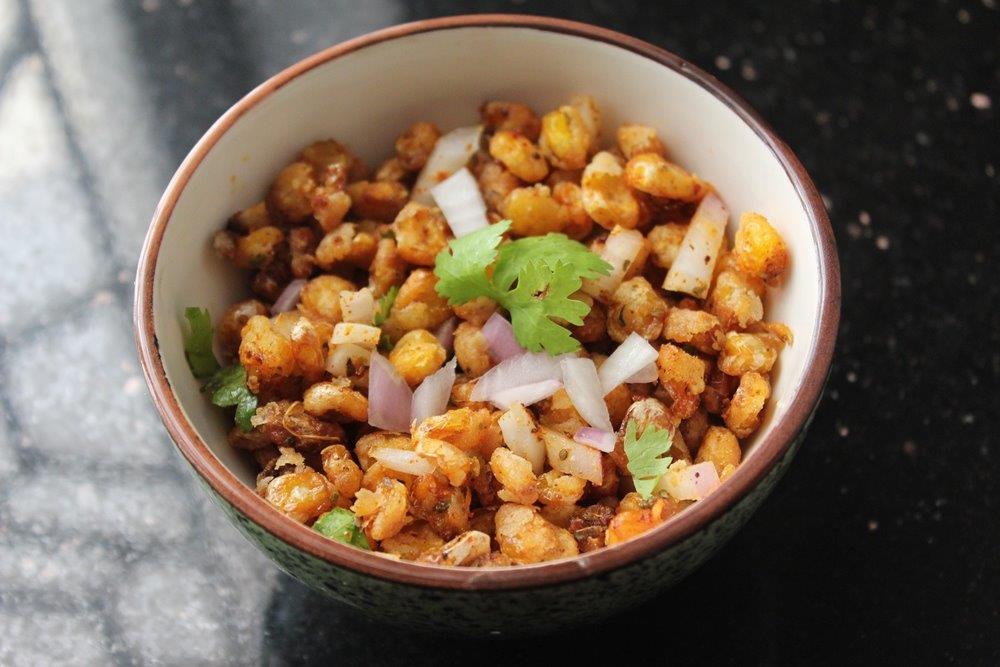 Pin
This is my first attempt of making crispy corn and it was like love at first sight. I am totally loving it and it taste absolutely delicious. This particular recipe is super simple to make and calls for just a handful of ingredients.
You can serve the crispy corn fry recipe as a snack or a starter. The important thing which you have to note in this recipe is to get a thin coating on the sweetcorn which i achieved by sieving the coated corn.
I made this yesterday and kids loved it. Specially maha loved it to the core. She is a very picky eater but she finished the whole bowl in no time at all. So this Crispy corn is kids friendly snack too.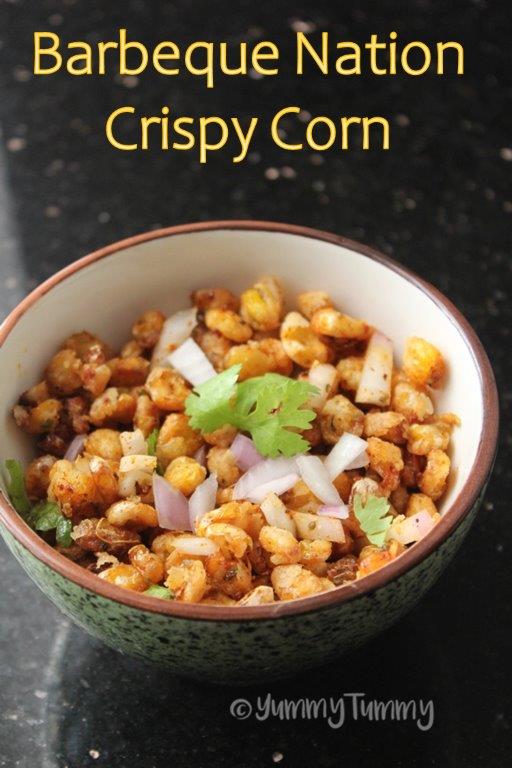 Pin
How to Make BBQ Style Crispy Corn?
Just toss some flour into cooked sweetcorn and fry till crispy. Then toss it in peri per masala mix and some freshly chopped onions, chillies and coriander leaves along with some lemon juice. Thats it.
Pro Tips
I used frozen sweetcorn. You can use fresh sweetcorn as well.
Frozen is best since it dont need any cooking, just thawing is good or just microwave for 1 min.
Drain the corn well before adding flour so it dont get lumpy.
Toss the corn gently in flour so it coats in a thin layer.
Shake excess flour so the oil dont gets too floury.
Fry the corn in very hot oil so it gets very crunchy.
If you dont have peri peri seasoning, just add chilli powder and chaat masala powder.
You can add vinegar instead of lemon juice.
Serve immediately for best taste
BE CAREFUL WHEN FRYING CORN,     IT MAY BURST SOMETIMES
Few extra tips for Crispy Sweet Corn Recipe
Use Fresh shucked corn instead of frozen sweetcorn.
Instead of adding peri peri seasoning, you can use a combination of indian spices.
Combination of chilli powder, chaat masala powder, cumin powder and black pepper powder can be used.
You can use just cornflour and rice flour combination for getting even more crispier corn.
Add finely chopped capsicum if you wish.
Double frying corn may help to get crispier corn. Fry sweetcorn for 1 min on hot oil, drain and then refry again in super hot oil till crispy.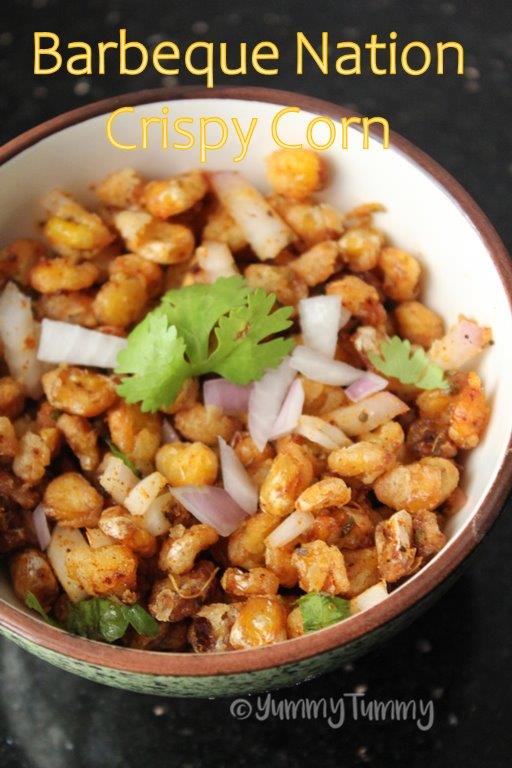 Pin
Frequently Asked Questions
1)Is Sweetcorn Healthy?
For starters, sweet corn is loaded with lutein and zeaxanthin, Highly nutritious. It helps in vision, Helps in digestion.
2)Is Sweetcorn Keto Friendly?
Corn is high in carbs and packed with fiber, vitamins and minerals. It's also relatively low in protein and fat. It is not good if you are in ketogenic diet or low carb diet.
3)Can we store crispy corn?
Crispy corn is best served piping hot right after it is made. If it is stored for a longer period of time, it may get soggy.
Variations
1)Indian Style Crispy Corn:
Add chilli powder, pepper powder, cumin powder, chaat masala powder, pepper powder and lemon juice.
2)Chaat Crispy Corn:
Add chilli powder, cumin powder, chaat masala powder, black salt and tamarind sweet and sour sauce.
3)Italian Style Crispy Corn:
Add dried basil, oregano or italian seasoning along with some fried garlic, chilli flakes.
4)Chinese Style Crispy Corn:
Add fried garlic and ginger, chopped spring onion, little soy sauce, sugar and vinegar.

📖 Recipe Card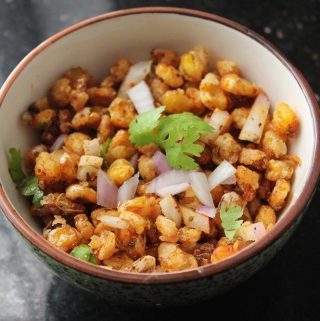 Barbeque Nation Crispy Corn Recipe
How to make crispy corn with step by step photos. Delicious crispy sweetcorn which is made barbeque nation style. Perfect snack for kids
Print
Pin
Rate
Ingredients
Sweet Corn - 2 cups

i used frozen

Cornflour / Corn starch - 2 tblsp

All Purpose Flour / Maida - 2 tblsp

Rice Flour - 2 tblsp

Salt to taste

Black Pepper Powder to taste

Peri Peri Seasoning to taste

Lemon Juice - 2 tsp or to taste

Onion - 1 small chopped finely

Green Chillies - 1 chopped finely

Coriander Leaves - 3 tblsp finely chopped

Oil for deep frying
Instructions
I used frozen sweetcorn. So i just placed it in microwave and cooked for 1 min. If you are using fresh sweetcorn, then boil in water for 4 to 5 mins.

Drain the corn completely.

Add salt and pepper and mix well.

Add in all the flour and toss gently.

Place it into a fine mesh sieve and shake so the excess flour is gone.

Heat oil for deep frying till super hot.

Drop the corn into the oil. Fry till super crispy and golden. Around 3 to 4 mins.

Drain it in a sieve.

Now add in seasoning, lemon juice, onion, coriander leaves and mix well.

Serve immediately
Notes
1)I used frozen sweetcorn. You can use fresh sweetcorn as well.
2)Frozen is best since it dont need any cooking, just thawing is good or just microwave for 1 min.
3)Drain the corn well before adding flour so it dont get lumpy.
4)Toss the corn gently in flour so it coats in a thin layer.
5)Shake excess flour so the oil dont gets too floury.
6)Fry the corn in very hot oil so it gets very crunchy.
7)If you dont have peri peri seasoning, just add chilli powder and chaat masala powder.
8)You can add vinegar instead of lemon juice.
9)Serve immediately for best taste
Nutrition
Serving:
1
g
|
Calories:
208
kcal
|
Carbohydrates:
42.9
g
|
Protein:
4.7
g
|
Fat:
3.2
g
|
Saturated Fat:
0.5
g
|
Sodium:
96
mg
|
Fiber:
4
g
|
Sugar:
5
g
Join us on Facebook
Follow us on Facebook
Share by Email
Share on Facebook
Barbeque Nation Crispy Corn Recipe With Step by Step Pictures
1)Take sweetcorn in a bowl. This is frozen corn, so i just microwaved it for 1 min. Drain the water completely. Take it in a bowl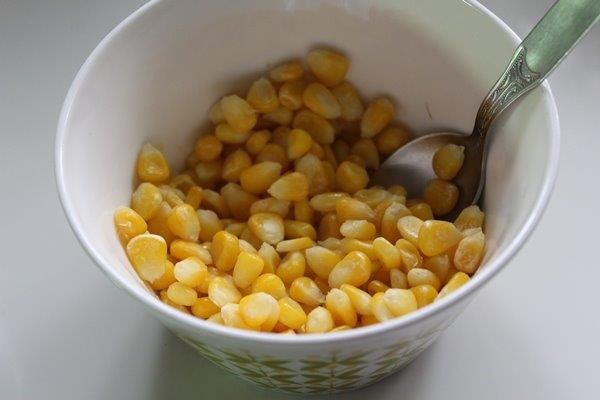 Pin
2)Add in salt and pepper powder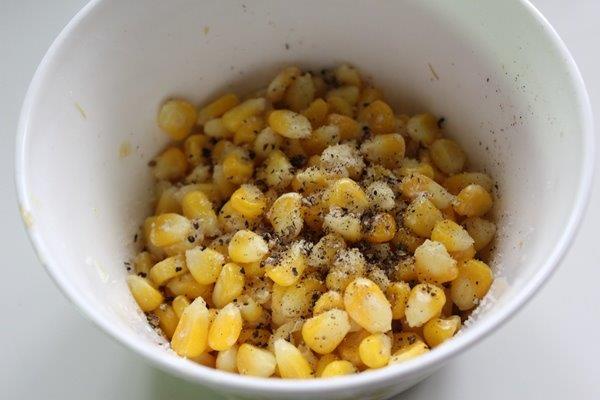 Pin
3)Toss well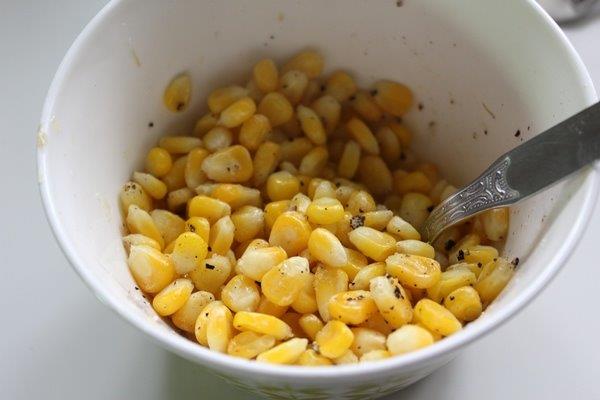 Pin
4)I measured cornstarch, all purpose flour and rice flour in this bowl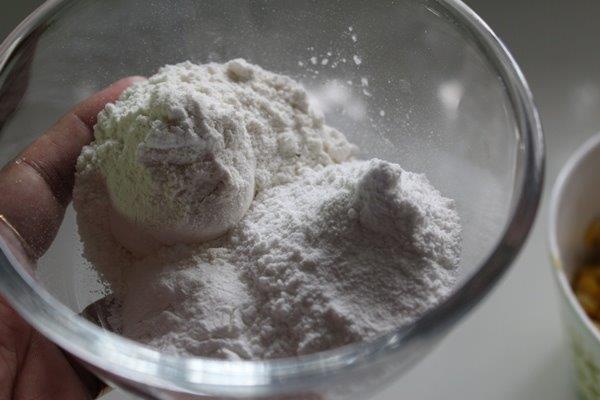 Pin
6)Add it in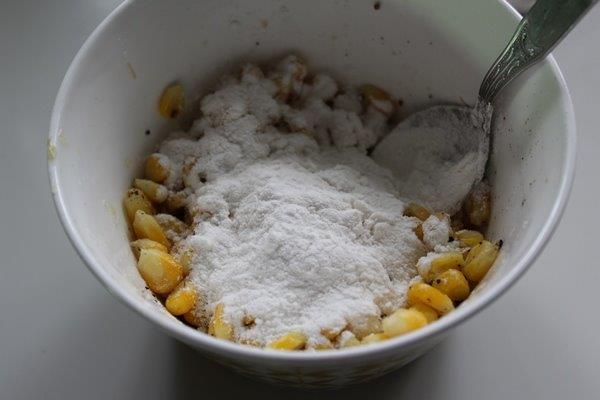 Pin
6)Toss well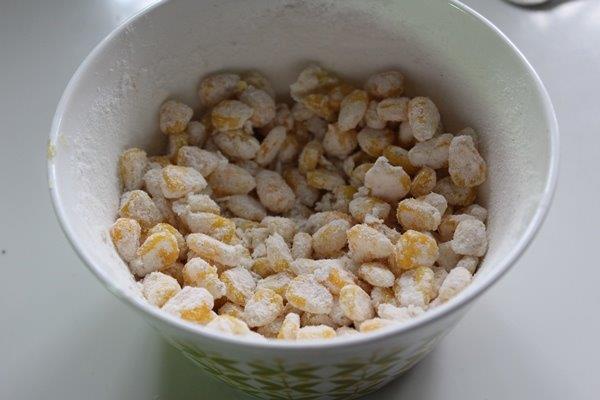 Pin
7)Place this in a sieve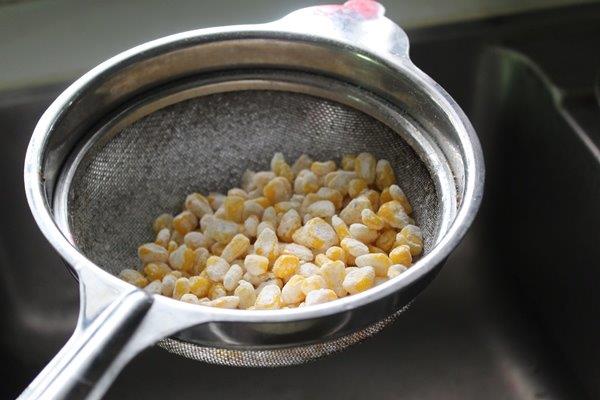 Pin
8)Shake it so the excess flour gets away and the flour is evenly coated on the corn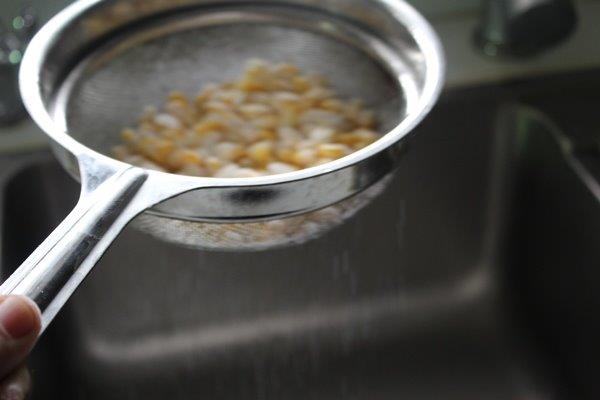 Pin
9)Like this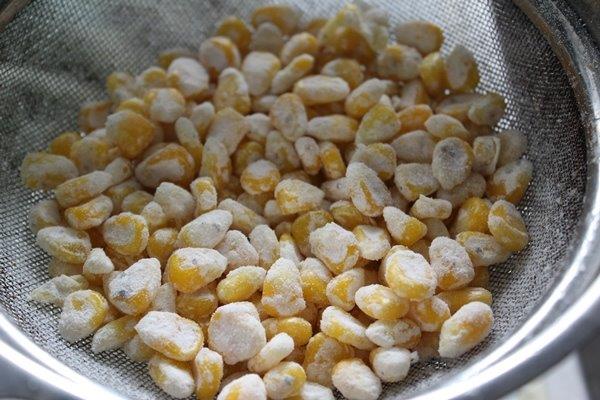 Pin
10)Drop corn in super hot oil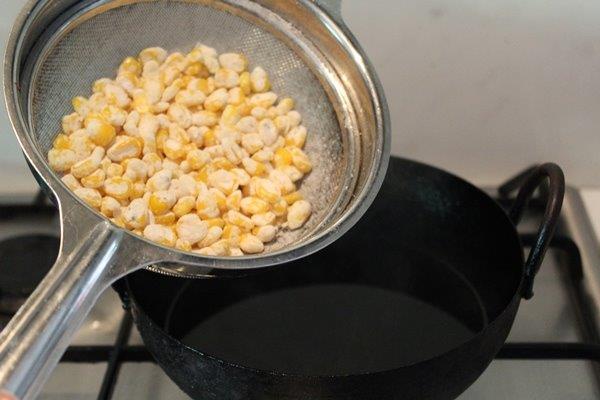 Pin
11)Dont mix immediately. leave for 1 min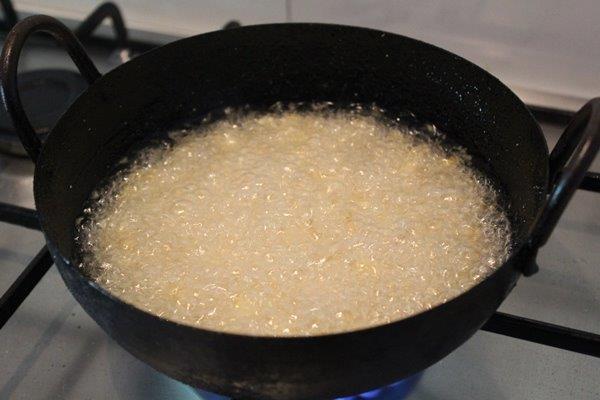 Pin
12)Then you can mix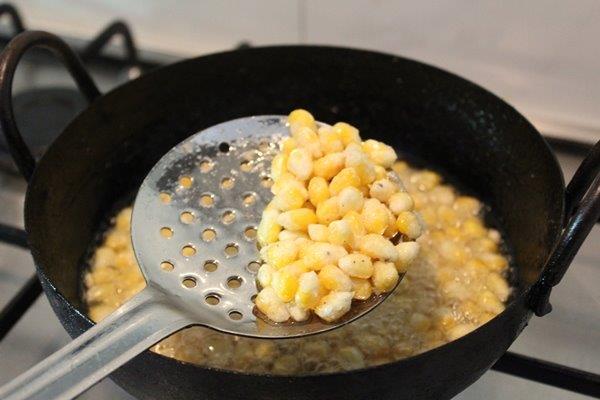 Pin
13)Leave it to fry till golden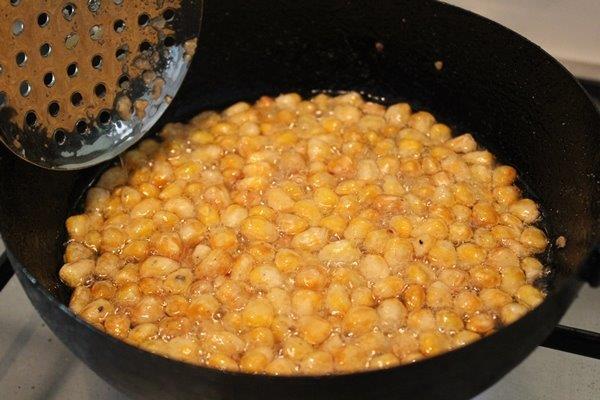 Pin
14)Drain it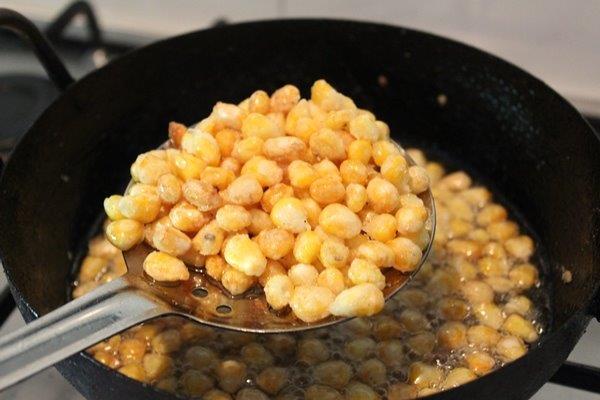 Pin
15)Drain it in a sieve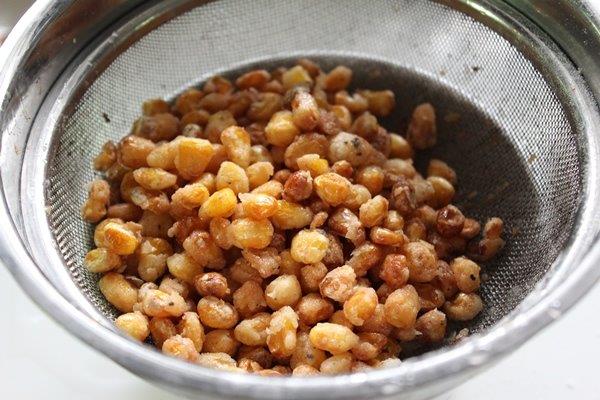 Pin
16)Take peri peri seasoning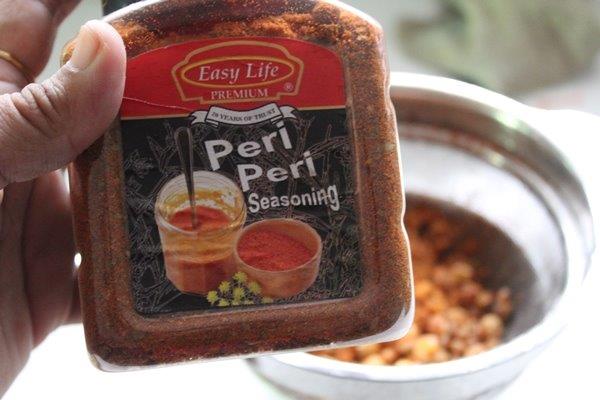 Pin
17)Sprinkle it on top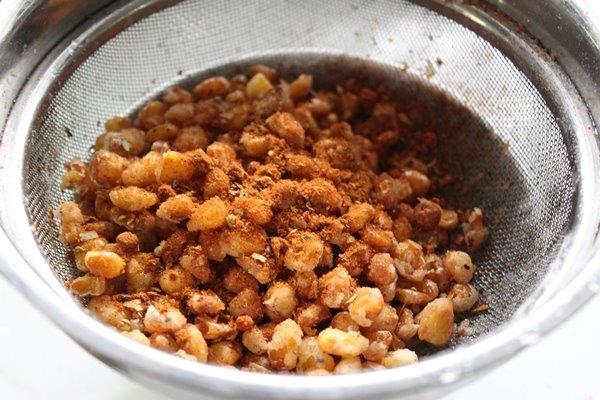 Pin
18)Add onions, green chillies and coriander leaves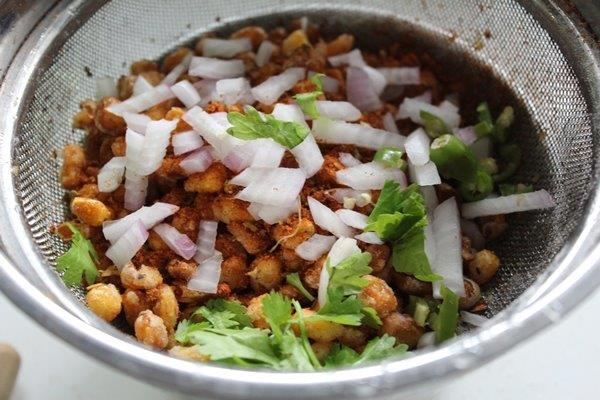 Pin
19)Add lemon juice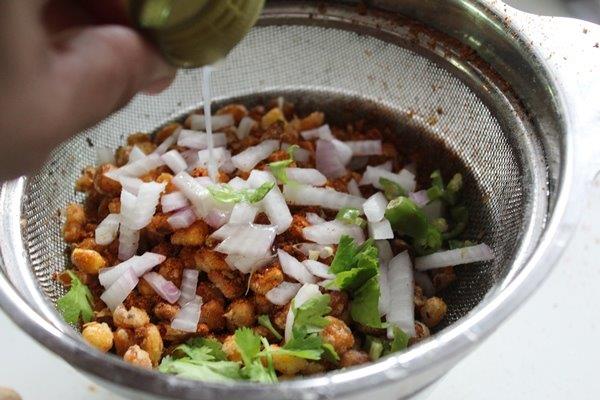 Pin
20)Toss well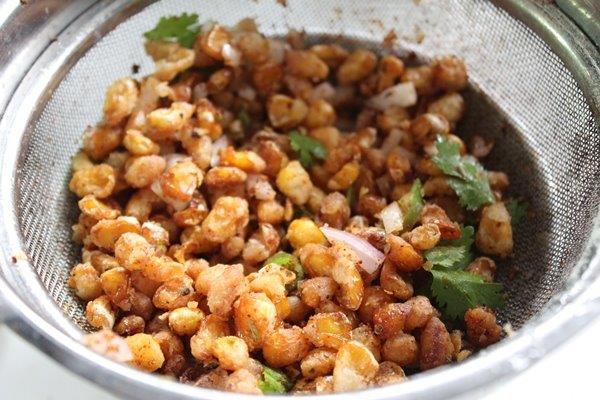 Pin
21)Serve immediately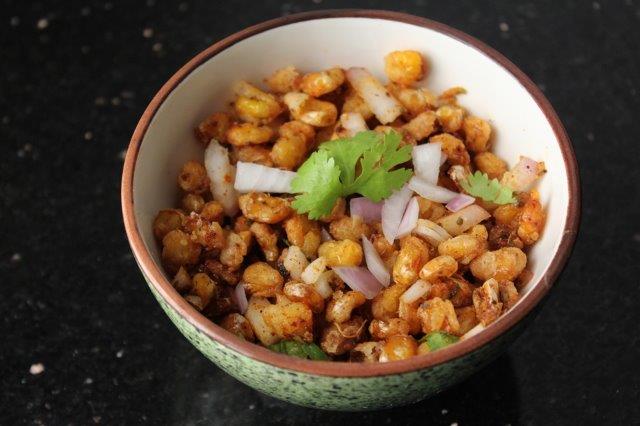 Pin