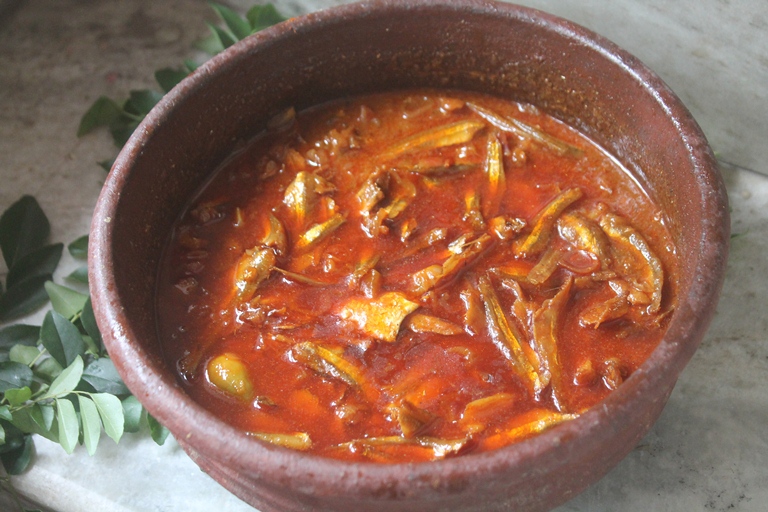 Pin
Sivakasi Style Karuvadu Kuzhambu Recipe - Dried Fish Kuzhambu Recipe with step wise pictures.
Spicy and tangy dried fish curry. This karuvadu kuzhambu is mouthwatering and taste so delicious with hot rice. It is pretty easy to make as well.
Hubby loves dried fish curry, not only dried fish, he love anything fish. I have mentioned this all the times whenever i post fish recipes. I love making fish curries for him and sit on his side asking him how it taste, because each time i make different curries. Most of the time it is his favorite fish curry. I have posted a dried fish fry recipe before, that is the first time i cooked using dried fish. Dried fish is only for the heavy fish lovers, because it has a intense fishy taste which i dont like. And also it is packed with tons of salt, so you have to wash it well to get rid of it and also you shouldn't add any salt untill the dish is finished, taste it and add it in the end.
Similar Recipes,
Goan Fish Curry
Anchovies Fish Curry
Sardine Fish Curry
Chettinad Fish Curry
Malabar Fish Curry
Mackerel Fish Curry
Village Style Fish Curry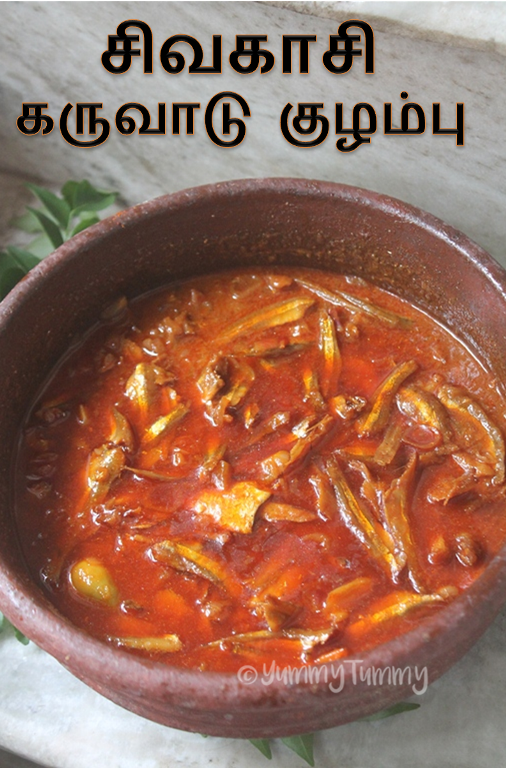 Pin
Now coming to this recipe, couple weeks back when me and hubby where shopping, he found few packed of dried fish in the shelves. Immediately he got couple of packets of them. And i used them to make this dish and it tasted really good. Try to find dried fish which is packed properly and looks clean, imported dried fish can have less salts,  I have shared a tip of soaking the dried fish in hot boiling water for 15 mins before you cook them, this will remove most of the salt and make it soft. So follow this recipe and let me know if it tried it.
https://www.yummytummyaarthi.com/2014/07/chettinad-fish-curry-recipe-chettinad.html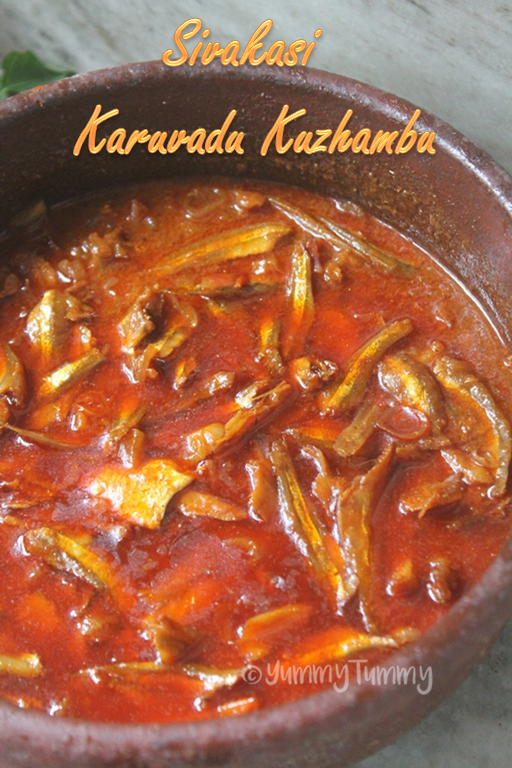 Pin
https://www.yummytummyaarthi.com/2014/09/karuvadu-kuzhambu-recipe-nethili.html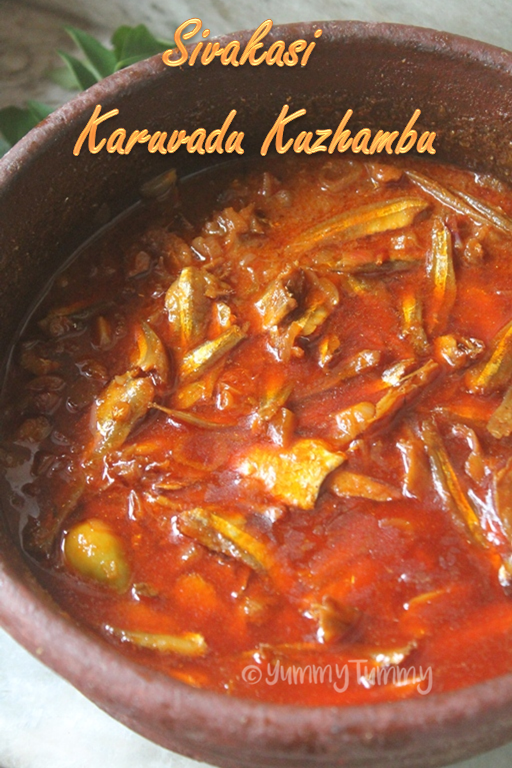 Pin
📖 Recipe Card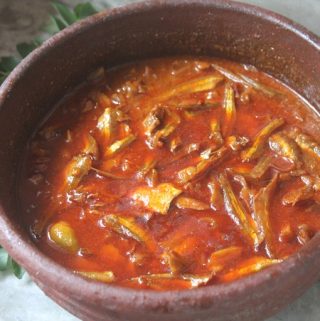 Sivakasi Karuvadu Kuzhambu Recipe
Recipe Source:
Sivakasi Samayal
Spicy and tangy dried fish curry. This karuvadu kuzhambu is mouthwatering and taste so delicious with hot rice. It is pretty easy to make as well.
Print
Pin
Rate
Ingredients
Tamarind - 1 small lemon size

Shallots / Sambar Onion - 20 chopped finey

Tomato - 1 large chopped finely

Green Chillies - 4 slit

Garlic - 5 cloves sliced

Kashmiri Chilli Powder - 2 tblsp

Cumin Powder - 2 tsp

Turmeric Powder - 1 tsp

Salt to taste

Gingelly Oil / Nala Ennai / Sesame Oil - ½ cup

Water - 1 cup

Nethili Karuvadu - 2 packets
Instructions
Wash and soak dried fish in warm water for 10 mins. Drain and set aside.

Take tamarind in a bowl, add water and soak for 10 mins. Drain and take it in a earthernware pot.

Add in chopped onions and all ingredients except oil and fish.

Bring it to a boil, boil for 5 mins.

Now add in oil and boil for 5 more mins.

Add fish and cook till fish is cooked.

Take it off the heat and let it stand for 1 hour for the flavour to develop.

Serve with rice.
Join us on Facebook
Follow us on Facebook
Share by Email
Share on Facebook
Pictorial:
1)Take dried fish in a bowl.
2)I soaked them in warm water for 15 mins.
1)Soak tamarind in some water, squeeze and extract the pulp.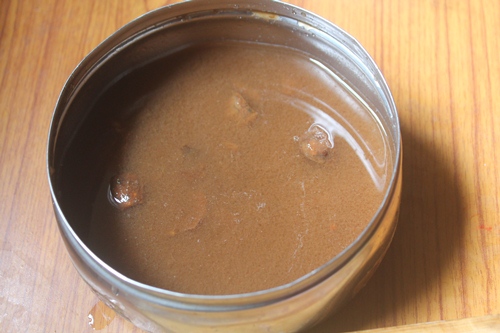 Pin
2)Take it in a bowl.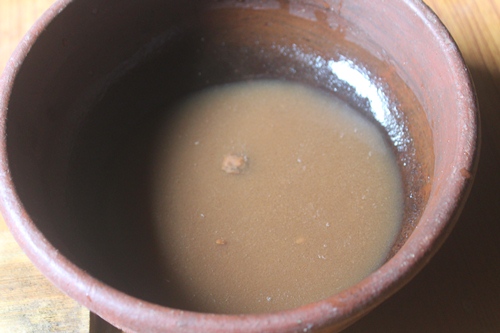 Pin
3)Add in chopped shallots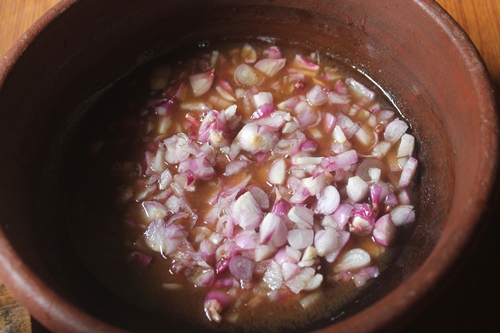 Pin
4)Add in some garlic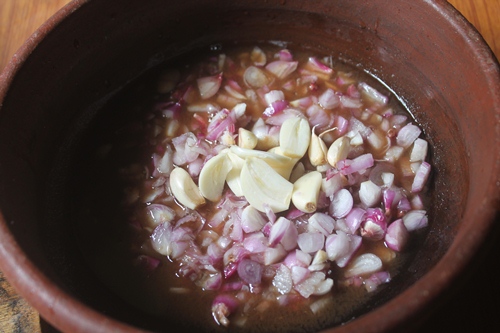 Pin
5)Add in green chillies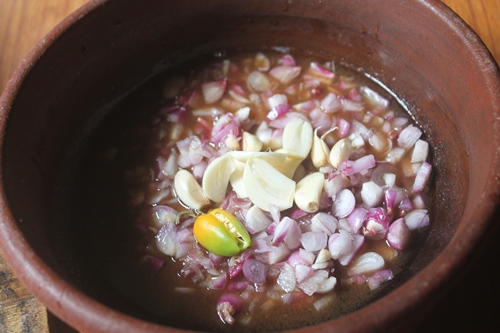 Pin
6)Add in chopped tomatoes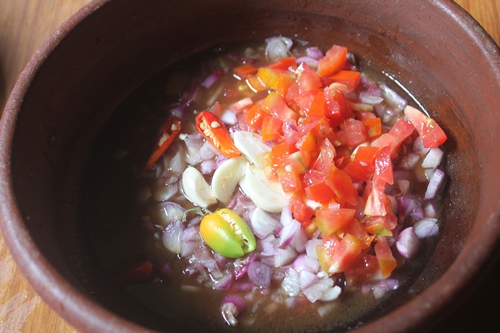 Pin
7)Add in chilli powder, coriander powder and turmeric powder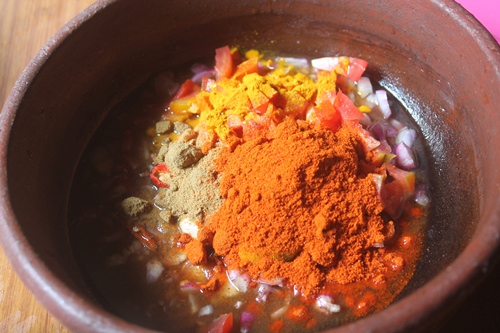 Pin
8)Add in some salt.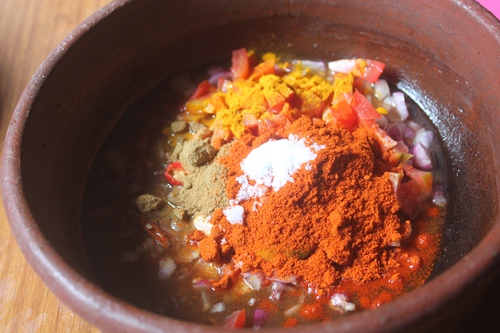 Pin
9)Add little water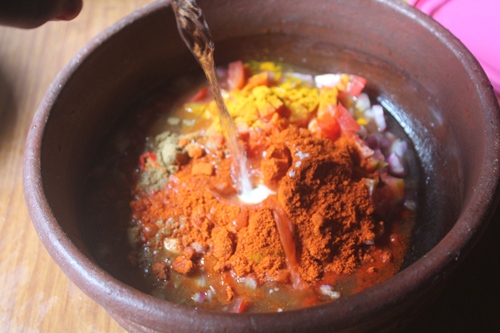 Pin
10)Mix well. Put it on heat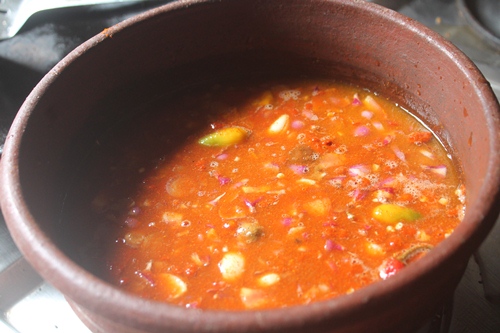 Pin
11)Bring it to a boil.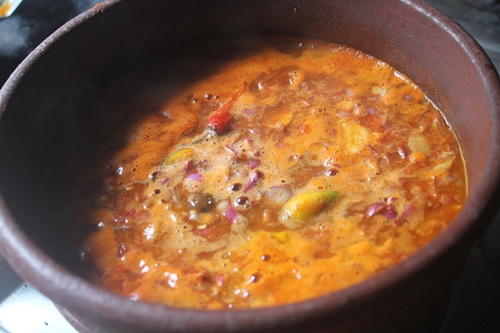 Pin
12)Boil for 5 to 6 mins.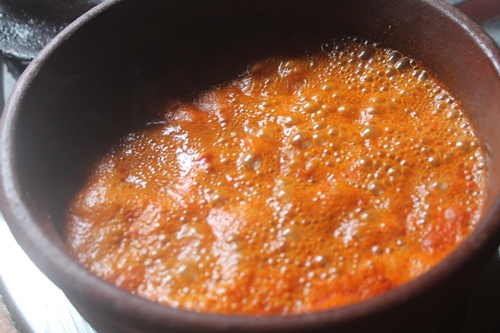 Pin
13)Now add in lots of gingelly oil (indian sesame oil /nala ennai)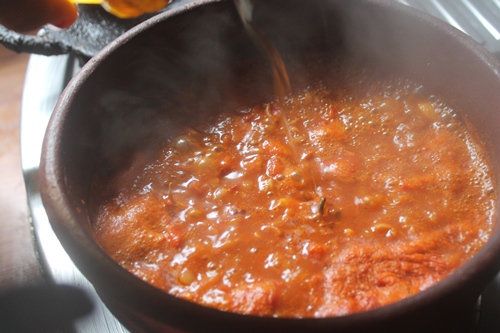 Pin
14)Add a good amount of oil, this is what gives flavour.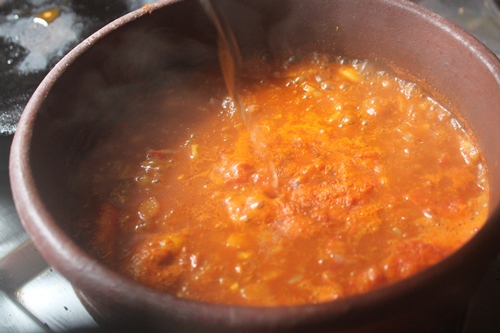 Pin
15)Simmer for 5 mins.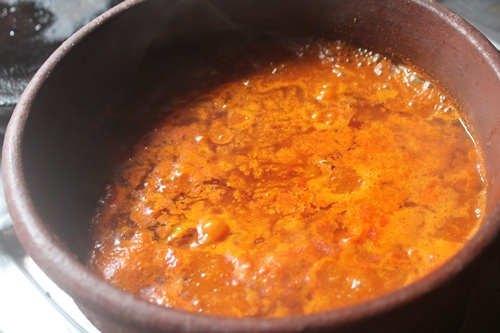 Pin
16)Now the gravy is getting little thicker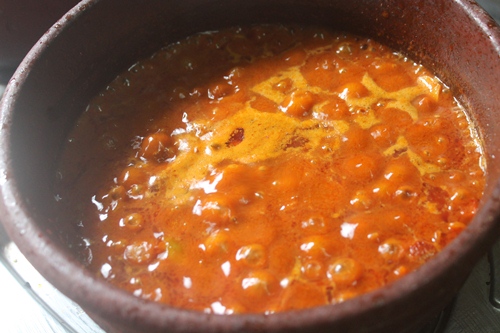 Pin
17)Add in cleaned, washed dried fish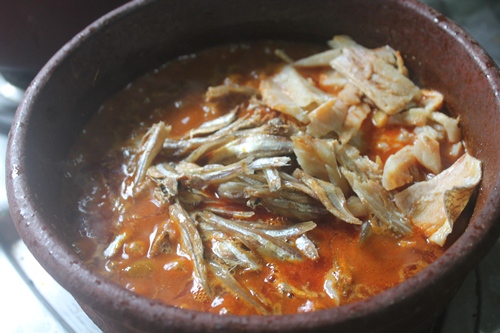 Pin
18)Mix well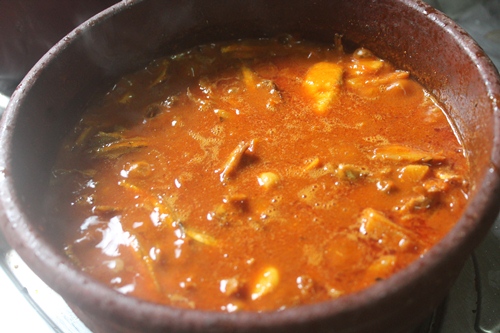 Pin
19)Cook for 10 mins on low flame.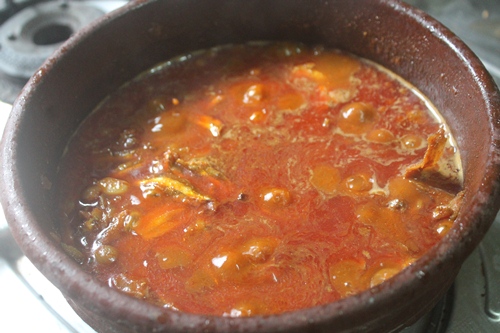 Pin
20)Now the fish is cooked. Turn off the flame and let it sit for 1 hour to develop flavour.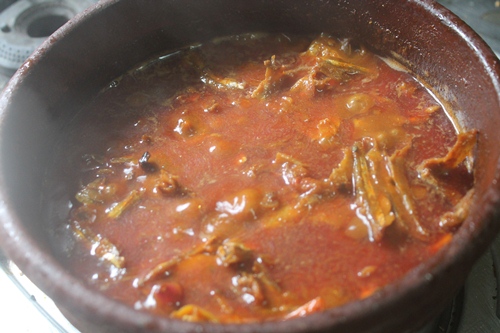 Pin
21)Serve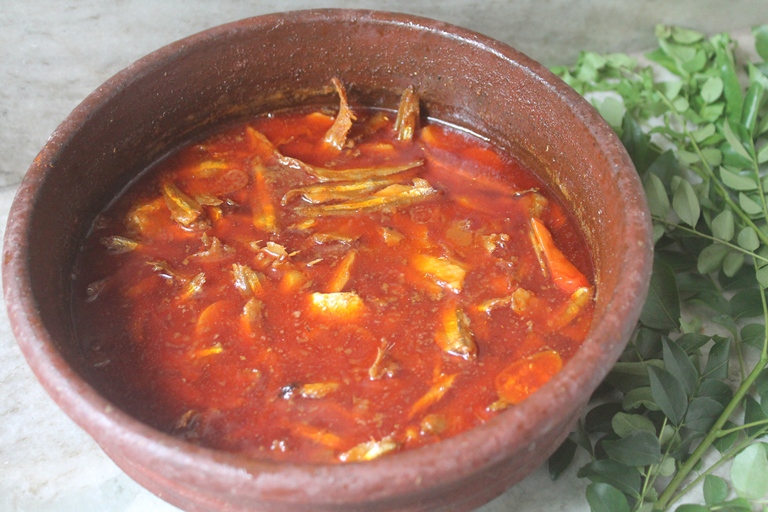 Pin
22)Taste great with rice.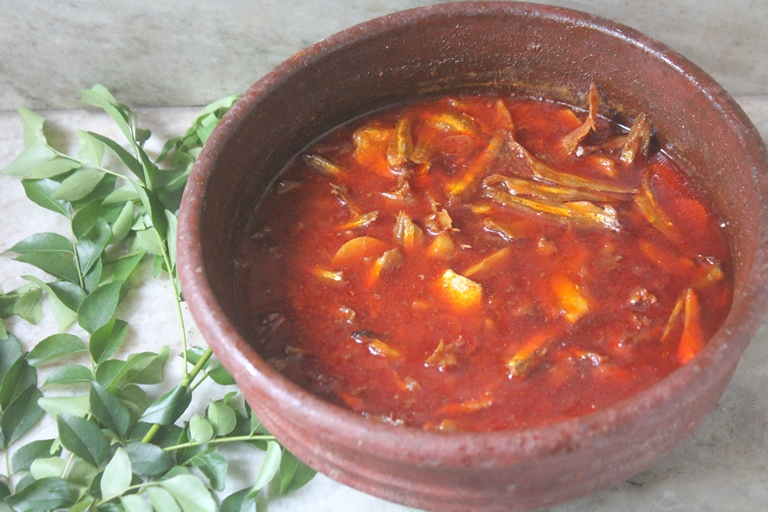 Pin