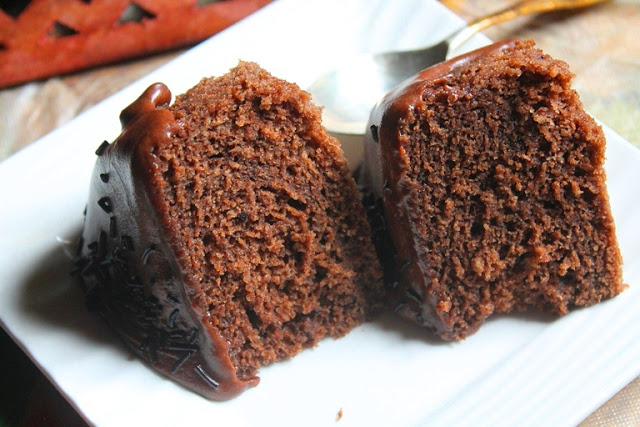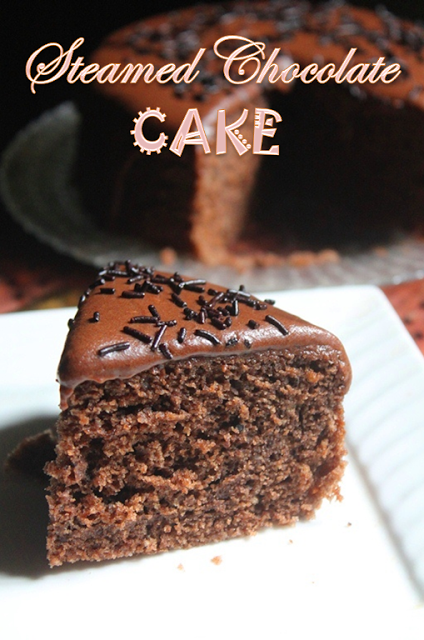 This cake turned out so soft and yummy, you will never believe that it is made in a steamer..Plus for those who dont own a oven, you can try this yummy steamed cake.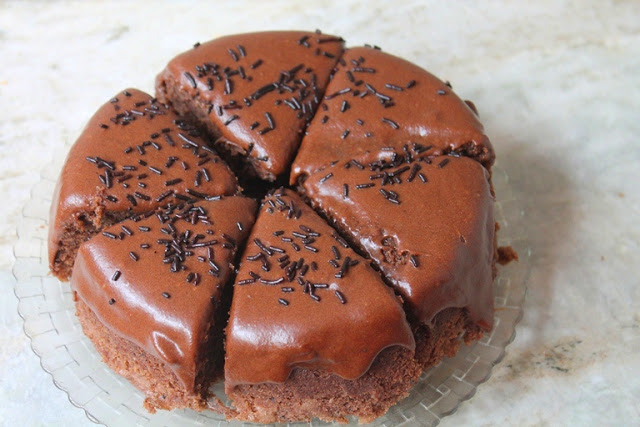 Hope you will give this a try and let me know how it turns out for you..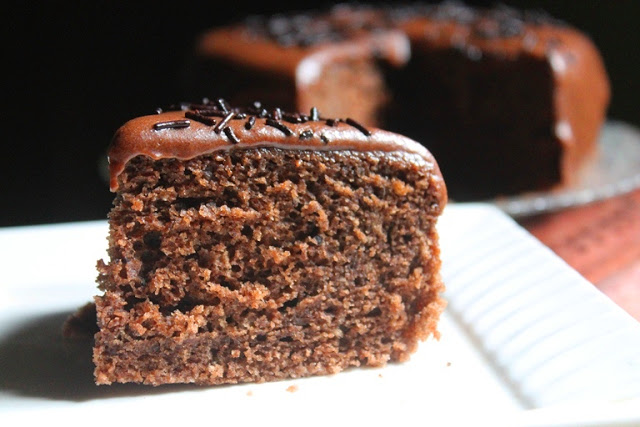 Preparation Time : 15 mins
Cooking Time : 45 mins to 50 mins
Serves : 5 to 6 slices
Recipe Source : Cornercafe
Ingredients:
All Purpose Flour / Maida – 3/4 cup / 90 grams
Sugar – 1/2 cup / 100 grams
Baking Soda / Cooking Soda – 1/4 tsp
Baking Powder – 1 tsp
Egg – 1
Oil – 1/4 cup / 60 ml
Cocoa Powder – 2 tblspn
Milk – 1/2 cup / 120 ml
Vanilla Essence – 1/2 tsp
Chocolate Fudge Icing – 1 batch (recipe here)
Chocolate Semia as needed for decorating
Method:
Take sugar, oil, milk, vanilla,egg in a bowl and mix well.
Take flour, cocoa, baking soda, baking powder in a bowl and mix well.
Pour the wet ingredients into the dry and give a good mix.
Pour this into the prepared pan cover it lightly with a oiled foil, the oil side should be down .
Place it in a steamer and Steam this for 40 to 45 mins, insert a toothpick to see whether it is done or not. If it comes clean then it is done. Let it cool for 15 to 30 mins.
Now run a knife around the sides, invert it to a cake plate.
Peel off the parchment. Pour the icing over it and sprinkle with chocolate semia.
Serve.
Pictorial: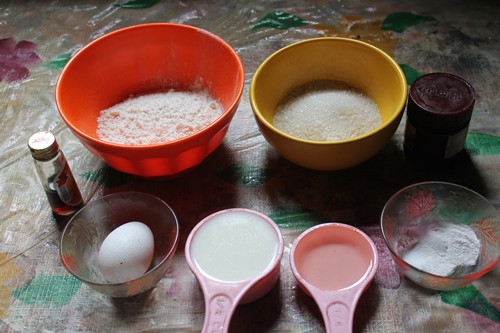 take all your ingredients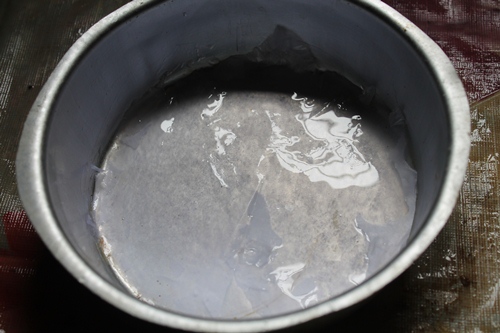 Line the bottom of the baking pan with parchment
and oil the tin completely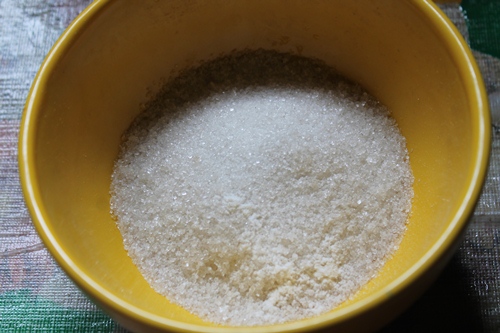 Now take sugar in a bowl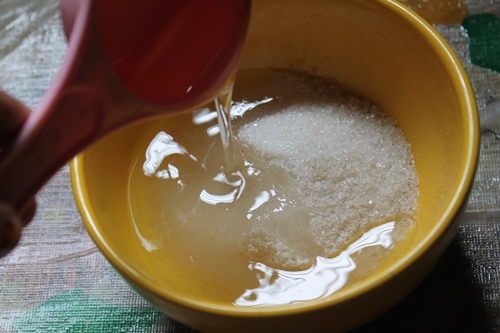 add in oil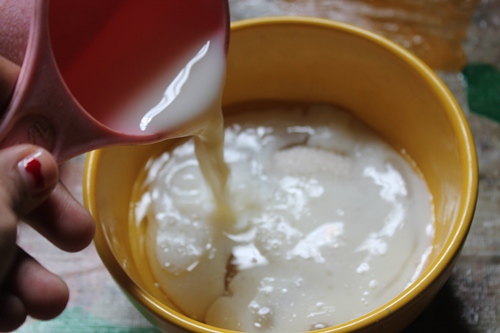 add in milk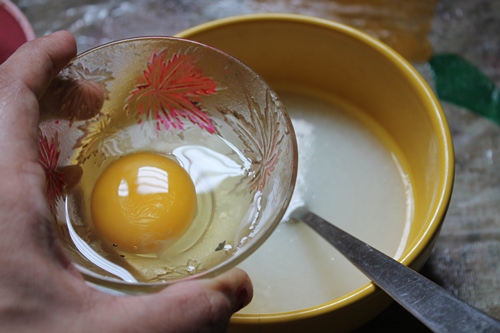 add in egg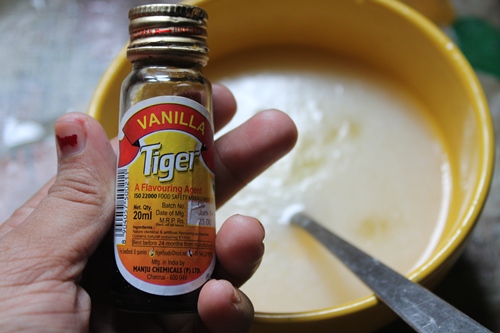 add in vanilla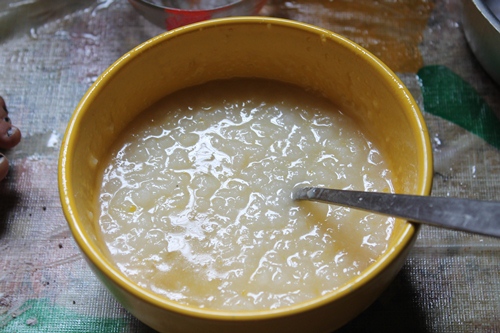 mix well and set aside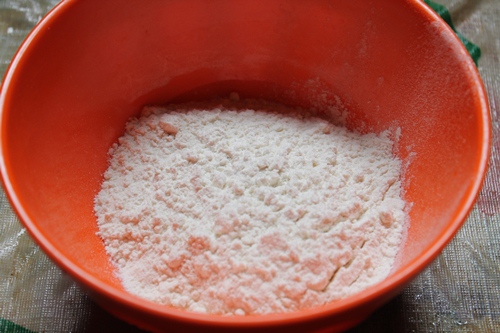 Take flour in a bowl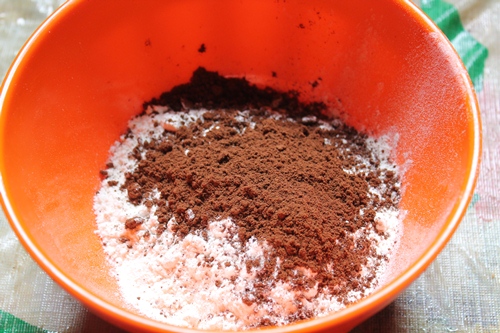 add in cocoa powder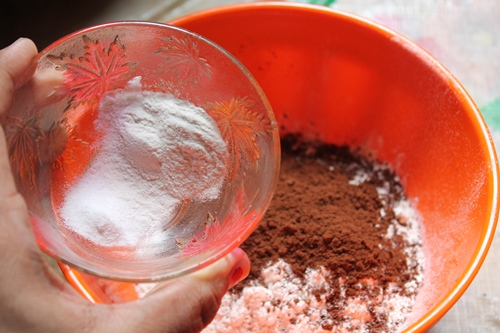 Add in baking soda and baking powder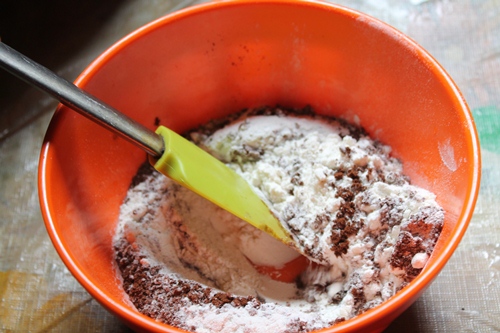 mix well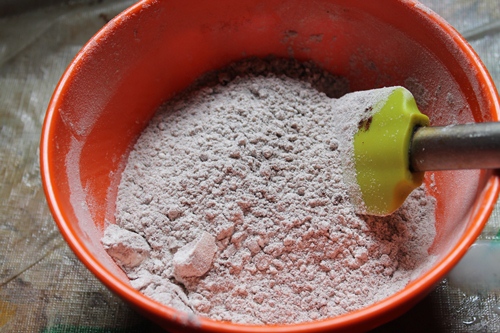 now it is all mixed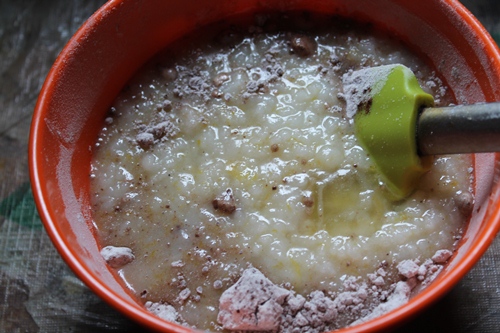 pour the wet mix in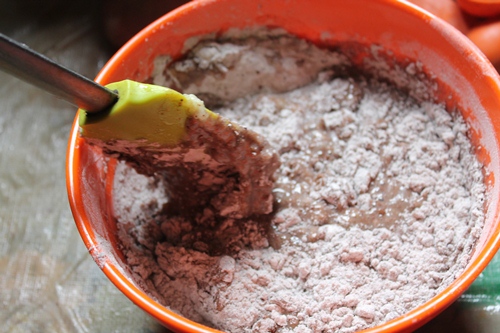 mix well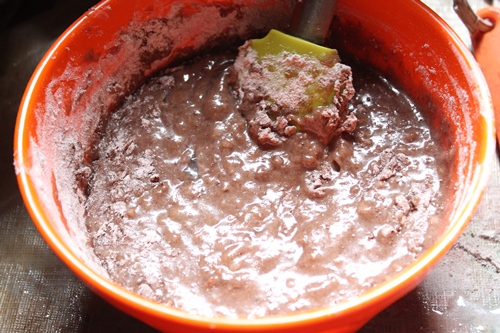 fold gently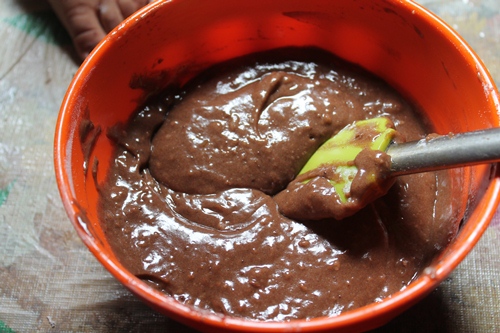 batter done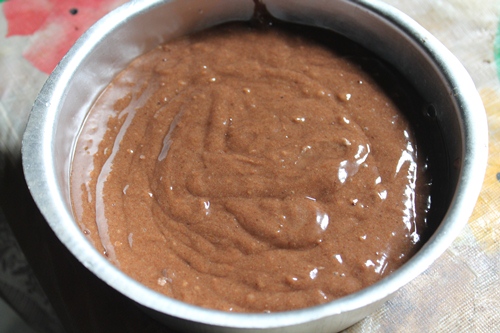 Pour this in the tin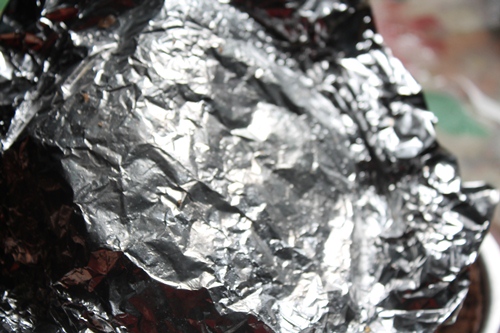 oil the foil paper lightly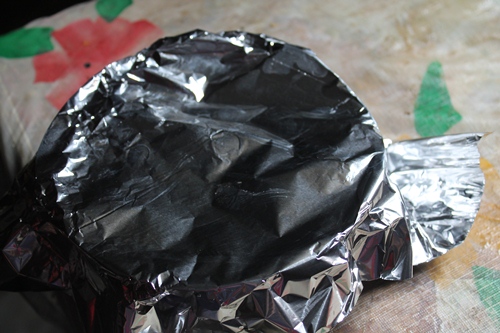 cover it very lightly, done wrap it tight..You just dont
want the steam water to fall on the cake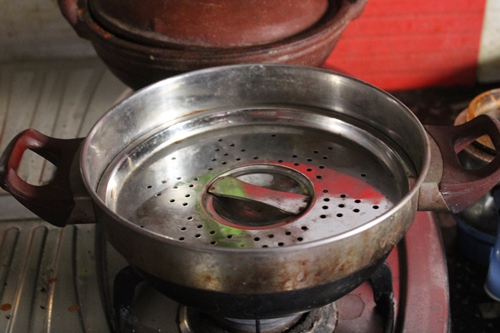 heat a steamer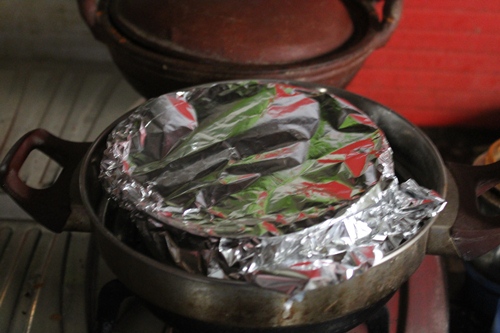 place tin over it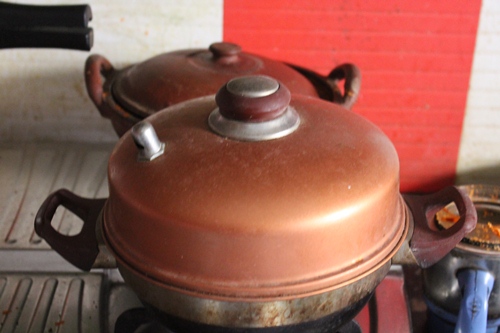 cover and steam cook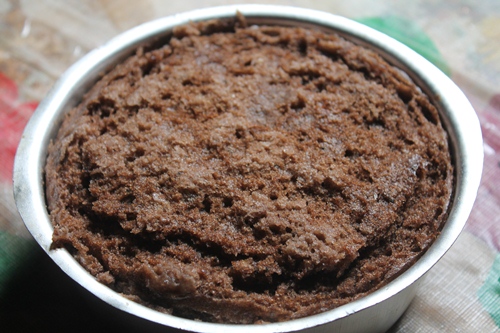 Now the cake is baked, this is why you have to oil the foil
before covering the cake, i forgot to oil the foil so my
cake top layer got stuck on the foil.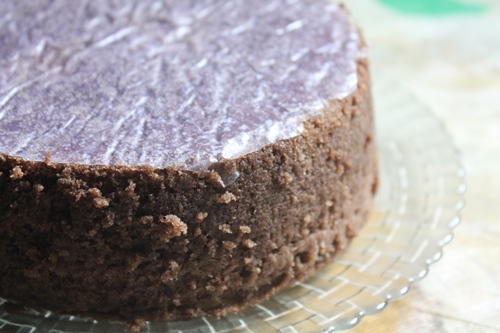 invert it to a plate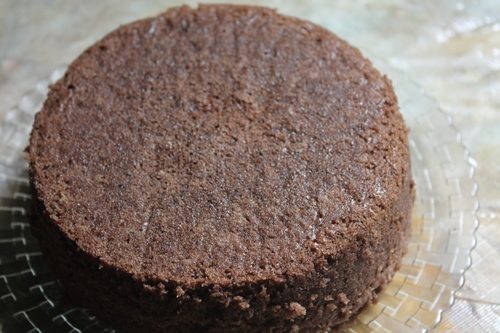 peel off the parchment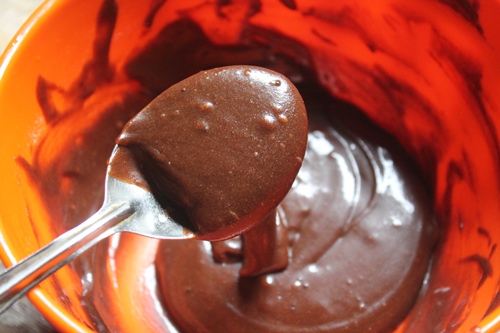 Now time to frost the cake..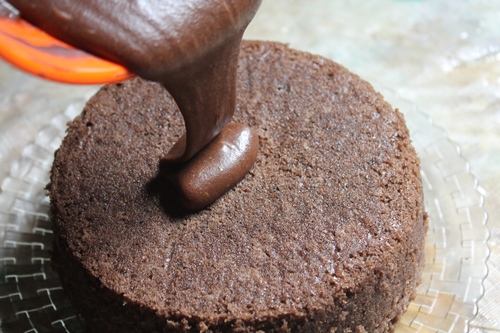 Pour it over the cake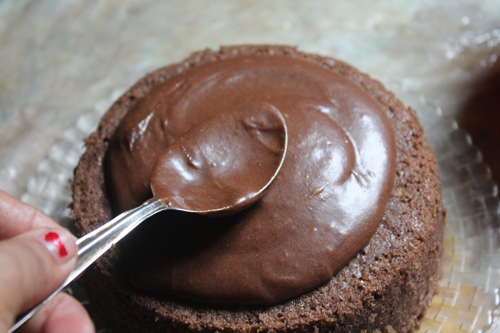 spread it lightly using a spoon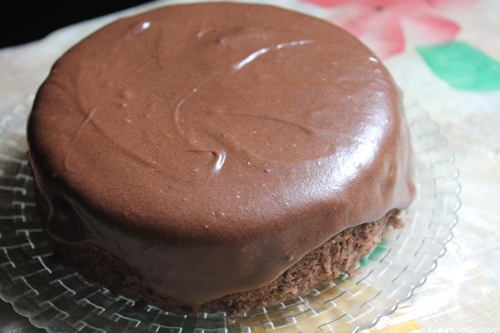 Yum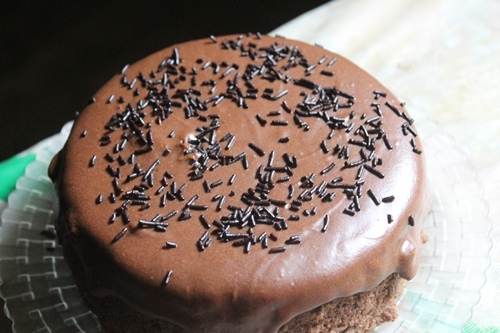 Sprinkle with chocolate semia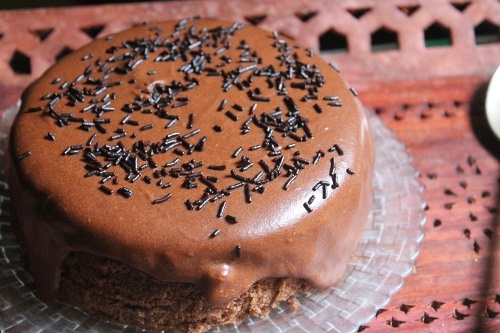 And enjoy