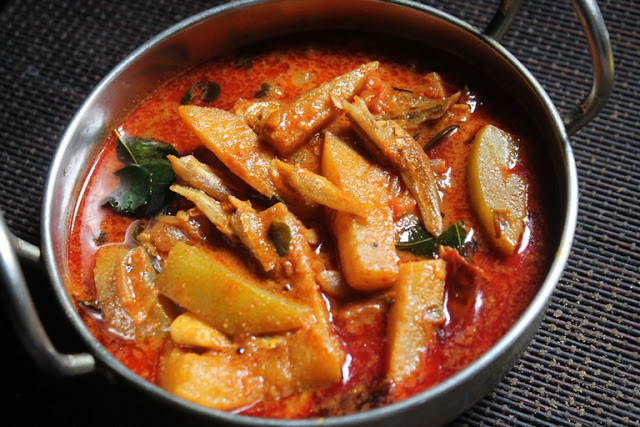 Hubby loves dried fish curry, not only dried fish, he love anything fishy. I have mentioned this all the times whenever i post
fish recipes
. I love making fish curries for him and sit on his side asking him how it taste, because each time i make
different curries
. Most of the time it is
his favorite fish curry
. I have posted a
dried fish fry recipe
before, that is the first time i cooked using dried fish. Dried fish is only for the heavy fish lovers, because it has a intense fishy taste which i dont like. And also it is packed with tons of salt, so you have to wash it well to get rid of it and also you shouldn't add any salt untill the dish is finished, taste it and add it in the end.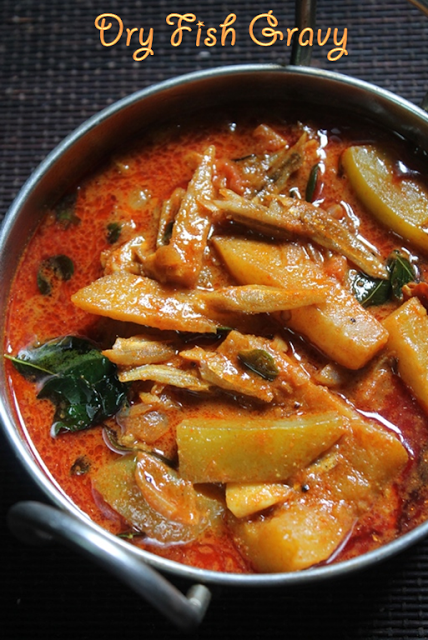 Now coming to this recipe, couple weeks back when me and hubby where shopping, he found few packed of dried fish in the shelves. Immediately he got couple of packets of them. And i used them to make this dish and it tasted really good. Try to find dried fish which is packed properly and looks clean, imported dried fish can have less salts, I have shared a tip of soaking the dried fish in hot boiling water for 15 mins before you cook them, this will remove most of the salt and make it soft. So follow this recipe and let me know if it tried it..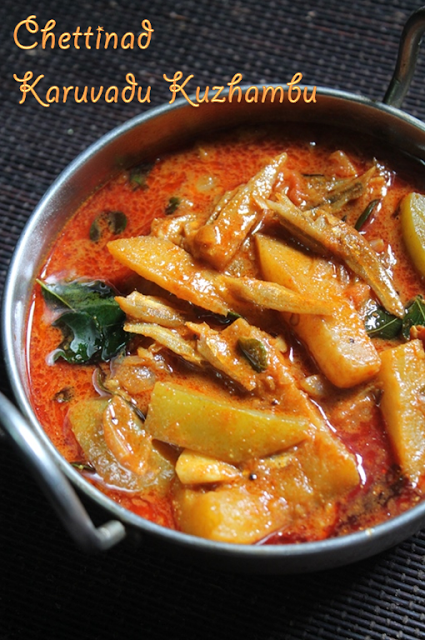 Preparation Time : 10 mins
Cooking Time : 30 to 40 mins
Serves : 5 to 6

Ingredients:

Dried Anchovies / Nethili Meen Karuvadu – around 40 to 50
Oil – 4 tblspn
Mustard Seeds / Kaduku – 1 tsp
Cumin Seeds / Jeerakam – 1 tsp
Urad dal / Ulundu Paruppu – 1 tsp
Dry Red Chilli – 2
Curry leaves a handful
Shallots / Sambar Onion – 15 to 20 chopped finely
Tomatoes – 2 large chopped finely
Chilli Powder – 1 tblspn or to taste
Coriander Powder / Malli Podi – 2 tblspn
Turmeric Powder / Manjal Podi – 1 tsp
Raw Banana – 1 peeled and cut lengthwise
Raw Mango – 1 cut lengthwise
Water – as needed
Salt to taste
Sugar / Jaggery – 1 tsp or to taste

Method:
soak dry fish in hot boiling water for 15 mins. Drain and remove the heads and set aside.
Heat oil in a earthernware pot. Add in mustard, cumin, urad dal, dry chilli and curry leaves and fry for few sec.

Add in shallots and garlic. Saute this till it gets light golden.

Add in tomatoes and cook till it gets mushy.
Add water, raw banana and mango and cook till it is half cooked.

Add in salt and spice powders and mix well.

Add in tamarind water and cook till oil floats on top.

Add in fish and simmer for 5 to 10 mins.

Add in sugar and mix well.

Serve.
Pictorial:
Soak dry fish in boiling water for 15 mins
remove the head and wash it lots of time and set aside
take your other ingredients
Heat oil in a pot
add cumin, mustard and urad dal
add dry red chillies
Add in lots of curry leaves
add in chopped sambar onion
add garlic
saute till it gets translucent
add tomatoes
mix well
add water
now i added some raw banana and raw mango
i transferred it to a big pot, since my curry was overflowing..
Now add salt after the veggies are half cooked
add chilli powder, turmeric powder and coriander powder
add tamarind juice as well
simmer everything for a good 10 mins
add the dried fish
mix that well and simmer for 5 to 10 mins
finally add some sugar or jaggery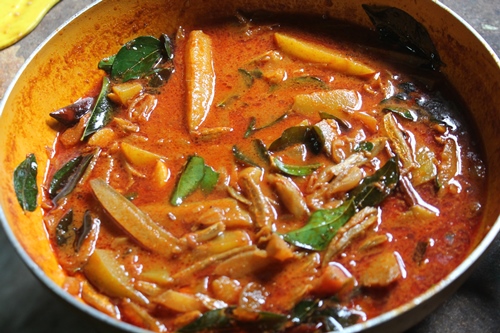 mix well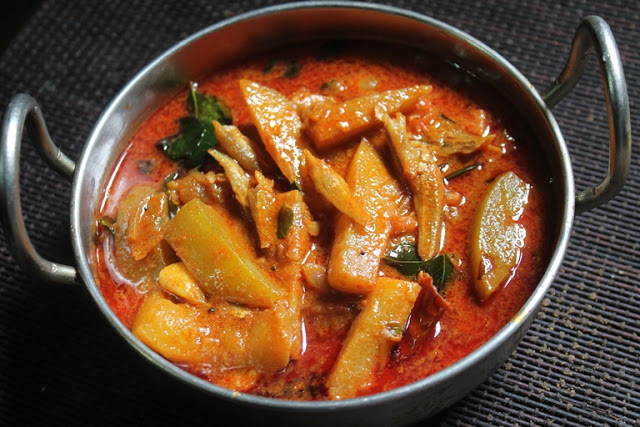 Serve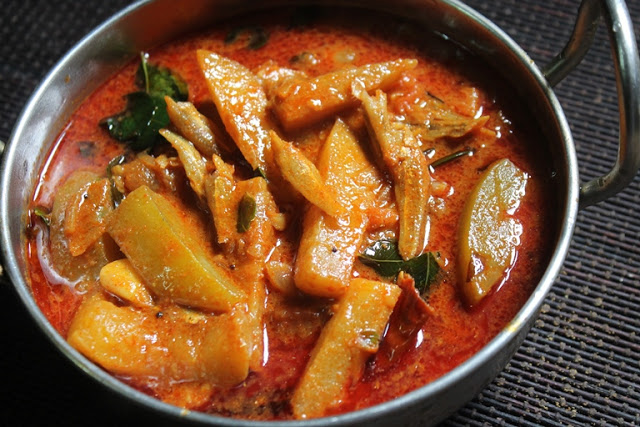 I am Aarthi, a happy homemaker, mom of two beautiful girls, married to my high school sweet heart. My goal is to teach people that cooking can be way more easier and joyful than they think. Yummy Tummy features recipes all over the world with step wise pictures which surely shows the ease of cooking.