Homemade Flour Tortillas is a breeze to make. You just need a handful of ingredients and some time on hand. Make these soft tortillas at home and enjoy.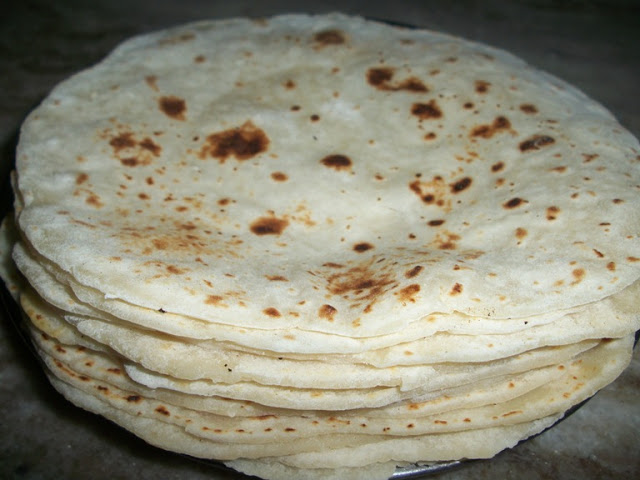 Flour Tortillas
I love Mexican food a lot. I am going do many authentic dishes from mexico throughout this week.So please check it. Today I am gonna post three basic recipes of mexico,they are Tortillas , Salsa and Refried beans. These are the important dishes in their cuisine and it is basic for so many Mexican dishes. Tortilla is a mexican flat bread which is their staple.. You can find this in every grocery store. But this is so easy to make from scratch and also you can store this fridge or freezer for  a long period of time. 
Ingredients for Flour Tortillas
All Purpose Flour
Salt
Baking powder
Oil
Boiling water
How to Make Tortilla at Home
In a mixing bowl add flour,salt,baking powder and oil...Rub this together with your hands till mixed well.
Pour boiling water in this and using a wooden spoon mix together till it forms a dough..
Cover this with a damp cloth and set aside for 30 min.
After 30 min divide this into equal size balls and start rolling into a thin roti.
Heat a pan to the highest heat..The pan should be so hot before putting the tortilla in it.
Put the tortilla in the hot pan and cook for 30 sec.Turn it over and press it with a spatula..The tortilla will puff like a balloon.Remove this and put it in a plate.
Do exactly same with the rest of the dough..
You could enjoy right away or store in fridge and use within 2-3 days(you could freeze this upto a month).
Flour Tortilla Step by Step
1)Take flour in a bowl.
2)Add in salt.
3)Add in baking powder
4)Add in oil
5)Rub the oil into the flour.
6)Bring water to a boil.
6)Add it in.
8)Knead to form a dough.
9)Let the dough rest for few hours.
10)Divide into equal balls.
11)Make flatbreads.
12)Cook till done.
13)Serve