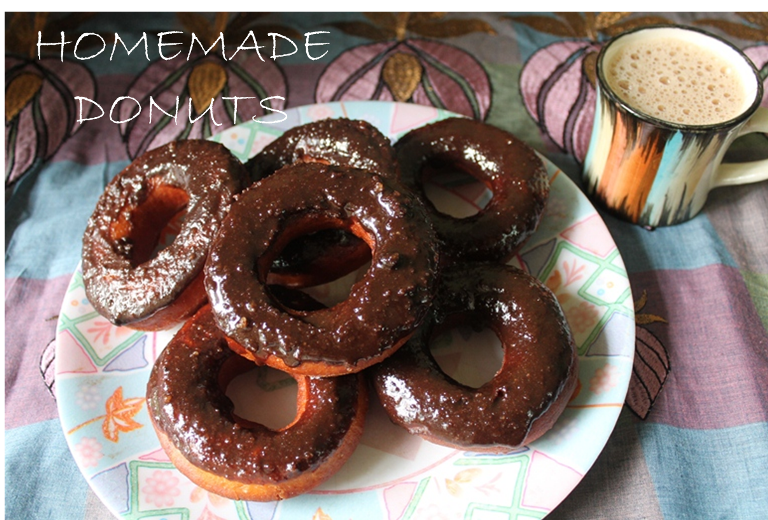 Making homemade donuts are always on my to do list. Couple weeks back, on a fine evening i was craving so badly for them. But i had no eggs on hand. So i browsed a little and came up with this recipe. It is super easy to make and tasted do divine. You must try this someday, it is addictive.
When i finished making this donuts, i decided to do a simple glaze. Then i discovered that i was out of icing sugar. So i made a cooked chocolate glaze for it. I was not sure how this will turn out, so i didn't take step by step pictures of it. But luckily it tasted divine. I have given that recipe along with a simple chocolate sauce recipe which needs only mixing few stuff together in this. You can choose whatever you feel like.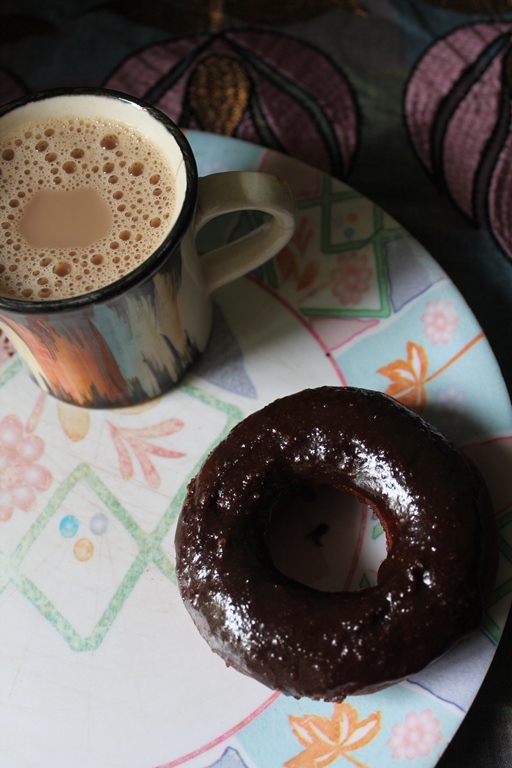 I was quite surprised how the eggless recipe turned out so good. I will soon post the traditional recipe of making this with eggs soon and also the lots of topping and glaze to go with it. I hope you will try this out and let me know how it turns out for you.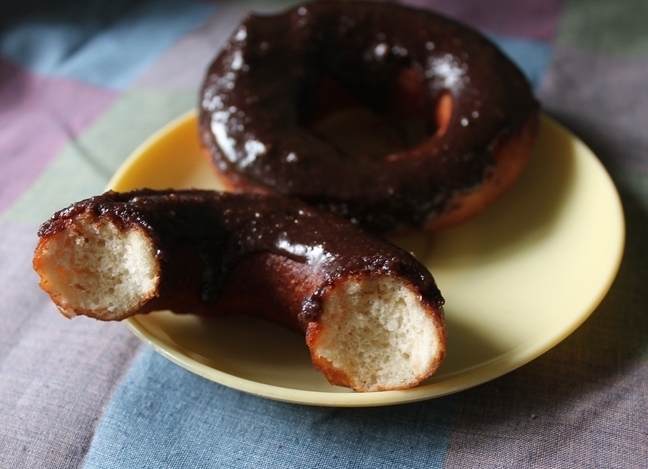 Preparation Time: 15 mins
Resting Time : 1 hour to 1.5 hours
Cooking Time: 2 to 3 mins for each batch
Makes : 8 to 10
Ingredients:
All Purpose Flour / Maida – 3 cups + more as needed
Yeast – 1 tblspn
Warm Milk – 1 cup + more
as needed
Powdered Sugar – 3/4
cup + 2 tblspn
Vanilla – 1 tblspn
Butter / Oil – 2 tblspn
melted
Baking powder – 1 tblspn
For Cooked Chocolate Glaze:( I made this one )
Sugar – 1 cup
Cocoa powder – 1/4
cup
Milk – 1/4 cup or adjust
For Simple Chocolate Glaze:
Powdered Sugar / Icing Sugar – 1 cup
Cocoa powder – 1/4 cup
Milk – 3 to 4 tblspn or adjust
Pictorial:
Take 1 tblspn yeast, 1 tblspn sugar and 1/4 cup of warm milk in a bowl and let it sit for 5 mins till it foams up.
Now take milk, vanilla and melted butter or oil in a bowl and mix well.
Now take flour, powdered sugar, baking powder in a large mixing bowl and mix that well.
Pour in the yeast mixture and milk mixture in this and form into a dough.
Grease a large bowl with oil and transfer this dough into that. Cover that with a plastic wrap and allow it to rest for 1 hour or till it doubles in size.
Now punch down the dough and roll that out.
Now using a large cutter and a small cutter cut out the doughnuts. Take the extra dough from that and roll and cut them again.
Leave that to rest for 10 mins.
Now heat oil for deep frying on a medium heat.
Drop the doughnuts and fry them carefully till they turn golden on each side. This will take around 2 to 3 mins. Fry the dough holes as well.
Drain them in a paper towel..
Now make the glaze. Take sugar in a kadai. Add in milk and mix that well. Let the sugar dissolve, now add in cocoa powder and mix well. This will form into a thick glaze. You can adjust the milk as per your need.
You can also make simple chocolate glaze by mixing powdered sugar, cocoa and milk till it reaches the desired consistency.
Dip the doughnuts in the glaze till it is coated.
Drain them on a wire rack.
Enjoy with a cup of chai.
Pictorial: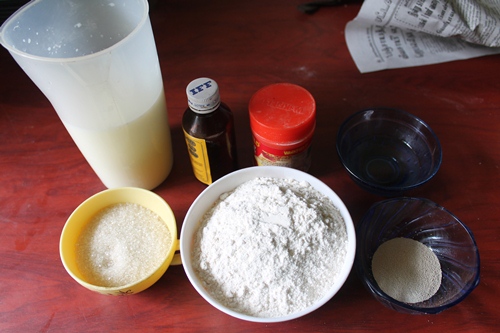 Take all your ingredients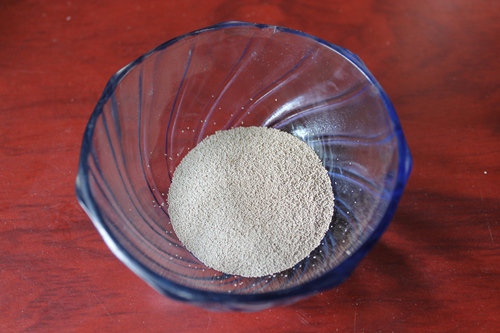 Take yeast in a bowl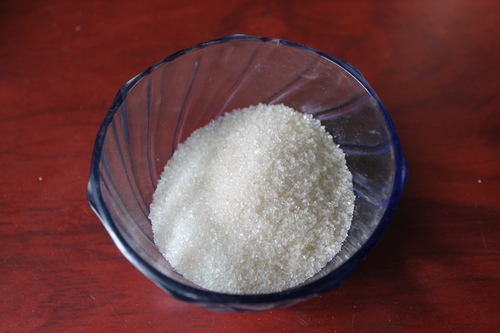 Add sugar to it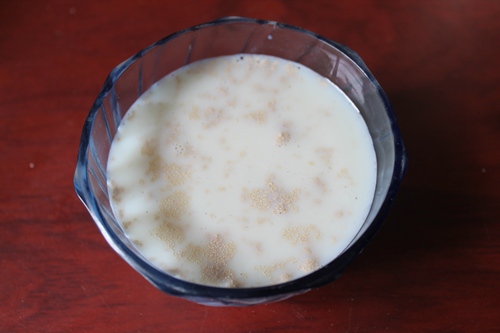 Add some warm milk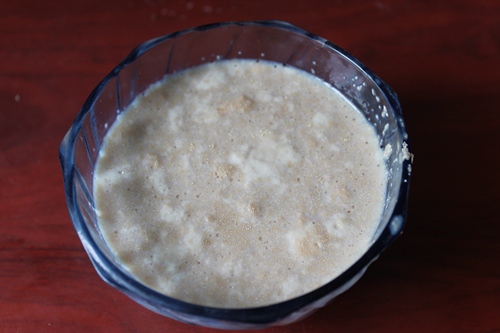 Let it ferment up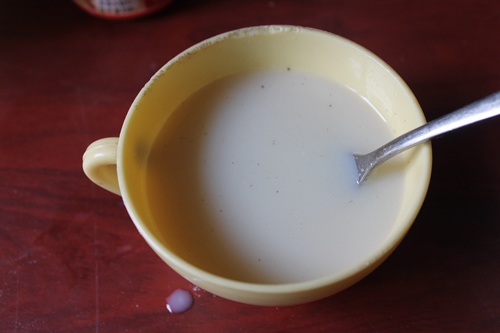 Take milk in a cup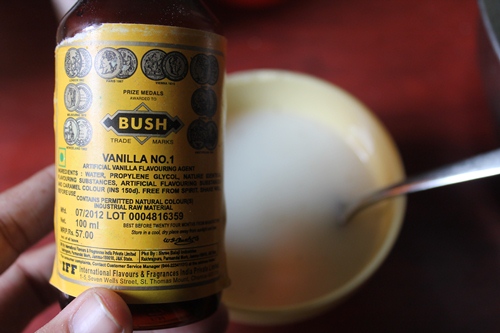 Addi a dash of vanilla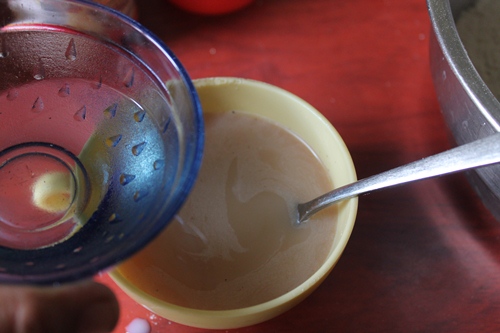 Add in some oil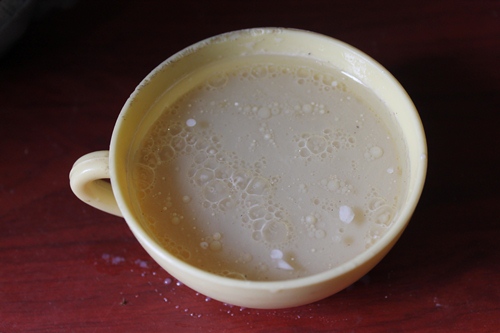 Mix that around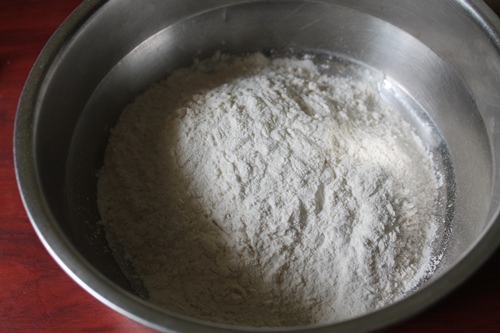 Take flour in a bowl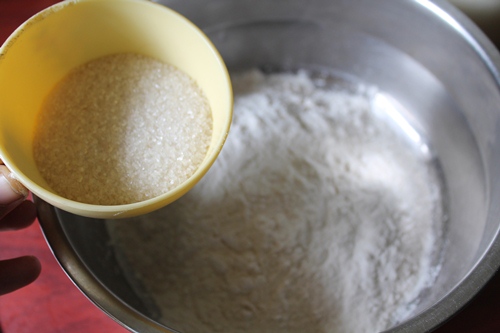 Add in sugar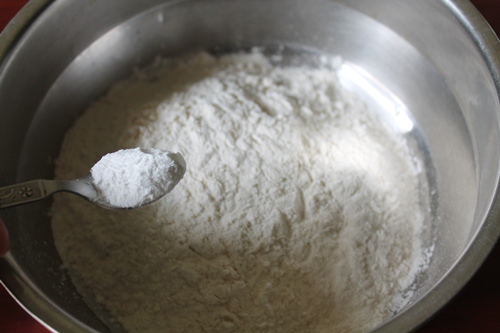 Baking powder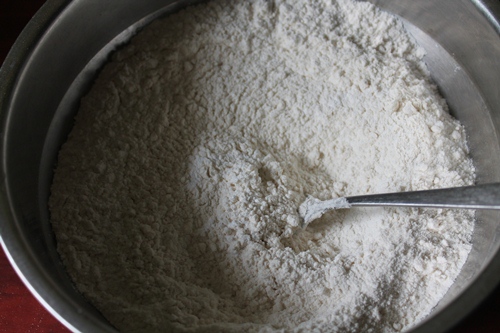 Mix that well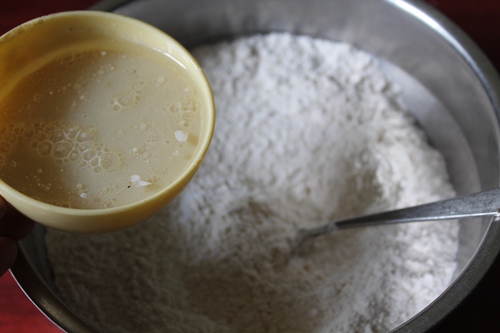 Now pour the milk mixture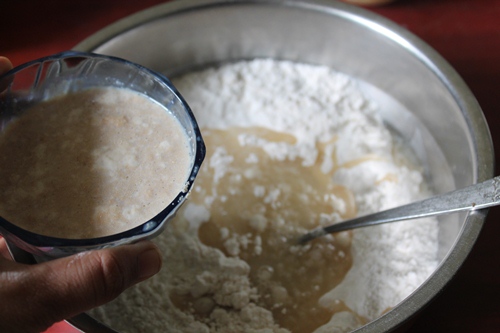 and the yeast mixture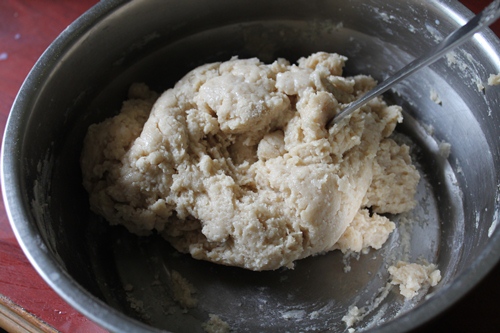 Mix well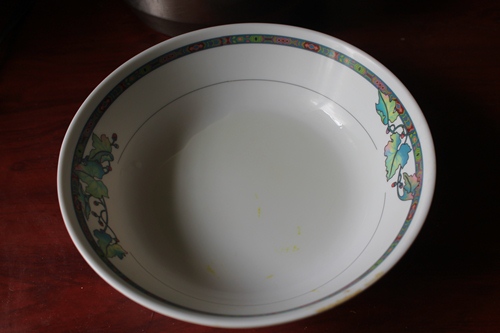 Grease a bowl with oil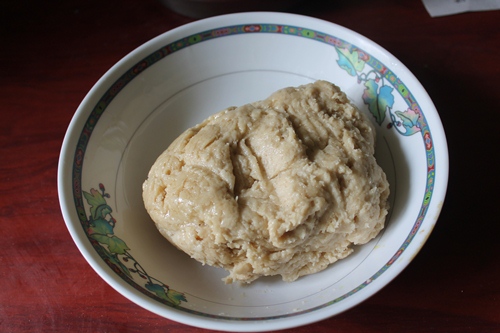 Transfer the dough in that bowl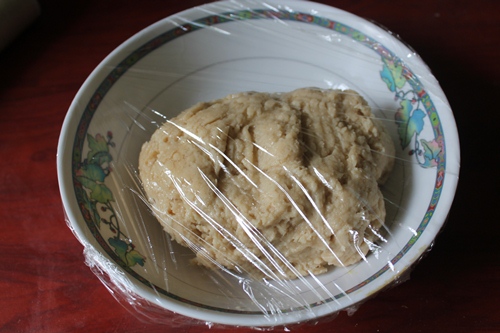 Cover with plastic wrap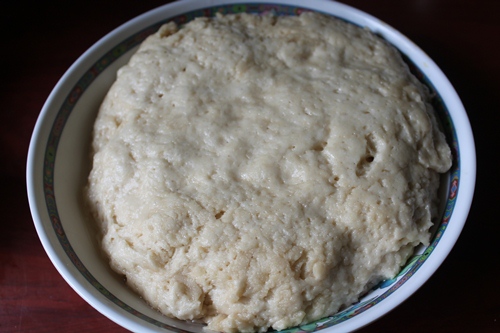 Let it double in size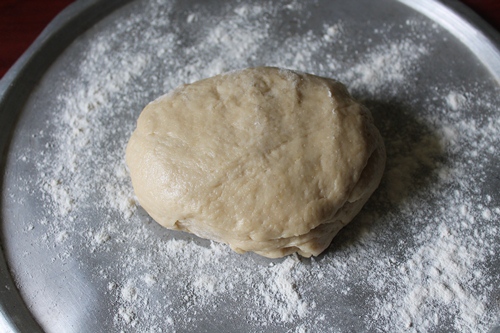 Punch that back down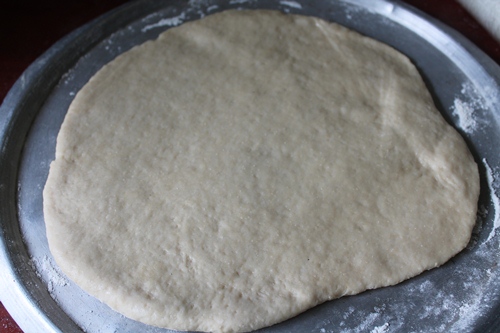 Roll them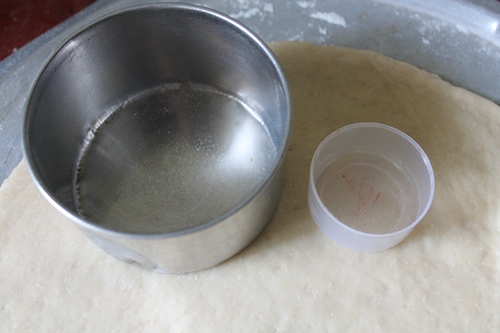 Now take your cutters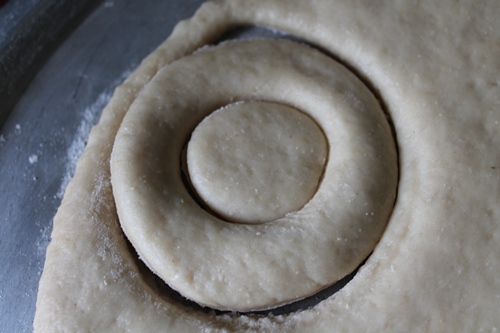 Cut them out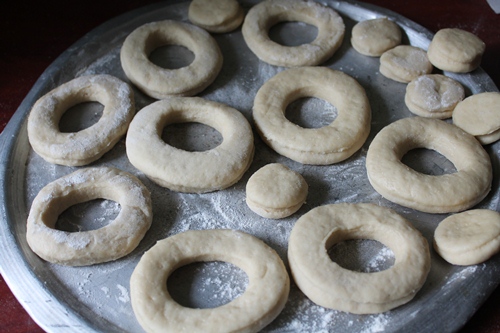 All done..let them rise a bit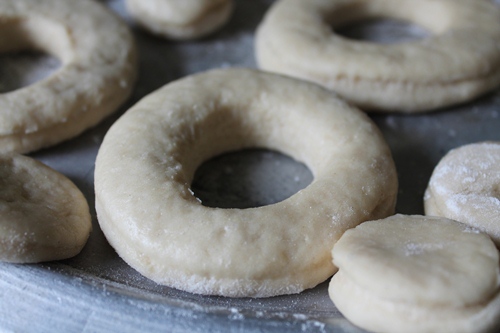 Like this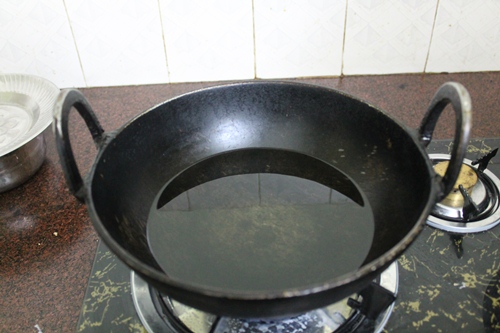 Heat oil for frying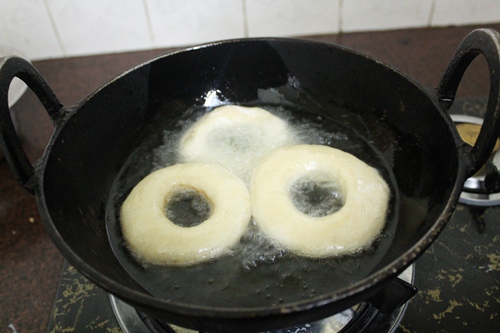 Fry the doughnuts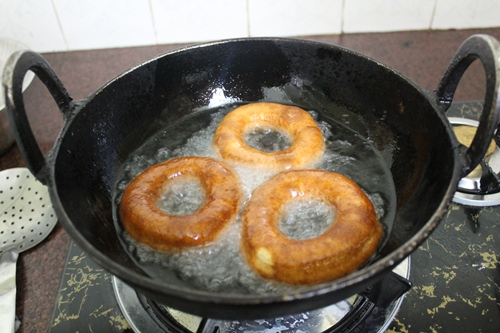 Fry them till golden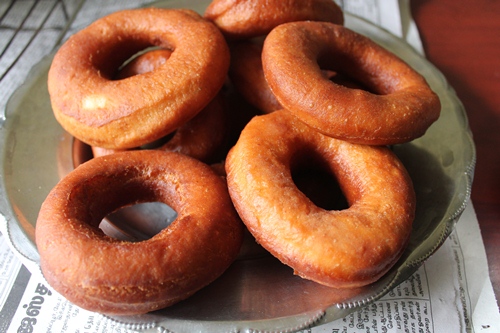 LIke this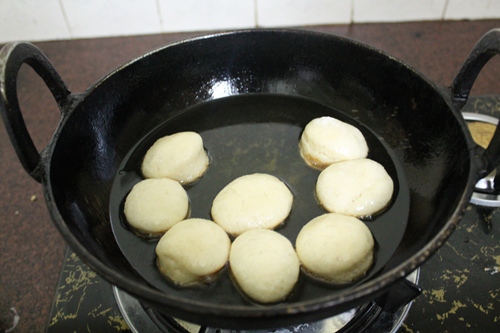 Fry the dough holes too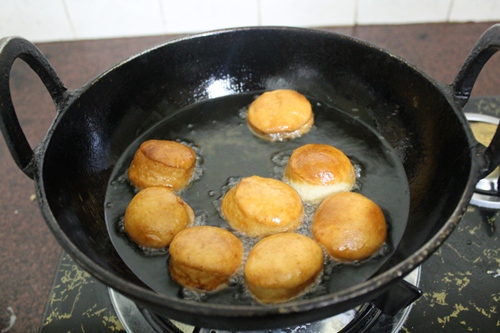 Till they turn golden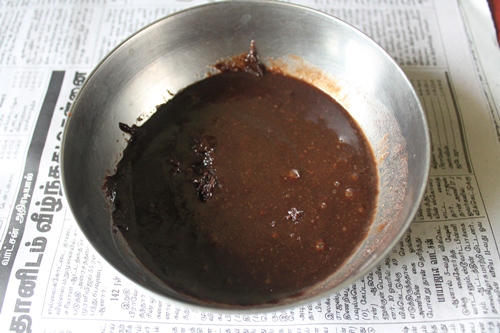 Make glaze..Read recipe method..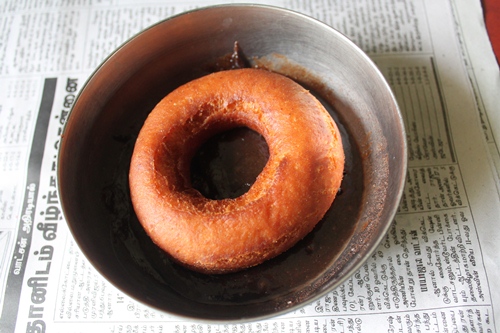 Dip the doughnuts in that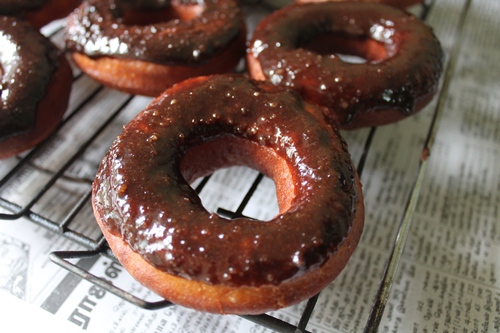 All coated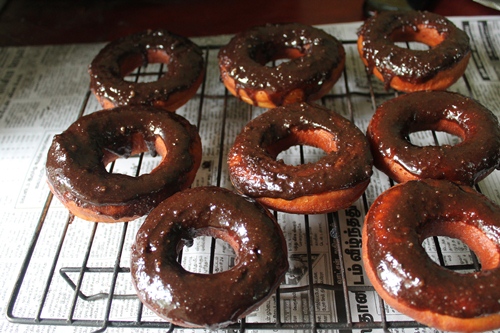 All done…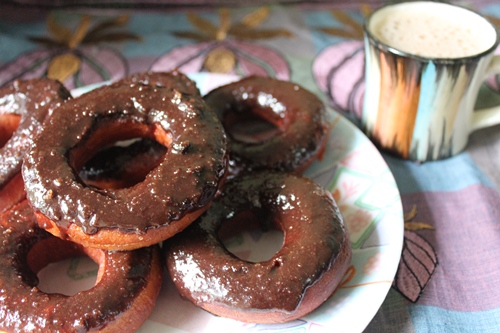 Enjoy..