Hainanese Chicken Rice with Step by step pictures. Hainanese chicken rice is an ultimate comfort food. Simple ingredients like ginger, garlic, chillies can give such a delicious end product.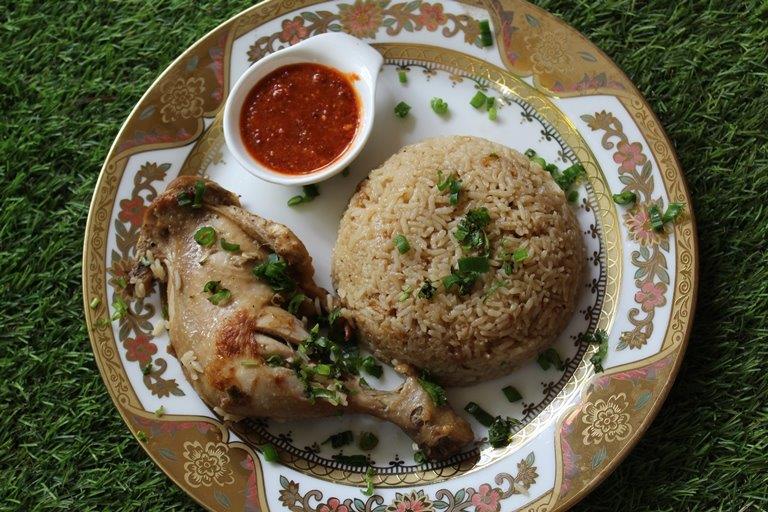 Pin
WIKI: Hainanese chicken rice is a dish of poached chicken and seasoned rice, served with chilli sauce and usually comes with cucumber garnishes. It was created by immigrants from Hainan in southern China and adapted from the Hainanese dish Wenchang chicken.
This is a simple rice dish in which chicken is cooked in flavourings like ginger, garlic, green onions, chillies which creates a stock. Later rice is cooked in the stock which gives such a amazing rice dish.
Similar Recipes,
Jeera Pulao
Soya Pulao
Shahi Pulao
Jeera Veg Pulao
Beetroot Pulao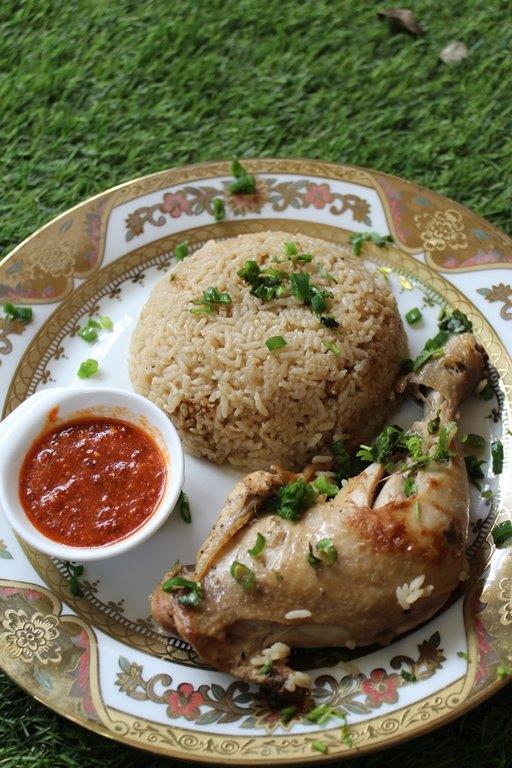 Pin
Hope you will give this a try and let me know how it turns out for you.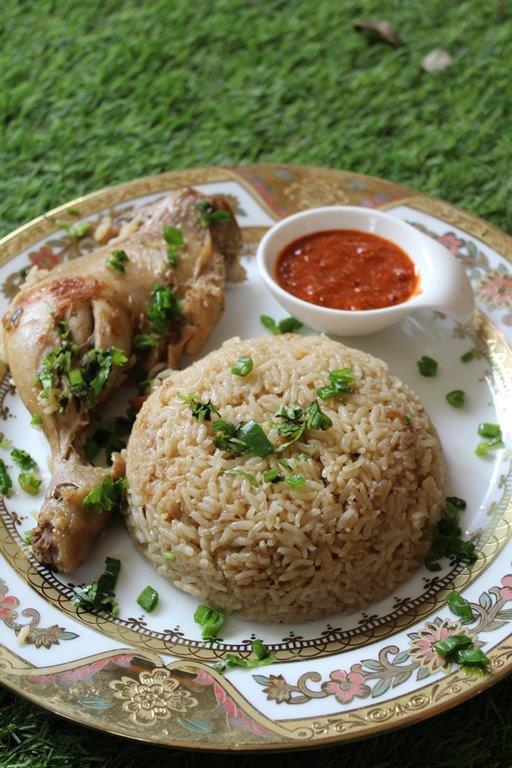 Pin
Hainanese Chicken Rice Recipe
Hainanese chicken rice is an absolute comfort food. This needs just basic ingredients but the flavours are spot on. The rice itself has lots of flavour.
Ingredients  
Chicken Legs - 2

Rice - 1 cup

Oil - 1 tblsp

Ginger - 1 tblsp chopped

Garlic - 1 tblps chopped

Spring onion - 2 chopped

Green Chilli - 1 chopped

Salt to taste

Pepper to taste

Chicken Stock - 3 cups

Spring onion for garnishing
FOR GINGER SAUCE:
Dry Red Chilli - 6

Ginger - 1 tblps

Garlic - 2 cloves

Salt to taste

Sugar - 2 tsp

Vinegar - 3 to 4 tblsp
Instructions 
Heat oil in a pan. Add in ginger, garlic, chillies and spring onion. Saute for 2 mins.

Add in chicken and season with salt and pepper.

Cook till both sides is seared.

Now add in chicken stock and bring it to a boil. Cover and cook till chicken is done. Remove chicken to a plate.

Strain the stock.

Take it back in the pan, add rice and mix well. Cook for 3 to 4 mins.

Add in chicken and cover it and cook on lowest heat possible for 10 to 15 mins.

Serve.

For chilli sauce. Soak chillies in hot water for 10 mins. Add it in blender along with all ingredients and grind.

Serve with rice.
Pictorial:
1)Heat oil in a pan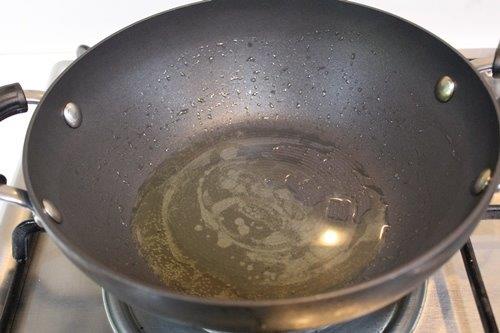 Pin
2)Add in ginger, garlic, chillies and spring onion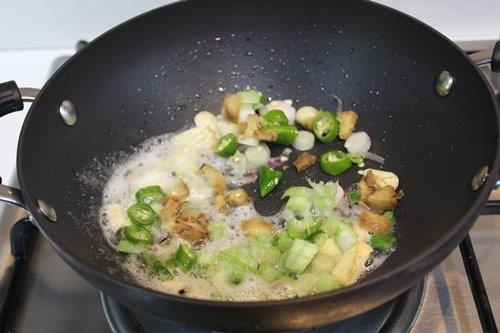 Pin
3)Saute for a min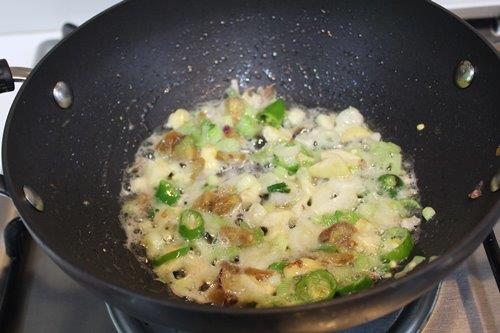 Pin
4)Add in chicken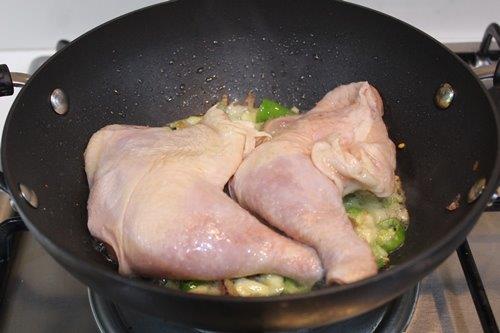 Pin
5)Add in salt and pepper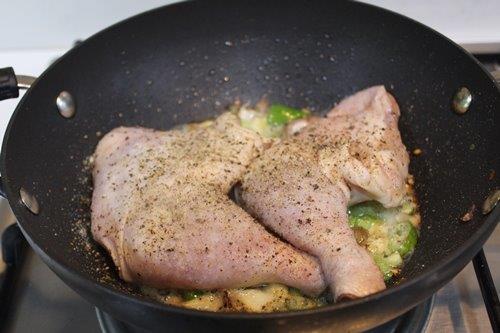 Pin
6)Flip over and cook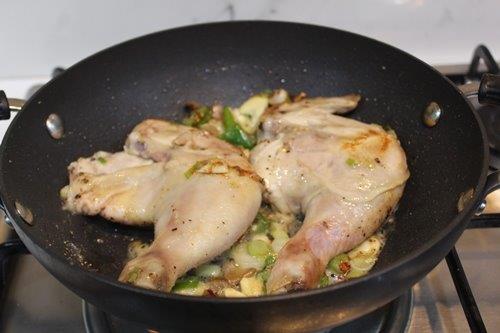 Pin
7)Flip over and cook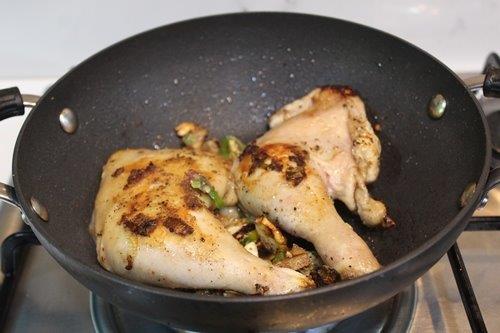 Pin
8)Add in chicken stock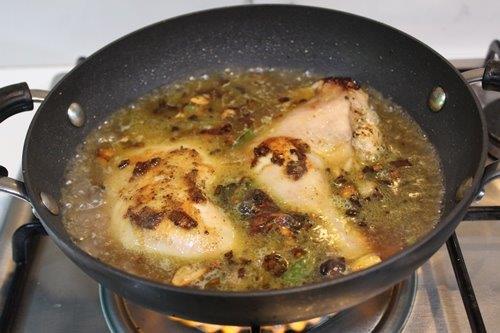 Pin
9)Cover and cook till chicken is done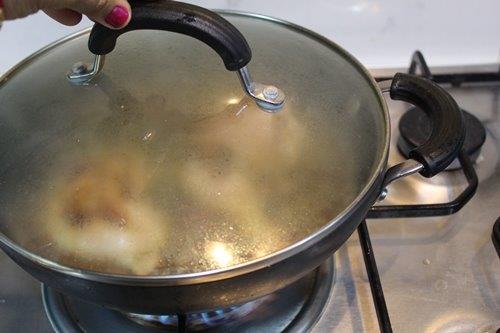 Pin
10)Now chicken is done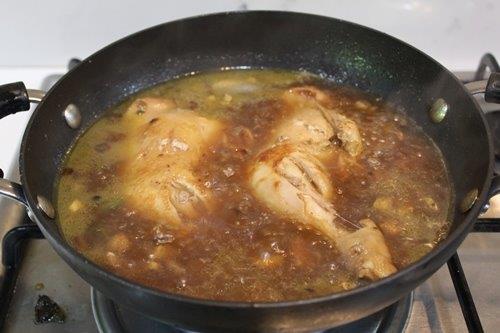 Pin
11)Remove chicken in a plate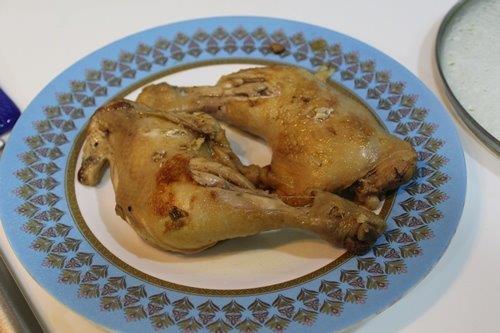 Pin
14)Drain the sediments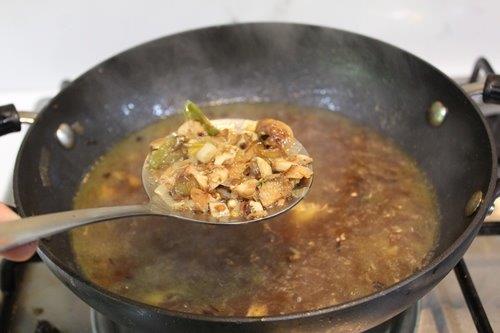 Pin
15)Now the stock is done. Add more water if needed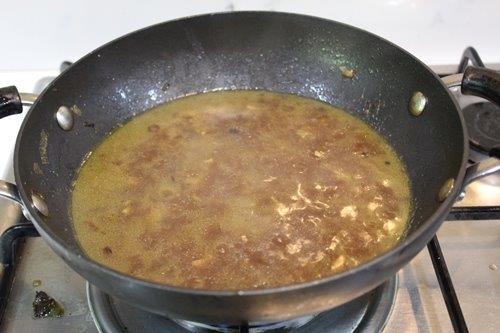 Pin
16)Add rice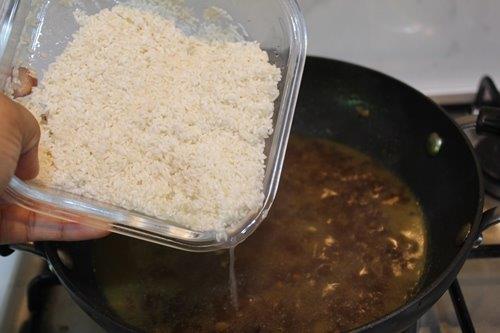 Pin
17)Mix well and cook on low heat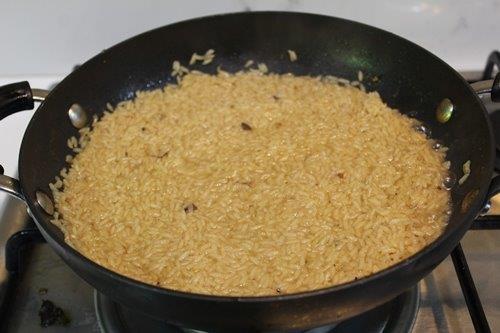 Pin
18)Place chicken on top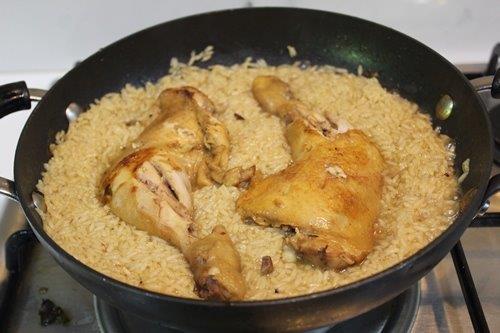 Pin
19)Cover and cook on lowest heat possible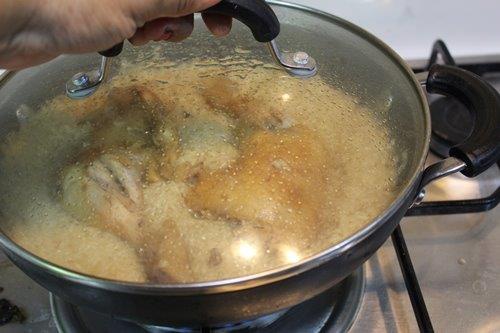 Pin
20)Now rice is done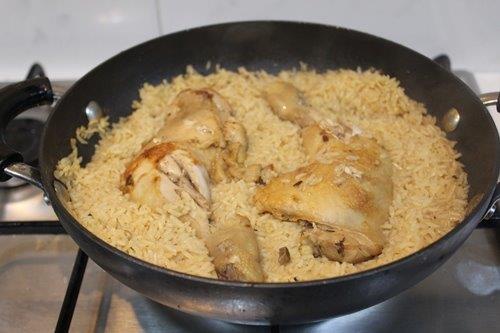 Pin
21)Meanwhile make chilli and ginger sauce, Take soaked dry chillies in a blender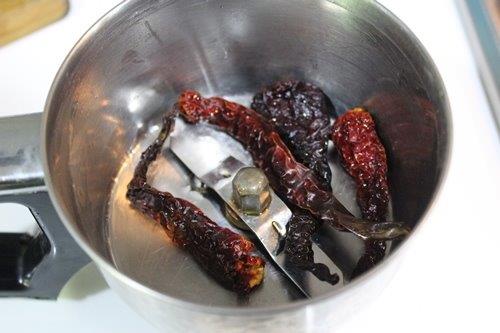 Pin
22)Add in ginger and garlic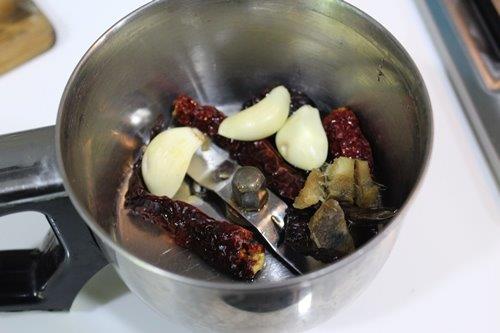 Pin
23)Add salt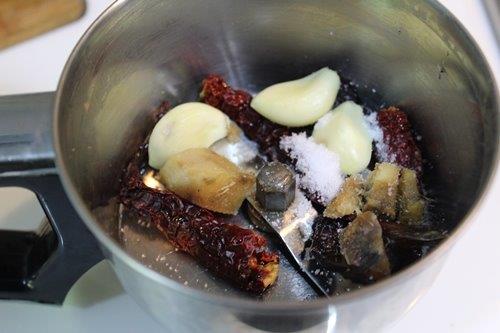 Pin
24)Add sugar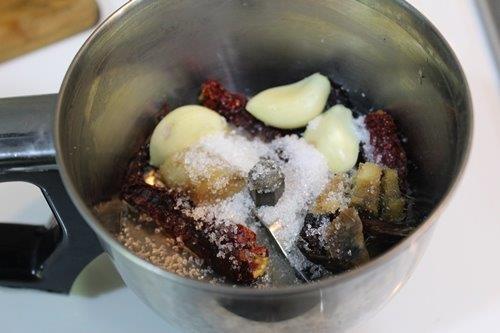 Pin
25)Add in vinegar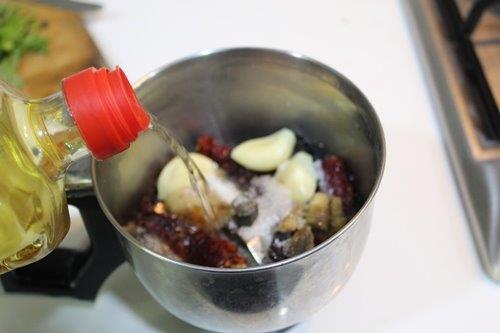 Pin
26)Now sauce is done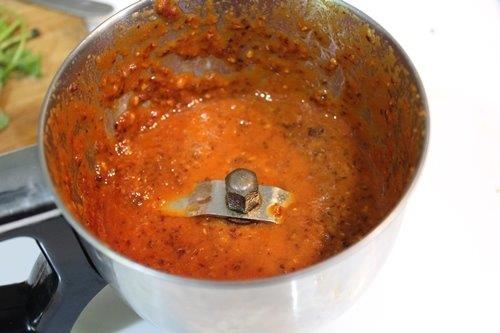 Pin
27)taste and adjust the seasoning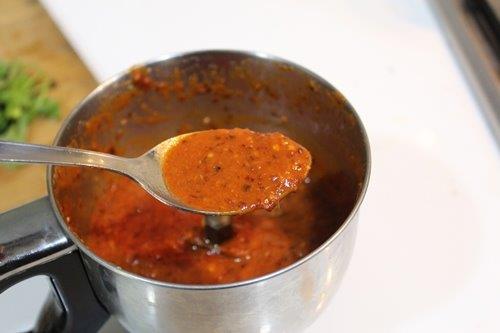 Pin
28)Serve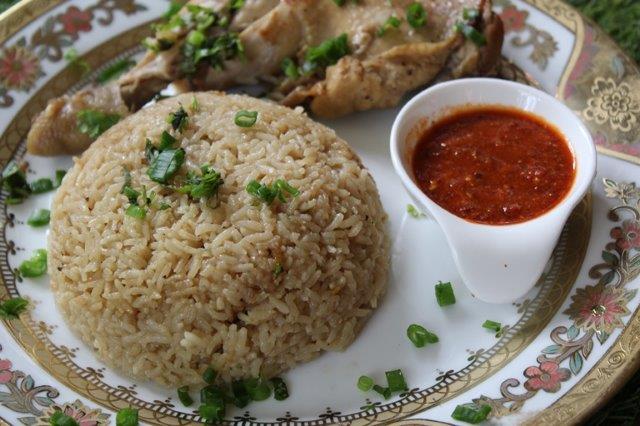 Pin