Learn How to Cook Juicy Chicken Breast in Three Easy Steps.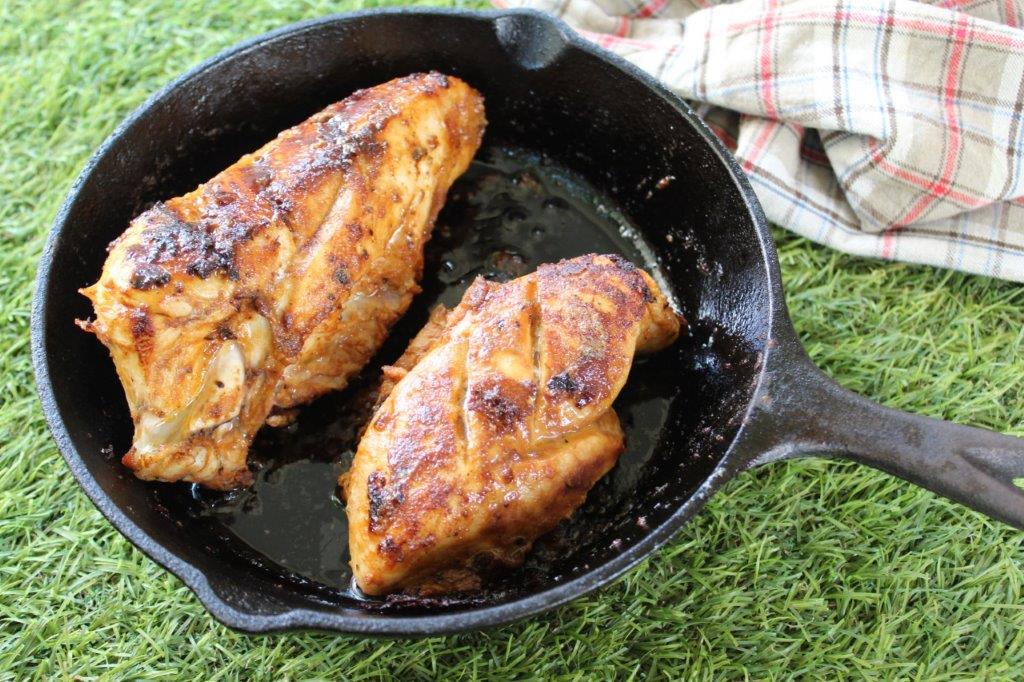 Pin
Cooking Chicken Breast Easily. As easy it sounds, Cooking chicken breast may sound easy but there are few key points to note before cooking a chicken breast.
Cooking chicken breast may sound easy but it is bit tricky. Since chicken breast can tend to dry out very easily. Chicken breast
A chicken breast is actually the underside of a chicken when it is up and wandering about. Each chicken has two breasts. When a recipe calls for a chicken breast, it generally means half the breast, and not the whole breast (a whole breast being the two halves of a breast.)
Chicken breast is one of the most popular cuts of chicken. It's high in protein and low in fat, making it an excellent choice for people trying to lose weight.
One skinless, boneless, cooked chicken breast (172 grams) has the following nutrition breakdown
Calories: 284
Protein: 53.4 grams
Carbs: 0 grams
Fat: 6.2 grams
A 3.5-ounce (100-gram) serving of chicken breast provides 165 calories, 31 grams of protein and 3.6 grams of fat
That means that approximately 80% of the calories in chicken breast come from protein, and 20% come from fat.
HOW TO COOK CHICKEN IN THREE EASY STEP:
1)Sear chicken on one side, flip.
2)Add butter and baste.
3)Finish cooking in oven and rest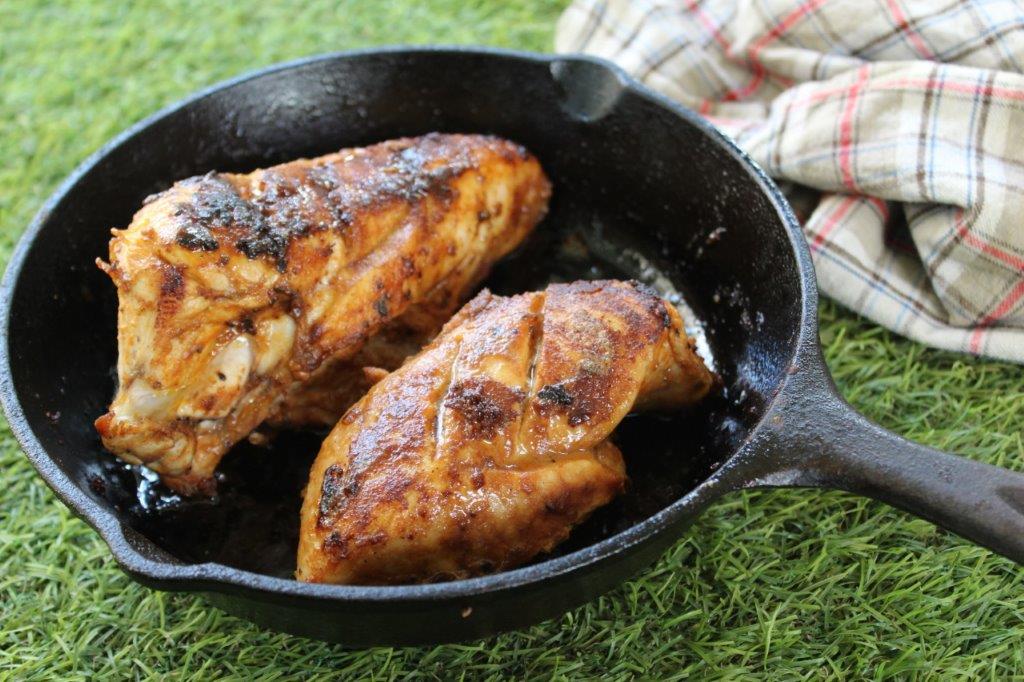 Pin
Frequently Asked Questions?
1)What is the best way to cook chicken breast?
Start by cooking the chicken in cast iron pan on stove top and finishing it in oven makes it super juicy and tender.
2)How do you cook chicken breast without drying it out?
Cooking lesser time on stove top and finishing it in oven is the best way. Also use enough heat and fat to make it juicy.
3)How long does it take to cook a chicken breast?
It typically takes around 15 to 20 mins to cook a chicken perfectly.
4)How do you make chicken soft and juicy?
Flatten the chicken breasts.
Season the chicken breasts.
Heat the pan. preferably cast iron pan.
Cook the chicken breasts over medium heat for 2 minute without moving.
Flip the chicken breasts.
Add butter and baste.
pop into the oven and cook for 15 mins.
5)How do you know when boneless chicken breast is done?
Poke the meat to see if juices are red or clear. If you poke a chicken breast and the juices that escape are clear, then it is probably done. If the juices are red or have a pinkish colour, your chicken may need some more time on the heat.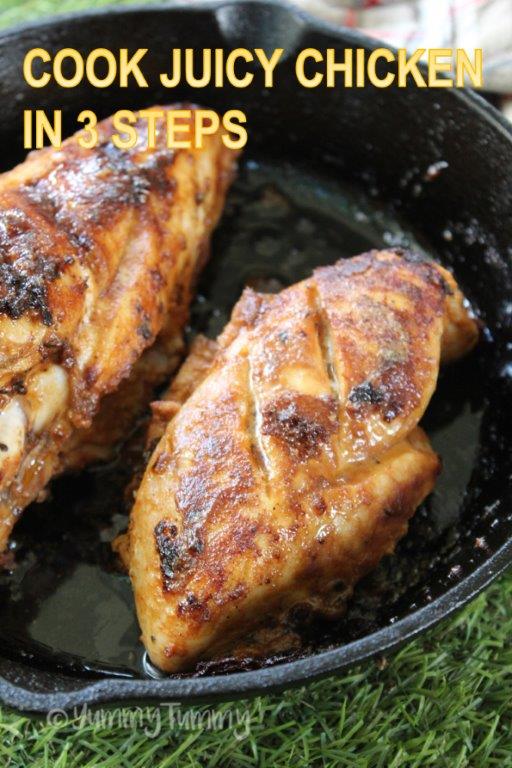 Pin
Hope you will give this a try and let me know how it turns out for you.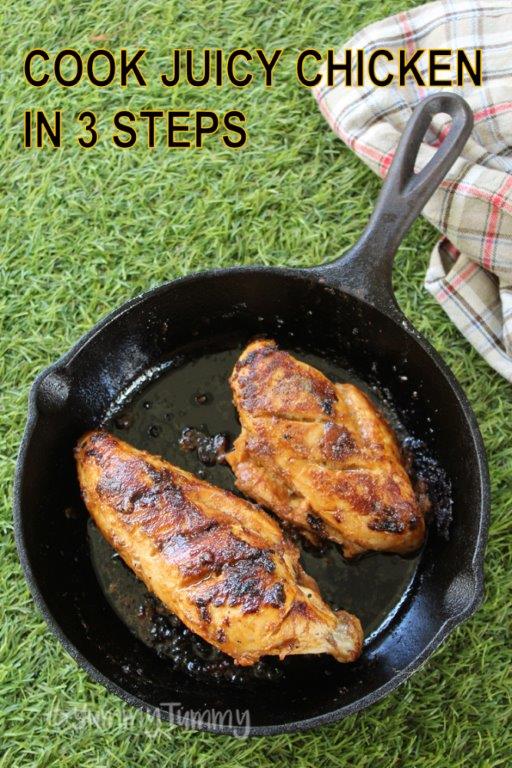 Pin
If you have any questions not covered in this post and if you need help, leave me a comment or mail me @[email protected] and I'll help as soon as I can.
Follow me on Instagram, Facebook,Pinterest ,Youtube and Twitter for more Yummy Tummy inspiration.
IF YOU MAKE THIS RECIPE OR ANYTHING FROM YUMMY TUMMY, MAKE SURE TO POST IT AND TAG ME SO I CAN SEE ALL OF YOUR CREATIONS!! #YUMMYTUMMYAARTHI AND @YUMMYTUMMYAARTHI ON INSTAGRAM!
📖 Recipe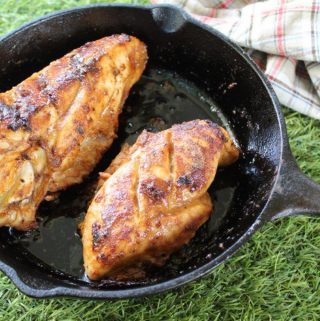 Chicken Breast Recipes | Chicken Breast | How to Cook Chicken Breast
Learn how to make or cook juicy chicken breast in three easy steps. This way of cooking chicken breast is fool proof and makes your chicken turn juicy all the time.
Print
Pin
Rate
Ingredients
Chicken Breast - 2 boneless

Oil - 2 tblsp

Butter - 3 tblsp

Garlic Powder - 2 tsp

Onion powder - 2 tsp

Red chilli powder - 2 tsp

Black pepper powder - 1 tsp

Salt to taste

Lemon juice - 2 tblsp
Instructions
Mix chicken breast and all ingredients except oil and butter in a pan.

Marinate for at least 30 mins or overnight.

Heat oil in a cast iron pan till nice and hot.

Place chicken breast in and cook on high heat for 2 mins.

Flip over, Now add in butter and baste the butter and juices over the chicken.

Now pop the pan into a 180 degree C preheated oven for 10 to 15 mins until completely cooked through.

Remove the chicken and set aside for 10 mins to rest.

Now serve hot.
Notes
1)Use boneless chicken for easy cooking. You can use chicken breast with bones too.
2)Use butter in the end for more flavour.
3)Always finish chicken in the oven for more juicy and succulent chicken breast.
4)Always use chicken in room temp.
5)Dont over cook the chicken breast else it will turn hard.
Nutrition
Serving:
1
g
|
Calories:
336
kcal
|
Protein:
21.3
g
|
Fat:
27.6
g
|
Saturated Fat:
9.1
g
|
Cholesterol:
95
mg
|
Sodium:
133
mg
Join us on Facebook
Follow us on Facebook
Share by Email
Share on Facebook
Chicken Breast Recipes With Step by Step Pictures
1)Take chicken breast in a bowl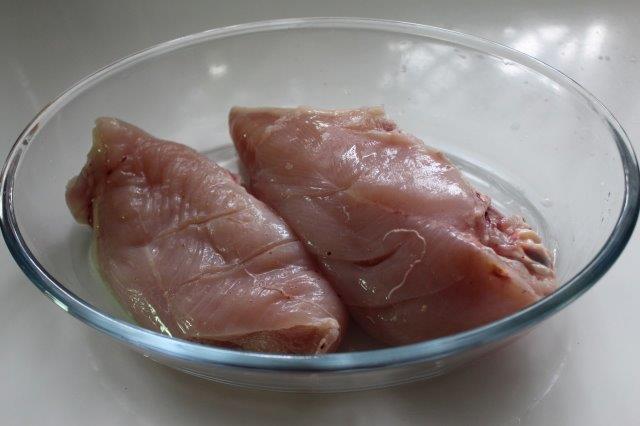 Pin
2)Add in garlic powder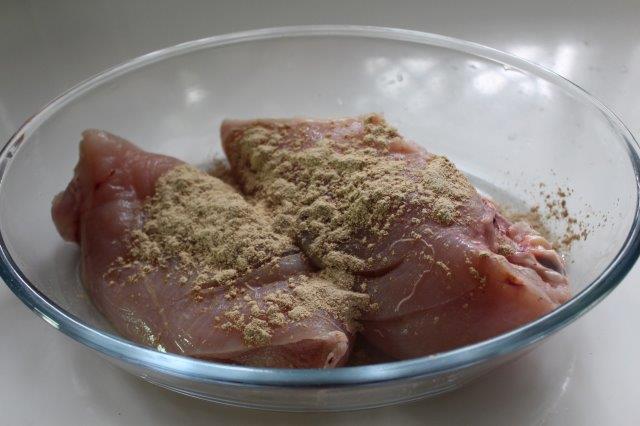 Pin
3)Add in onion powder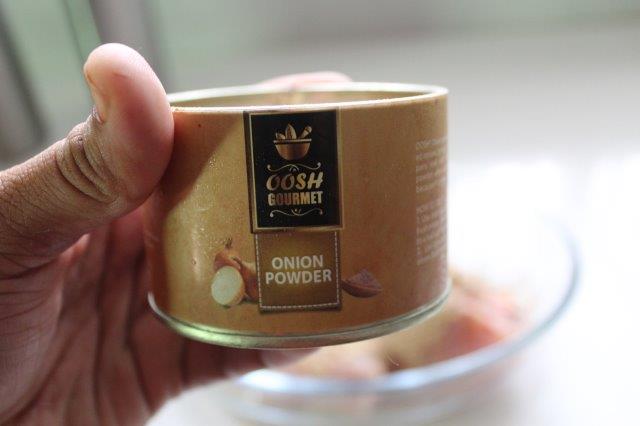 Pin
4)Season with salt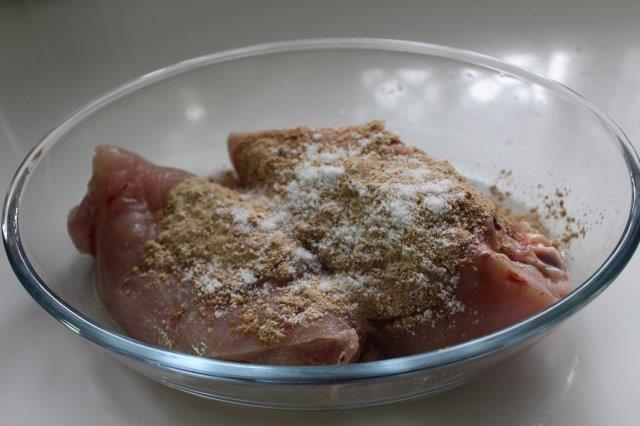 Pin
5)Add in chilli powder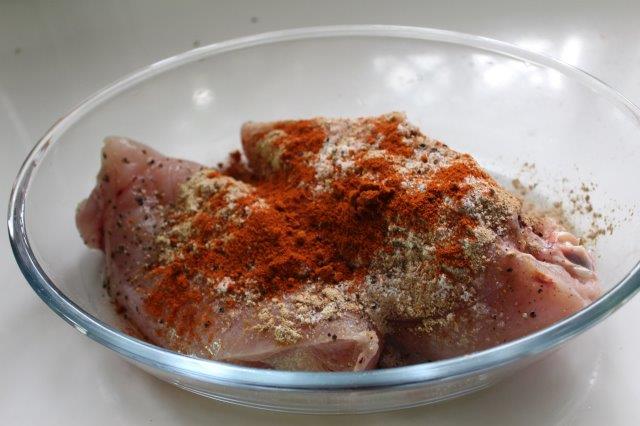 Pin
7)Add in black pepper powder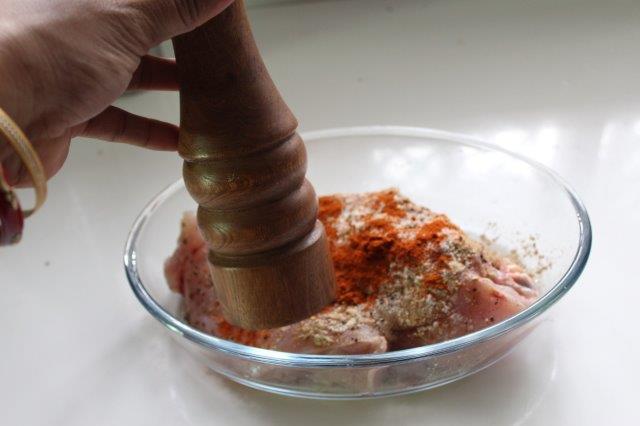 Pin
8)Add in lemon juice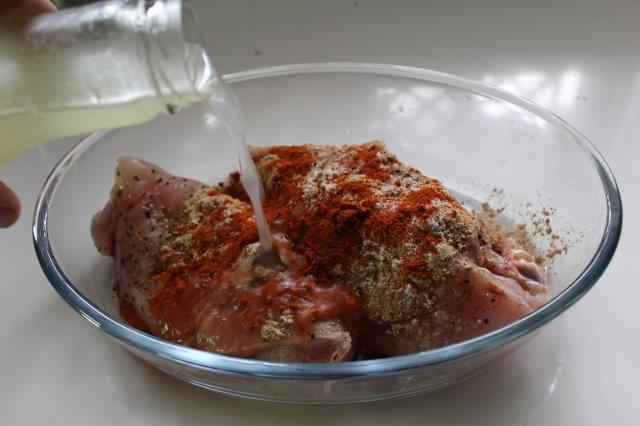 Pin
9)Mix well. Leave to marinate for 30 mins or so.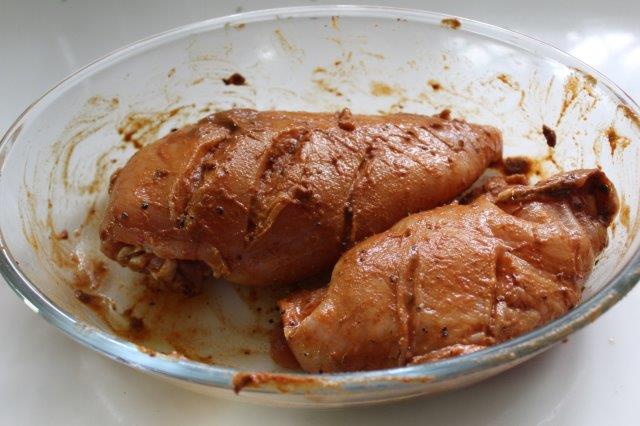 Pin
10)Heat little oil in a cast iron pan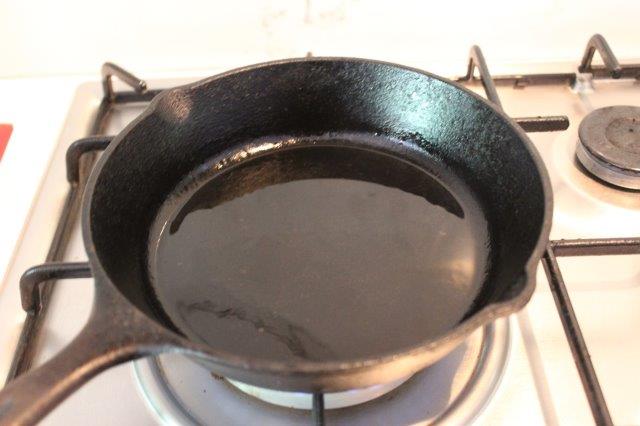 Pin
11)Place chicken in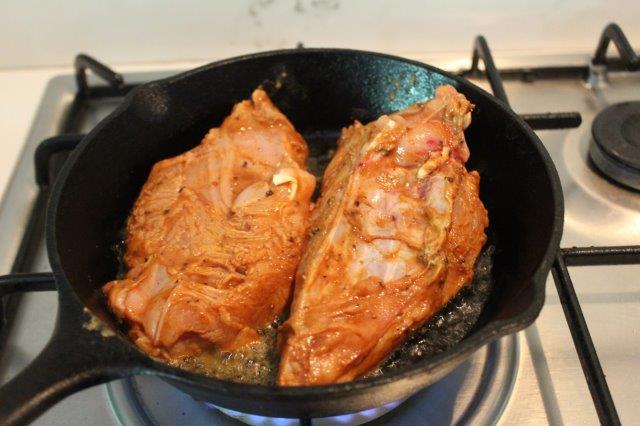 Pin
13)Cook for 3 to 4 mins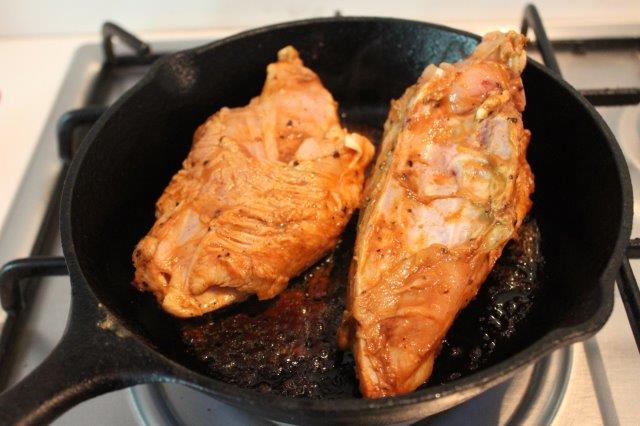 Pin
14)Flip over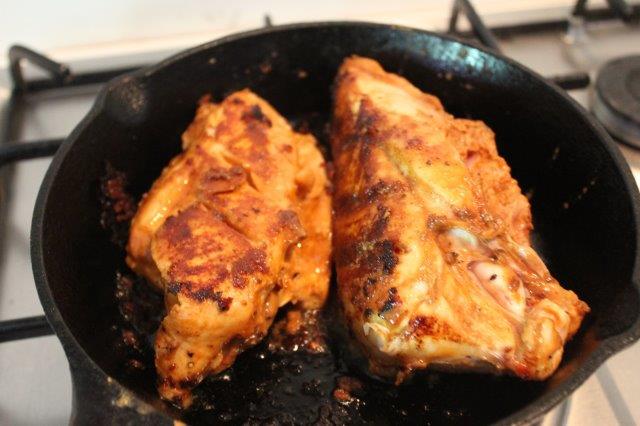 Pin
15)Add some butter in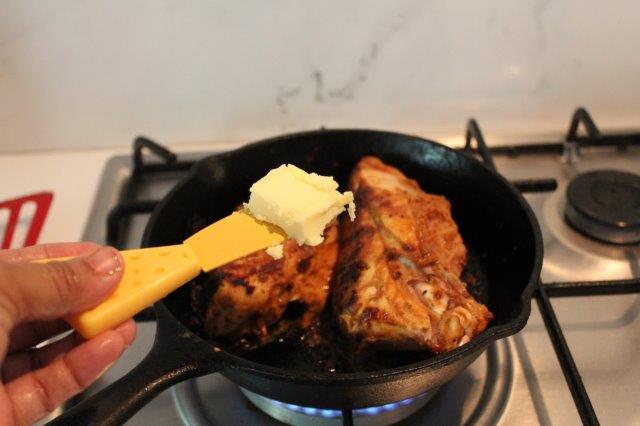 Pin
16)use a spoon to remove the juices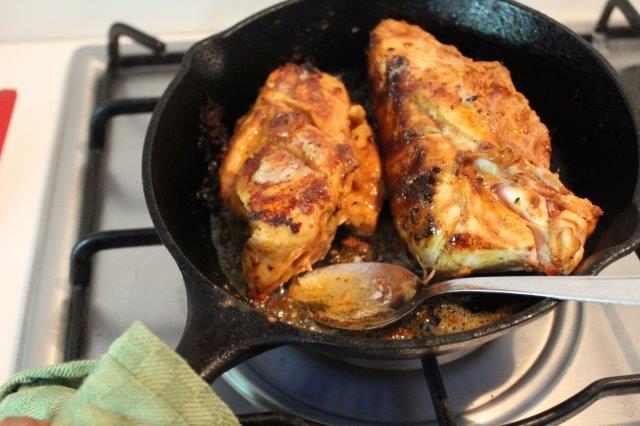 Pin
17)Spoon back over the chicken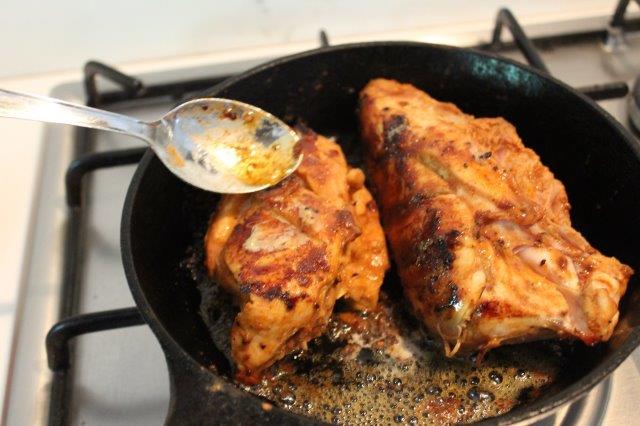 Pin
18)Take the pan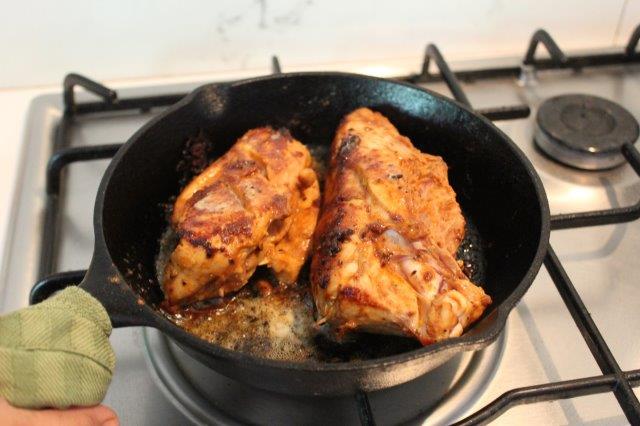 Pin
19)Pop it straight into the oven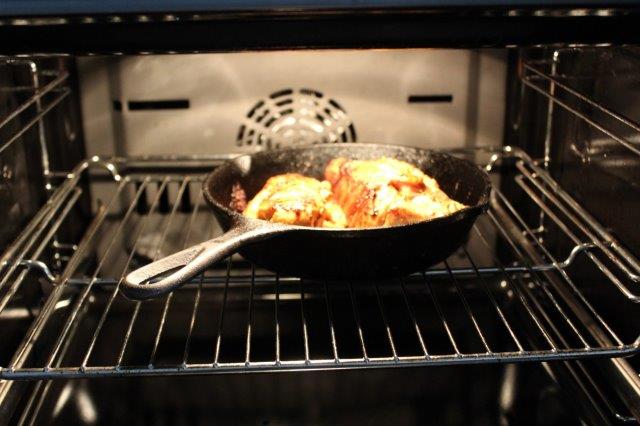 Pin
16)Bake for 15 mins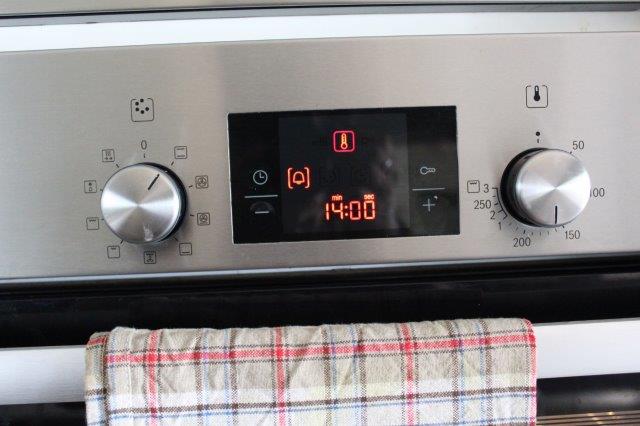 Pin
17)Remove and rest the chicken for 15 mins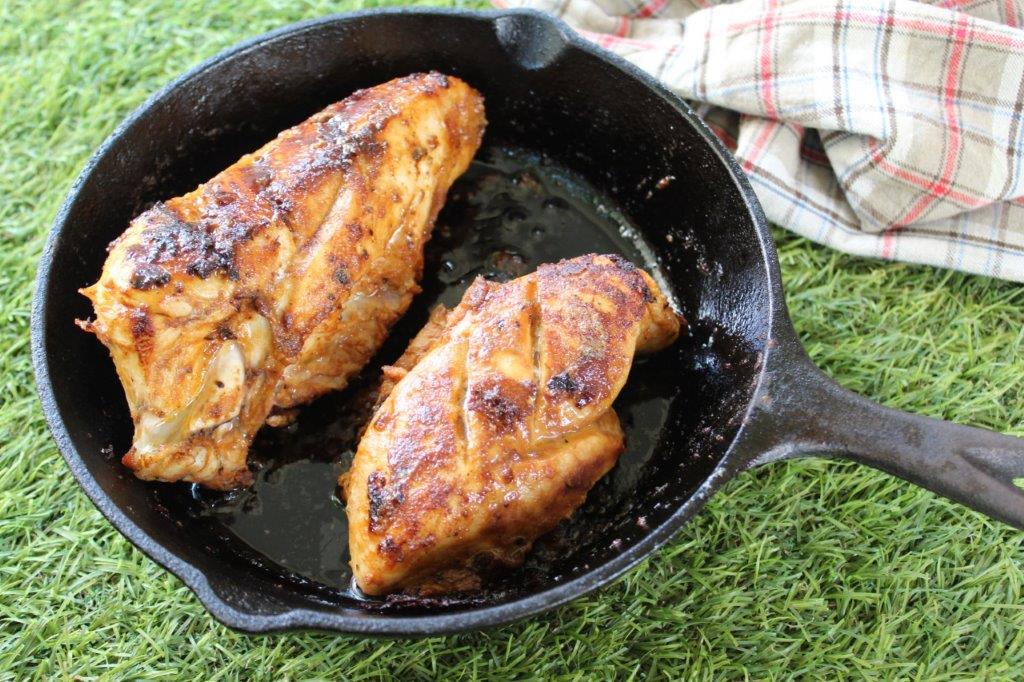 Pin
18)Serve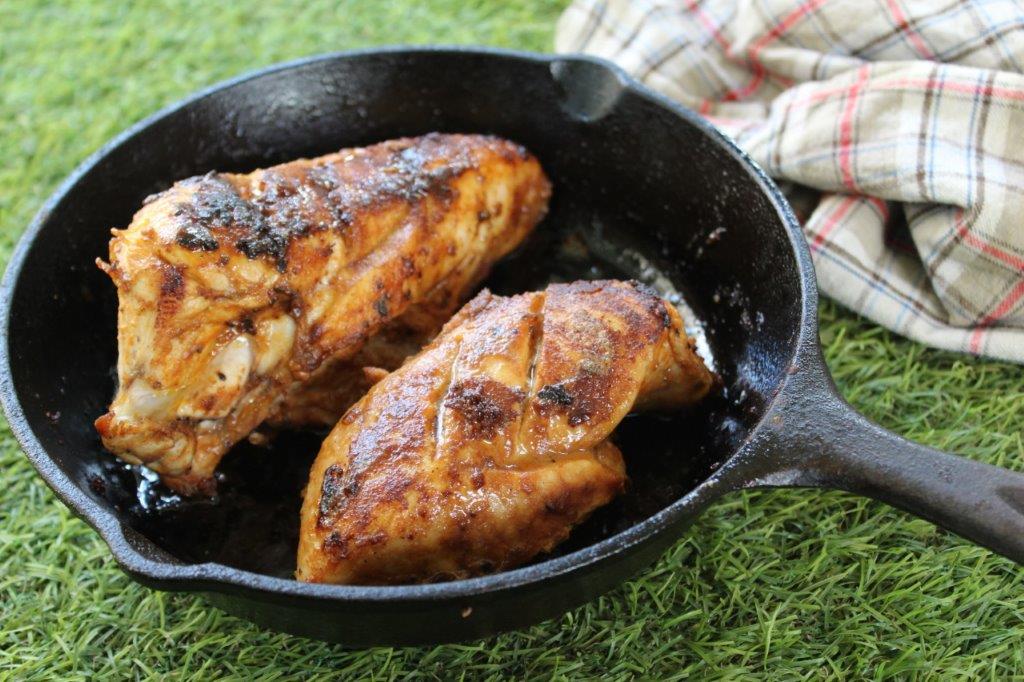 Pin