Kerala Style Nethili Meen Curry Recipe with step wise pictures. Nethili Meen kuzhambu made three different ways. One has coconut and one without coconut. I have a kerala style version of anchovies fish curry.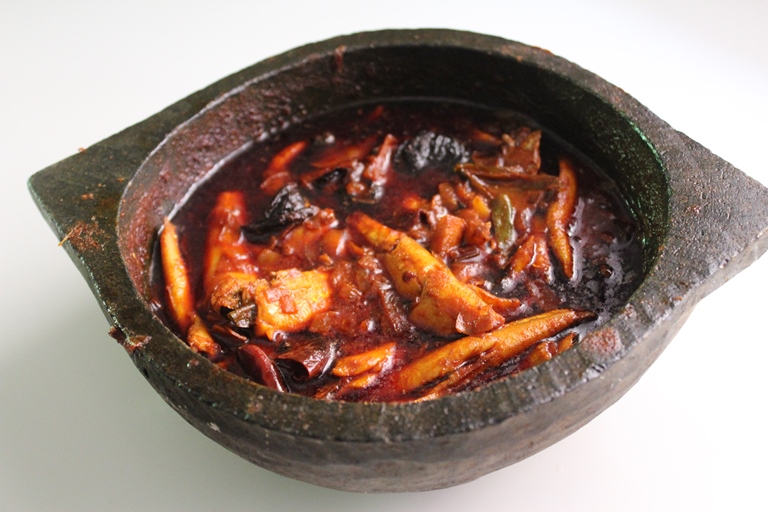 Pin
Nethili meen kuzhambu is my husband all time favorite. This kerala style fish curry not only taste amazing but is super easy to make as well.
About Nethili / Anchovies
An anchovy is a small, common forage fish in the Engraulidae family. The majority of species are found in marine waters, but several will enter brackish water, and some are restricted to fresh water in South America. The Indian anchovy, also known as Hardenberg anchovy, is an oceanodromous ray-finned fish in the Engraulidae family. In Srilanka, it is known as handalla and is widely available in most markets
and supermarkets. It is commonly used as a live or dead bait in the
tuna fishing industry.
What is Nethili Meen Kuzhambu
Anchovies Fish Curry/ Nethili Meen Kulambu is a traditional South Indian fish curry recipe. The spicy, tangy, and flavorful Nethili fish curry pairs well with steamed rice or idly. Meen Vevichathu is what it is called in kerala. It is a spicy and delicious fish curry which is mainly tamarind based and taste so delicious. The main flavour for this comes from the unique sour ingredient called as kokum.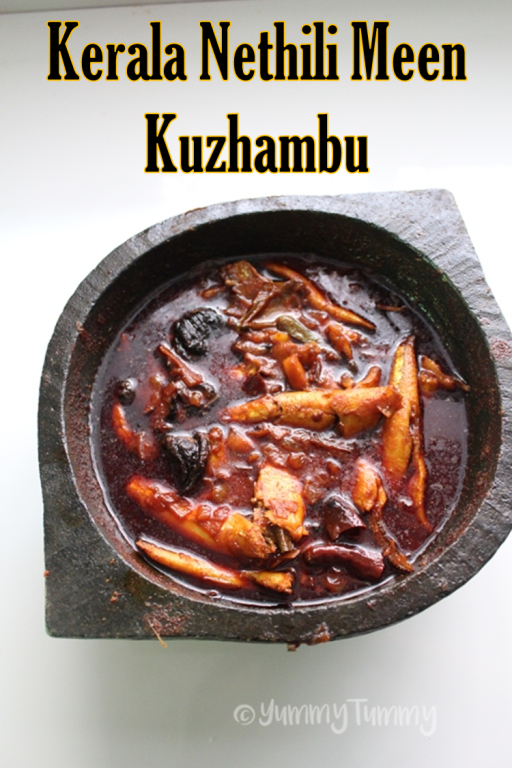 Pin
Ingredients for Anchovies Fish Curry
Anchovies / Nethili Meen :
Polyunsaturated fatty acids are abundant in nethili fish. Netholis bone is high in calcium, which is beneficial to our bones as well. Nethili prevents cardiovascular disease and is beneficial to people who have heart problems.
Tamarind Pulp  :
Tamarind pulp is a thick tamarind extract. To make tamarind pulp at home, soak the tamarind pods in warm water for about 15-20 minutes, or until soft.
Fennel seeds :
Fennel seeds are the dried seeds of the fennel herb, and they resemble cumin seeds but are greener. They taste aniseed and have a warm, sweet aroma. They can be used alone or in spice blends like Chinese five-spice powder and Indian panch phoran.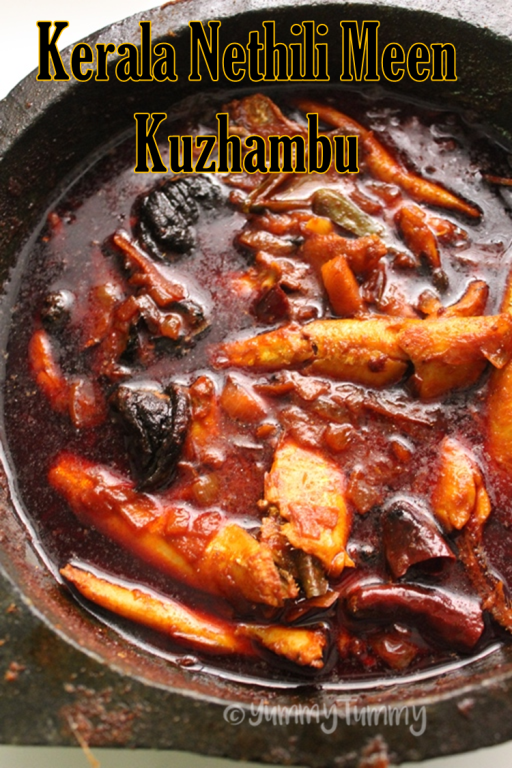 Pin
Hope you will give this a try and let me know how it turns out for you.
How to Make Kerala Style Nethili Fish Curry
Heat oil in a mud kadai. Add in mustard, dry red chillies and fenugreek seeds and let them sizzle.
Add in shallots, garlic, ginger, curry leaves and turmeric powder. Saute this for 3 mins or so.
Now lower the flame and add in spice powders. Saute this on low heat for around 5 mins. The spices will get toasted and colour will darken.
Now add in tamarind pulp and water. Add in salt and bring it to a boil.
Once it reaches a boil, add in fish and mix well. Add in some curry leaves
Cook this partially covered for 5 to 7 mins on medium high heat. The fish will be cooked by this time.
Now take it off the heat and cover with a lid. Let it sit for 2 to 4 hours for the flavours to develop. You can serve immediately as well, but it will taste wonderful if it sits for a while.
Now serve this with boiled tapioca or rice.
Kerala Style Nethili Meen Curry With Step by Step Pictures
1)Heat coconut oil in a pot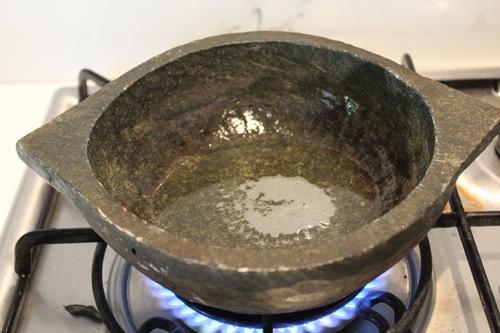 Pin
2)Add in mustard seeds, cumin seeds and fenugreek seeds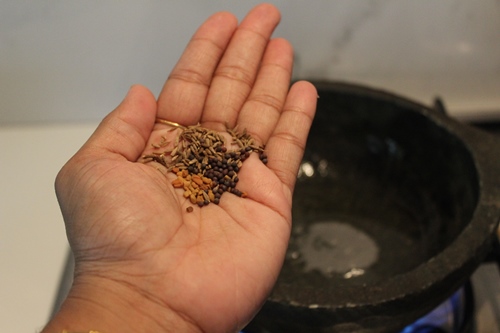 Pin
3)dry red chillies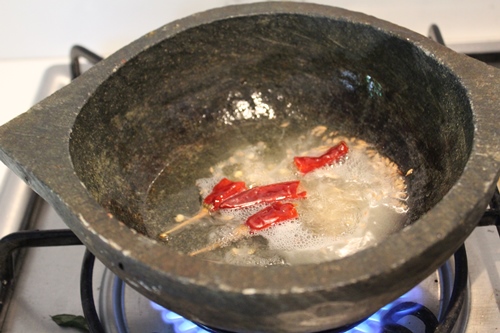 Pin
4)Add in curry leaves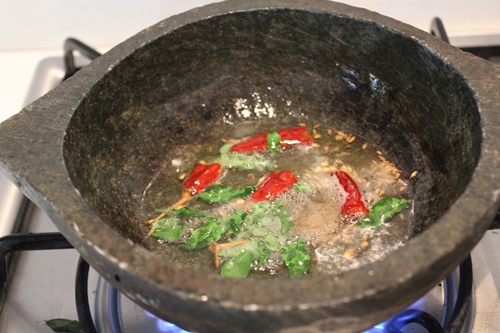 Pin
5)Add chopped onions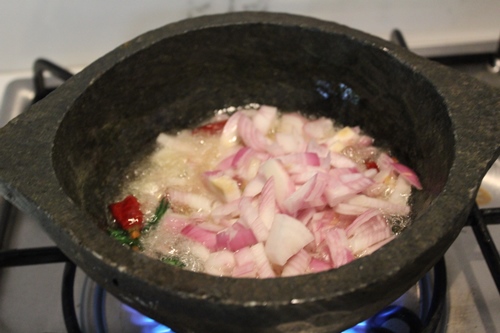 Pin
6)ginger, garlic and green chillies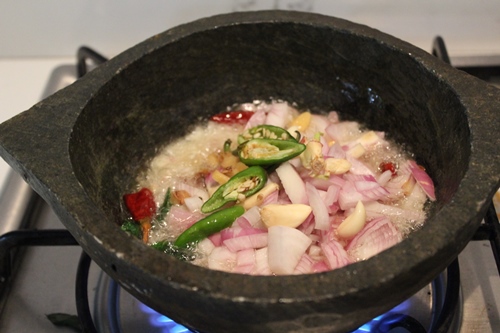 Pin
7)Saute till golden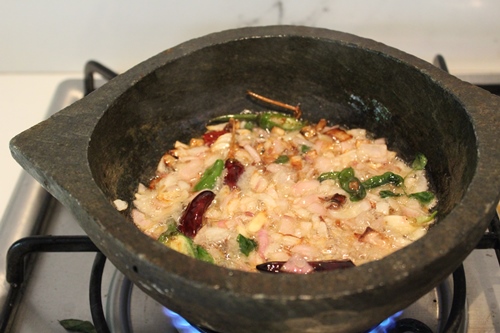 Pin
8)Add in turmeric powder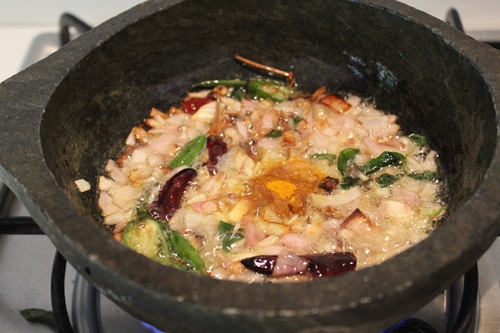 Pin
9)Add in kashmiri chilli powder and regular chilli powder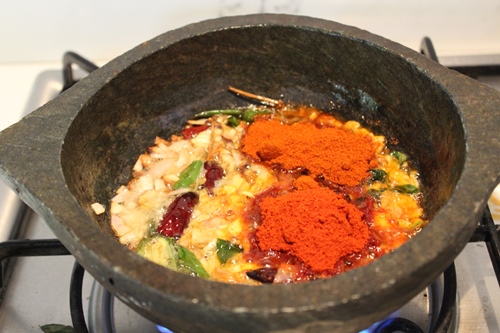 Pin
10)cumin powder and coriander powder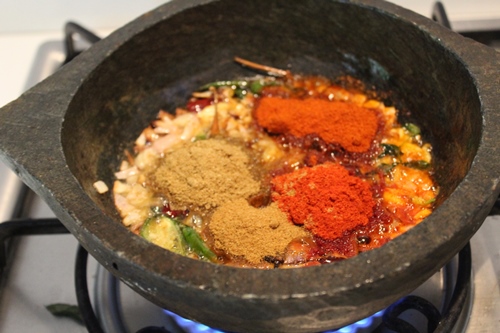 Pin
11)Mix well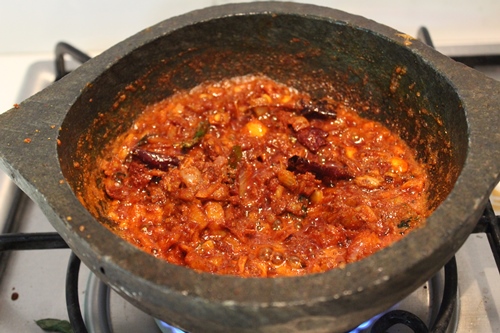 Pin
12)Cook this on medium heat for 4 to 5 mins till spices gets toasty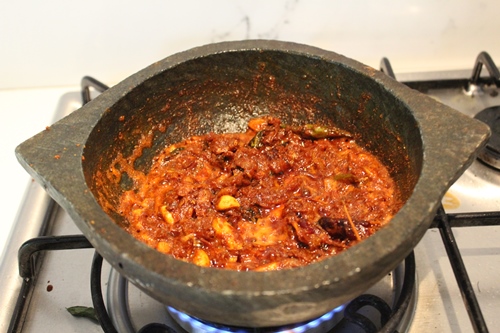 Pin
14)Add in tamarind (kudam puli) which is soaked in water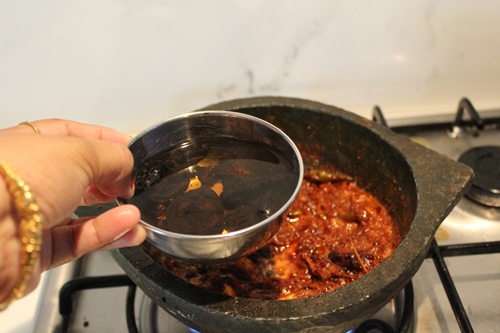 Pin
15)Mix well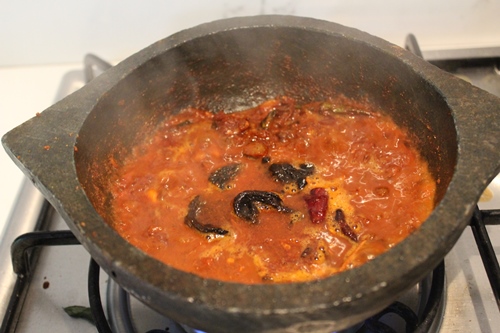 Pin
16)Add more water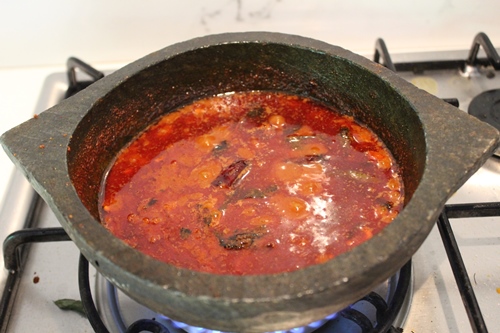 Pin
17)Add salt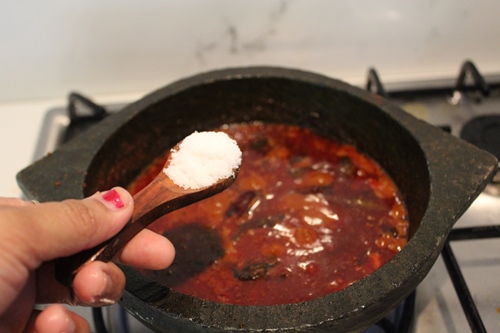 Pin
18)Bring it to a boil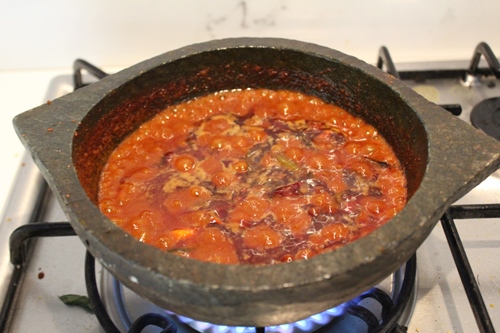 Pin
19)Add in nethili fish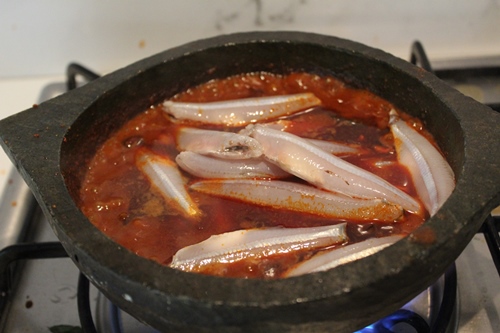 Pin
20)Simmer for 5 mins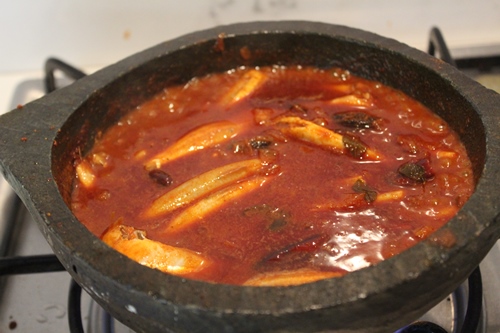 Pin
21)Done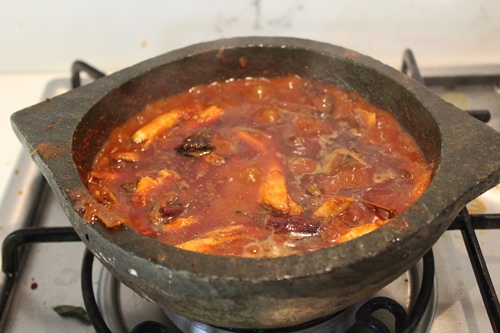 Pin
22)Serve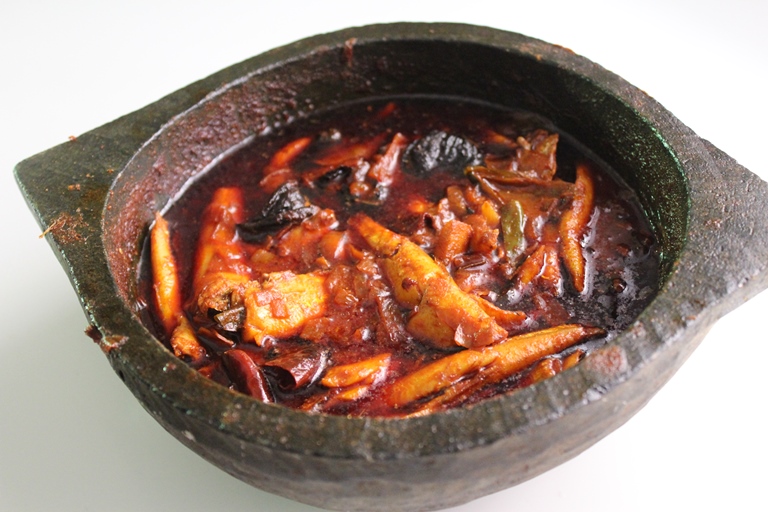 Pin
📖 Recipe
Nethili Meen Kuzhambu (with Coconut)
Nethili Meen Kuzhambu Recipe (Without Coconut)
If you have any questions not covered in this post and if you need help, leave me a comment or mail me @[email protected] and I'll help as soon as I can.
Follow me on Instagram, Facebook,Pinterest ,Youtube and Twitter for more Yummy Tummy inspiration.
IF YOU MAKE THIS RECIPE OR ANYTHING FROM YUMMY TUMMY, MAKE SURE TO POST IT AND TAG ME SO I CAN SEE ALL OF YOUR CREATIONS!! #YUMMYTUMMYAARTHI AND @YUMMYTUMMYAARTHI ON INSTAGRAM!