Keto Chicken Soup with Step by Step Pictures.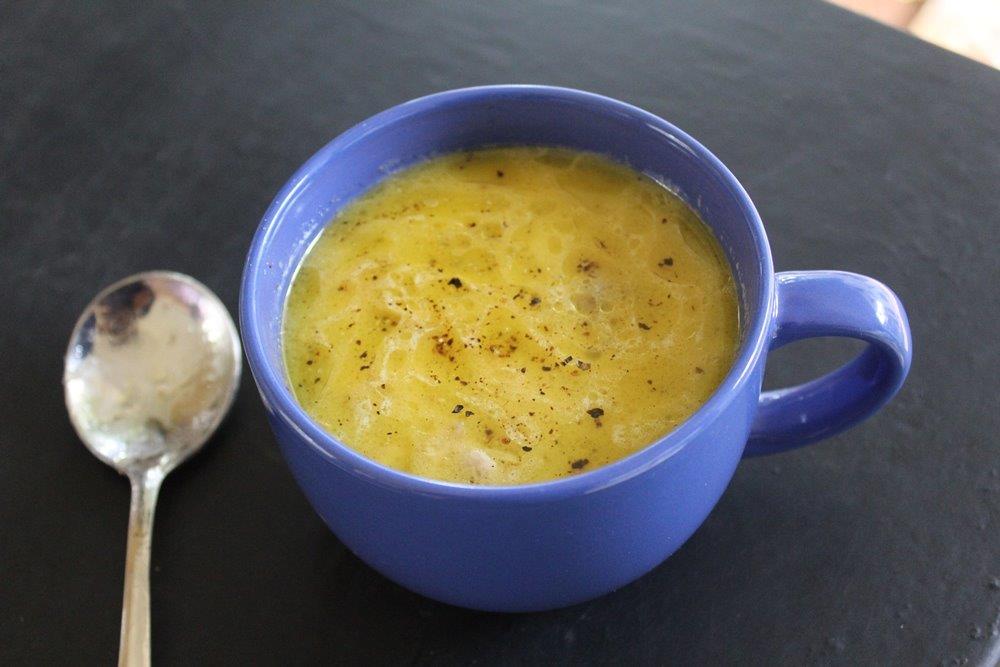 Pin
A delicious homemade chicken soup recipe from scratch. This low carb chicken soup is loaded with vegetables and chicken. It's ready in 30 minutes. Keto Chicken soup has little extra fat and very less carb. This soup will keep you full for a long time.
Cold and Flu season is here. When someone in my family is sick, I make this quick recipe to warm and comfort them. A simple chicken soup is easy to make and this recipe is ready to serve in about 30 minutes. For my kids, who eat more carbs, I add a little cooked pasta or rice to their bowls. My husband and I like this low carb chicken soup recipe as is. I love soups and stews and will make them year round, but during the winter they are a major staple in my house.
WAYS TO LOWER CARBS IN SOUPS AND STEWS
Choose low carb vegetables.
Use a smaller amount of higher carb vegetables like onions, garlic.
Add more meat than veggies.
For all those who are new to keto diet:
The ketogenic diet is a high-fat, adequate-protein, low-carbohydrate diet that in medicine is used mainly to treat hard-to-control (refractory) epilepsy in children. The diet forces the body to burn fats rather than carbohydrates.
Normally carbohydrates in food are converted into glucose, which is then transported around the body and is important in fueling brain function. But if little carbohydrate remains in the diet, the liver converts fat into fatty acids and ketone bodies, the latter passing into the brain and replacing glucose as an energy source. An elevated level of ketone bodies in the blood (a state called ketosis) eventually lowers the frequency of epileptic seizures.[1] Around half of children and young people with epilepsy who have tried some form of this diet saw the number of seizures drop by at least half, and the effect persists after discontinuing the diet. Some evidence shows that adults with epilepsy may benefit from the diet and that a less strict regimen, such as a modified Atkins diet, is similarly effective. Side effects may include constipation, high cholesterol, growth slowing, acidosis, and kidney stones.
SOURCE: WIKI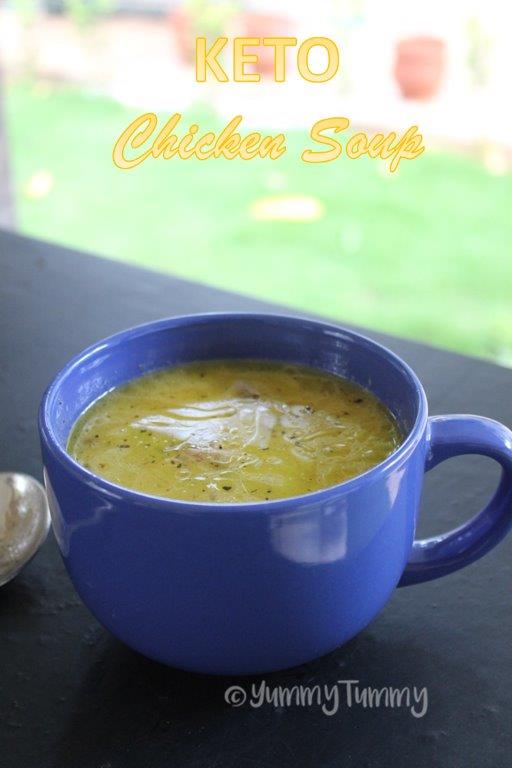 Pin
You can add more vegetables in this soup. Like carrots, cauliflower, zucchini to make it more whole some. You can serve this soup with my keto 90 second bread for much more filling meal.
EASY AND FAST HOMEMADE CHICKEN SOUP RECIPE
Start by sautéing the vegetables in butter, Add the chicken and stir. Next comes the chicken broth. Heat until it comes to a boil, then turn it down to a simmer. Add the chicken and warm through. Done.
You can use boneless chicken cubes. So you dont have to bother removing the bones from the chicken soup. Use chicken thighs instead of breast. Since breast will go stringy and rubbery while thighs stays nice and juicy.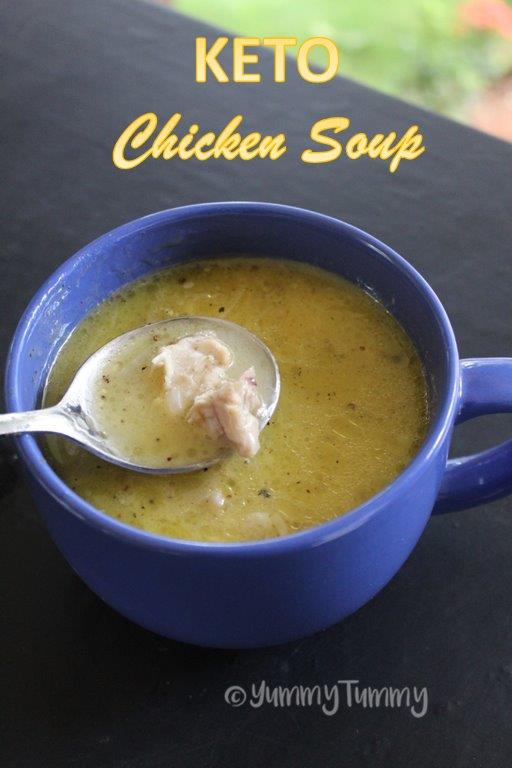 Pin
If you have any questions not covered in this post and if you need help, leave me a comment or mail me @[email protected] and I'll help as soon as I can.
Follow me on Instagram, Facebook,Pinterest ,Youtube and Twitter for more Yummy Tummy inspiration.
IF YOU MAKE THIS RECIPE OR ANYTHING FROM YUMMY TUMMY, MAKE SURE TO POST IT AND TAG ME SO I CAN SEE ALL OF YOUR CREATIONS!! #YUMMYTUMMYAARTHI AND @YUMMYTUMMYAARTHI ON INSTAGRAM!
Keto Chicken Soup | Keto Chicken Soup Recipe
Keto chicken soup has right amount of fat and protein and very less carb. This soup keeps you full for a long time.
Ingredients  
Butter - 2 tblsp

Onion - 1 small chopped finely

Capsicum - ½ chopped finely

Mushrooms - 1 cup chopped

Green Chillies - 1 chopped finely

Ginger Garlic paste - 1 tblsp

Chicken - 500 grams

Veg stock

chicken stock or water - as needed

Salt to taste

pepper to taste

Cream - ½ cup
Instructions 
Heat butter, add onions, capsicum, chillies and saute for 2 mins or so.

Add in mushroom and stir fry for 2 mins or so.

Add in chicken and stir fry for 2 mins.

Add water and cook till chicken is done.

Remove chicken from bones, add the flesh back in.

Add in salt and pepper to taste

Add in cream and mix well.

Serve.
Keto chicken soup with step by step pictures
1)Heat butter in a pan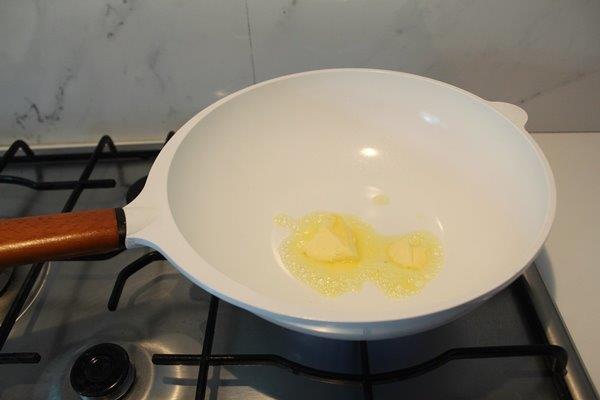 Pin
2)Add in onions and capsicum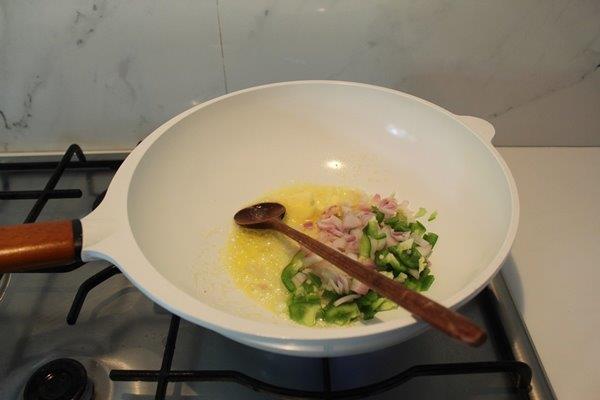 Pin
3)Add in chopped green chillies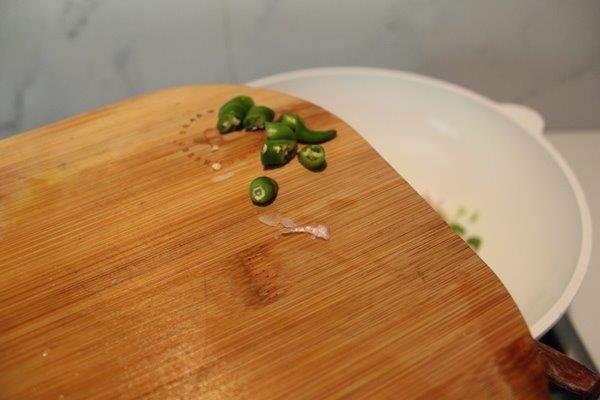 Pin
4)Add in ginger garlic paste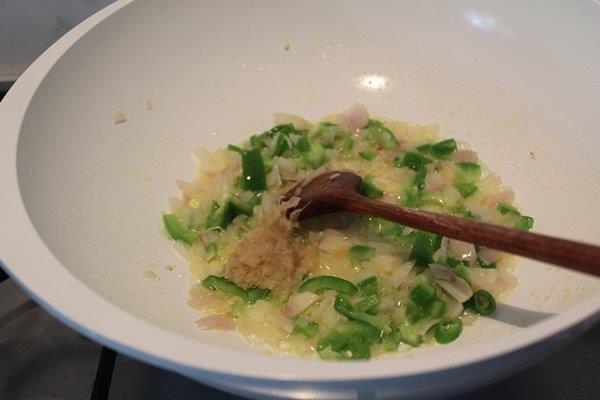 Pin
5)Saute for 2 mins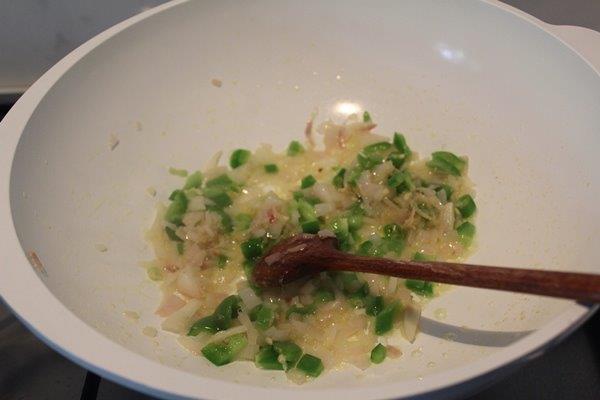 Pin
6)Add in mushrooms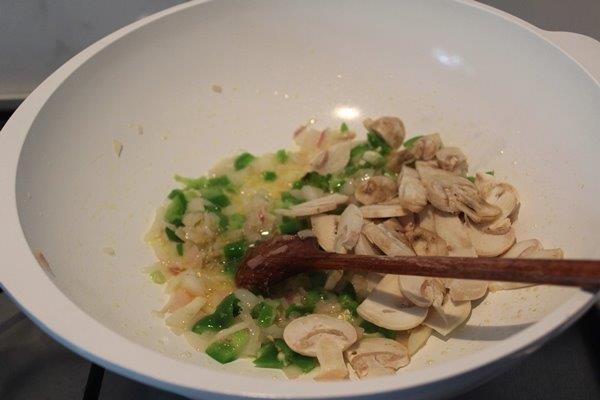 Pin
7)Saute for 2 to 4 mins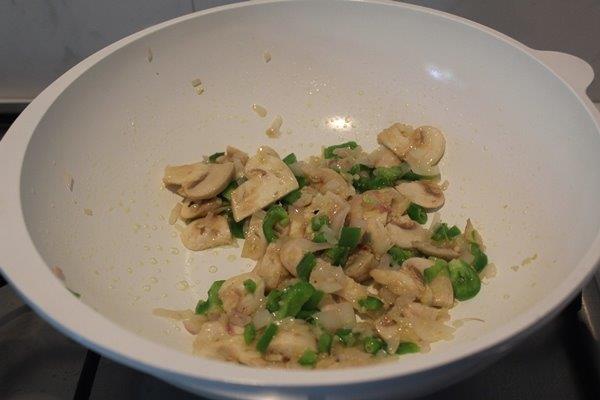 Pin
8)Add in chicken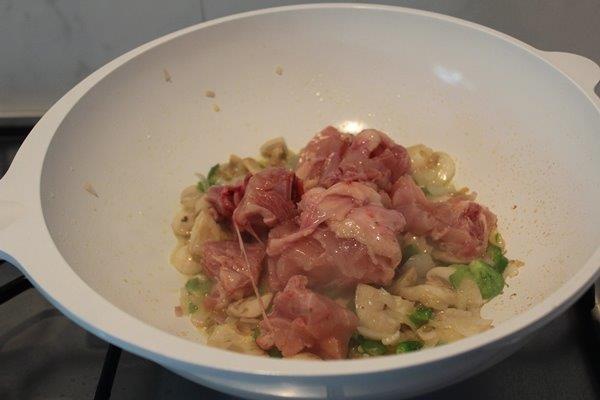 Pin
9)Saute for 3 to 4 mins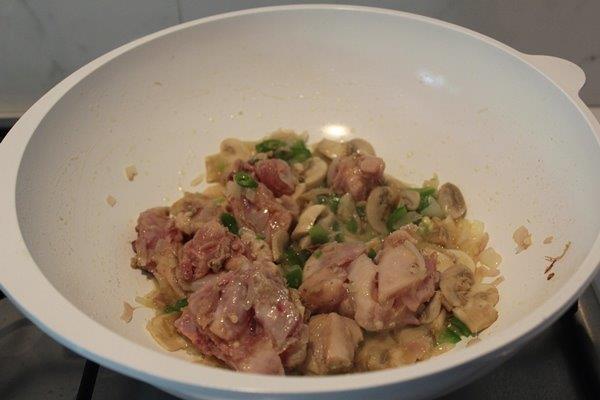 Pin
10)Add salt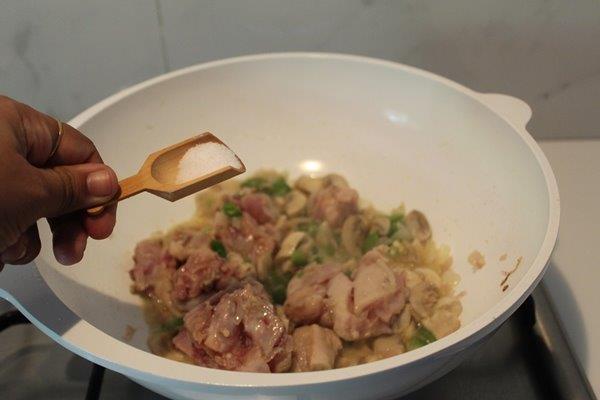 Pin
11)Add water or stock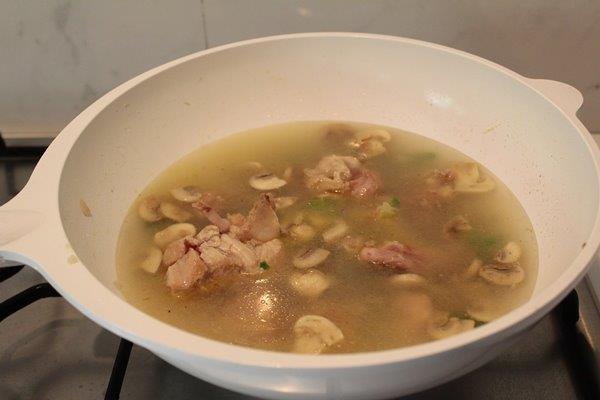 Pin
12)Cook till chicken is done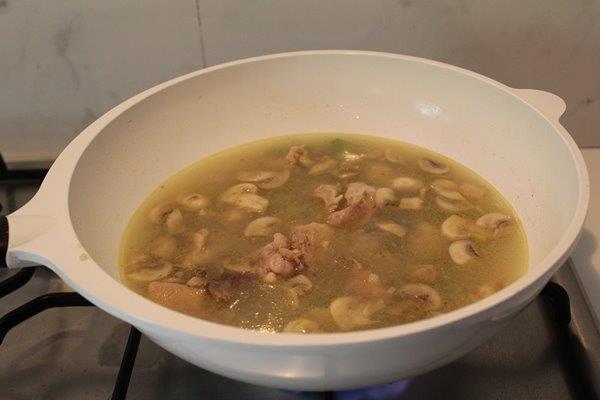 Pin
13)Remove chicken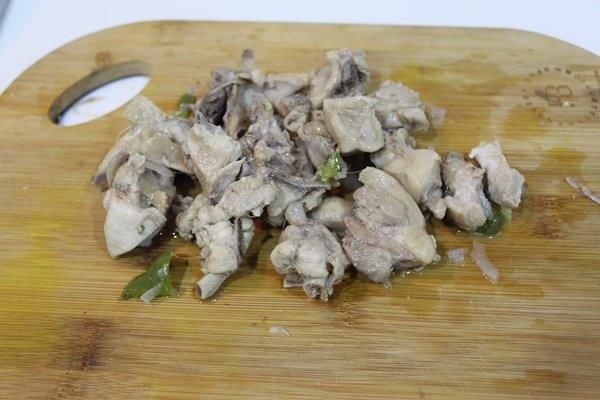 Pin
14)Remove flesh from it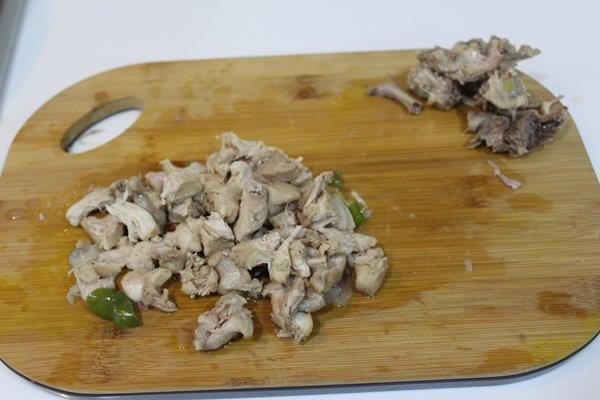 Pin
15)Add the chicken back into the soup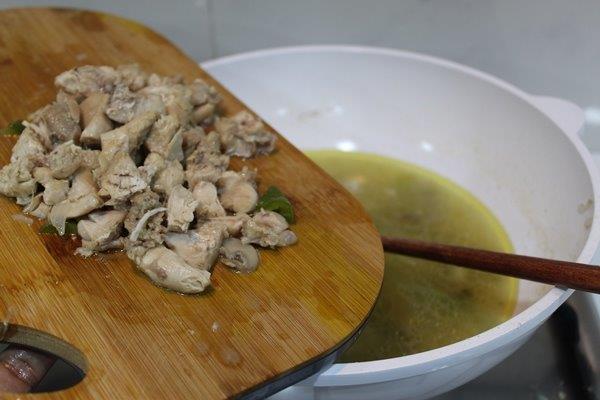 Pin
16)Mix well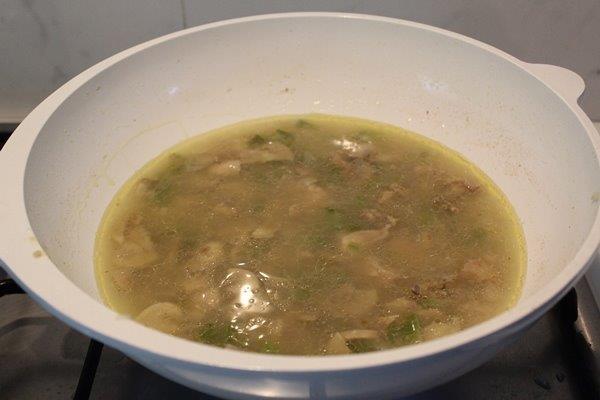 Pin
17)Season with pepper and salt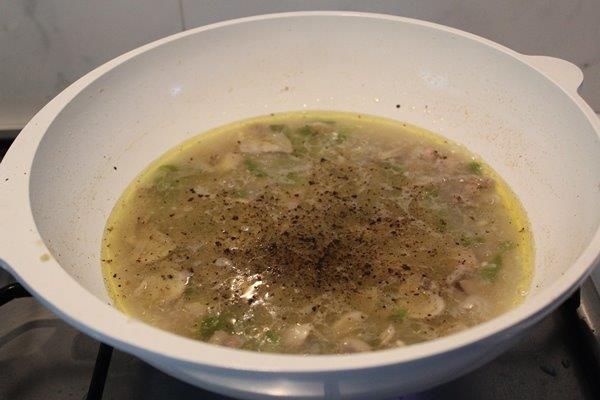 Pin
18)Add cream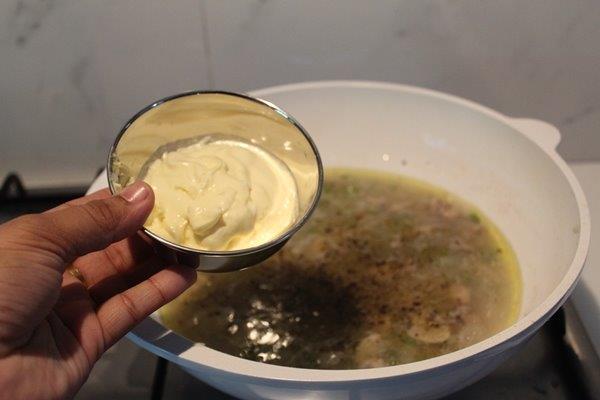 Pin
19)Mix well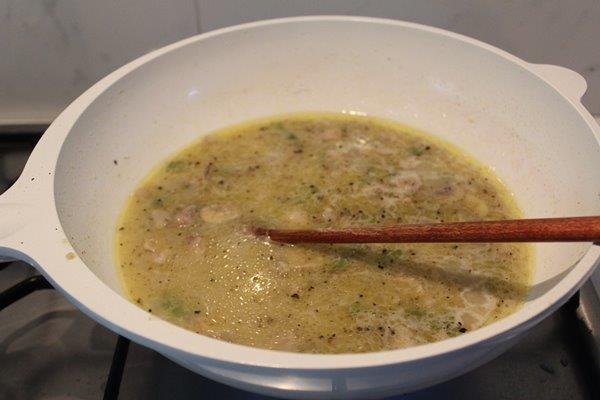 Pin
20)Serve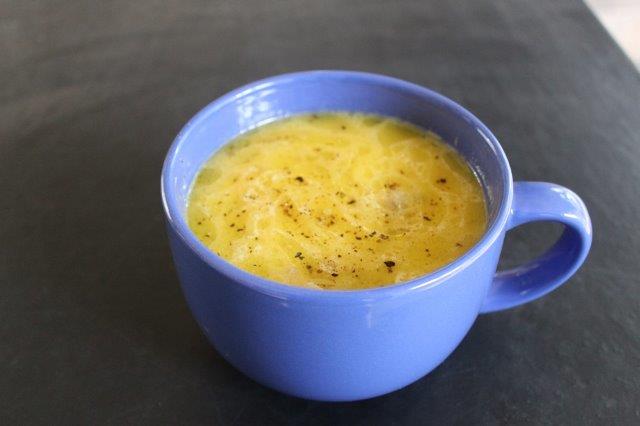 Pin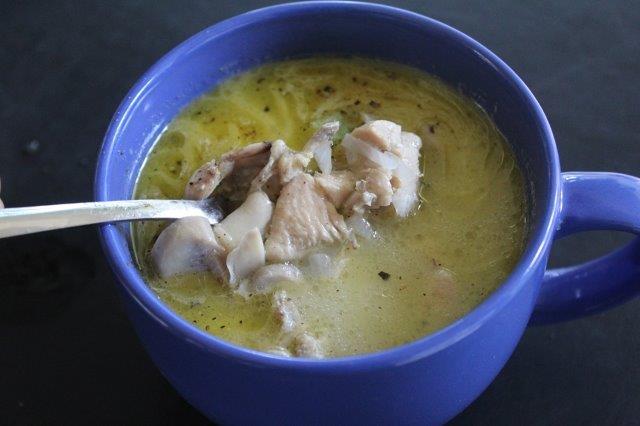 Pin