Filter Coffee Recipe with step by step pictures. Perfect cup of coffee to start your morning. This south indian filter coffee made with best coffee and makes the best coffee.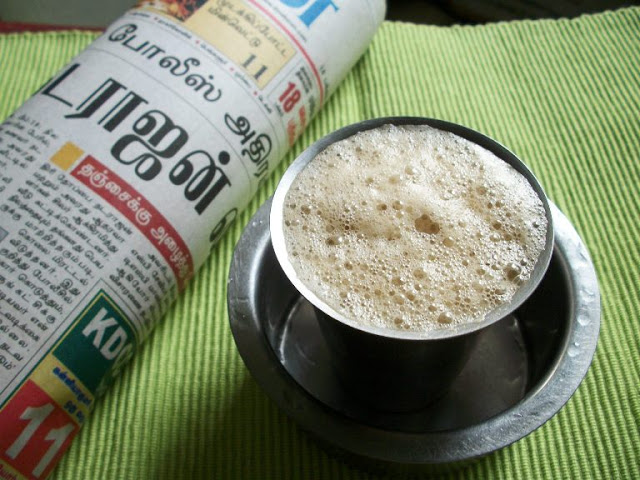 I have so many coffee addicts in my house including my sister, my mom and me..I am not that much addicted to coffee but if i like to have some coffee, it should be a perfect cup of filter coffee. There are many be so many electronic coffee filter available in market now, but nothing compared to the traditional filter which is used for centuries. In our house we have a coffee filter which my mother got for her marriage from my grandma. She is now planning to give it to me, thats what i call tradition.
Story of Filter Coffee Recipe
Now coming to the story part. My grandpa is a coffee lover, I mean he is mad about coffee. believe it or not, he used to make his own coffee every single morning, he is that much addicted to it. What he does is, he buys the best quality coffee beans from a special place, actually i forgot that place name. That place has it fresh beans in market.
Then he roast it in a thick bottom karahi , which he has only for roasting coffee beans. Then he grind that coffee in a traditional coffee grinder..All these coffee beans, karahi and coffee grinder is kept under lock and key in his supervision. My mother used to say that, whenever my grandpa starts to roast the coffee beans, she used to run to grandpa and sneak few coffee beans into her mouth, so my grandpa used to make this when kids are not around him. He is a complete coffee holic, doesn't he.
Love for Filter Coffee Recipe
My grandpa stays in front of the saucepan in the early morning stirring his milk in a very very low flame for hours to make it thick. He makes the coffee from the thick first decoction. Some of the decoction will be left from that batch and their kids( my Amma, aunties and uncles) used to fight for that. There is one little bandit in that gang, who is my uncle.
During those days the whole family sleeps in a big room laying some bedsheets in the floor. My uncle and my elder aunty always fight for the coffee which is made from the leftover decoction which my grandpa used to have. What my uncle does is he keep the pillow below the bed sheets and wakes up without making any noise. My aunty wakes up and sleep again seeing that my uncle is still asleep.
But my uncle will take that cup of coffee and wakes my aunty and make funny faces at her..Isn't that funny. My mother is the last child, so she wakes up so late. What she gets is a cup of hot water kind of coffee.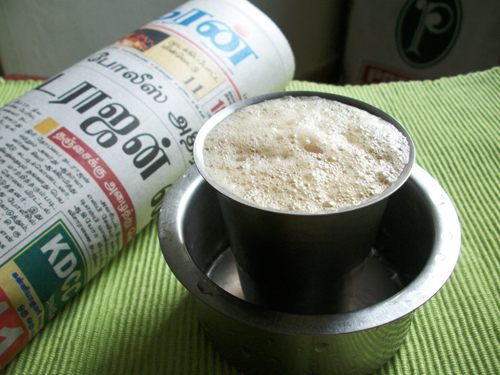 If you have any questions not covered in this post and if you need help, leave me a comment or mail me @[email protected] and I'll help as soon as I can.
Follow me on Instagram, Facebook,Pinterest ,Youtube and Twitter for more Yummy Tummy inspiration.
IF YOU MAKE THIS RECIPE OR ANYTHING FROM YUMMY TUMMY, MAKE SURE TO POST IT AND TAG ME SO I CAN SEE ALL OF YOUR CREATIONS!! #YUMMYTUMMYAARTHI AND @YUMMYTUMMYAARTHI ON INSTAGRAM!
📖 Recipe Card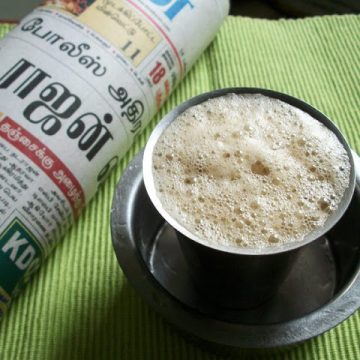 Filter Coffee Recipe
Filter Coffee Recipe with step by step pictures. Perfect cup of coffee to start your morning. This south indian filter coffee made with best coffee and makes the best coffee.
Print
Pin
Rate
Ingredients
3

tbsp

Coffee Powder

Not the instant kind

Sugar as needed

1

cup

Milk as needed

½

cup

Boiling water
Instructions
Take the traditional filter strainer. Add coffee powder on the top portion which has small holes in it. Now cover it with the pressing handle which they give with that. Pour boiling water over the coffee powder and cover it with a lid.

Leave it aside for 15 mins. Now all the thick coffee decoction will be collected in the bottom container.

Now boil milk in a sauce pan. Add some sugar and simmer it for 10 mins..This makes the milk thicker and creamier.

Now take milk in a small bowl. Add required amount of the decoction and mix well. Pour it from a height so that it foams up.

Pour it into individual glasses and serve hot.
Nutrition
Serving:
1
servings
|
Calories:
53
kcal
|
Carbohydrates:
11
g
|
Protein:
2
g
|
Fat:
0.1
g
|
Saturated Fat:
0.03
g
|
Polyunsaturated Fat:
0.03
g
|
Monounsaturated Fat:
0.01
g
|
Sodium:
6
mg
|
Potassium:
531
mg
|
Calcium:
21
mg
|
Iron:
1
mg
Join us on Facebook
Follow us on Facebook
Share by Email
Share on Facebook
Filter Coffee Recipe Step by step pictures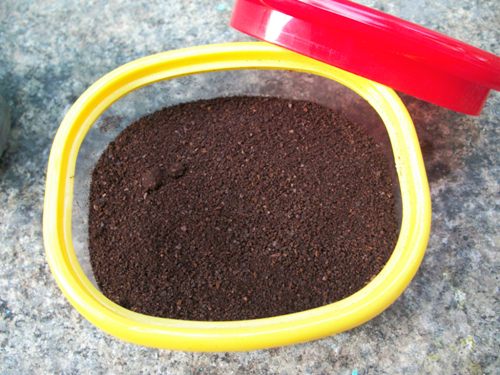 You will need fresh coffee powder, this is not the instant kind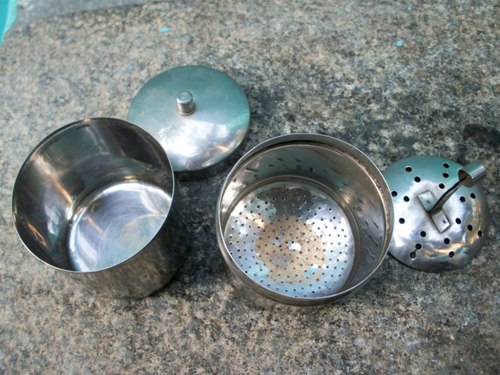 This is our century old coffee filter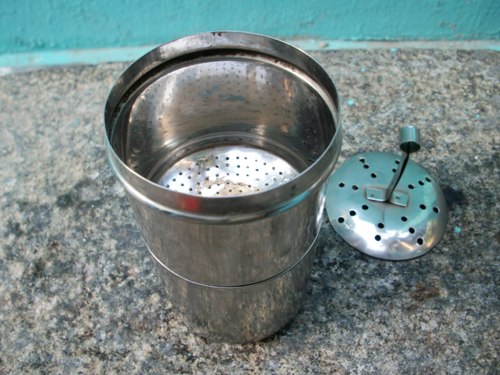 stack it up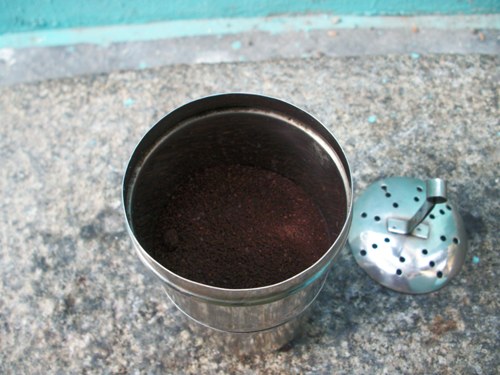 add coffee powder in it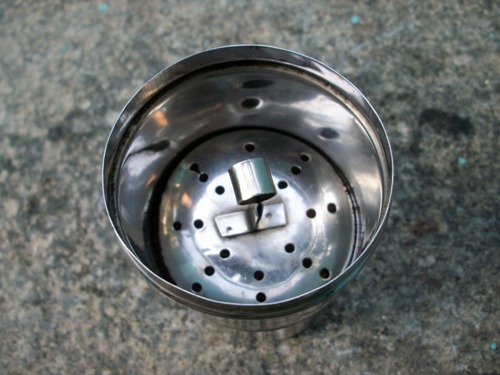 cover with the pressing handle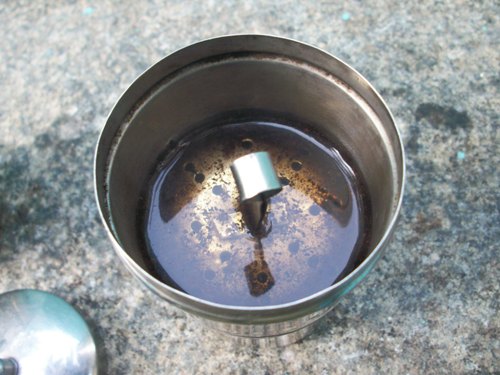 pour boiling water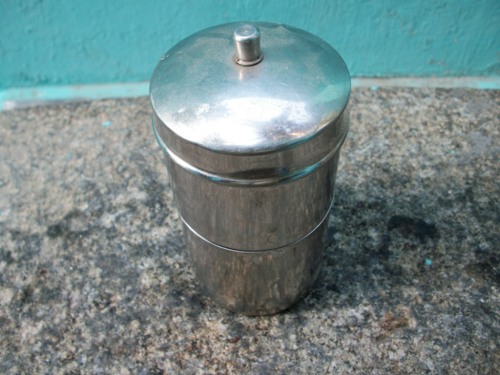 and cover it up...leave it alone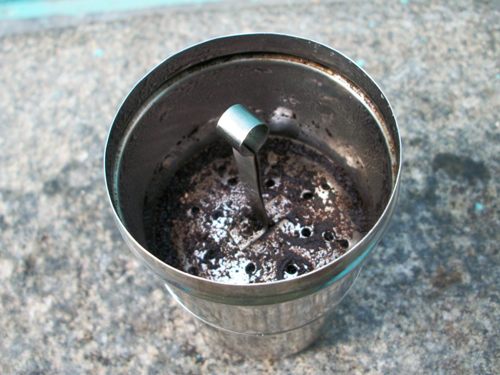 all drained up. Now you are left with the the dry coffee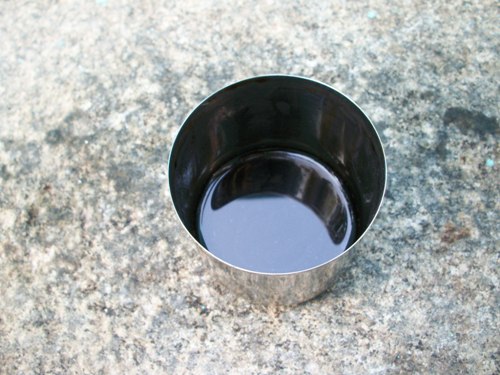 Thick Thick coffee decoction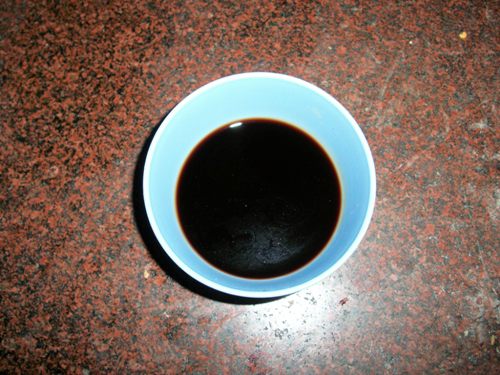 They smell so fresh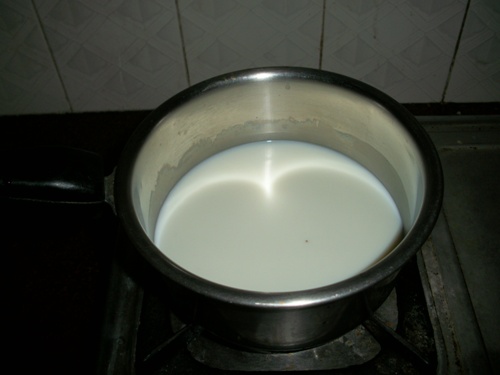 Now heat your milk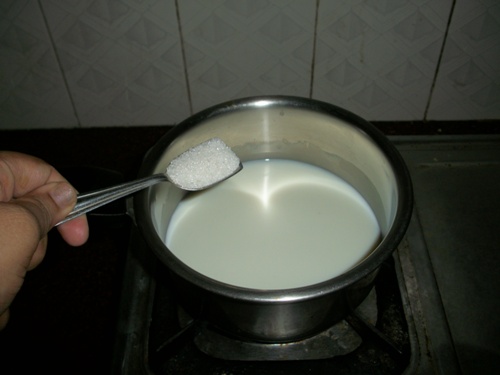 add sugar and mix well.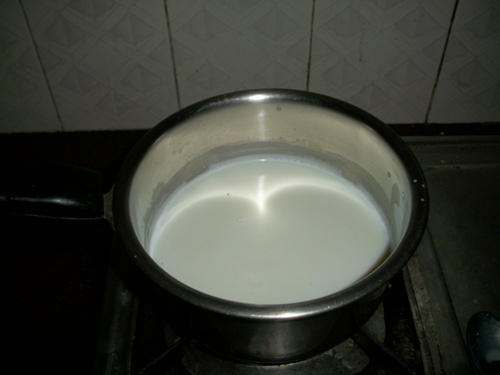 Simmer it for few minutes..so that it gets creamy and thick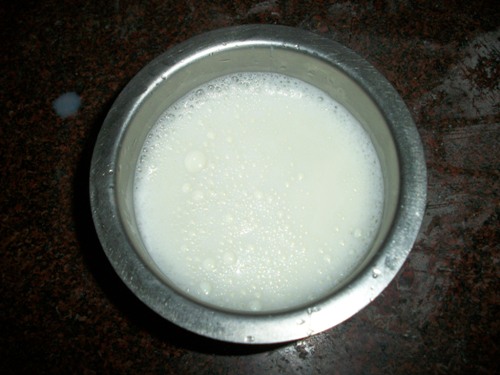 add a cup of milk in a bowl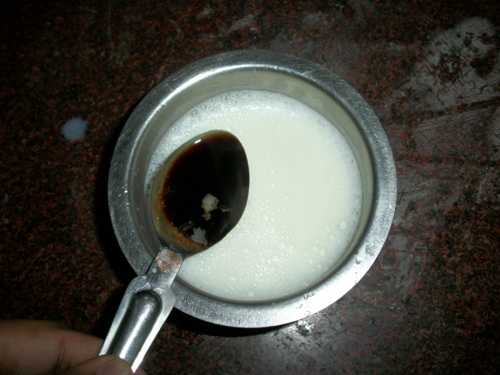 spoon some coffee decoction...This is based on how strong you need your coffee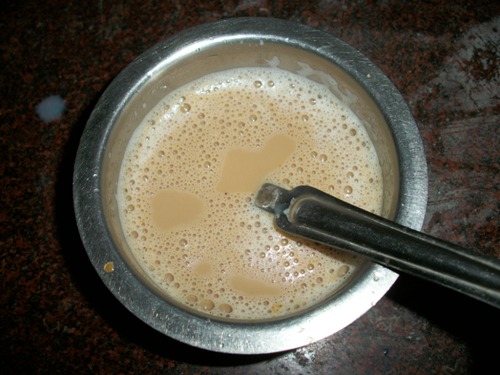 mix well..Pour from a height into the cup so that it foams up.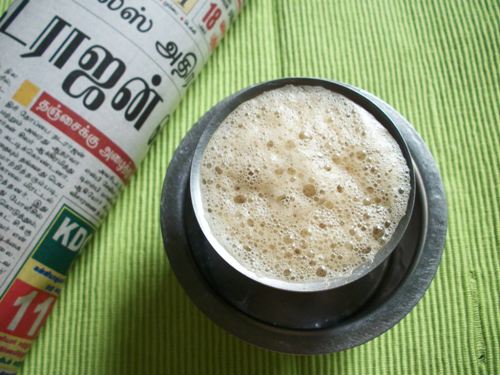 Serve hot
Tips & Tricks
1) You can make so many level of coffee decotion, once the first decotion has collected in the container..You can pour some boiling water and get the second decotion. But nothing taste like the firstly brewed coffee..
2) Use thick milk that what gives the real cup of coffee. Never add water to the milk while making coffee..
3) Always keep your coffee filter clean. Soak the filter in boiling water. Use a sharp needle to clean the coffee filter holes.
4)If you wish to store the decoction, add a tsp of sugar in it and store in fridge in a air tight container.