Sweet Bean Mochi with Step by Step Pictures. Mochi with Sweet Bean Filling.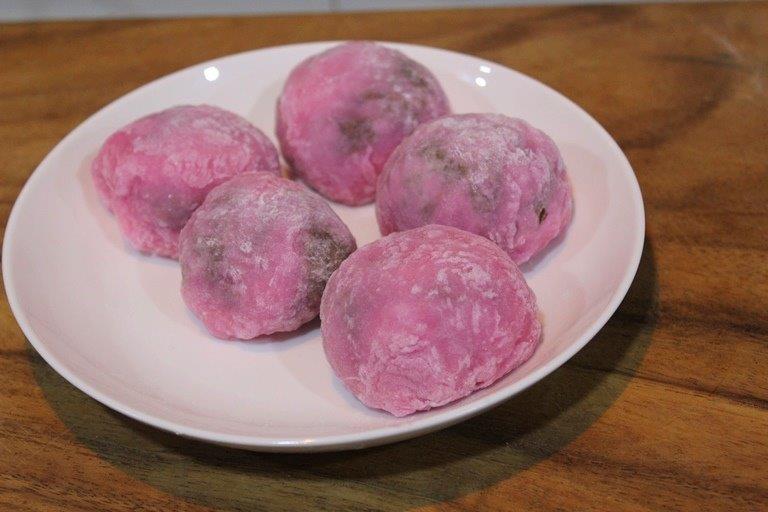 Pin
This dessert is very new to me until our thailand trip. I tasted it during our trip and it was so delicious. I loved it a lot. When i came back i searched in amazon and bought a packet of glutinous rice flour.
As soon as it arrived, i made mochi. Traditionally it has red bean filling but i used green gram and it was pretty good. I have plans to make few more mochi recipes too.
Mochi is nothing but a dessert from japan / china. It has a chewy and strechy outer cover and a sweet bean filling.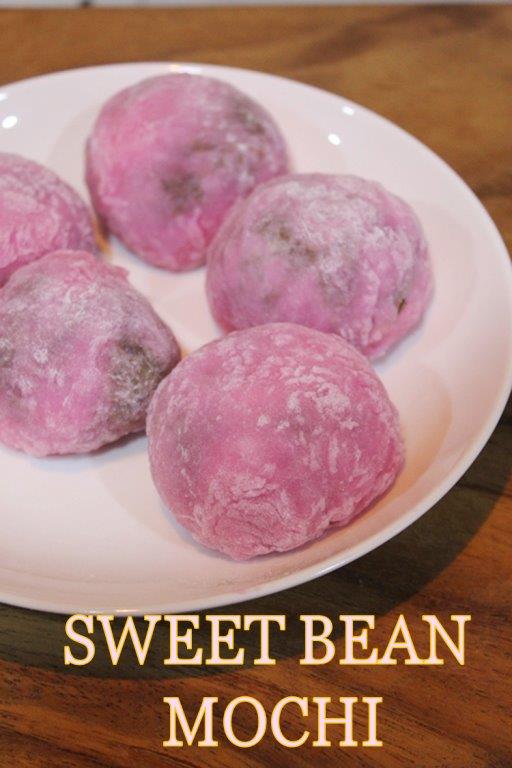 Pin
Hope you will give this a try and let me know how it turns out for you.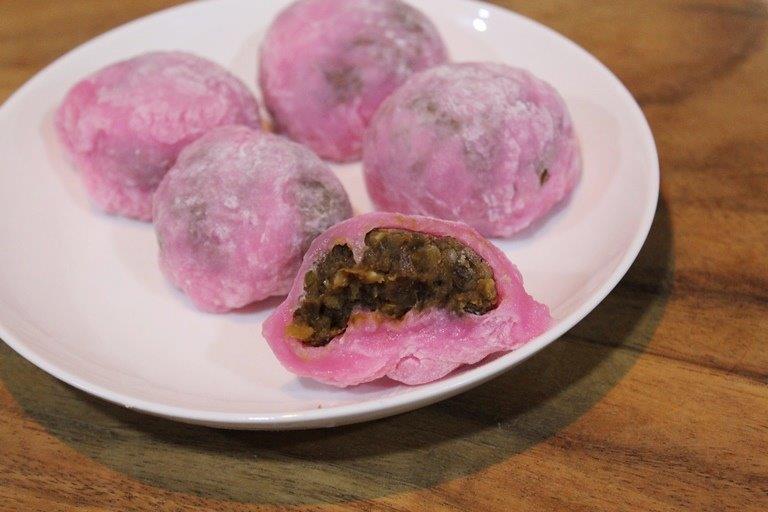 Pin
Sweet Bean Mochi Recipe
Mochi is a chinese dessert which is quite popular. The mochi is chewy and fun to eat as well. This mochi has a sweet bean filling which taste amazing,
Ingredients
FOR MOCHI:
Glutinous Rice Flour - 1 cup

Water - ¾ cup

Salt -½ tsp

Sugar - 1 tblps

Food colour if you need

Corn starch or Potato Starch - as needed
FOR FILLING:
Red Beans or Green Gram - ½ cup

Water - 2 cups

Brown Sugar - ½ cup
Instructions
Start by making the filling.

Take beans in a pressure cooker. Add in water and cook for 4 whistle. Let the steam escape. Drain the beans.

Now mash it well and sugar and keep cooking till it gets thick. Set aside in a bowl and cool it down.

Make it into equal balls and set aside.

Now make the outer coat. Take water, sugar, salt food colour in a microwave safe bowl.

Add in rice flour and mix well.

Cover with plastic wrap and leave a small gap.

Cook for 3 mins in microwave.

Remove it and mix well.

Cover it again like first. pop it again in microwave and cook for 1 min.

Remove it and mix really well for 3 to 4 mins.

Now dust the work surface with starch.

Spoon the mix on the starch.

Flatten it and cut it into pieces.

take a piece, flatten it. Spoon the filling in it and strech it to seal. You can apply little water to seal it.

Coat in starch and store.

Pictorial:
1)Start by making the filling. For the filling traditionally they use red beans. But i used green gram. I cooked it till it is soft.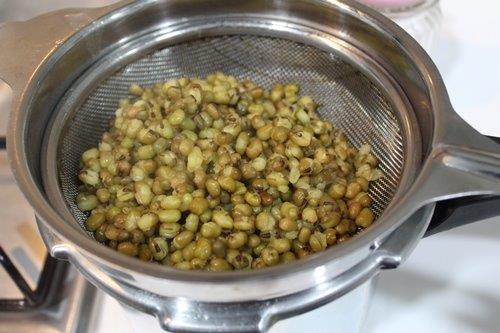 Pin
2)Add it in a pot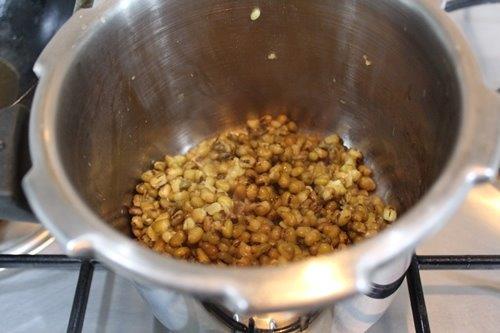 Pin
3)Mash it well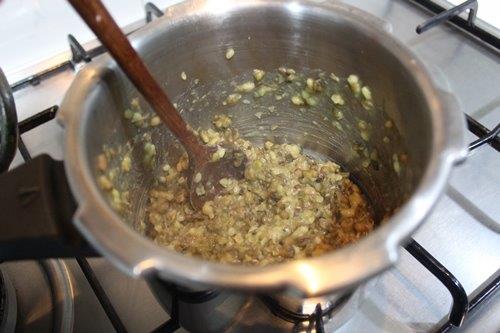 Pin
4)Just like this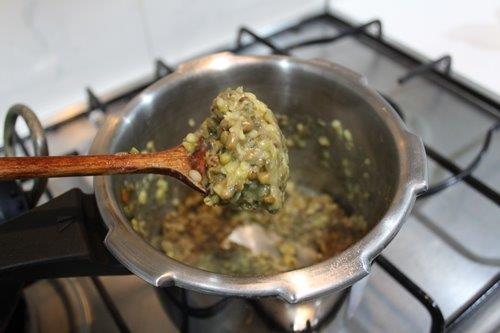 Pin
5) Add in brown sugar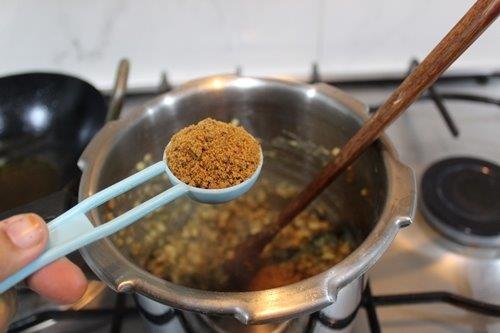 Pin
6)Mix well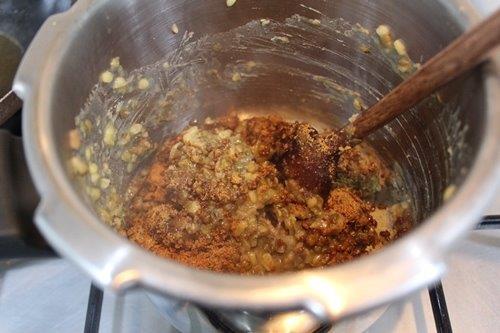 Pin
7)Cook till it thickens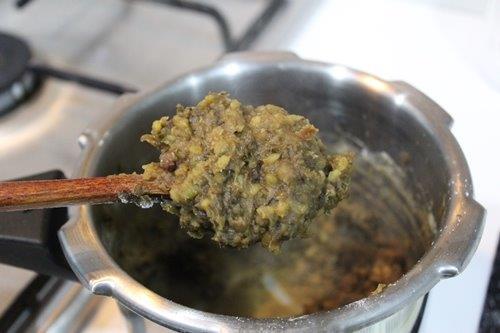 Pin
8)Set aside in a bowl to cool.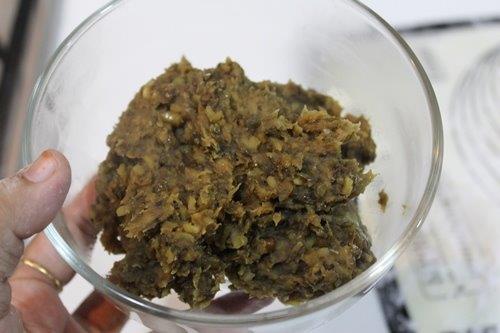 Pin
9)Now lets make the mochi outer layer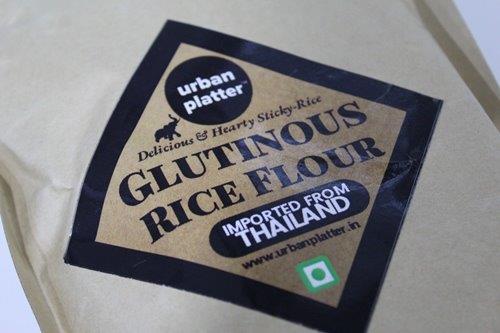 Pin
10)In a microwave safe bowl. take water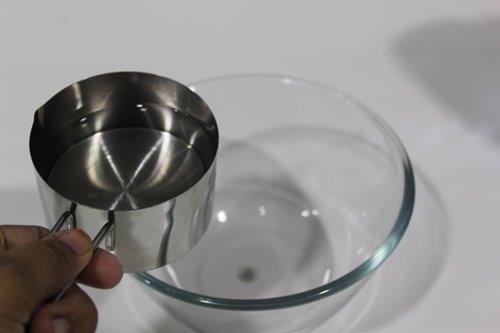 Pin
11)Add in salt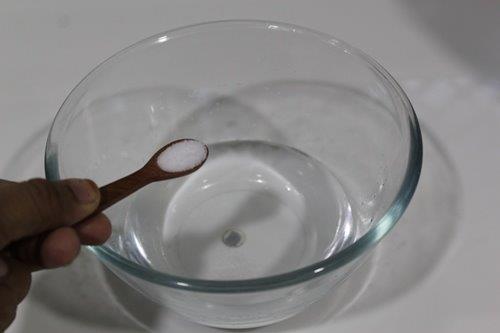 Pin
12)Add in sugar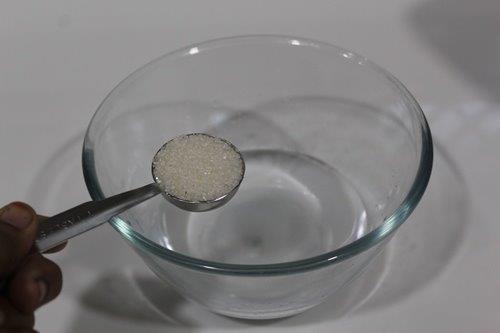 Pin
13)Add in pink colour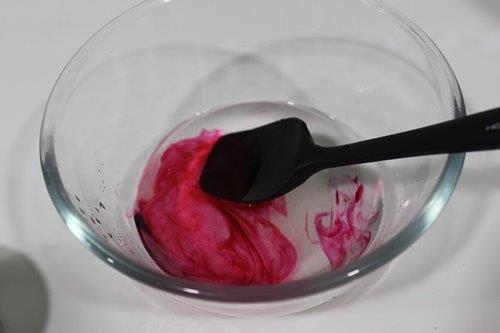 Pin
14)Add in glutinous rice flour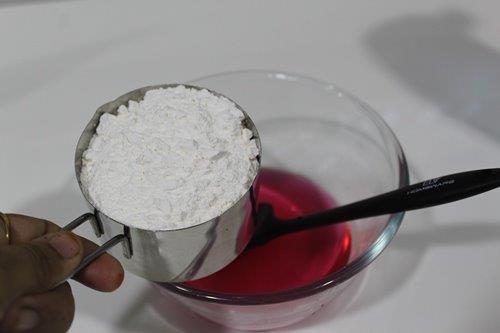 Pin
15)Mix well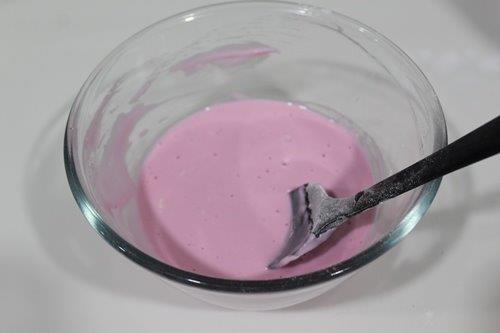 Pin
16)Cover it with plastic wrap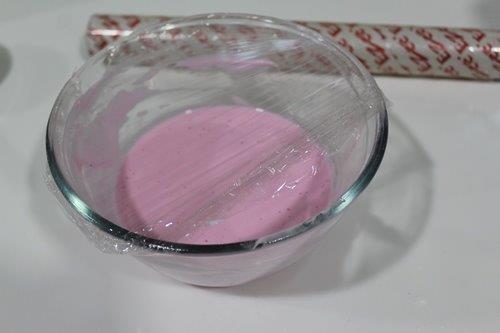 Pin
17)Leave a small gap. Microwave it for 3 mins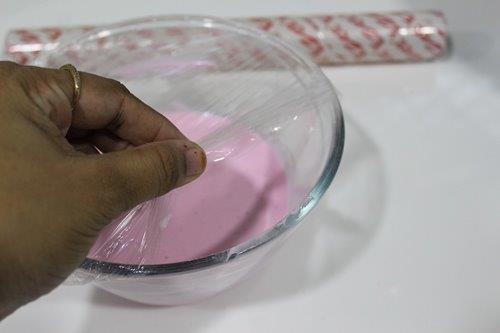 Pin
18)Now remove it from microwave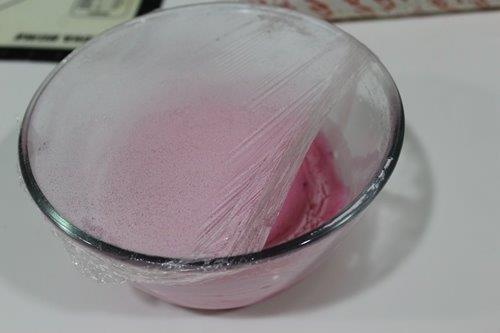 Pin
19)It may look weird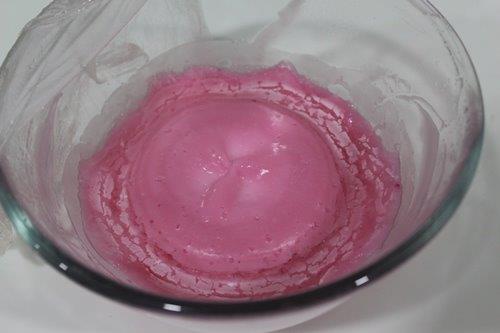 Pin
20)Now you have to mix it really well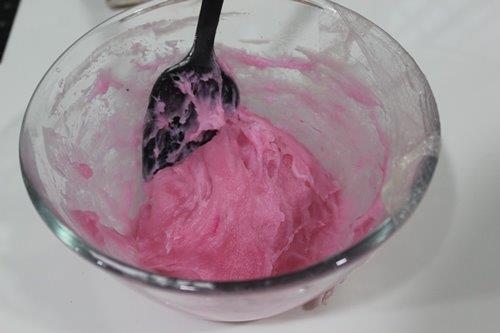 Pin
21)cover it again leaving a little gap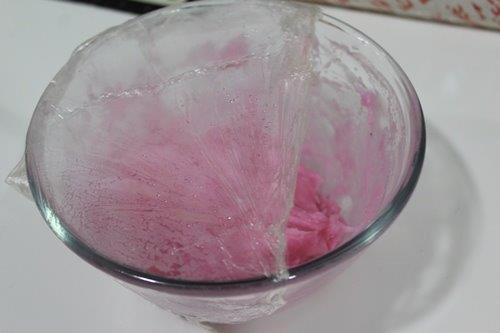 Pin
22)Microwave for 1 min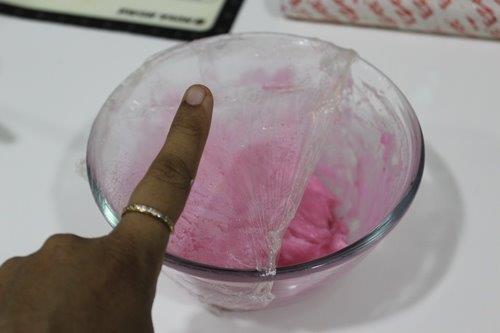 Pin
23)Remove it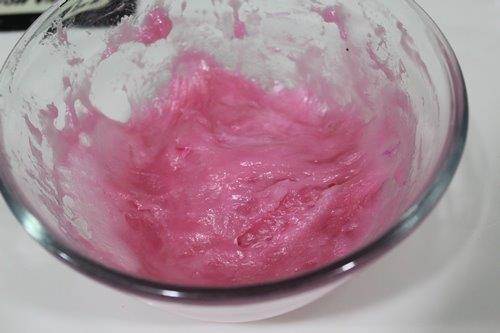 Pin
24)Use a spoon and keep mixing for 3 mins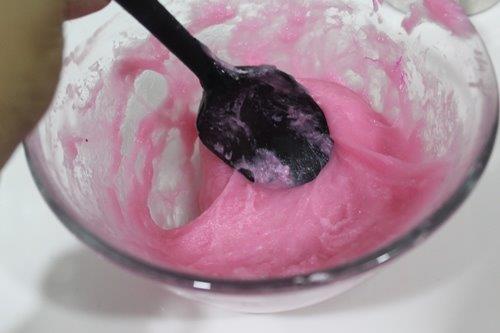 Pin
25)The more you mix the more sticky and chewy it gets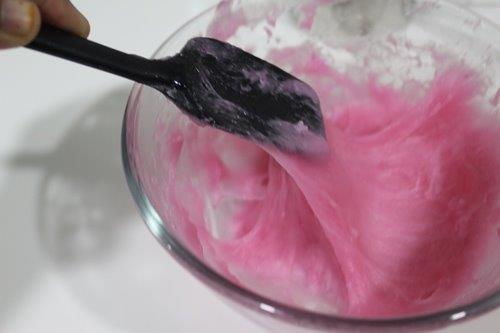 Pin
26)dust work surface with some kind of starch. i used potato starch. You can use cornstarch too.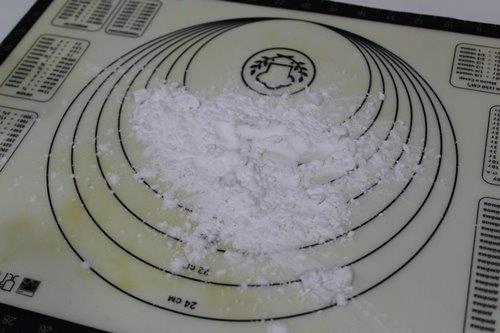 Pin
26)Spoon the mix on it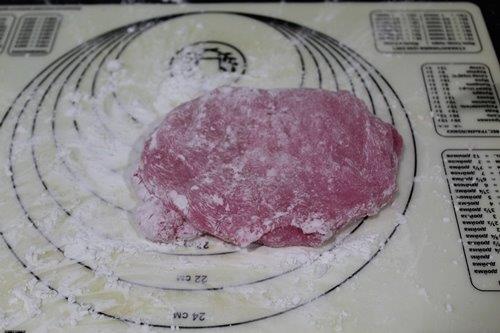 Pin
27)Flatten it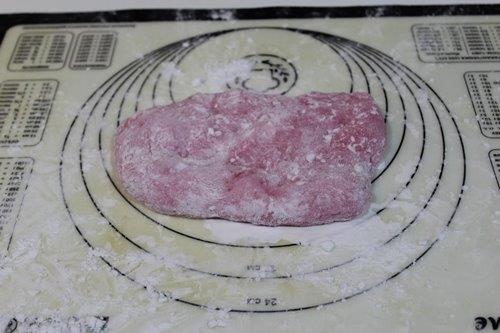 Pin
28)cut it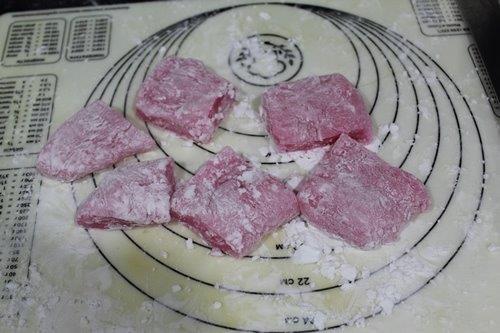 Pin
29)spoon the filling inside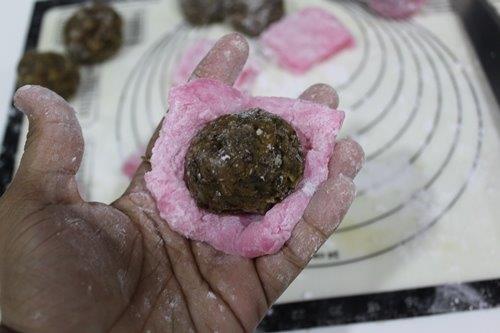 Pin
30)Strech and seal it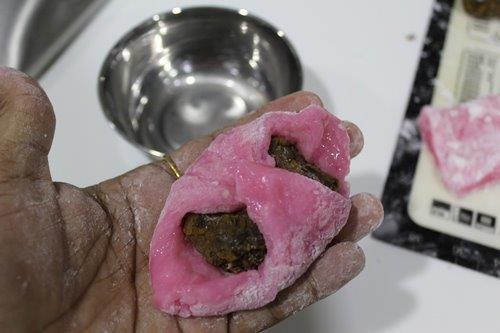 Pin
31)You can apply some water and seal it.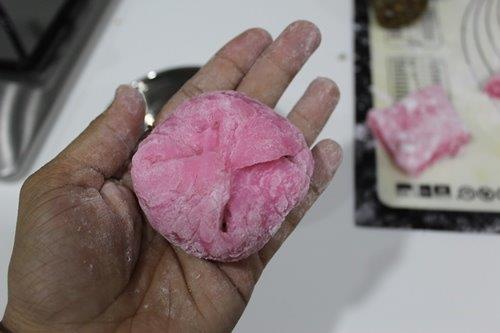 Pin
32)Done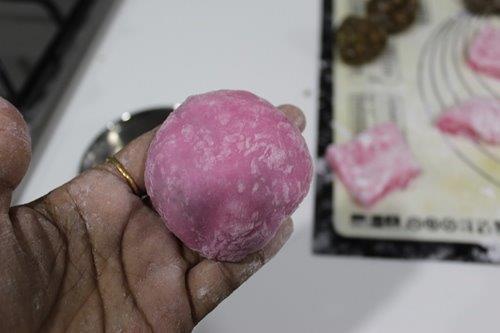 Pin
33)Serve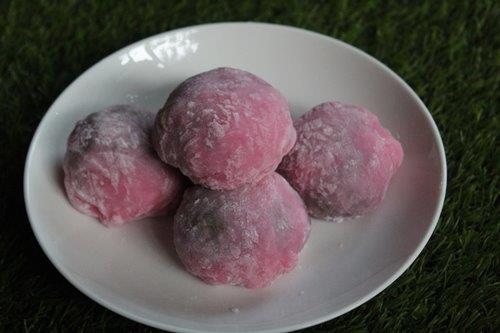 Pin
Similar Recipes,
Custard Tart
Apple Pie
Pineapple Pie
Oreo Tart
Lemon Curd Tart
Paneer Tart
Chocolate Fruit Tart