Homemade Graham Crackers Recipe with Step by Step Pictures. Graham crackers flavoured with cinnamon and wheat flour goes well with tea.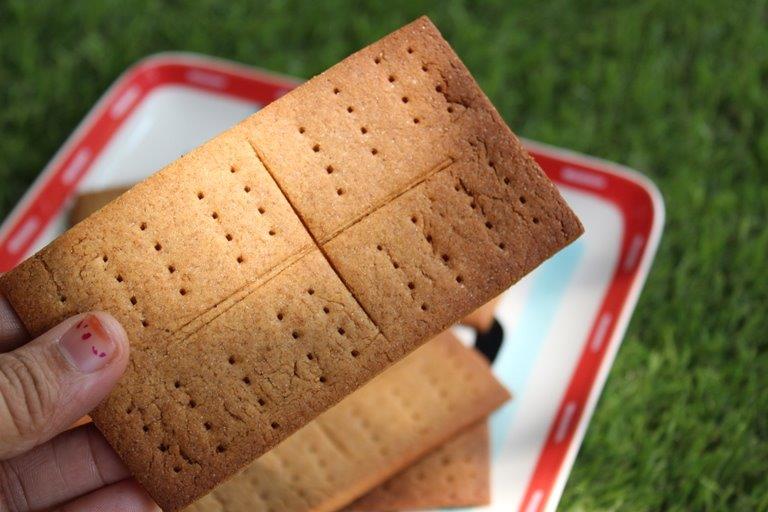 Pin
For those who are hearing about this for the first time. Graham crackers is nothing but a crispy biscuit with honey and cinnamon flavour. The biscuit is made with whole wheat flour and is little crispy in texture.
About Graham Cracker Recipe
A graham cracker is a sweet-flavored cracker made with graham flour that originated in the United States in the mid-nineteenth century, with commercialization beginning around 1880. It is consumed as a snack, usually flavoured with honey or cinnamon, and is used as an ingredient in some foods.
This biscuits is usually used for making smores. Biscuits is powdered and used as a crust for cheesecakes and other desserts. This biscuits is produced mass in united states. This biscuits can be had with a cup of tea or coffee.
The dough has very basic ingredients like wheat flour, brown sugar, honey and spices. I used oil instead of butter to make it more healthier. But for added flavour you can use butter. Also for added flavour, you can use molasses instead of honey.
You will love my homemade marie biscuits, oreo biscuits and bourbon biscuits too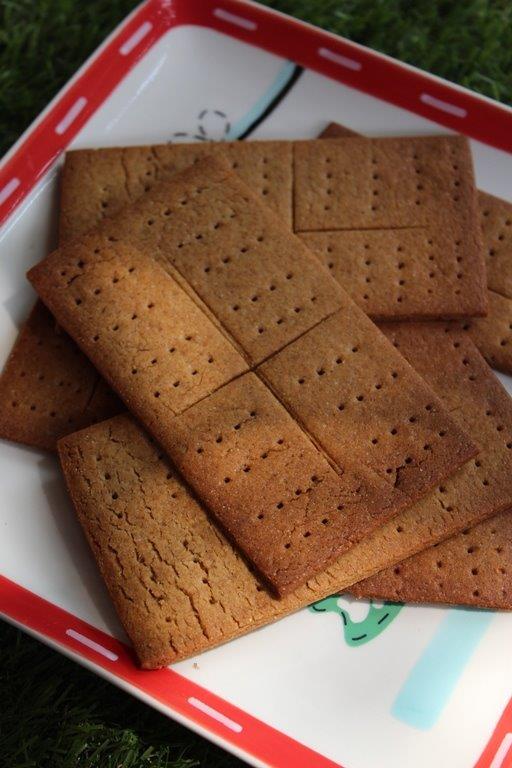 Pin
In india it is hard to find graham crackers. So when i wanted to try out smores. I went a step ahead and made my own graham crackers biscuits too. It is not at all hard. Very easy to make.
Ingredients for Homemade Graham Crackers Recipe
Whole Wheat Flour / Atta :
The addition of wheat flour adds fibre as well. With 1.8 g of fibre per dosa, these instant wheat flour dosas are an excellent choice for people suffering from heart disease or high cholesterol. Because they are not fermented, they can be eaten as a snack or for dinner by people who suffer from acidity.
Brown Sugar :
Brown sugar is a sucrose sugar with a distinct brown colour from the presence of molasses. It is either an unrefined or partially refined soft sugar made up of sugar crystals with a residual molasses content, or it is made by adding molasses to refined white sugar.
Baking Soda:
Baking soda is a leavening agent that is commonly used in baked goods such as cakes, muffins, and cookies. It is a white crystalline powder that is naturally alkaline, or basic. It is also known as sodium bicarbonate. When baking soda is combined with both an acidic and a liquid, it becomes activated.
Similar Recipes,
Sprinkle Cookies
Cornflakes Cookies
Chocolate Fudge Cookies
Coloured Ghee Cookies
Glazed Chocolate Cookies
Dates Cookies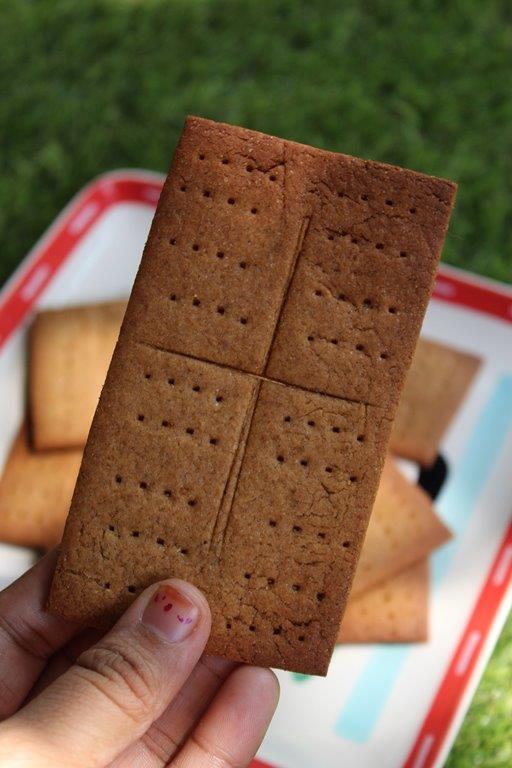 Pin
Hope you will give this a try and let me know how it turns out for you.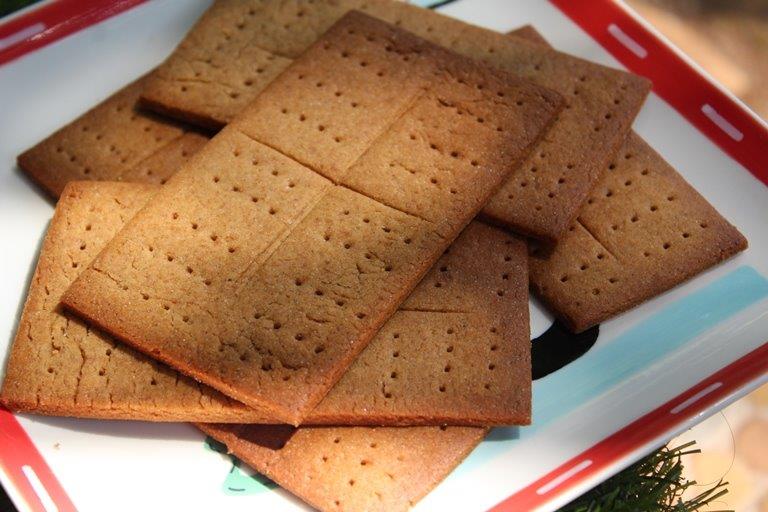 Pin
If you have any questions not covered in this post and if you need help, leave me a comment or mail me @[email protected] and I'll help as soon as I can.
Follow me on Instagram, Facebook, Pinterest ,Youtube and Twitter for more Yummy Tummy inspiration.
IF YOU MAKE THIS RECIPE OR ANYTHING FROM YUMMY TUMMY, MAKE SURE TO POST IT AND TAG ME SO I CAN SEE ALL OF YOUR CREATIONS!! #YUMMYTUMMYAARTHI AND @YUMMYTUMMYAARTHI ON INSTAGRAM!
📖 Recipe Card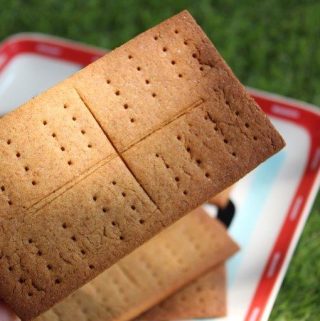 Graham Crackers Recipe | Homemade Graham Crackers Recipe
!RECIPE SOURCE:
Biggerbolderbaking
Graham crackers is one of the easiest and healthiest crackers you could make. These are so thin and made with wheat flour which is good for you.
Print
Pin
Rate
Ingredients
Whole Wheat Flour / Atta - 1 cup

120 grams

Brown Sugar - ½ cup

100 grams

Baking Soda - ½ tsp

Salt a pinch

Cinnamon powder - ½ tsp

Oil - 4 tblsp

Honey - 3 tblsp

Milk - 3 tblsp

Vanilla essence - ½ tsp
(MY 1 CUP MEASURES 240 ML)
Instructions
Preheat oven to 180 degree C.

Take wheat flour, cinnamon, baking soda, brown sugar in a bowl and mix well.

Add oil and crumble it into the flour.

Mix milk, honey and vanilla in a bowl and add it into the flour and knead to a dough.

Roll this into a thin sheet between parchment paper.

Cut as shown.

Arrange on a baking sheet and bake for 8 to 10 mins.

Remove and cool completely.

Serve.
Video
Nutrition
Serving:
1
g
|
Calories:
129
kcal
|
Carbohydrates:
21.3
g
|
Protein:
1.1
g
|
Fat:
4.6
g
|
Saturated Fat:
0.6
g
|
Sodium:
3
mg
|
Fiber:
0.3
g
|
Sugar:
13.2
g
Join us on Facebook
Follow us on Facebook
Share by Email
Share on Facebook
Graham Cracker Recipe Step by Step Pictures
1)Take wheat flour in a bowl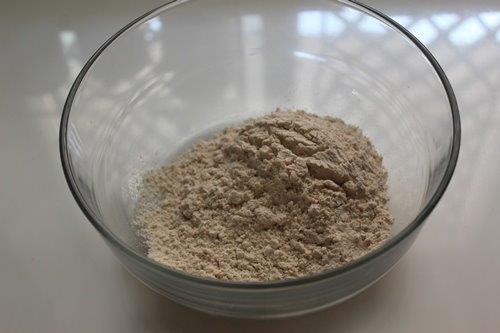 Pin
2)Add in brown sugar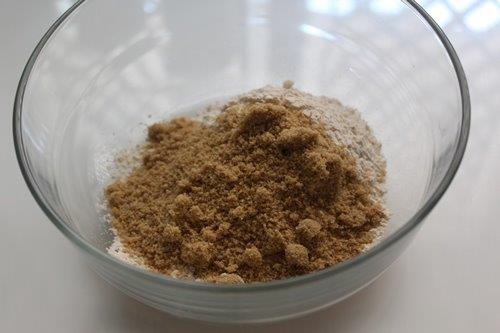 Pin
3)Add in cinnamon powder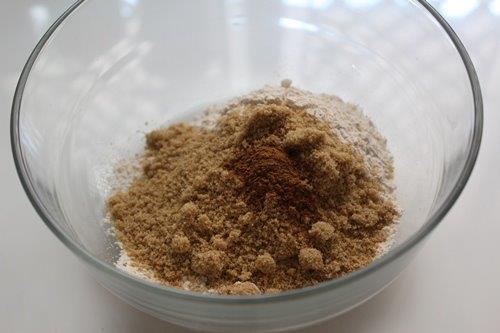 Pin
4)Add in baking soda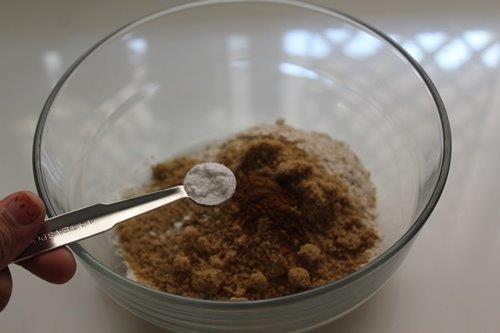 Pin
5)Add in salt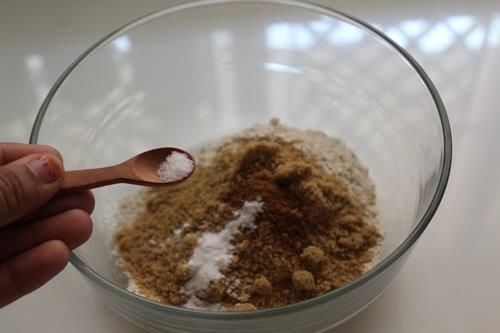 Pin
6)Mix well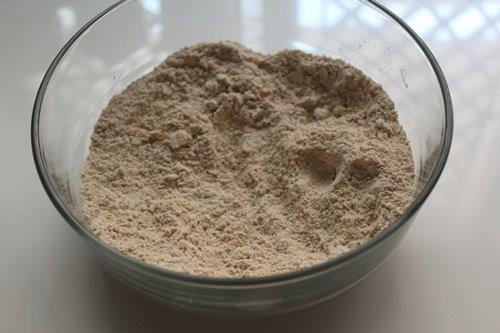 Pin
7)Add in oil or butter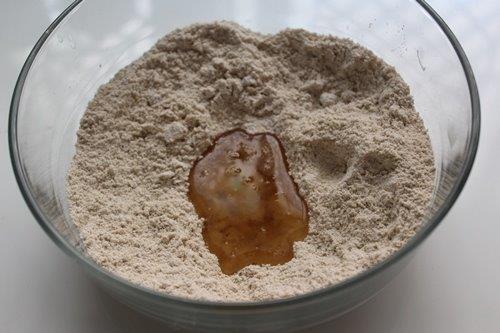 Pin
8)Crumble it into the flour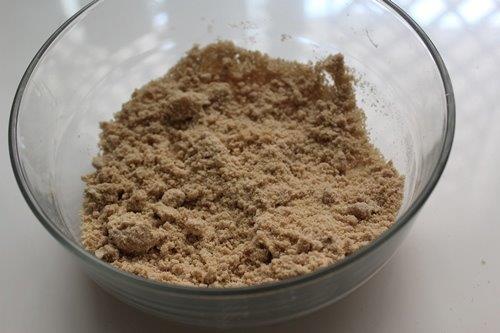 Pin
9)Take milk in a bowl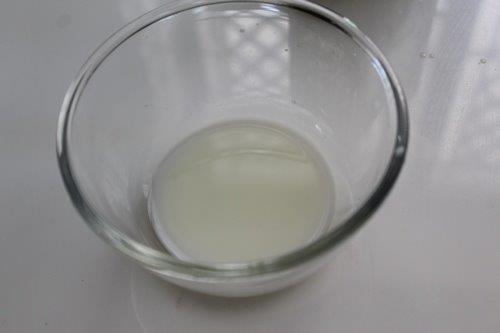 Pin
10)Add in vanilla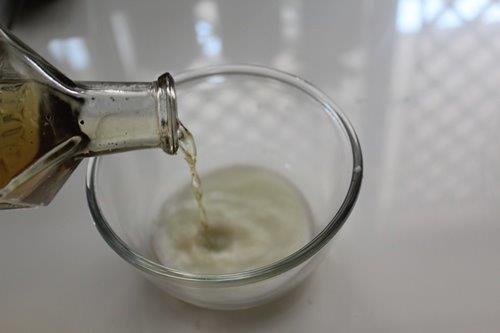 Pin
11)Add in honey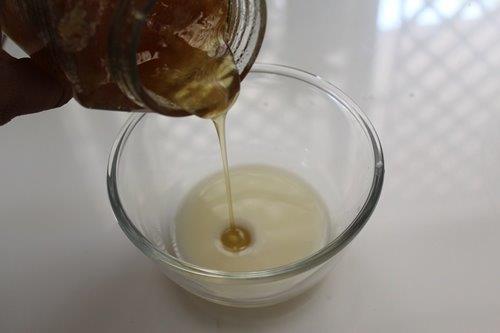 Pin
12)Mix well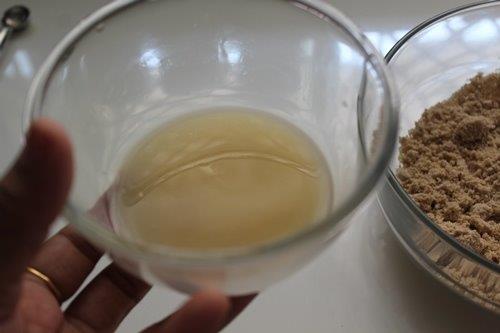 Pin
13)Add it into the flour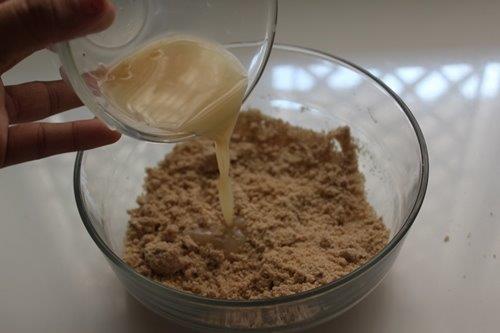 Pin
14)Knead to a soft dough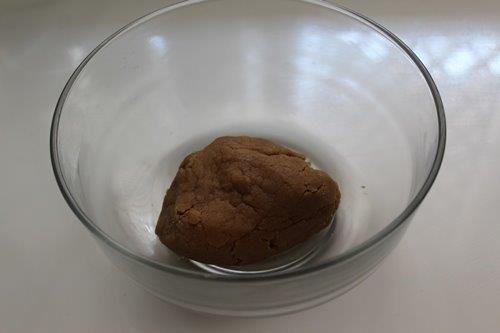 Pin
15)Roll into a dough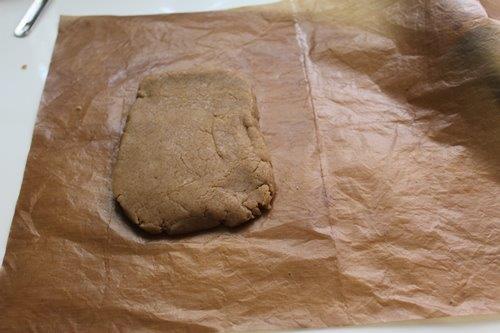 Pin
16)Roll it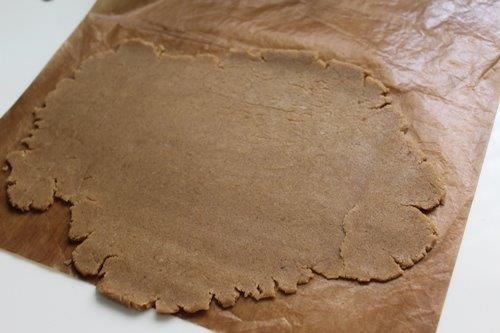 Pin
17)Cut the edges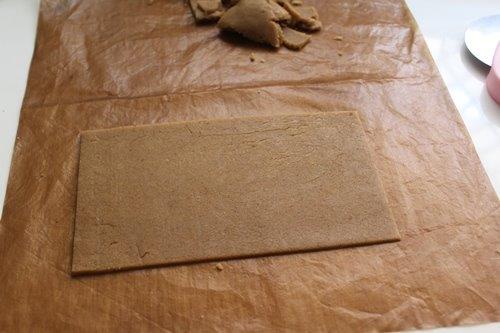 Pin
18)Cut into pieces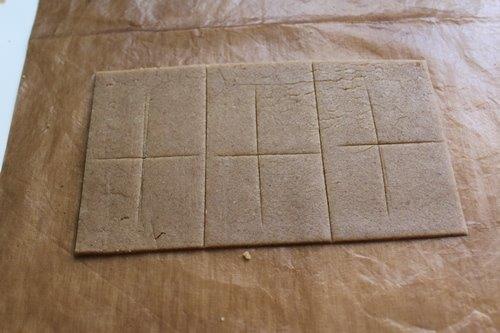 Pin
19)Prick it using a fork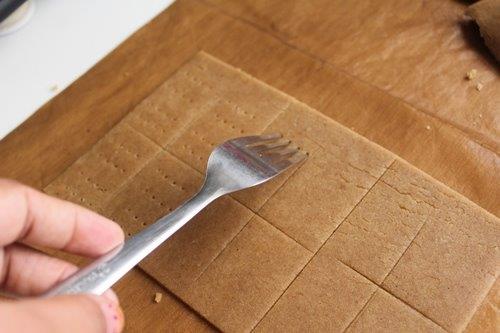 Pin
20)Like this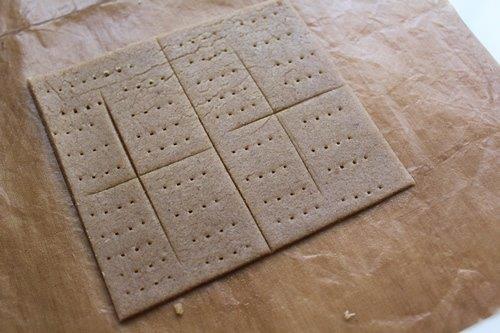 Pin
21)Place it in baking sheet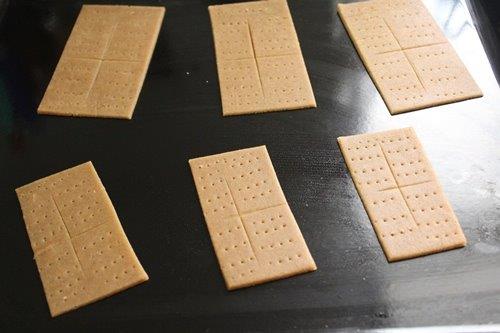 Pin
22)Bake till done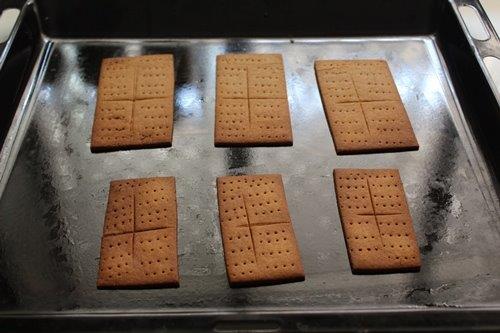 Pin
23)Serrve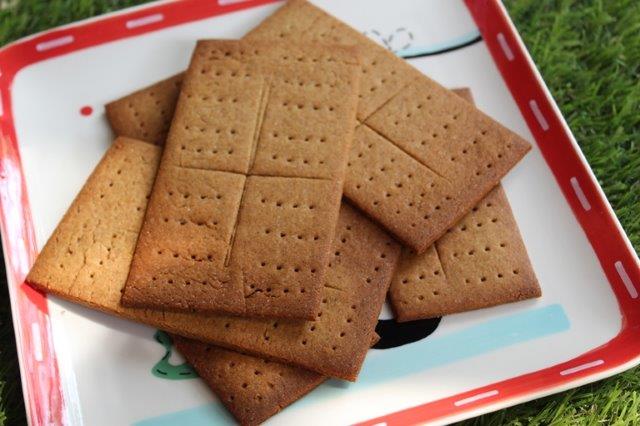 Pin
Frequently Asked Questions
What makes graham crackers different from regular crackers?
Two kinds of flour: Graham crackers are traditionally made with graham flour, which is a coarsely ground wheat flour that contributes to the crackers' nutty taste and texture.
Are graham crackers healthier than cookies?
Cookies are considered junk food. It's difficult to argue with that. Packaged cookies like Chips Ahoy and their ilk are usually loaded with ingredients we'd rather not discuss, but Graham crackers were created to be healthier.
Who were graham crackers named after?
Graham crackers, the hallmark of American childhoods, were inspired by the preachings of the 19th-century Presbyterian minister Sylvester Graham from Connecticut.