I have mentioned already how much my mum loves brinjal. She used to ask me to cook different dishes with brinjal always. So i used to browse a lot of brinjal recipes specially for her. I have done few recipes using brinjal which are lying in my draft to be posted.

This is one such recipe which i made, it was a speciality dish from andhra. And it was spicy and delicious. Since it had all the flavours packed in them, you dont have to look for separate sidedish for this. Just a simple raita and papad will be good.
Preparation Time : 10 mins
Cooking Time : 45 mins
Serves – 3 to 4
Ingredients:
Rice – 1 cup
Ginger – 1 tblspn juliened
Green Chilli – 2 slited
Onion – 1 sliced thinly
Curry leaves- 1 spring
Brinjal – 2 chopped ( I used Green Long Brinjal called Vazhuthalagai )
Salt to taste
Sugar – 1 tsp


For Vangibhaat Powder:
Oil – 1 tsp
Urad dal / Ulundu Paruppu – 1 tblspn
Channa Dal / Kadala Paruppu – 1 tblspn
Coriander Seeds / Mullu Malli – 2 tblspn
Cumin Seeds /Jeerakam – 1 tsp
Sesame Seeds / Yellu / Til – 1 tblspn
Raw Peanuts – 2 tblspn
Dry Red Chilli – 2 to 3
Coconut – 2 tblspn Grated


For Seasoning:
Oil – 3 tblspn

Mustard Seeds / Kaduku – 1 tsp
Cumin Seeds / Jeerakam – 1 tsp
Asafoetida / Kaya podi / Hing – 1/4 tsp
Urad dal / Ulundu Paruppu – 1 tsp
Channa Dal / Kadala Paruppu – 1 tsp
Raw Peanuts – 1 tblspn
Turmeric Powder / Manjal podi – 1 tsp


Method:
Wash rice in lots of water and take it in pressure cooker. Add in 2.5 cups of water and cook for 2 whistle. Let it simmer for 5 mins. Now turn off the heat and let the steam escape all by itself. Open the pressure cooker and fluff the rice with a fork. Let this rice cool down.
Heat 1 tsp oil and when it is hot, add all ingredients except coconut and roast on a low heat till light golden. Now add in coconut and give a stir. Roast it for a min. Allow this to cool down, and grind this into a fine powder. Set this aside till use.
Now heat oil in a kadai. Add in all the seasoning ingredients and fry for a couple of min.
Now add in onions, green chilli, ginger, curry leaves and saute for a min.
Now add in brinjal and toss well with the oil. Add in salt and mix well.
Cook this covered for 5 to 8 mins till the brinjal is cooked. Open the lid and add in sugar and vangibhaat powder. mix well. Cook this for couple of min.
Add in the cooked rice and mix well with the masala.
Cover and let it steam for 5 mins on low heat.
Serve with raita.


Pictorial: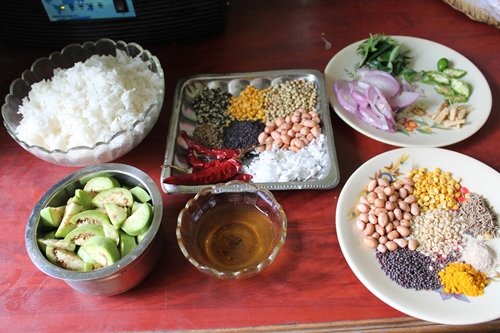 Take all your ingredients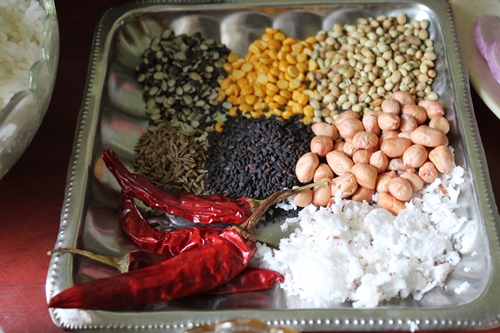 These are the ingredients for powder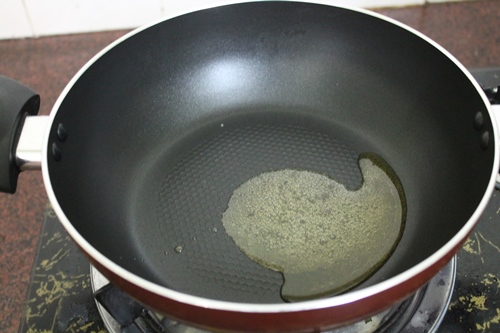 Heat oil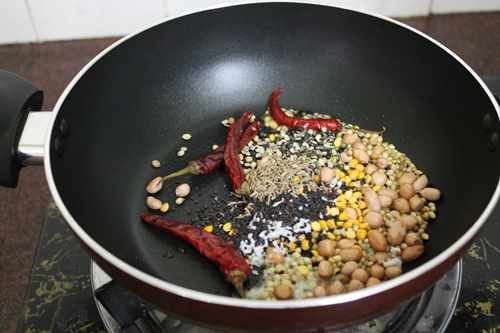 Add those ingredients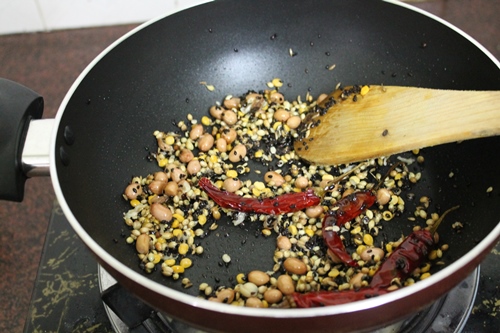 Saute for a while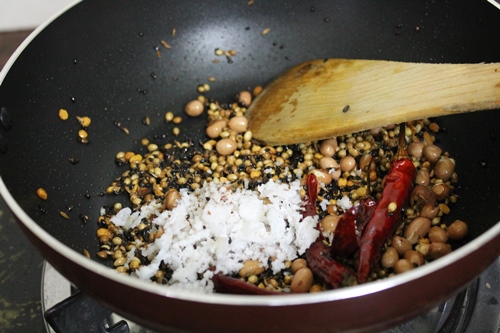 Add in coconut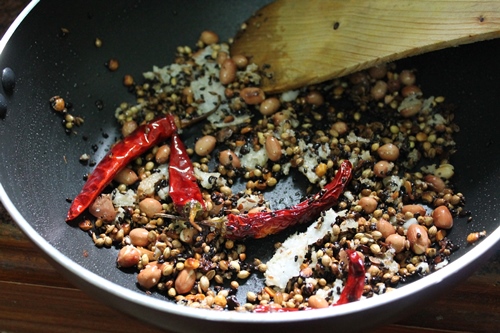 Saute for couple of mins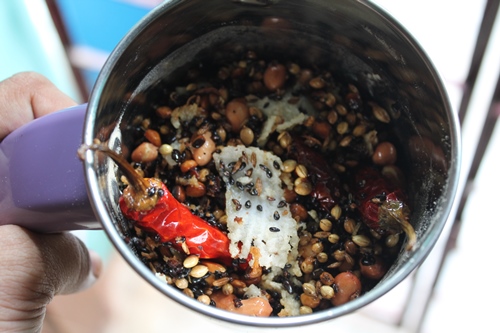 Take them in a blender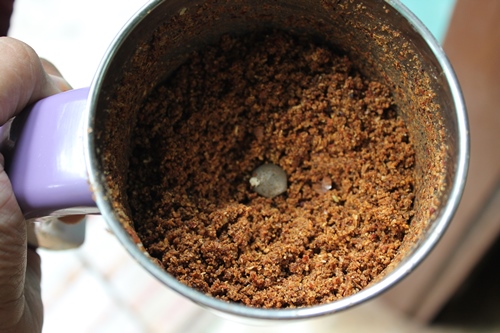 Make into a powder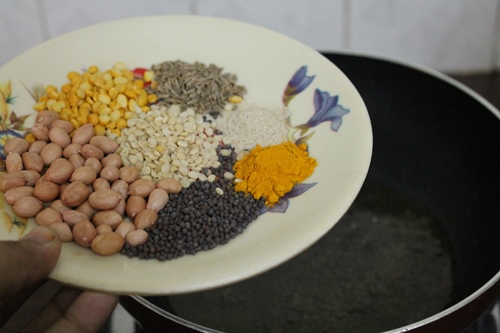 Now add seasoning ingredients to oil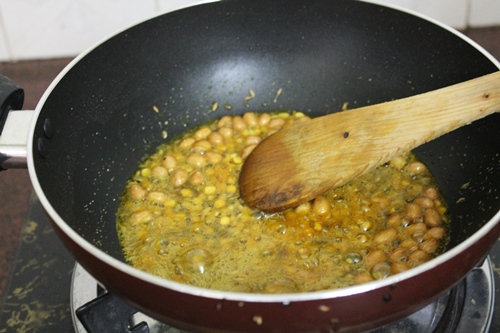 Saute till golden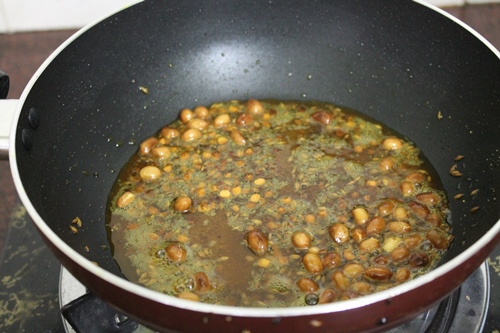 Just like this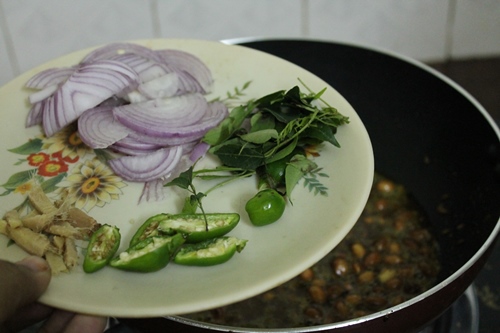 Add in other stuffs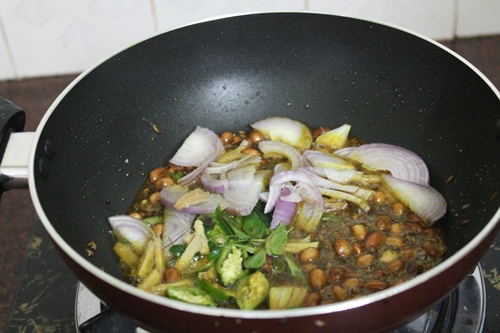 Saute them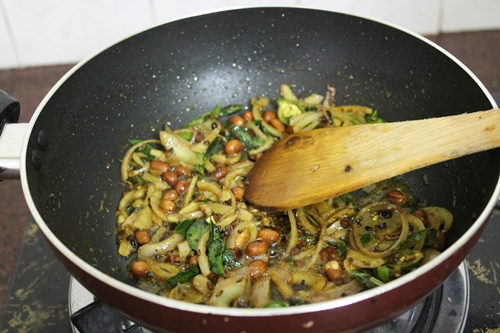 Saute till light golden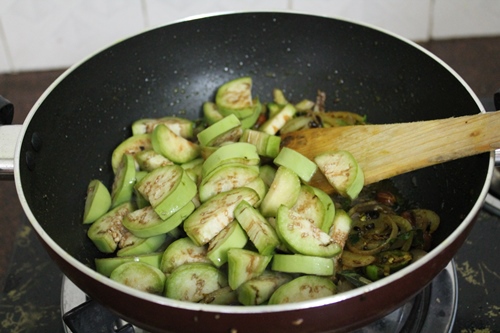 Add in brinjal pieces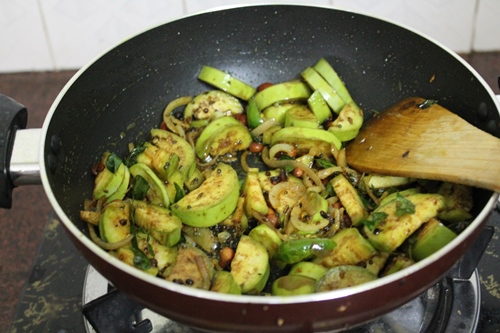 Saute them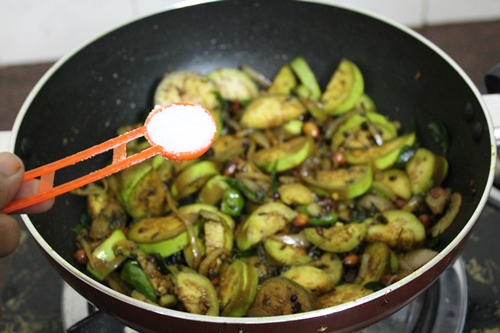 Add in salt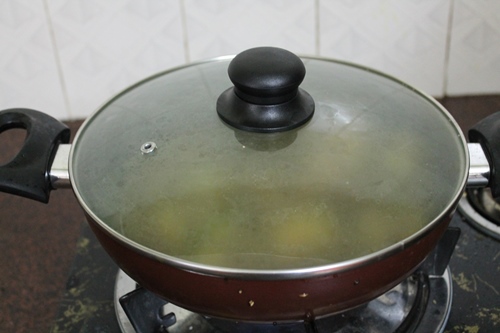 Cover and Cook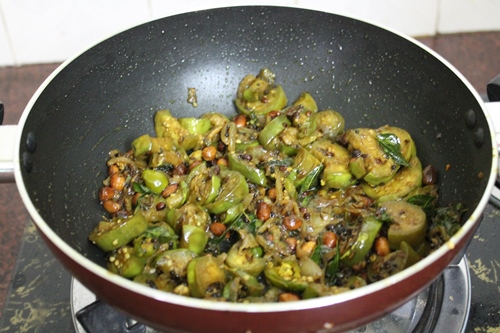 Till brinjal is cooked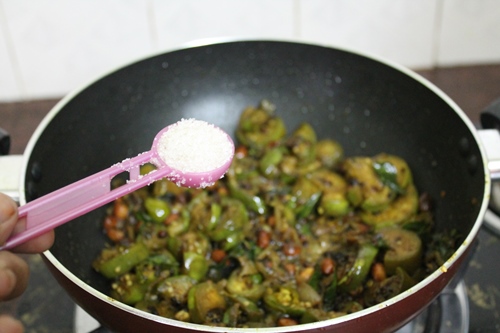 Add in sugar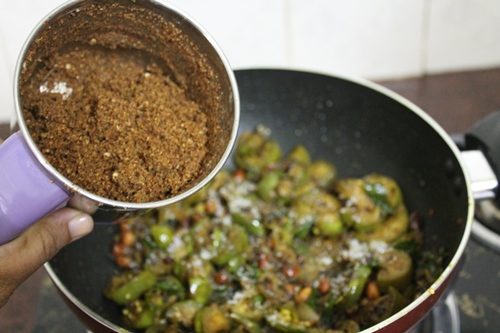 Vangibhaat powder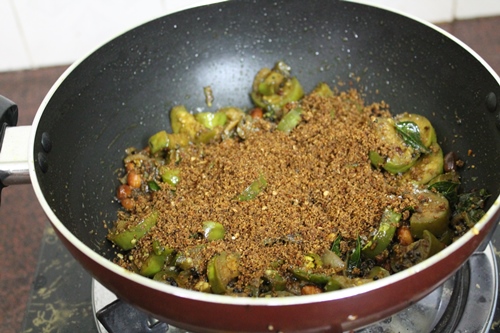 Mix well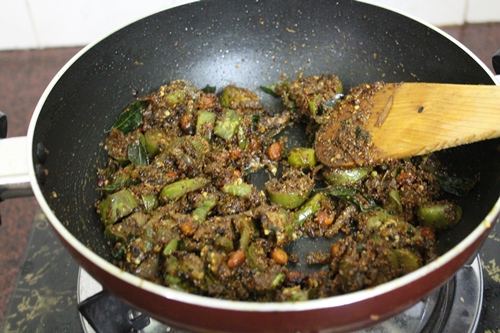 Saute for couple of mins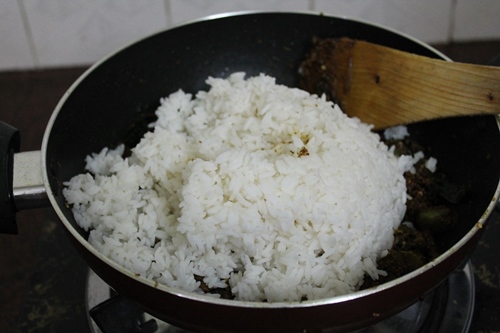 Add in rice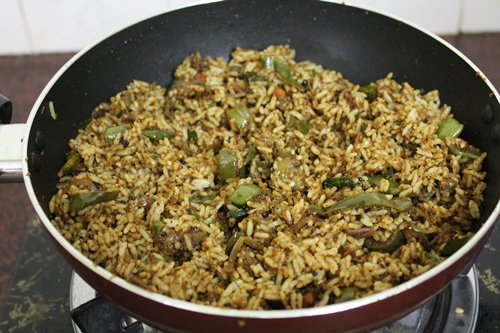 Mix well with the masala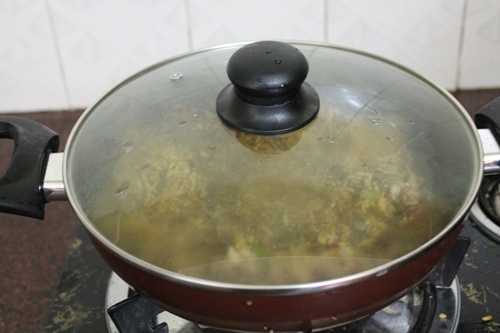 Cover and leave for a while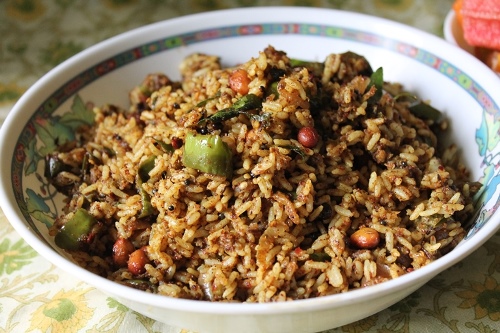 Serve