"Challah is an enriched bread with lots of eggs create a rich texture. Challah bread is traditionally made during hanukkah but it can be made any day during the week. Leftover challah makes amazing french toast."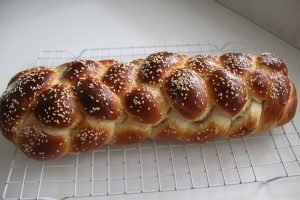 Pin
If you love baking bread then challah bread is a must try. It is a very easy bread recipe to make. It looks so beautiful and taste so delicious. This is a must try recipe for celebrating Hanukkah or for a Sunday supper, challah is the just the bread for the job.
Couple days back I was in a mood to bake some bread. I was eyeing on challah bread for a long time now. So decided to give it a go. Also i wanted to try the 6 braid bread. Few years back i have tried my hands on braided bread.
Challah bread is not so different from other bread. Only thing is it has some extra eggs and doesn't have any dairy products.
Check out my other braided bread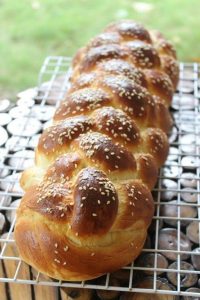 Pin
Making challah bread is super easy. All you need is very basic ingredients which you already have on hand. Classic Challah is a Naturally Dairy-Free, Brioche-Like Bread. Classic challah is an egg-y bread that's a bit like brioche, but it doesn't contain butter or milk.
What makes challah bread different?
Challah is a loaf of braided bread. The simple dough is made with eggs, water, flour, yeast and salt. The bread is typically pale yellow in color because so many eggs are used, and it has a rich flavor, too. 
Challah bread ingredients
flour
eggs
sugar or honey
vegetable oil
water
yeast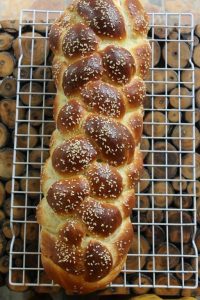 Pin
One of the questions which I often get is Why my bread is not rising. Why my dough is not doubling up. Why my bread is dense.
The answer for all those questions is activating yeast. Activating yeast is so easy. Just follow these steps.
1)take warm water in a bowl. Use Luke warm water. Dip your finger in the water and it should be very warm. Just like a warm bath water.
2)sprinkle little sweetness like sugar, honey. Because yeast loves warm and sweet environment.
3)now sprinkle yeast over it. I use dry yeast.
4) leaves aside for 5 mins to activate. The yeast mix should be bubbly and foamy. This means yeast is activated.
If your mixture doesn't look foamy.
1)Then you must have added yeast to too hot water so the yeast has died.
2)You have used cold water so yeast didn't activated.
3)Your yeast is expired.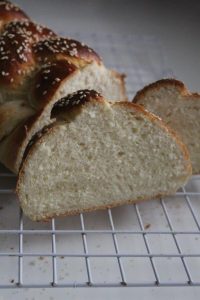 LOVE BREAD MAKING, CHECK OUT BRIOCHE BREAD
How to Make Challah Bread - Step By Step
The Dough: mix all dry ingredients in a bowl. mix wet ingredients in a jug. Later mix both together to a dough.
Proofing of the Dough: Leave the dough to rise in a warm spot for 1 to 2 hours. Once risen, cover and store in fridge. Make the bread in the morning.
Braiding: Braid the dough or place it in a loaf pan. Let it rise for the final proof.
Egg Washing: Egg wash is must for getting the golden shiny colour on top.
Baking: bake the bread in the mentioned temp and timing.
Serving: leave to bread to cool completely before slicing.
How to Make a 6 Plait Bread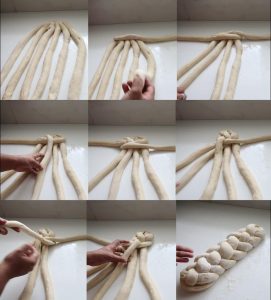 If you have any questions not covered in this post and if you need help, leave me a comment or mail me @[email protected] and I'll help as soon as I can.
Follow me on Instagram, Facebook, Pinterest ,Youtube and Twitter for more Yummy Tummy inspiration.
IF YOU MAKE THIS RECIPE OR ANYTHING FROM YUMMY TUMMY, MAKE SURE TO POST IT AND TAG ME SO I CAN SEE ALL OF YOUR CREATIONS!! #YUMMYTUMMYAARTHI AND @YUMMYTUMMYAARTHI ON INSTAGRAM!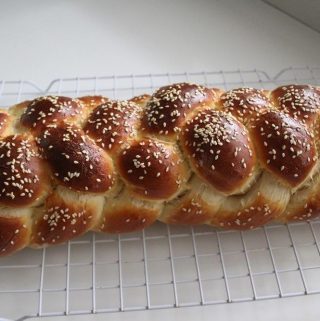 Easy Challah Bread Recipe
Traditional Bread made using eggs for jewish sabbath. Bread made without any dairy products.
Ingredients
5 to 6

cups

All Purpose Flour

⅓

cup

Sugar

1

tbsp

Salt

1

cup

Warm Water

3

Eggs

⅓

cup

Oil

1

tbsp

Yeast

1

Egg for egg wash

Sesame seeds
Instructions
Take warm water in a bowl. Add a tsp of sugar in it. Sprinkle over the yeast and set aside for 5 mins to activate.

Take eggs in the bowl of the stand mixer.

Add sugar and mix till sugar is combined.

Add in yeast mixture, oil and mix well.

Add in 4 cups of flour, salt and place the bowl in the mixer. Let it knead till flour is combined.

If the dough feels sticky, add more flour and turn on the mixer and knead for 8 to 10 mins.

Now remove the dough and make it smooth. Place it back into the bowl and let it rest covered for 1 hour till it is doubled in size.

Once the dough is risen, punch out the air and cover with a plastic wrap. Place the bowl in the fridge overnight.

Next day remove the dough from fridge. Divide it into 6 equal portions.

Roll each portion into a long rope.

Stick 6 strands together in the top end and start plaiting.

Refer my images and video given to learn how to plait.

Once it is braided. Place the loaf in a parchment lined baking pan. Let it rise for 30 to 45 mins.

Now brush the dough with egg wash and sprinkle with sesame seeds.

Bake in a preheated oven for 30 to 40 mins.

Remove the loaf from oven, let it cool completely on a wire rack.

Once cooled slice and serve.
Notes
You can knead the dough by hand as well. Make sure you knead for at least 15 mins till it is soft and smooth.
If you have electric beater, put the dough hook in it and knead well.
Using cold dough is easy for plaiting. But you can use the dough immediately as well.
You can make 2 small loaf using this bread too.
If you don't wish to braid, just shape the dough and place it in a loaf pan and bake like a normal loaf.
Nutrition Facts
Easy Challah Bread Recipe
Amount Per Serving (1 servings)
Calories 283
Calories from Fat 72
% Daily Value*
Fat 8g12%
Cholesterol 41mg14%
Sodium 598mg26%
Potassium 74mg2%
Carbohydrates 46g15%
Protein 7g14%
Vitamin A 59IU1%
Vitamin C 1mg1%
Calcium 14mg1%
Iron 3mg17%
* Percent Daily Values are based on a 2000 calorie diet.
Challah Bread Making - Step by Step Pictures
1)Take warm water in a bowl. Add little sugar. Sprinkle over some yeast on top and let it sit for 5 mins.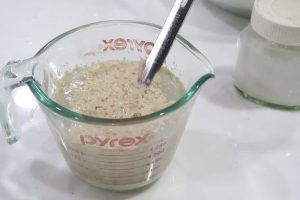 Pin
2)Now the yeast has activated.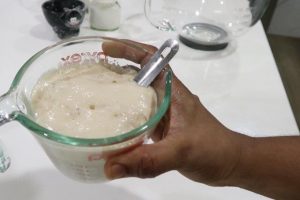 Pin
3)Take eggs the stand mixer bowl.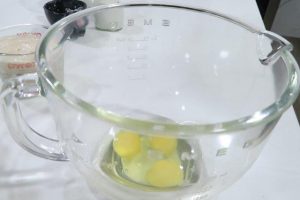 Pin
4)Add in sugar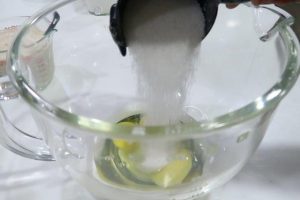 Pin
5)Whisk together till combined.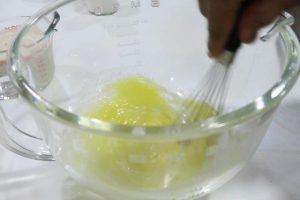 Pin
6)Add in the yeast mixture.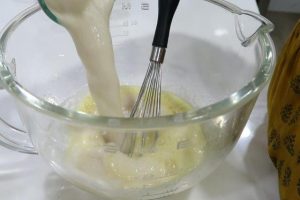 Pin
7)Add in oil.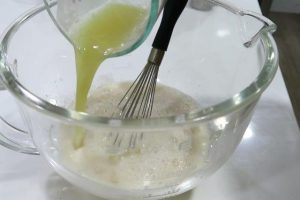 Pin
8)Mix well.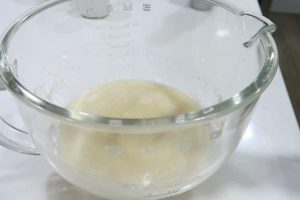 Pin
9)Add in the flour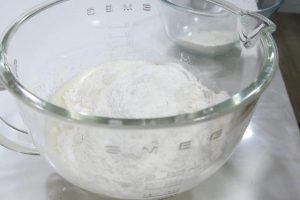 Pin
10)Add salt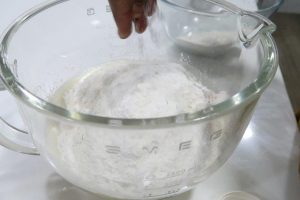 Pin
11)Place the bowl in the stand mixer and turn the mixer on low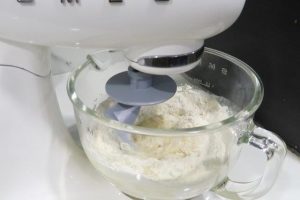 Pin
12)Wait till the flour combines.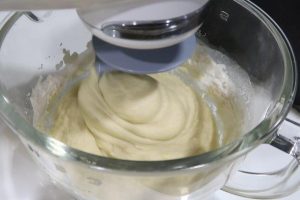 Pin
13)If you find the dough to be sticky, add more flour. let the mixer run for at least 8 to 10 mins.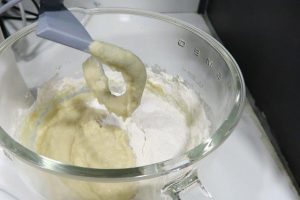 Pin
14)Now the dough is done.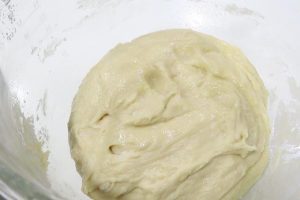 Pin
15)Remove the dough to a bowl.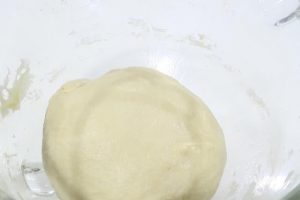 Pin
17)Cover and let it rest for 1 to 2 hours till doubled in size.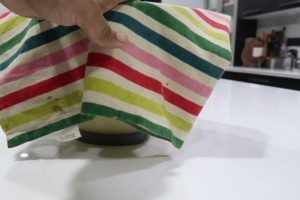 Pin
13)Now the dough is almost doubled in size.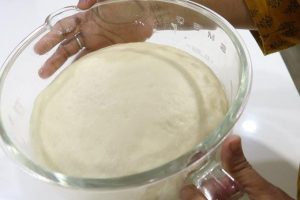 Pin
14)Cover the dough with plastic wrap and place it in fridge overnight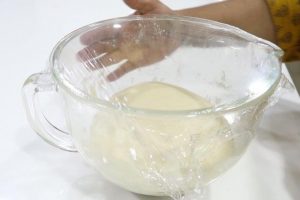 Pin
15)Next day remove the dough from fridge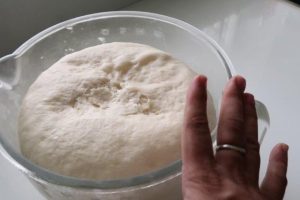 Pin
16)Divide it into 6 equal portions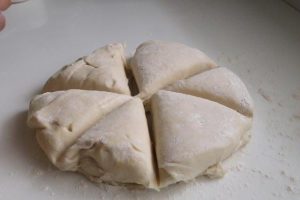 Pin
15)Roll each dough into a rope like.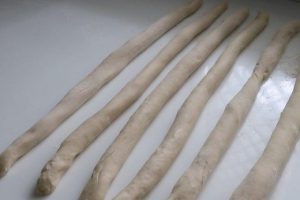 Pin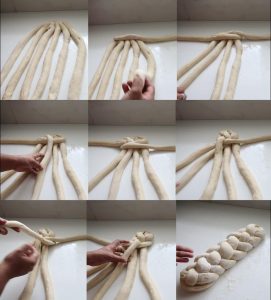 Pin
16)Plait it. Refer the image given above. Set aside for another 30 to 45 mins for the dough to rise.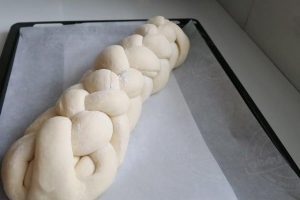 Pin
17)Egg wash the bread.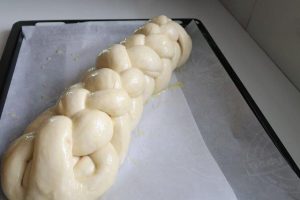 Pin
18)Sprinkle with sesame seeds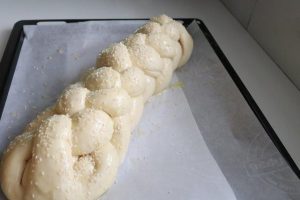 Pin
19)Time to bake.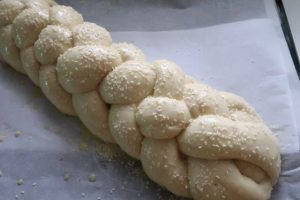 Pin
20)Bake till golden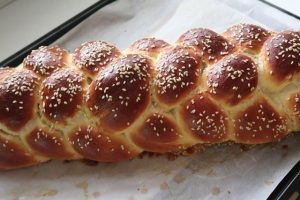 Pin
21)Slice and serve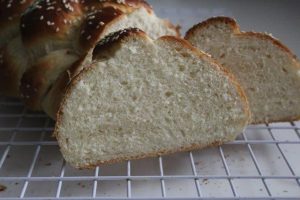 Pin