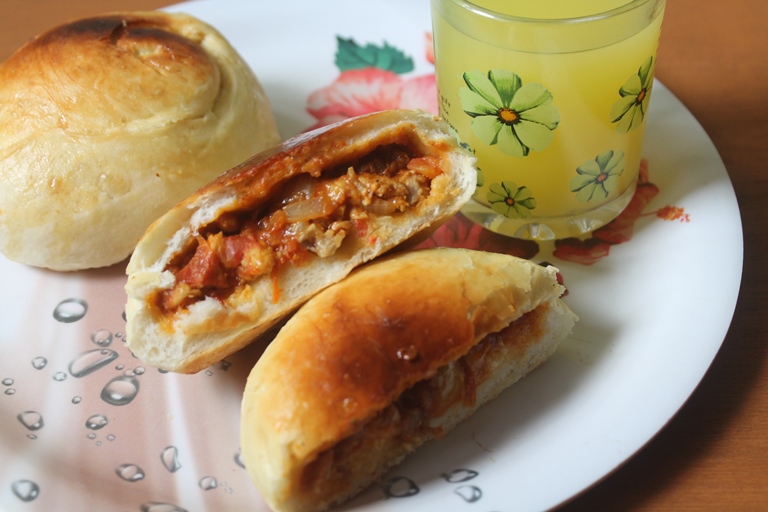 Pin
Baked Chicken Stuffed Buns - Chicken Buns Recipe with step wise pictures.
I have tasted this in a bakery near by and this is my favourite. The pillowy soft buns are filled with a chicken filling . This is perfect to put in your kids lunch box or it will make a great after school snack. The dough and filling can be made a day in advance and stored in fridge.
I used my homemade pizza dough as the base and it was so soft, light and fluffy. You can even add some colourful bell peppers to make it super colourful.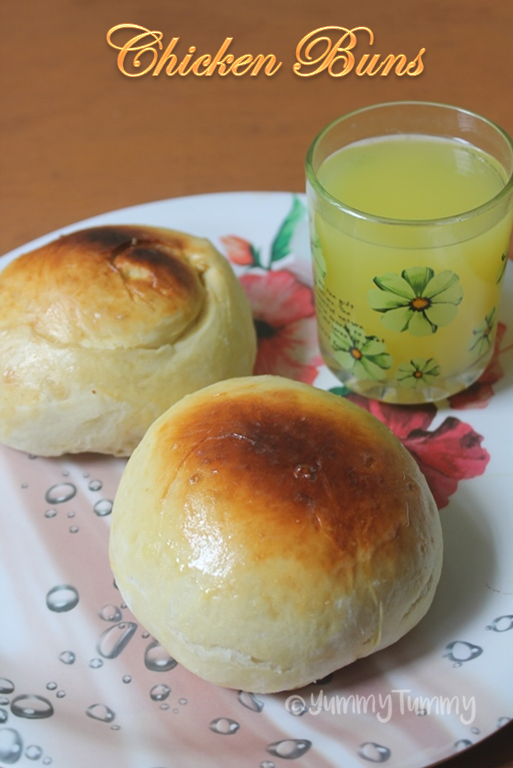 The buns so soft and fluffy. The interior is so spongy and it taste so yum with the chicken filling. In the near by bakery they sell this for few bucks and we pick it often. So far i have tried so many buns and baked goodies recipe, i have never tried chicken buns. So here i am with the recipe.Hope you will give this a try and let me know how it turns out for you.
Similar Recipes,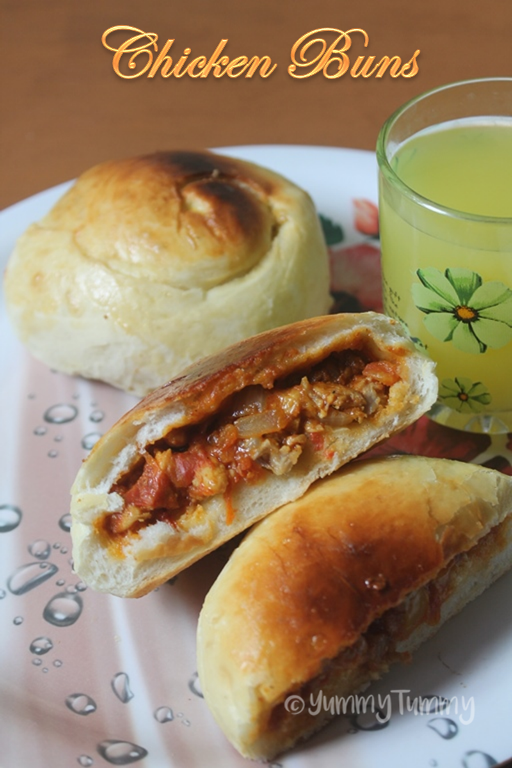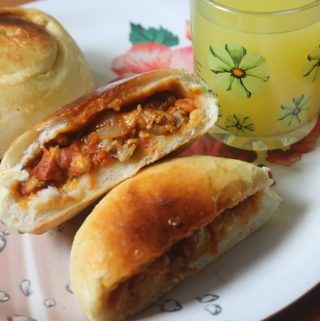 Fried Chicken Rolls Recipe
Delicious baked buns which are crispy outside and soft in the middle. These rolls have a spicy chicken filling inside it which taste so good.
Ingredients
Basic Pizza Dough - 1 batch

Recipe link given below

Oil - 1 tblsp + for deep frying

Onion - 1 large size chopped finely

Tomato - 2 large chopped finely

Salt to taste

Chilli Powder -2 tsp

Garam Masala Powder - 1 tsp

Boneless Chicken - 500 grams chopped finely

Salt to taste

Tomato Ketchup - 3 tblsp

Egg - 1

Cheese - 1 cup grated
Instructions
Start by making the dough. Let it rise for 1 hour. Link for recipe given below.

Heat oil in a pan, add onion and saute till golden.

Add in tomatoes and cook till mushy.

Add in chilli powder, garam masala powder and salt and mix well.

Add in chopped chicken and mix well.

Cover and cook till it is cooked.

Add in ketchup and cook till the mixture dries up.

Now take some dough and flatten it out. spoon some chicken filling and top with cheese. seal the edges.

Place it in a greased baking pan and let it sit for 30 mins.

In the last 10 mins or proofing, preheat the oven to 200 degree c.

Brush the buns with beaten egg and bake for 18 to 25 mins.

Remove and serve warm.
Pictorial:
https://www.yummytummyaarthi.com/2011/06/basic-pizza-dough.html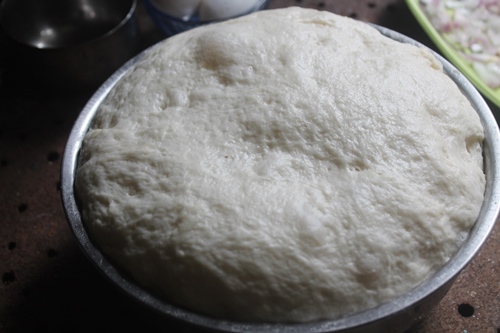 Pin
2)Take your filling ingredients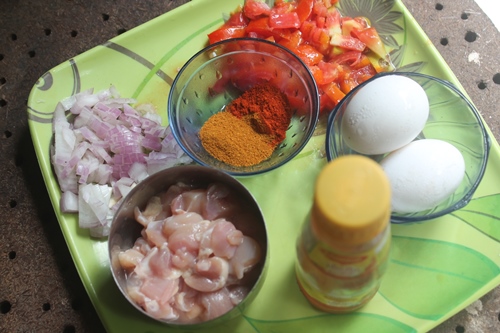 Pin
3)Heat oil in a pan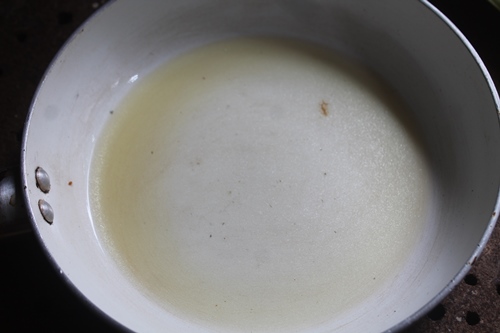 Pin
4)Add in onions and tomatoes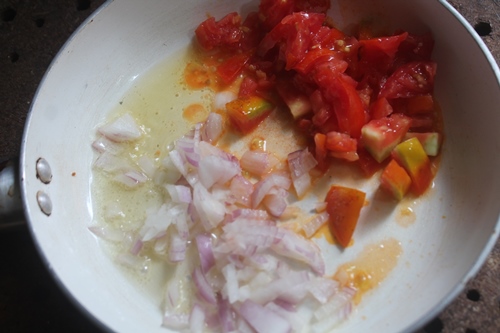 Pin
5)Saute them well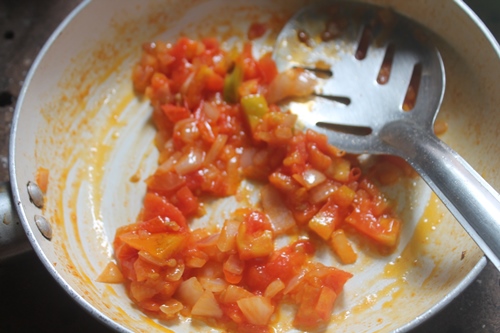 Pin
6)Add in salt to taste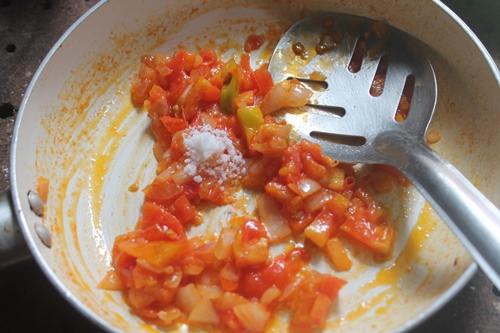 Pin
7)Add in chilli and garam masala powder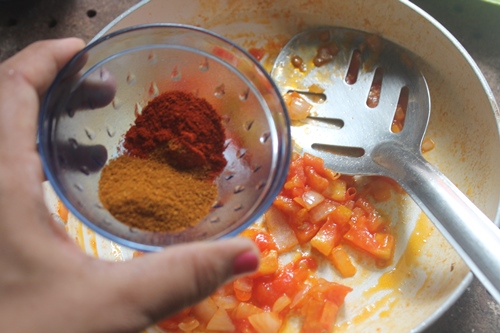 Pin
8)Mix well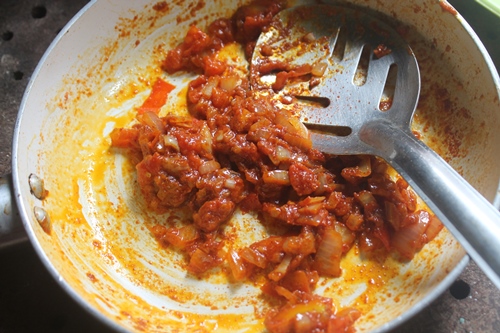 Pin
9)Add in cubed chicken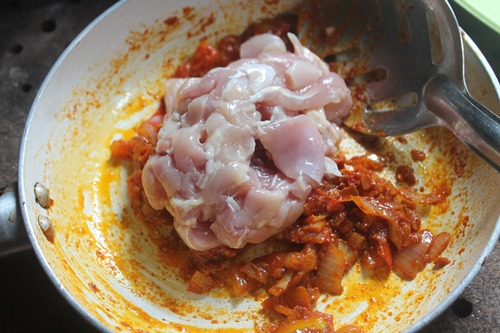 Pin
10)Mix that into the masala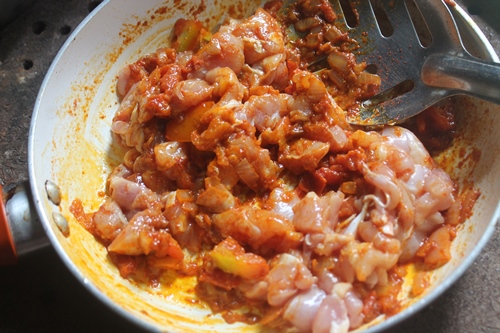 Pin
11)Now the chicken is almost cooked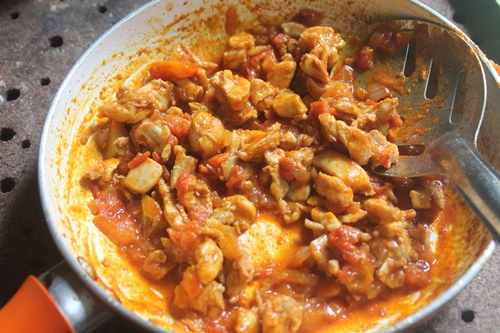 Pin
12)Take some ketchup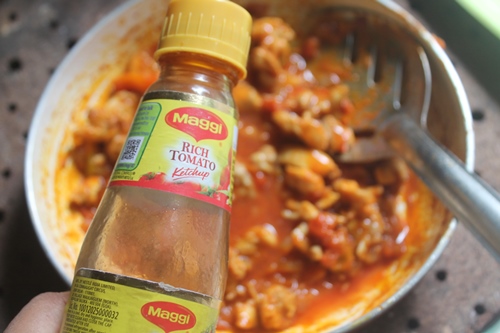 Pin
13)Add few tblsp in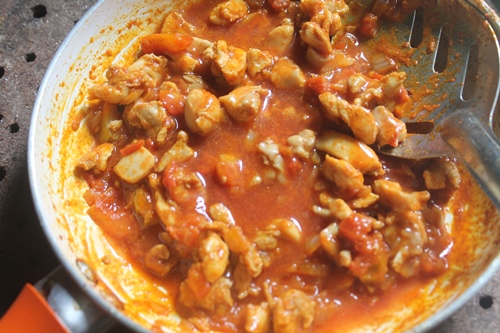 Pin
14)Mix well and cook till the mixture dries a little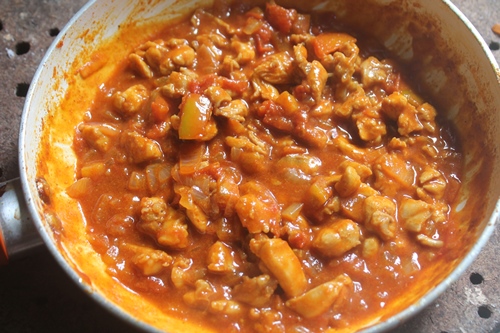 Pin
15)Now it is done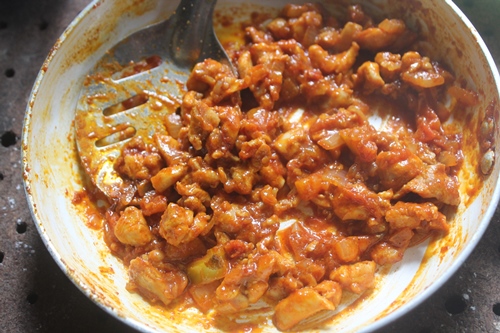 Pin
16)Now take the dough and knead to get rid of the air inside it.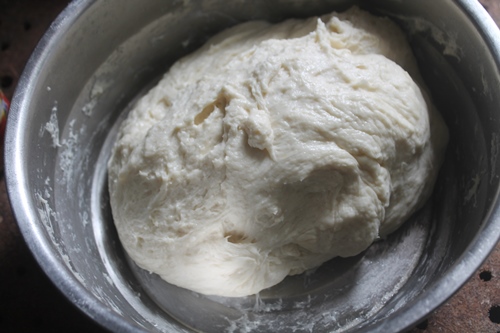 Pin
17)Take a small portion of dough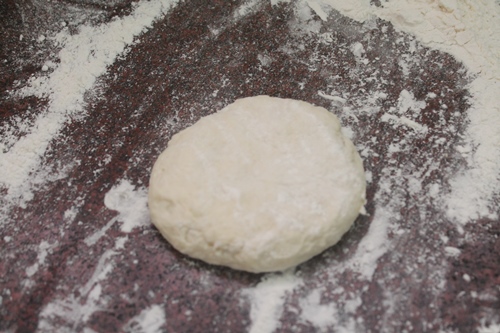 Pin
18)Flatten it out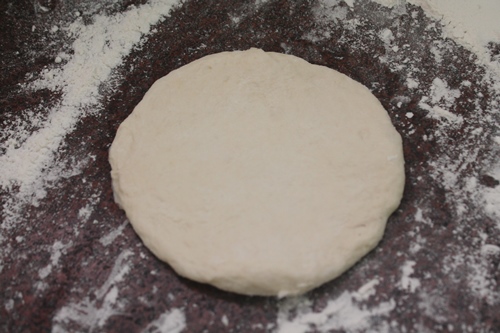 Pin
19)Spoon some filling in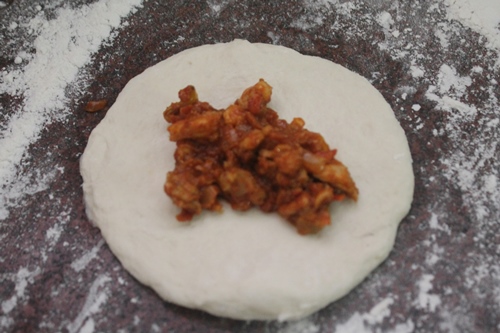 Pin
20)Top with cheese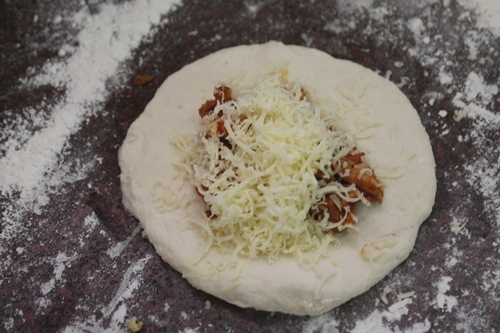 Pin
21)Cover it and seal the edges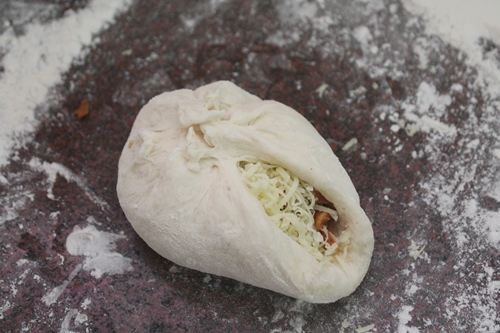 Pin
22)bun done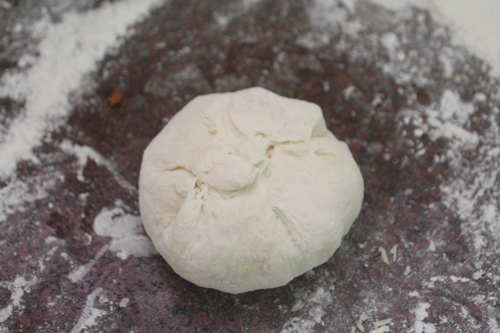 Pin
23)Arrange it in a greased baking pan. Let it rise for 30 mins. In the last 10 mins or rising preheat the oven to 200 degree C.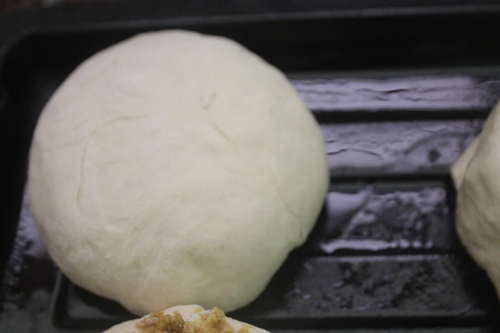 Pin
24)Brush top with some egg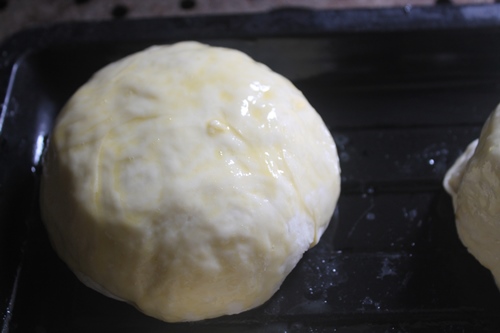 Pin
25)Bake in a 200 degree c preheated oven for 18 to 25 mins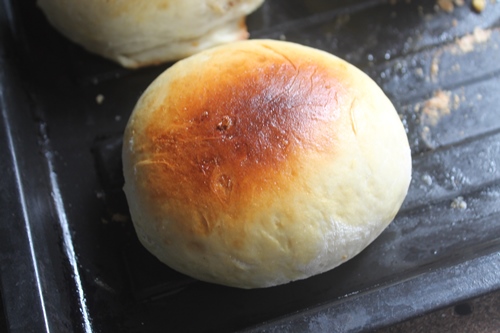 Pin
26)Serve.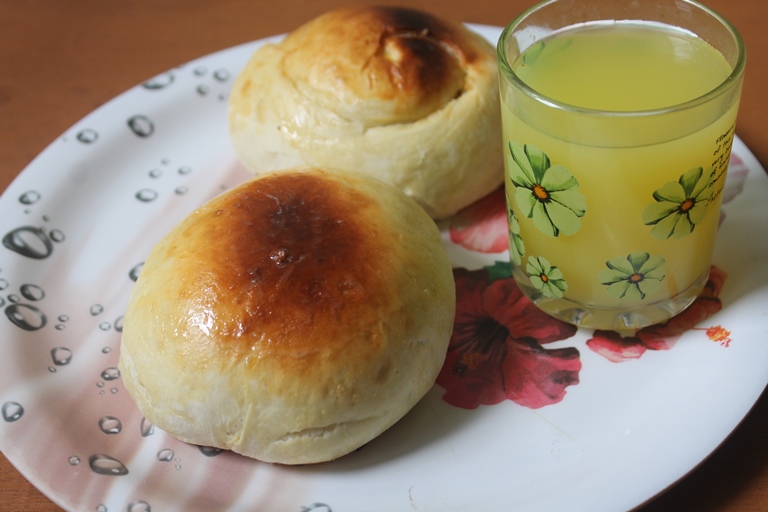 Pin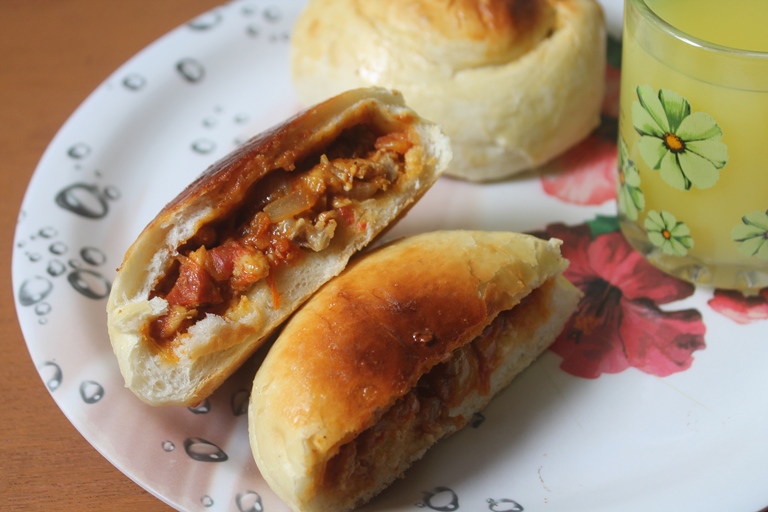 Pin