Curry leaves powder or Karuveppilai podi with step by step pictures. Aromatic powder made using curry leaves which taste delicious when served with rice.
I wanted to share this podi here for a long time. Even though this is a staple in our house, i somehow missed to share it here. Finally i made quite a few powders yesterday specially for blog. Will share all those soon.
The curry tree (Murraya koenigii) is a type of tree that is also known as karivepallai, karivembu, karivepaku, or kadipatta. It is a native of India and is mostly found in hot climates.
Apart from having a strong odour and a pungent taste, curry leaves are high in vitamin A, vitamin B, vitamin C, vitamin B2, calcium, and iron. By adding curry leaves to your meals, you can treat dysentery, diarrhoea, diabetes, morning sickness, and nausea.
About this Recipe
Curry leaves powder can be used to season rice, curries, vegetable side dishes, lentil broths, and beverages. It is used to flavour South Indian dishes such as sambar and rasam. It can also be used to flavour spicy chutneys.
This can be served over some rice and a drizzle of ghee. You can have it with idli or dosa too.
Similar Recipes,

Indian Curry Rice Recipe
Homemade Red Pepper Powder
Bombay Sandwich Masala
Sambar Powder
Rasam Powder
Bachelor Sambar Powder
Biryani Masala Powder
Ingredients for Curry Leaves Powder Recipe :
Curry leaves - 1 cup packed tightly
Toor Dal / Tuvaram Paruppu - 2 tblspn
Roasted Gram Dal / Pori Kadalai - 2 tblspn
Urad dal / Ulundu Paruppu - 2 tblspn
Cumin Seeds - 1 tsp
Black Pepper - 1 tsp
Dry Red Chilli - 2 to 3
Salt to taste
Curry leaves :
Curry leaves have a similar flavour to asafoetida, another essential ingredient in cooking in places like Tamil Nadu and Kerala. It also has a more herbal flavour, similar to basil or kaffir lime.
Urad dal :
When cooked, urad has an earthy flavour and an unusual mucousy texture.
Black Pepper :
Peppers distinct flavour complements almost any savoury dish, as well as some sweet dishes. If salt helps to bring out flavours, black pepper makes foods more assertive.
Dry Red Chilli :
Dry red chilli is a condiment that enhances the flavour and colour of food. It contains medicinal and homoeopathic properties. We provide red chillies that are uniform in shape and size. It is mostly used to season foods. The chillies have a strong flavour.
Hope you will give this a try and let me know how it turns out for you.
How to Make Curry leaves powder
Take curry leaves in a dry pan and keep frying them on low heat till it gets dry. Set aside.
In the same pan add the remaining ingredients and fry till golden.
Take it in a plate and let it cool down.
Take it in a blender along with curry leaves and salt. Powder finely.
Store it in an air tight container for months.
You can serve with rice drizzled with some ghee or have with idli or dosa.
If you have any questions not covered in this post and if you need help, leave me a comment or mail me @[email protected] and I'll help as soon as I can.
Follow me on Instagram, Facebook,Pinterest ,Youtube and Twitter for more Yummy Tummy inspiration.
IF YOU MAKE THIS RECIPE OR ANYTHING FROM YUMMY TUMMY, MAKE SURE TO POST IT AND TAG ME SO I CAN SEE ALL OF YOUR CREATIONS!! #YUMMYTUMMYAARTHI AND @YUMMYTUMMYAARTHI ON INSTAGRAM!
📖 Recipe Card

Curry leaves powder step by step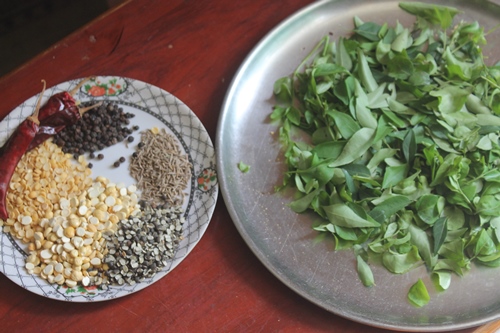 Take all your ingredients