"These lactation brownies are homemade and full of ingredients, including oatmeal and flax seed, that will help with nursing. They are also ooey and gooey and absolute brownie perfection."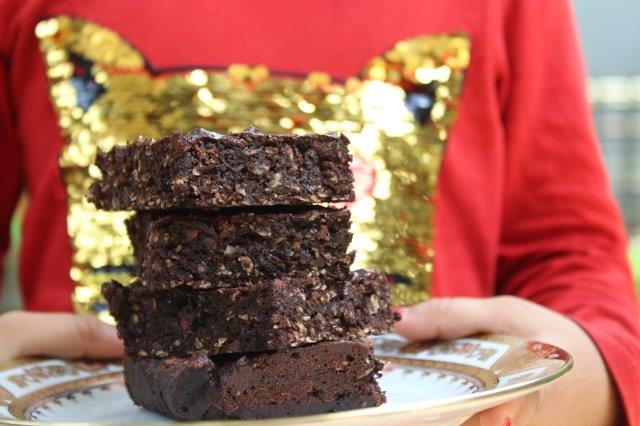 Pin
Boost Milk Supply EASY!!! This fast 25 minute Lactation Brownies recipe is sure to satisy that sweet tooth while boosting your milk supply!
These lactation brownies has oatmeal, flax seeds in them which is super healthy and helps in increasing milk supply. If you have brewers yeast you would add that too. Brewers yeast will help a lot with milk production.
How to Make Lactation Brownies.
Gather Flour, Sugar, Eggs, Chocolate, Oatmeal, Cocoa powder, Flax seeds.
Mix flax seed powder with water and set aside to it gels up.
Mix all ingredients together.
Spoon into baking pan.
Bake
Cool and slice.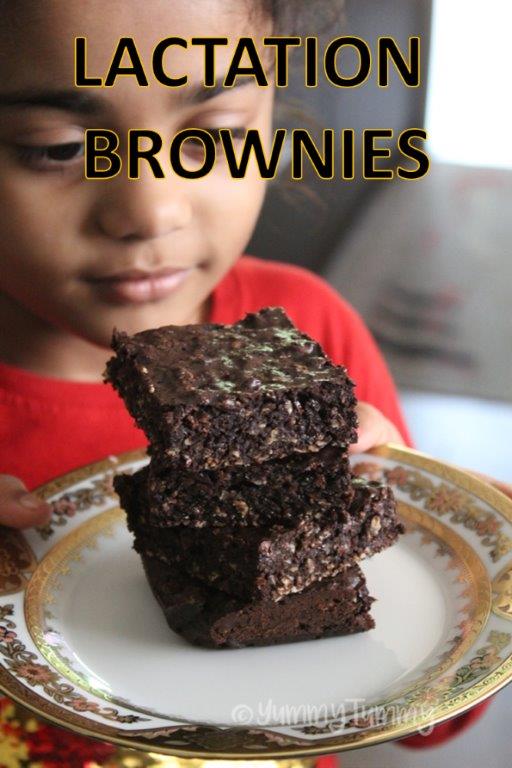 Pin
What are lactation brownies?
Lactations brownies are a delicious brownies made using ingredients which promotes milk supply.
These brownies are made from scratch and include great milk boosting ingredients like ground flax seed, oatmeal, and dark chocolate. The combination of these ingredients in the brownies should help increase your milk supply.
These brownies are also great for anyone not nursing as well. No one would be able to tell that these brownies are for breastfeeding mamas. My kids devour them and didn't even bat an eye. They taste great and make a great addition to your repitore.
Will Lactation brownies really help increase milk supply?
I would say that it will promote your milk supply. similar to what you might get from drinking milk or eating oatmeal and garlic. It's not an earth-shattering change, but it's a nice boost, and eating lactation brownies is way more fun that drinking tea or eating oatmeal!
Can we add brewers yeast in this brownies?
Yes you can add around 2 tblsp brewers yeast in this brownies.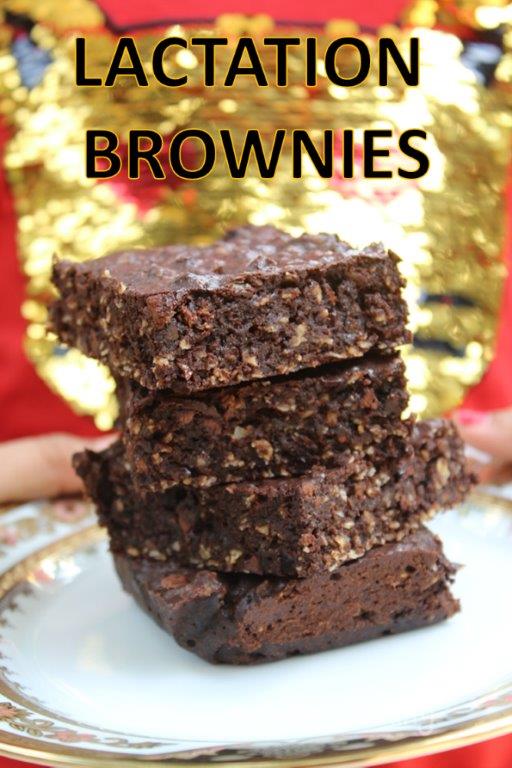 Pin
I hope you will love this recipe as much as i did.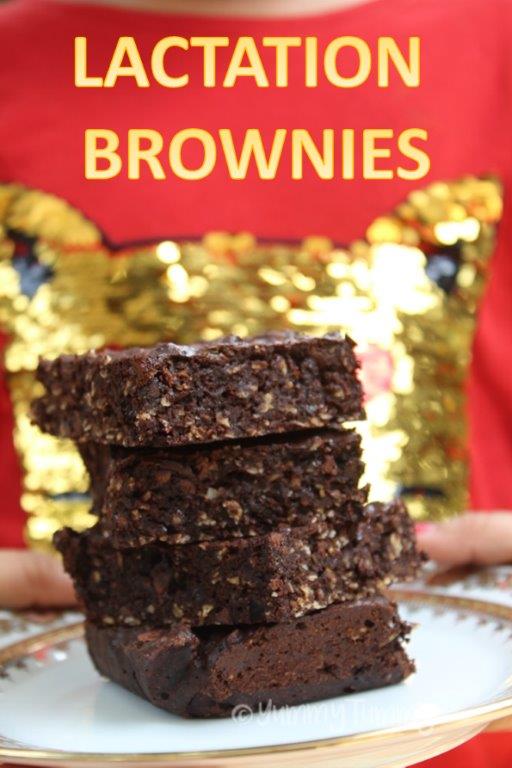 Pin
If you are looking for a high boost in your milk supply. Try to include all these foods in your diet on a regular basis.
Food that Increase Breast Milk
Fenugreek
Garlic
Oatmeal
Leafy green vegetables
Tapioca
Banana Flower
Bottle Gourd
Cows Milk
Pin
If you have any questions not covered in this post and if you need help, leave me a comment or mail me @[email protected] and I'll help as soon as I can.
Follow me on Instagram, Facebook, Pinterest ,Youtube and Twitter for more Yummy Tummy inspiration.
IF YOU MAKE THIS RECIPE OR ANYTHING FROM YUMMY TUMMY, MAKE SURE TO POST IT AND TAG ME SO I CAN SEE ALL OF YOUR CREATIONS!! #YUMMYTUMMYAARTHI AND @YUMMYTUMMYAARTHI ON INSTAGRAM!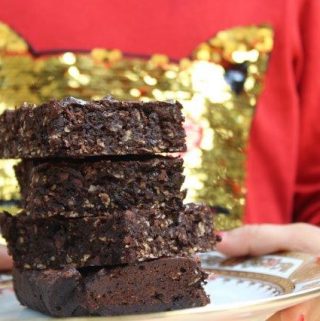 Lactation Brownies | Lactation Brownies Recipe
Lactation Brownies is perfect for new moms which help to boost up the milk supply for your little bundle of joy.
Ingredients
½

cup

butter melted

100 grams

1

cups

sugar

200 grams

2

eggs

1

tsp

vanilla extract

⅛

cup

ground flax seed soaked in ⅛ cup water for 10 minutes

½

cup

All Purpose flour

60 graams

½

cup

unsweetened cocoa powder

50 grams

½

tsp

salt

1

cup

chocolate chips

¾

cup

oats
Instructions
Preheat oven to 180 degree C.

Take flax seed powder in a bowl, add in water and mix well. Set aside for 10 mins.

Take eggs, sugar, vanilla and mix well.

Add in ground flax seed mix. Add in salt, oats, flour, cocoa powder and mix well.

Add in Chocolate chips and mix well.

Spoon this into a parchment paper lined pan and spread evenly.

Bake this in preheated oven for 20 to 25 mins.

Remove from oven and cool completely.

Slice and serve.
Video
Nutrition Facts
Lactation Brownies | Lactation Brownies Recipe
Amount Per Serving (1 servings)
Calories 200
Calories from Fat 108
% Daily Value*
Fat 12g18%
Cholesterol 43mg14%
Sodium 169mg7%
Potassium 68mg2%
Carbohydrates 22g7%
Protein 4g8%
Vitamin A 317IU6%
Vitamin C 0.01mg0%
Calcium 27mg3%
Iron 1mg6%
* Percent Daily Values are based on a 2000 calorie diet.
Lactation brownies step by step pictures
1)Take all your ingredients.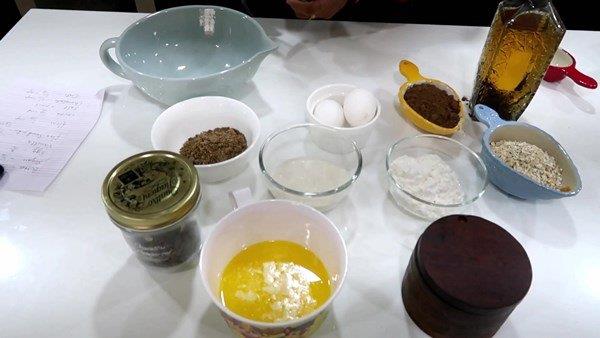 Pin
2)Take flax seed in a bowl. Add in little warm water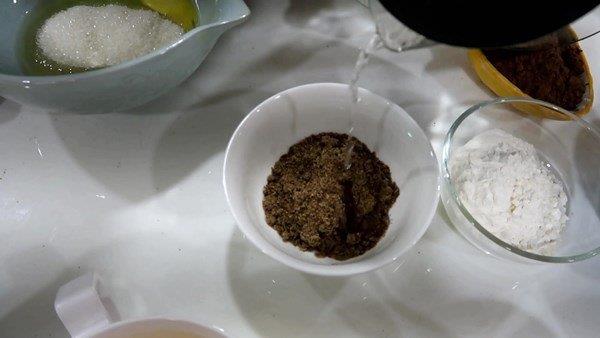 Pin
3)Mix well and set aside.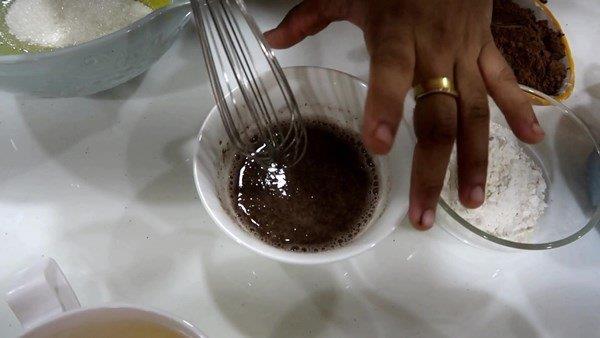 Pin
4)Add in two eggs in a bowl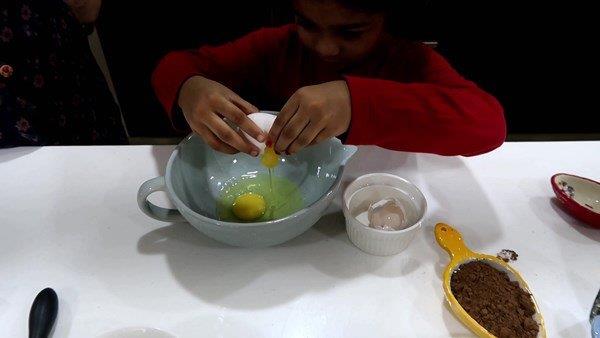 Pin
5)Add in sugar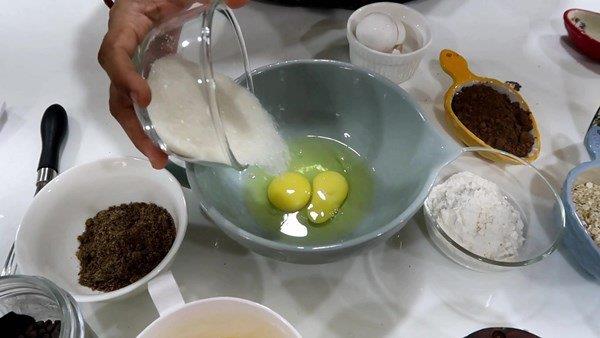 Pin
6)mix well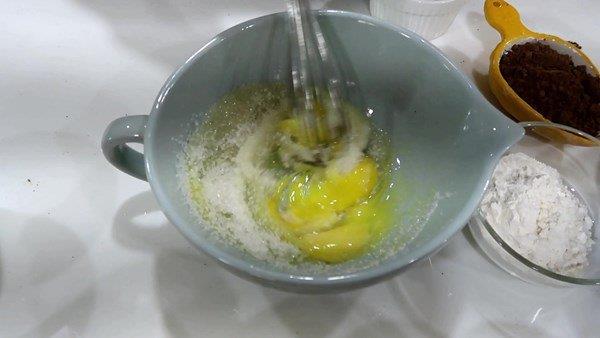 Pin
6)Add in vanilla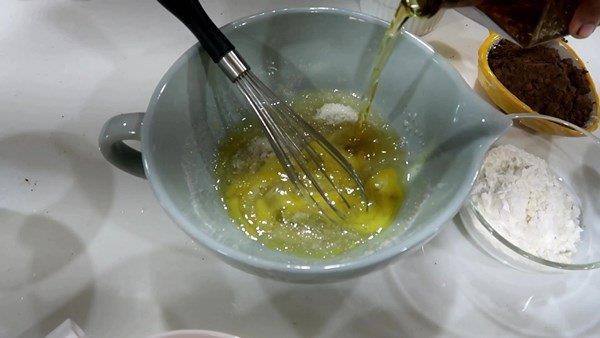 Pin
6)Add melted butter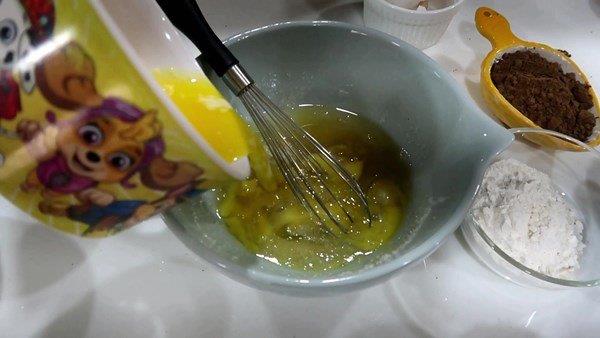 Pin
7)Mix well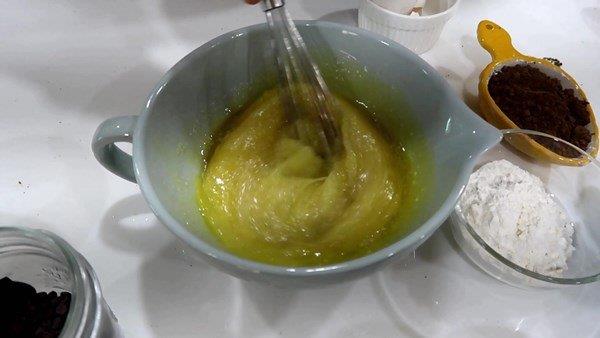 Pin
8)Add a pinch of salt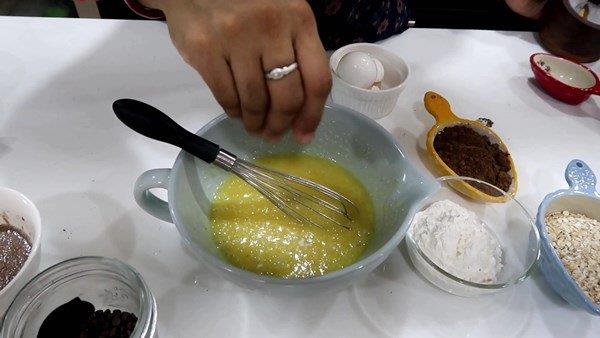 Pin
9)Add cocoa powder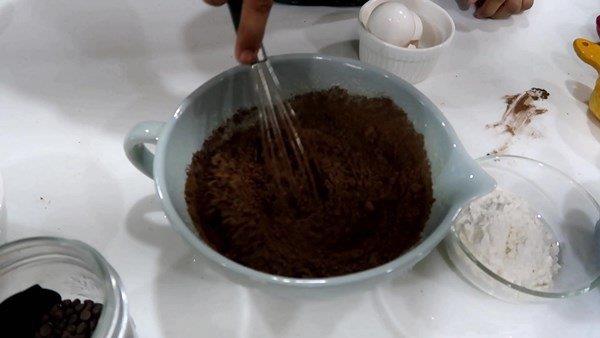 Pin
10)Add in flax seed gel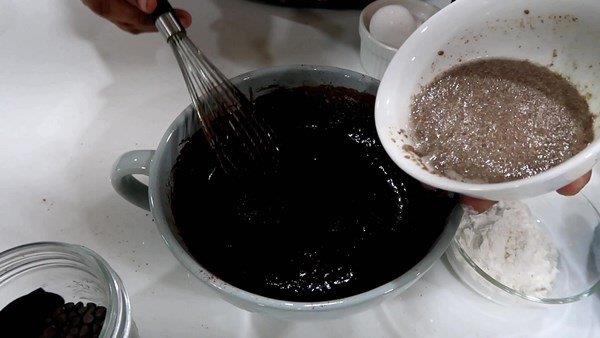 Pin
11)Mix well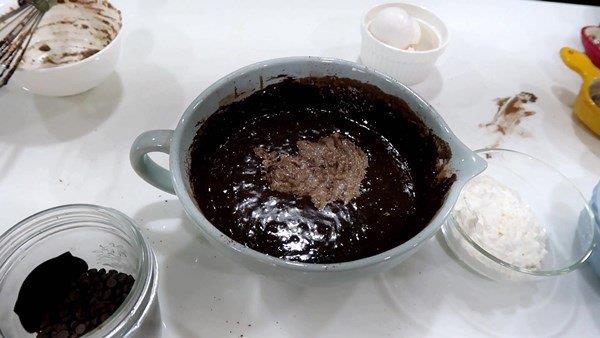 Pin
12)Add in oatmeal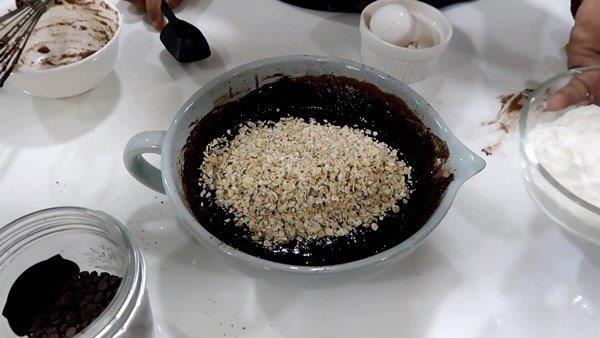 Pin
14)Add in flour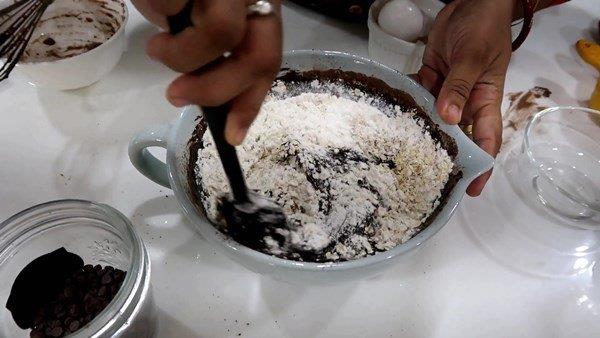 Pin
15)Add dark chocolate chips.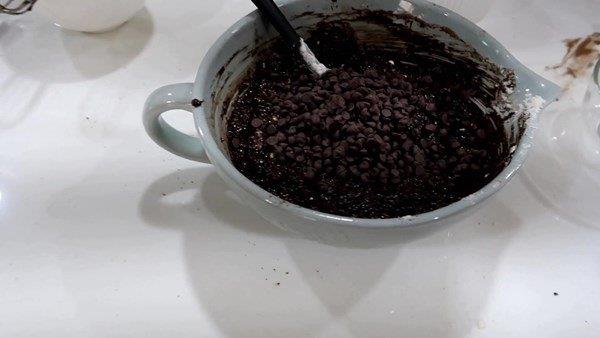 Pin
16)mix well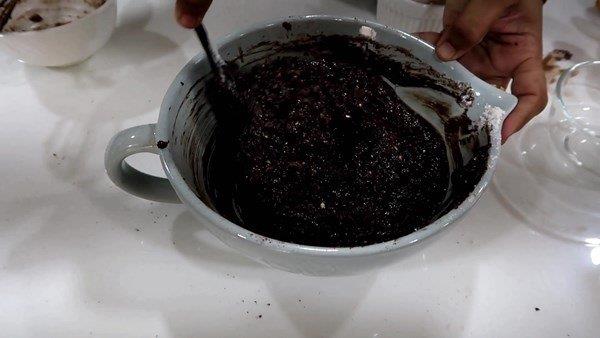 Pin
17)Spoon it into baking pan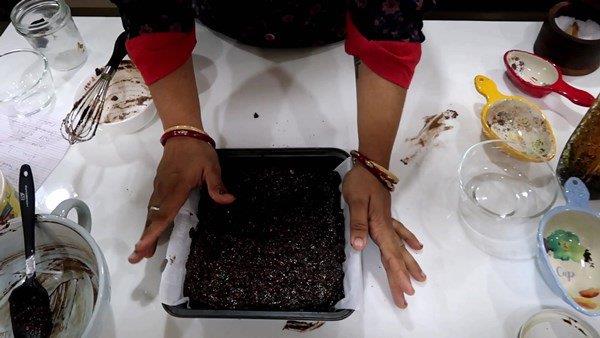 Pin
18)Bake till done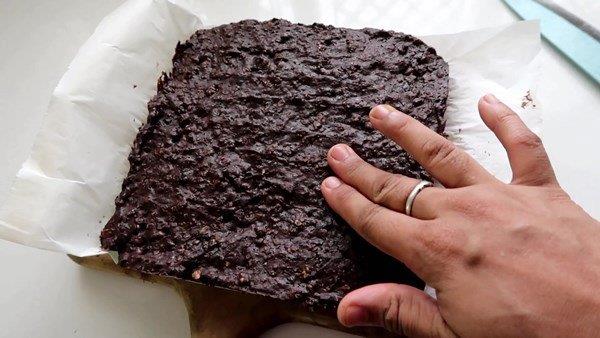 Pin
19)Slice and serve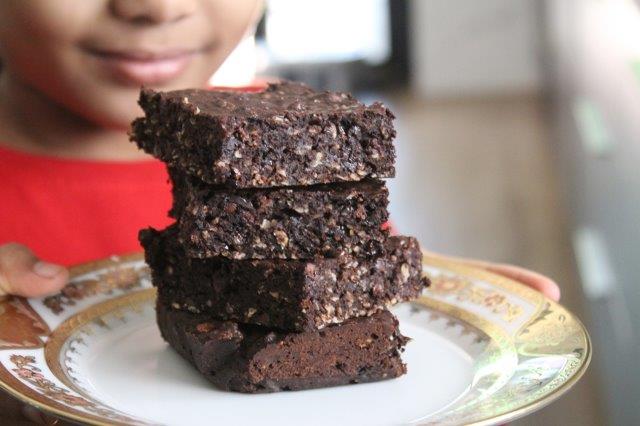 Pin
Related recipes