Milk and Jelly Pudding Recipe with Step by Step Pictures. Simple layered pudding recipe made with milk and jelly which taste delicious.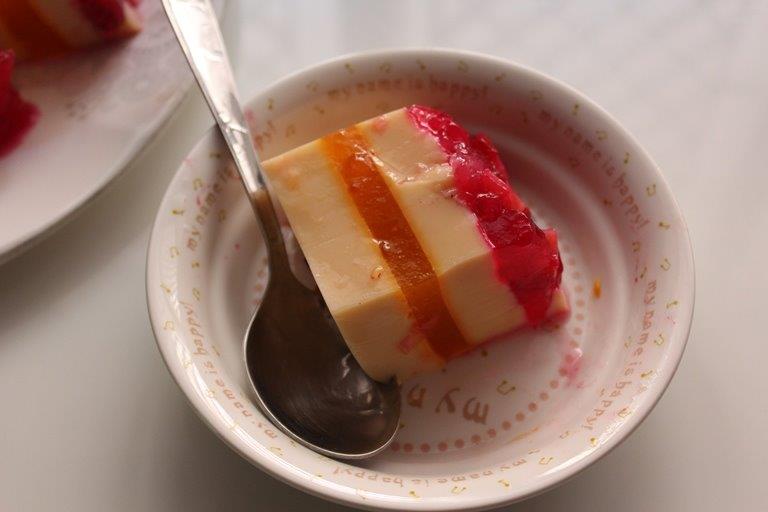 Pin
Jelly and milk pudding needs just few ingredients to make and makes a great party snack as well.
About Milk Jelly Pudding Recipe
Pudding is a dessert that can be made from gelatin, jelly or mixture of both. Making pudding needs to be added also with milk or coconut milk. . It can be a dessert or a savoury (salty or spicy) dish served alongside the main course.
In North America, pudding refers to a sweet, milk-based dessert with a consistency similar to egg-based custards, instant custards, or mousse, and is frequently commercially set with cornstarch, gelatin, or another coagulating agent such as Jell-O. The modern American definition of pudding as dessert evolved from the terms original almost exclusive use to describe savoury dishes, specifically those
made using a process similar to that used for sausages, in which meat and other mostly liquid ingredients are encased and then steamed or boiled to set the contents.
The word pudding is believed to come from the latin word botellus, meaning sausage, possibly leading to the French boudin, originally from the Latin botellus, meaning small sausage, referring to encased meats used in medieval European puddings. Another is from the West German pud meaning to swell.
Similar Recipes,
Caramel Pudding
Cherry Pannacotta
Mango Pudding
Sago Pudding
Apple Pudding
Finger Jello
Broken Glass Pudding
Vanilla Pannacotta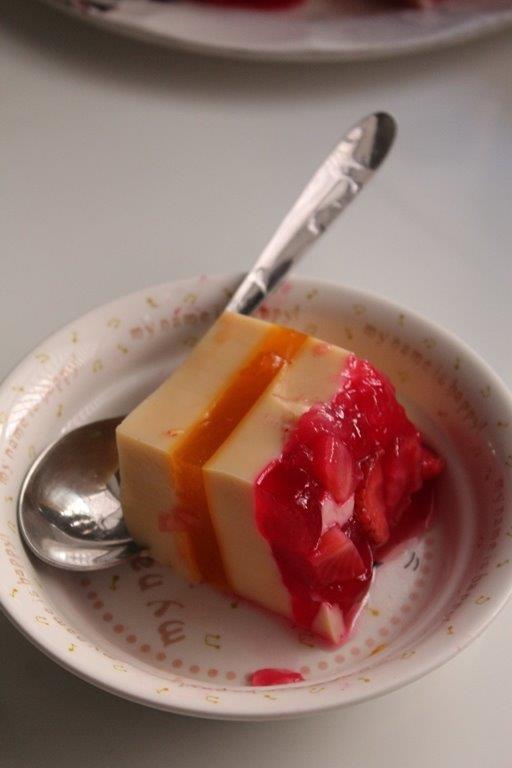 Pin
Ingredients for Milk and Strawberry Jelly Pudding 
Gelatin 
Gelatine is used in some no-bake cheesecakes to give them a mousse-like texture. Cream cheese or cream cheese and whipped cream are used in other no-bake cheesecakes. This second type should firm up in the fridge without the addition of gelatine.
Strawberries 
Strawberries in season and at their peak ripeness are fruity, sweet, and juicy, with a hint of acidity. When you bite into one of these plump and juicy red berries, you'll get a sweet burst in your mouth. or fragrance Frozen strawberries have an added crunch that, for some reason, enhances their flavour.
Sweetened Condensed Milk 
Sweetened condensed milk is cooked until it thickens and becomes a creamy caramel-like pudding that can be used in a variety of dessert recipes. It's delicious on its own, with ice cream, in coffee, or spread on apple slices.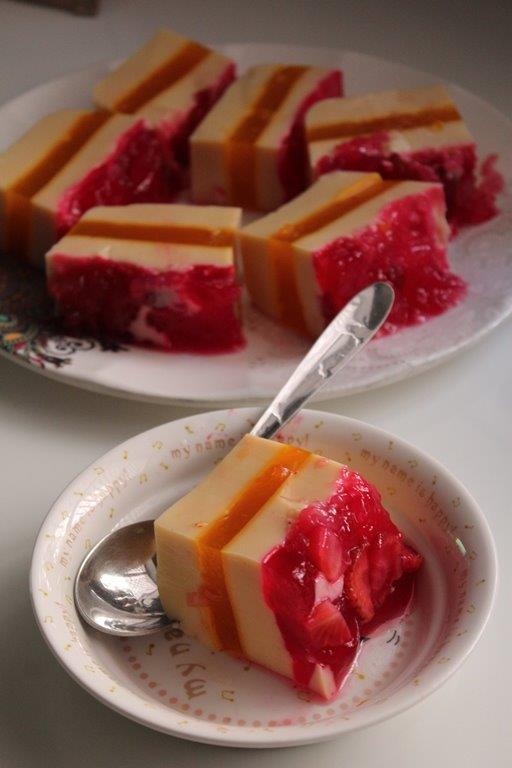 Pin
If you have any questions not covered in this post and if you need help, leave me a comment or mail me @[email protected] and I'll help as soon as I can.
Follow me on Instagram, Facebook,Pinterest ,Youtube and Twitter for more Yummy Tummy inspiration.
IF YOU MAKE THIS RECIPE OR ANYTHING FROM YUMMY TUMMY, MAKE SURE TO POST IT AND TAG ME SO I CAN SEE ALL OF YOUR CREATIONS!! #YUMMYTUMMYAARTHI AND @YUMMYTUMMYAARTHI ON INSTAGRAM!
📖 Recipe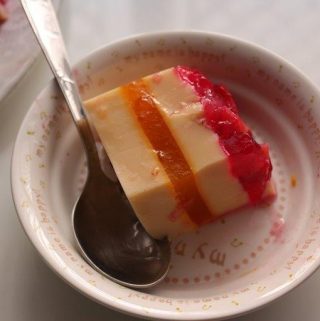 Milk and Jelly Pudding Recipe
Milk and Strawberry Jelly Recipe taste delicious cold. You can serve it as it is or as a side of some fruit salad too.
Print
Pin
Rate
Ingredients
Milk - 2 cups

Sweetened Condensed Milk - 1 can

Gelatin - 3 tblsp

Water - ¼ cup

Instant Strawberry Jelly Packets - 2

Strawberries 1 cup chopped finely
Instructions
Take gelatin in a bowl. Add water and let it soak for 10 mins. Heat it gently so it melts. set aside.

Take milk and condensed milk in a sauce pan and heat it till it is hot.

Add in gelatin and mix well.

Pour half of it in a greased pan. Put that in freezer for 20 to 30 mins till it sets.

Now take a packet of jelly and add in 1 cup of hot water and mix well.

Pour this over the milk layer and leave it to set in freezer for 10 to 15 mins till it is set.

Now take it out and pour the remaining half of the milk mix and let it set in freezer for another 20 to 30 mins.

Now make jelly using one more packet of jello, add strawberries and mix well.

Pour this over the milk layer and let it set in fridge over night.

Next day unmould. Slice and serve.
Video
Join us on Facebook
Follow us on Facebook
Share by Email
Share on Facebook

Milk and Jelly Pudding Recipe
1)Take all your ingredients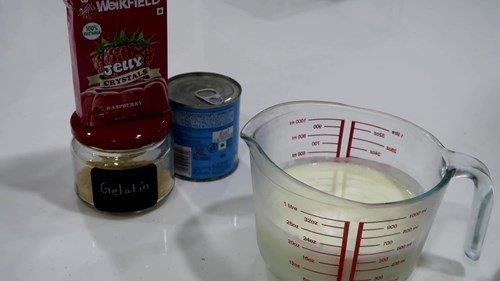 Pin
2)Take gelatin in a pan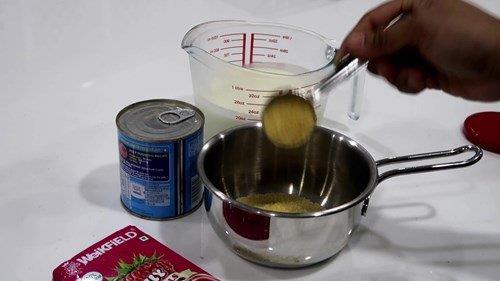 Pin
3)Add water and let it set for 10 mins. Then heat so it melts.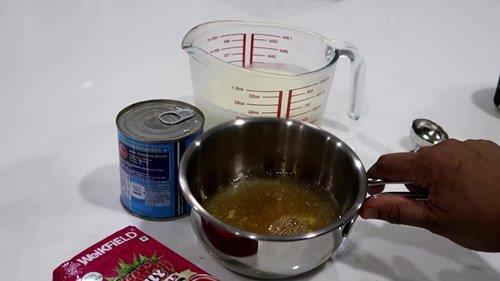 Pin
4)Take milk in a pan
Pin
5)Add in condensed milk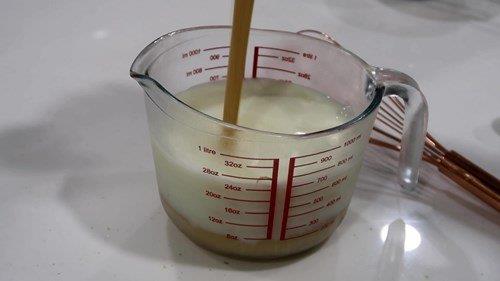 Pin
6)Mix well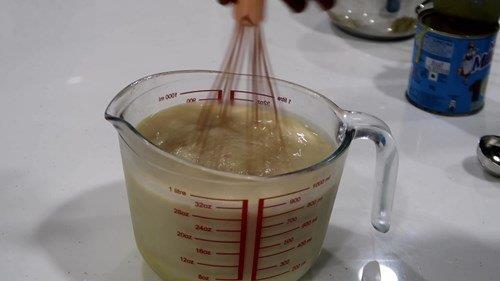 Pin
7)heat this till it gets hot.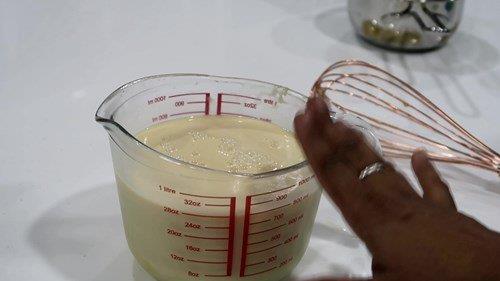 Pin
8)Add gelatin mix in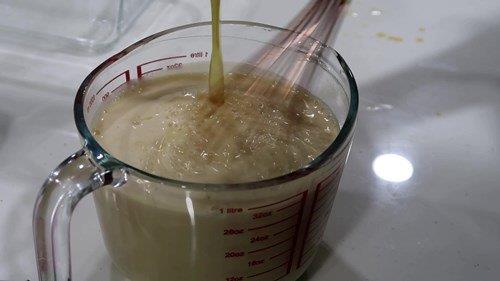 Pin
9)Mix well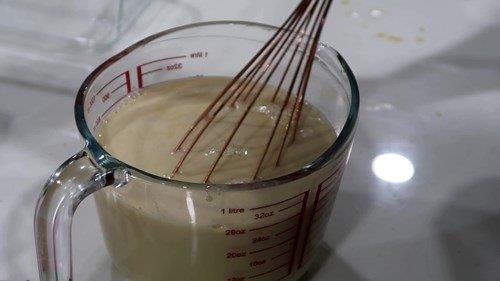 Pin
10)Pour half into a greased mould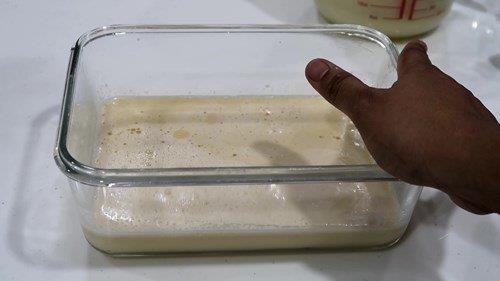 Pin
11)take jelly packet. It is best to use strawberry flavour. i ran out of that, so i used orange flavour.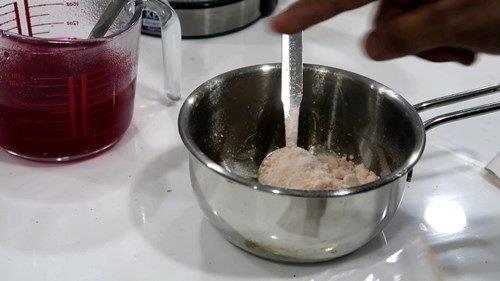 Pin
12)Add in 1 cup hot water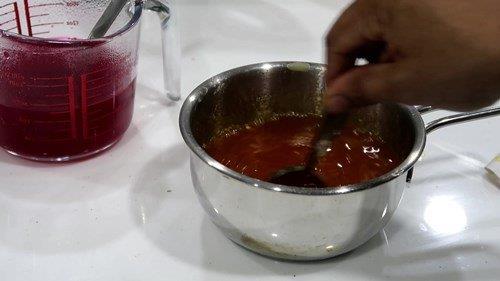 Pin
13)Take the set jelly out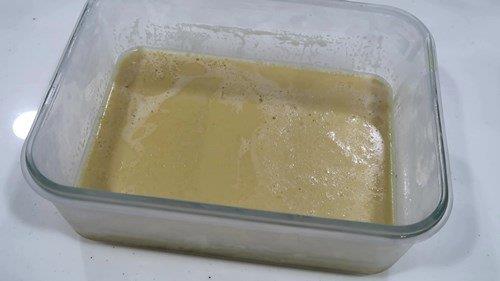 Pin
14)Pour the jelly on top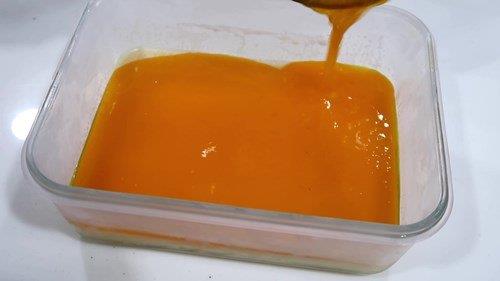 Pin
15)Leave to set for 15 mins.
Pin
16)Pour milk layer on top. Put this back in freezer for 20 to 30 mins.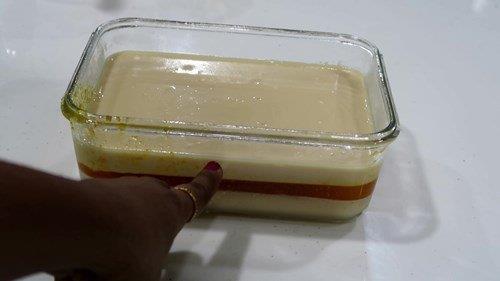 Pin
17)Now make one more packet of jelly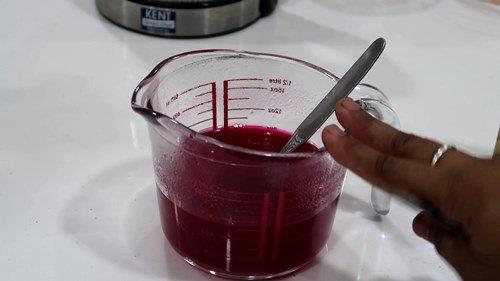 Pin
18)Chop some strawberries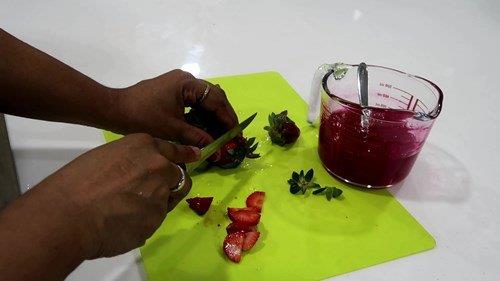 Pin
19)Add it in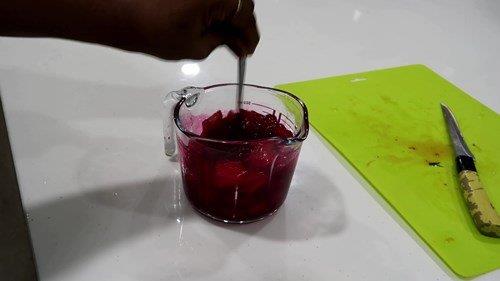 Pin
20)Pour it in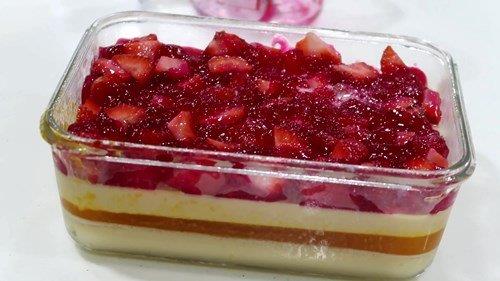 Pin
22)Leave to set then slice and serve.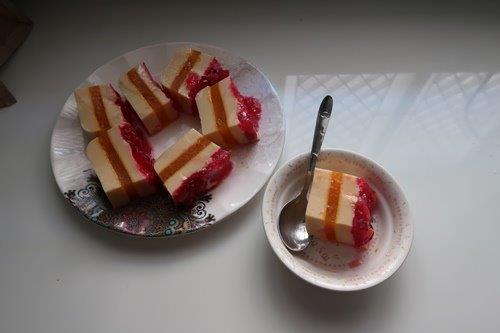 Pin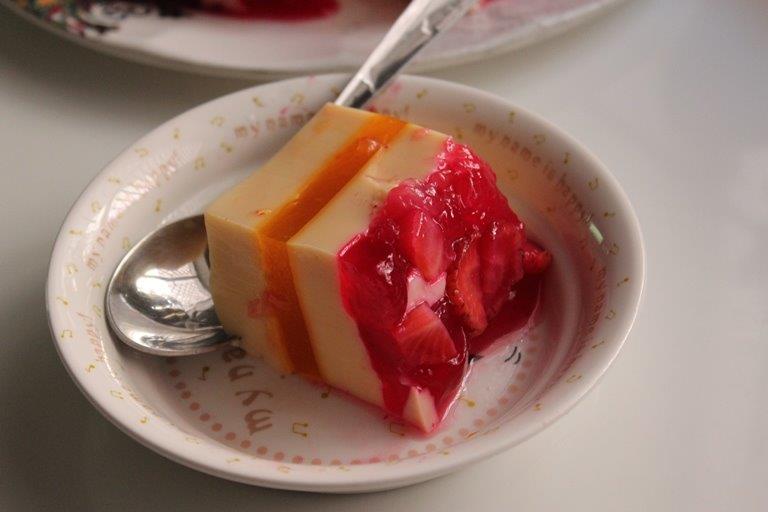 Pin