Multigrain Sandwich Bread Recipe with step by step pictures. Barley, flax, millet, oats, wheat, and whole-wheat flour is made into multigrain bread.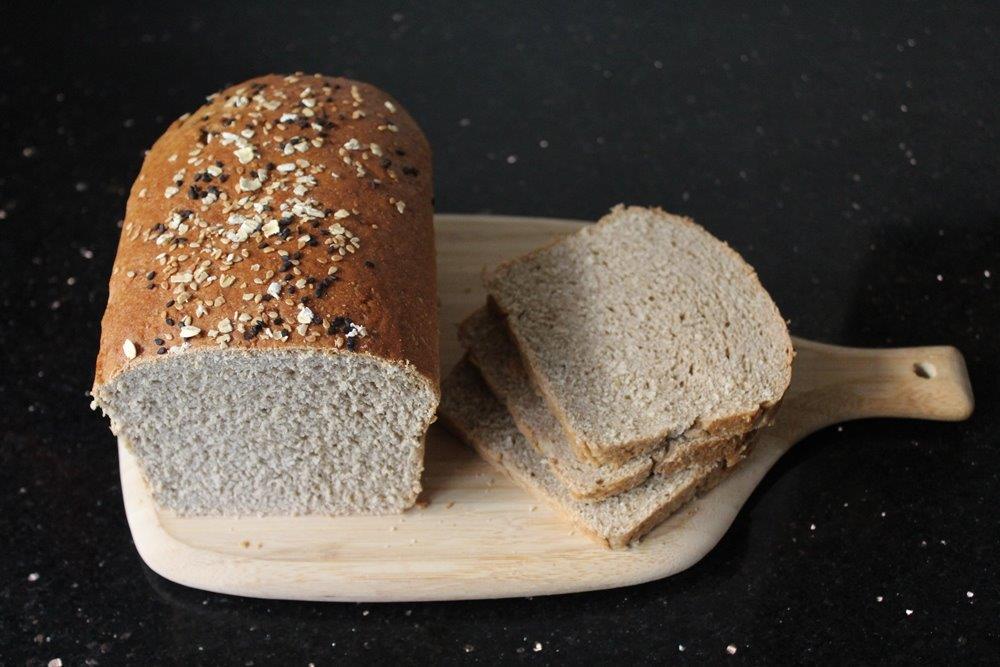 Pin
Multigrain bread is a healthier option for regular bread. This has ragi, oats, wheat and gram flour in them which makes it wholesome and hearty.
About Multigrain Bread Recipe
A type of bread known as multigrain bread is made from two or more different types of grains. Barley, flax, millet, oats, wheat, and whole-wheat flour are a few of the grains used. Some varieties, like flaxseed, quinoa, pumpkin seeds, and sunflower seeds, include edible seeds in their preparation.
I added regular flours which i already have on hand and made this. This made the bread rich and nutrient. Since this bread is made using whole wheat flour, the bread itself is little dense and hearty. It makes best toast for breakfast.
Similar Recipes,
Christmas Sweet Bread, Semolina Bread, Cheese Bread, Wheat Bread with Gluten, Wheat Bran Bread, Oats Bread, White Sandwich Bread, Soda Bread Rolls.
https://www.yummytummyaarthi.com/garlic-loaf-recipe/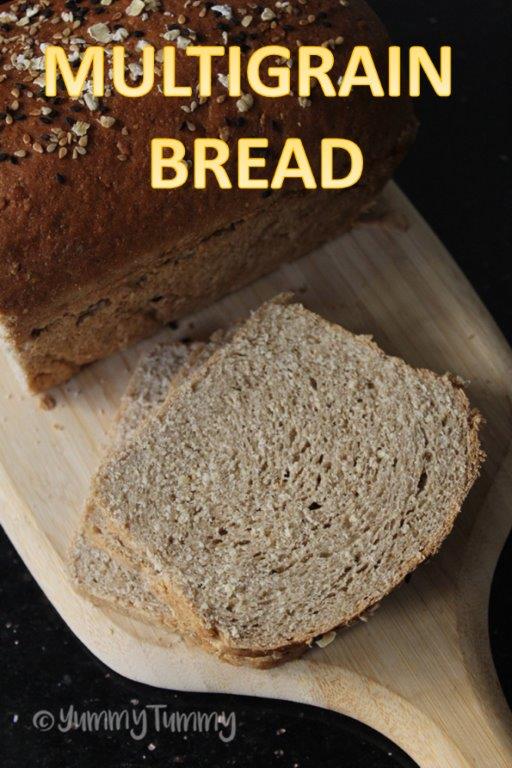 Pin
Ingredients for Multigrain Sandwich Bread Recipe
All Purpose Flour / Maida :
Maida requires more oil or butter when baking or cooking because it is lighter and rises faster, which is why bakers prefer maida to atta. All-purpose flour can be used for a variety of tasks, including baking, cooking, coating meats and vegetables, and thickening sauces and gravies. To manufacture all-purpose flour, a blend of
hard wheat (which has more gluten) and soft wheat is crushed together.
Wheat Flour :
It has a lighter colour and a milder flavour, but it still provides all of the whole grain benefits because the bran, germ, and endosperm are all preserved. As a result, white whole wheat flour is an excellent ingredient for whole grain baking, including breads, pastries, and everything in between.
Ragi Flour / Finger Millet Flour:
Ragi, also known as finger millet, is a nutritious cereal crop. However, despite being aware of its nutritional benefits, some people are unable to consume it on a regular basis due to its bitter taste.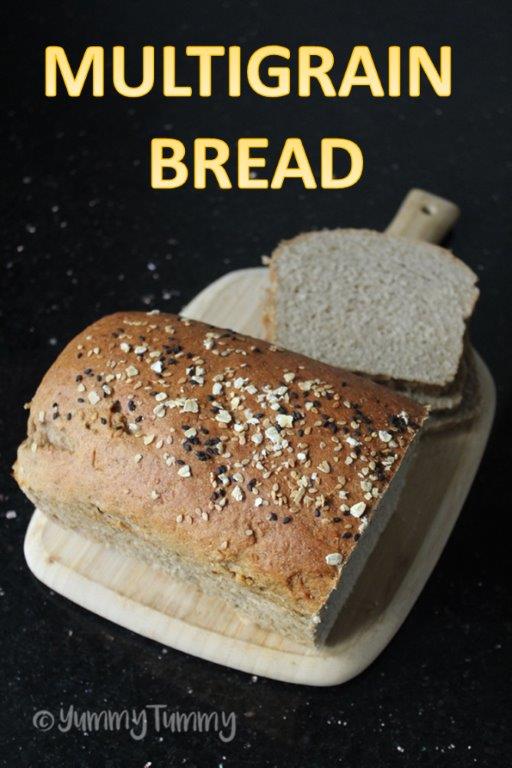 Pin
Hope you will give this a try and let me know how it turns out for you.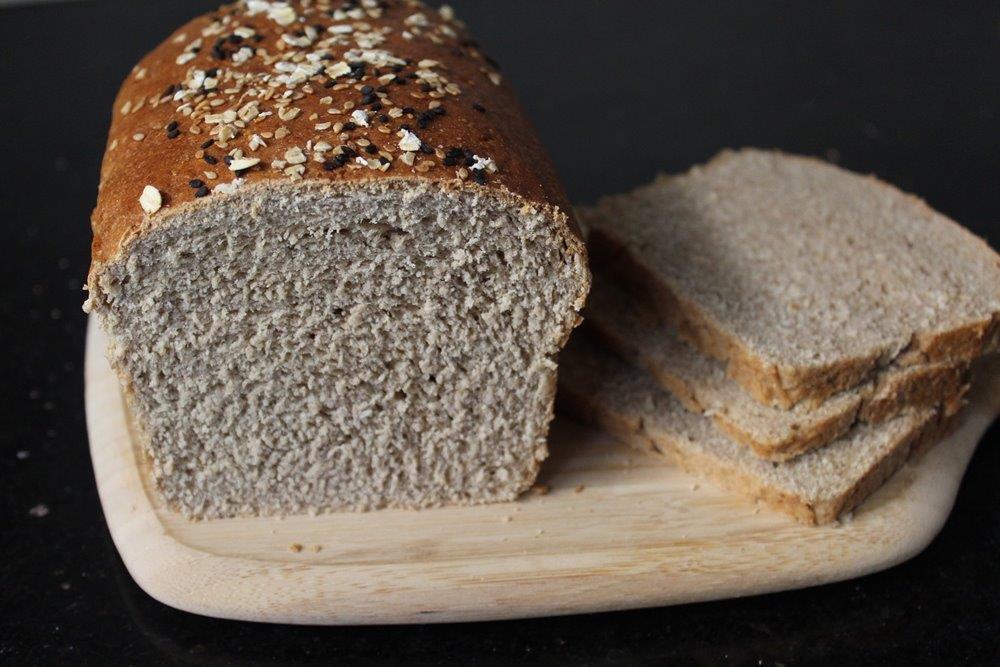 Pin
If you have any questions not covered in this post and if you need help, leave me a comment or mail me @[email protected] and I'll help as soon as I can.
Follow me on Instagram, Facebook,Pinterest ,Youtube and Twitter for more Yummy Tummy inspiration.
IF YOU MAKE THIS RECIPE OR ANYTHING FROM YUMMY TUMMY, MAKE SURE TO POST IT AND TAG ME SO I CAN SEE ALL OF YOUR CREATIONS!! #YUMMYTUMMYAARTHI AND @YUMMYTUMMYAARTHI ON INSTAGRAM!
📖 Recipe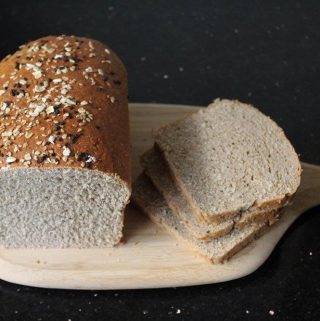 Multigrain Bread Recipe | Multigrain Sandwich Bread Recipe
Multigrain bread has a mixture of flour added in them which makes the bread wholesome and nutrients.
Print
Pin
Rate
Ingredients
All Purpose Flour / Maida - 1 cup

120 grams

Wheat Flour - 2 cup

240 grams

Oats Powdered - ½ cup

45 grams

Ragi Flour - ¼ cup

30 grams

Gram flour / Besan - 1 tblsp

Dry Yeast - 1 tblsp

Warm Water - 1 cup

240 ml

Salt to taste

Oil - ¼ cup

60 ml

Honey - ¼ cup

60 ml
Instructions
Take yeast in a bowl, add in warm water and set aside for 5 mins for the yeast to activate.

Now to this add in olive oil and honey and mix well.

Take all flour in a bowl, along with salt and mix well.

Add the yeast mix and knead to a dough.

Now take the dough into the counter and knead for at least 10 mins for it to turn soft and springy.

Now place it back into a oiled bowl and cover it. Leave it to rest for 1 to 2 hours till it doubles is size.

Now grease a loaf pan, take the dough out and knead it well. Flatten it to the size of the loaf pan.

Roll it tight. Now place it back into the loaf pan and cover it again and leave to rise for 45 mins.

During the last 10 mins of the dough rising. Preheat oven to 180 degree c.

Now brush top with milk, sprinkle sesame seeds and oats.

Pop it into a preheated oven and cook for 35 to 40 mins.

Remove and cool for 5 mins.

Now invert it to a cooling rack and cool.

Slice and serve.
Video
Join us on Facebook
Follow us on Facebook
Share by Email
Share on Facebook
Multigrain Sandwich Bread Recipe Step by Step
1)Take all your ingredients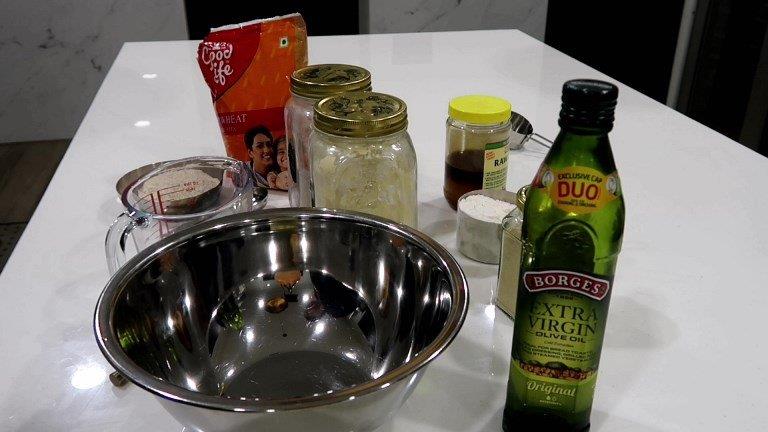 Pin
2)Take yeast in a jug.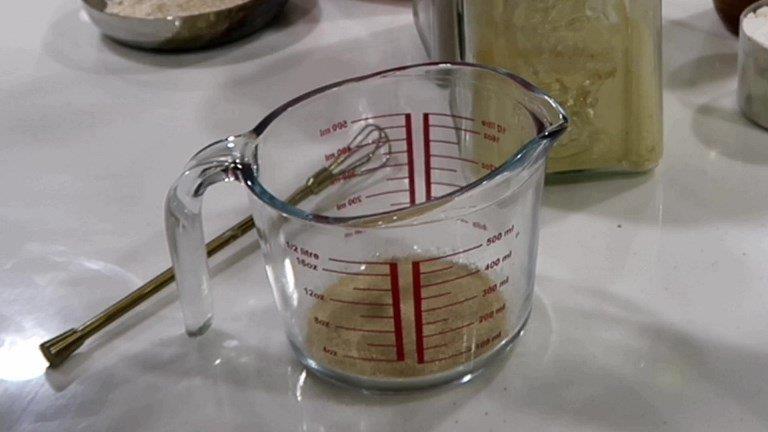 Pin
3)Add in warm water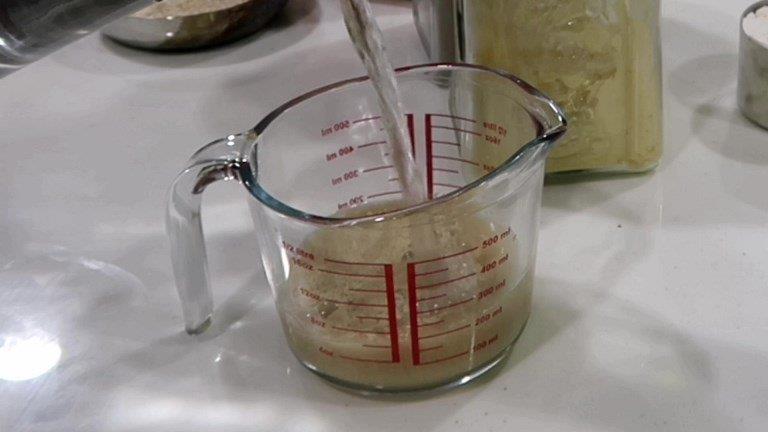 Pin
4)Set aside for 5 mins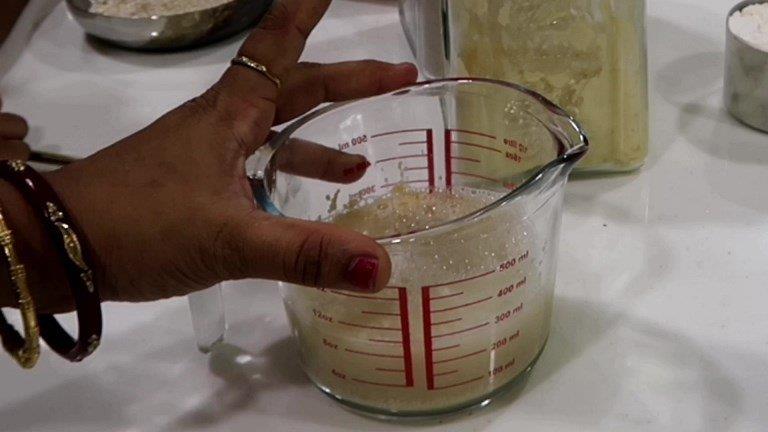 Pin
5)Now yeast has activated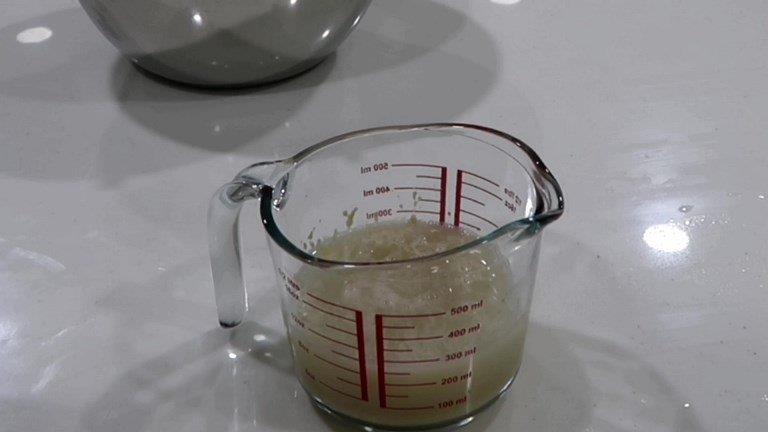 Pin
6)Add in olive oil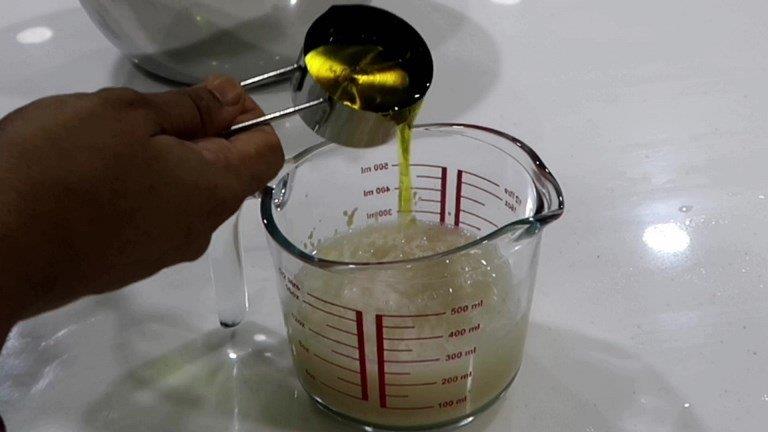 Pin
7)Add in honey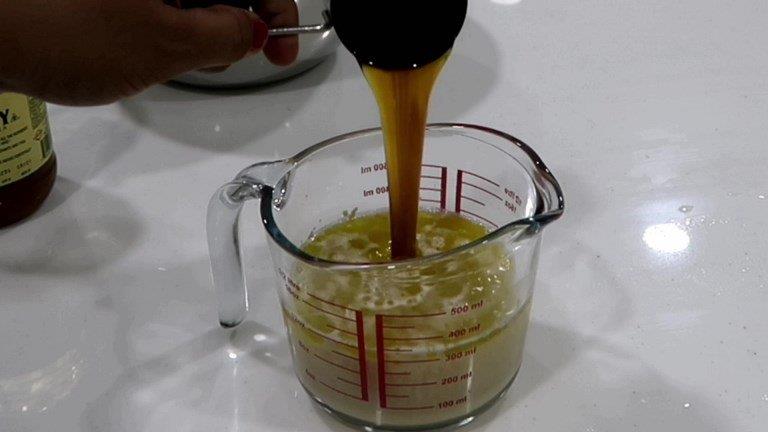 Pin
8)Whisk well.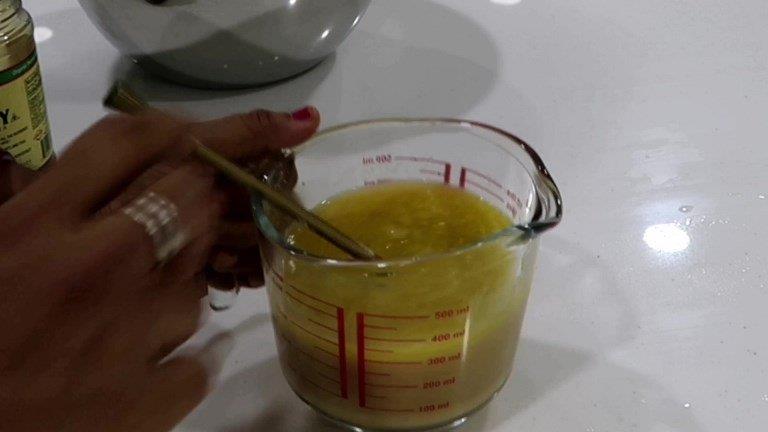 Pin
9)Take all purpose flour in a bowl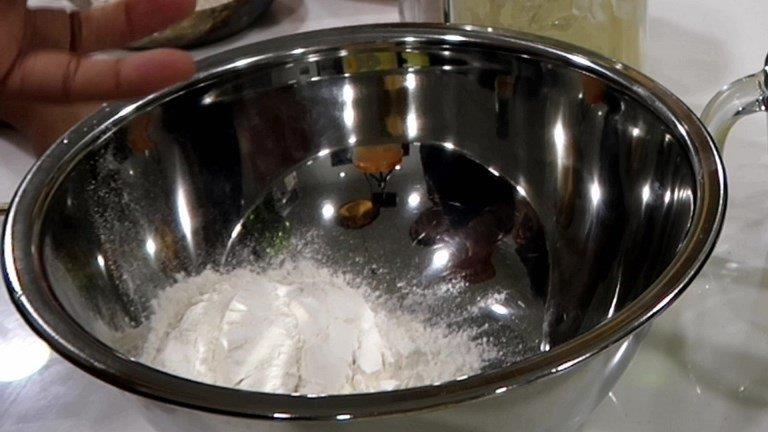 Pin
10)Add in wheat flour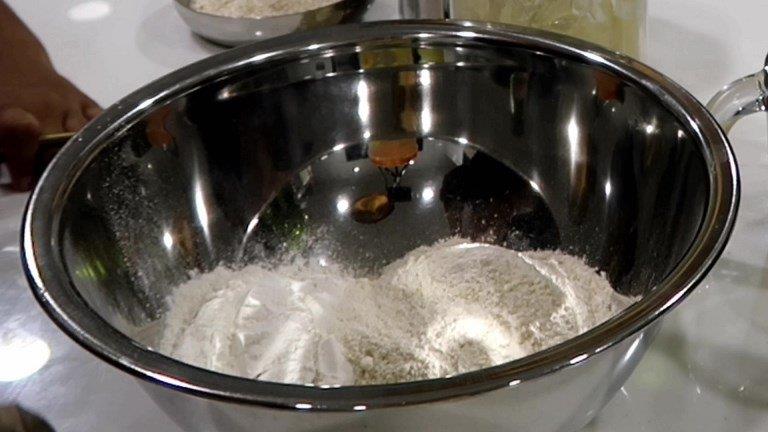 Pin
11)Add in oats powdered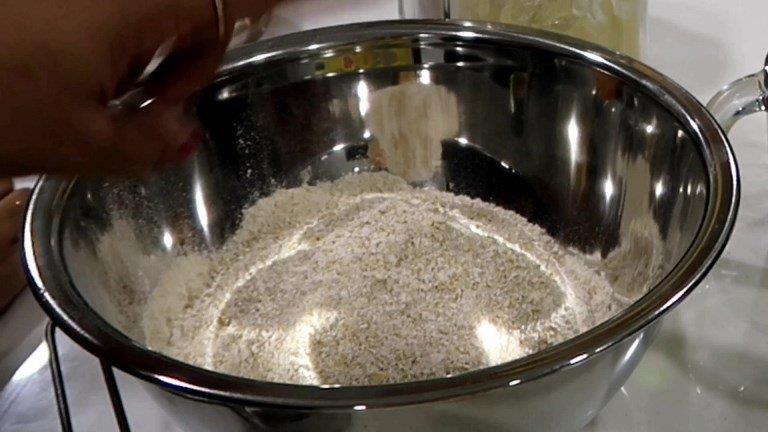 Pin
12)Add in gram flour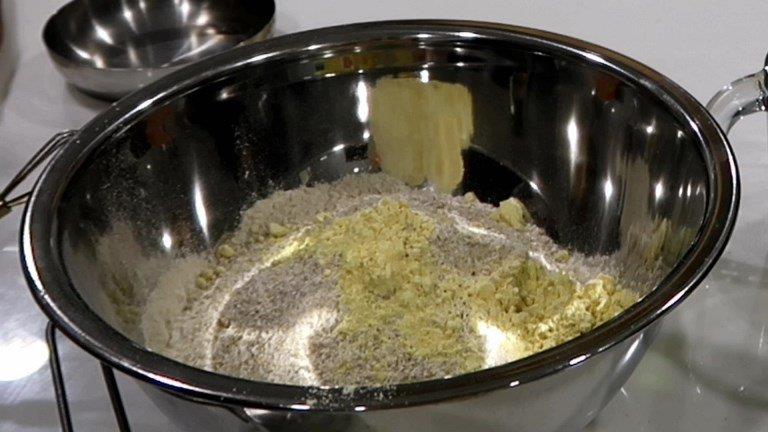 Pin
13)Add in ragi flour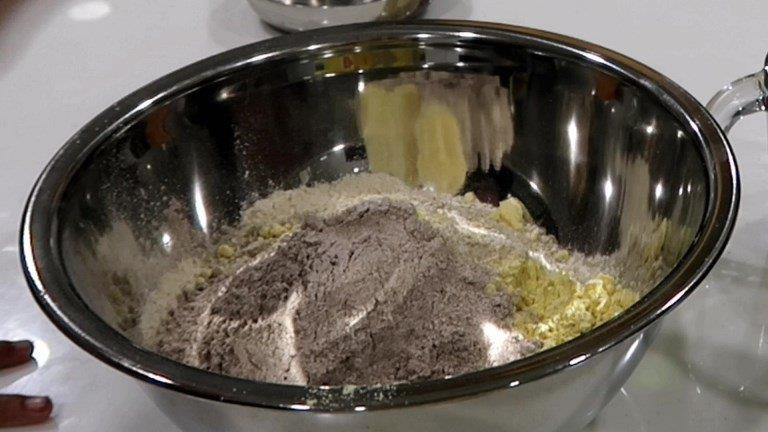 Pin
14)Add in salt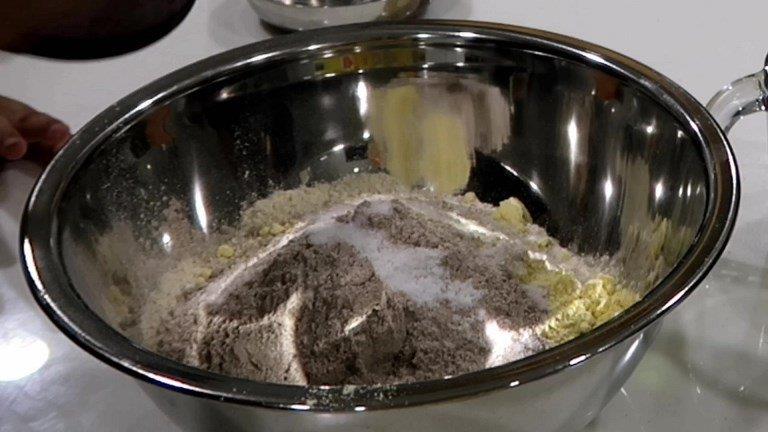 Pin
15)Add in the yeast mix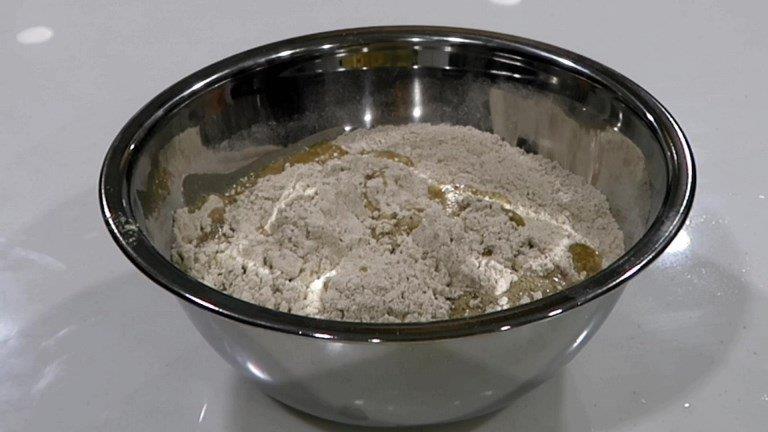 Pin
16)Knead to a soft dough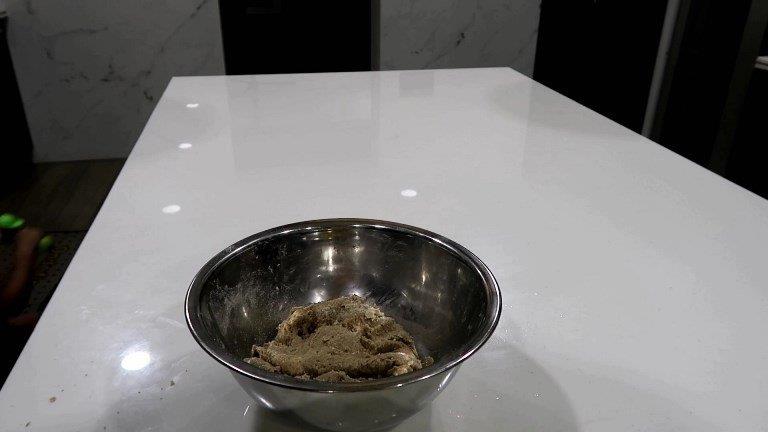 Pin
12)Transfer the dough to a work surface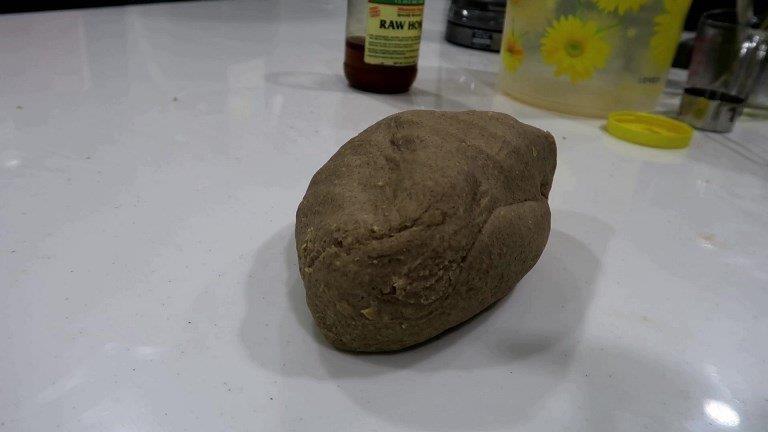 Pin
13)start kneading. knead for 10 mins.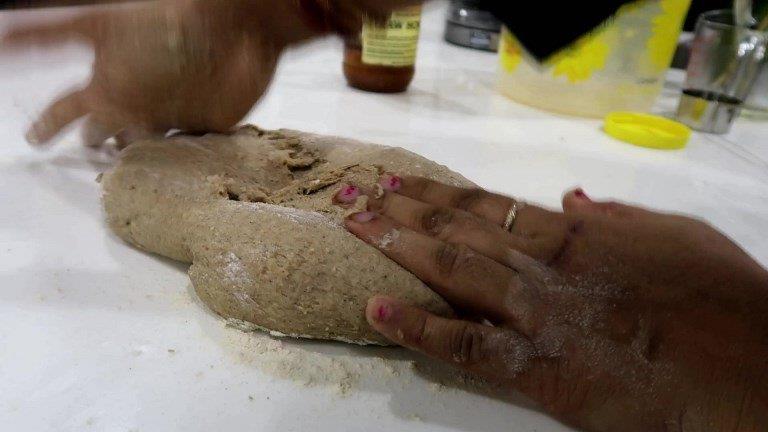 Pin
14)Place it in a oiled bowl.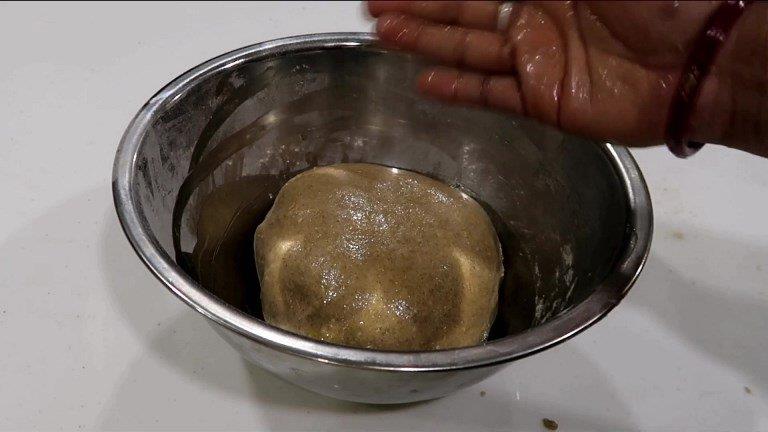 Pin
15)Cover and leave to rise for 2 hours.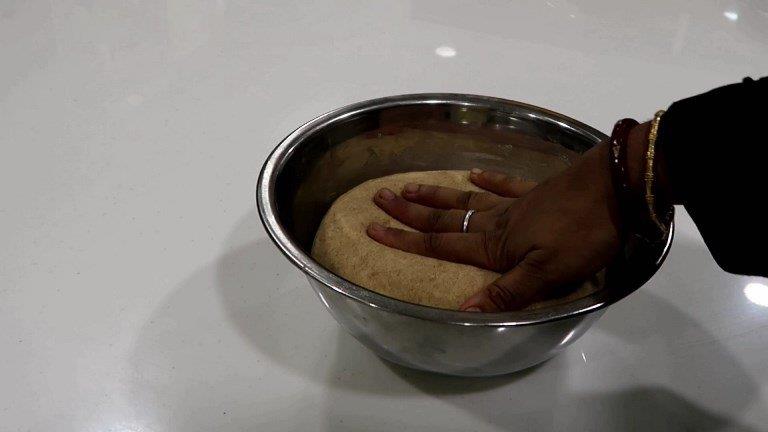 Pin
16)Grease a loaf pan with oil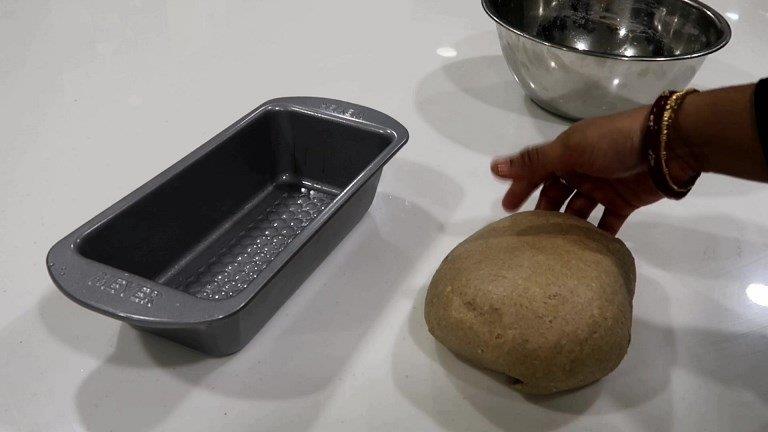 Pin
17)Flatten it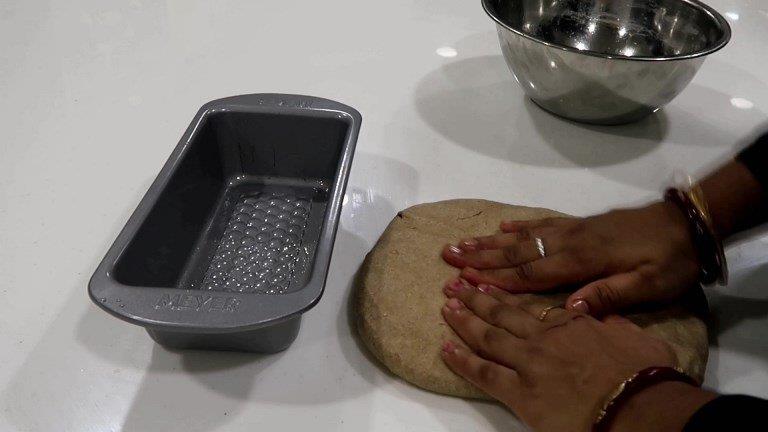 Pin
18)Roll it tight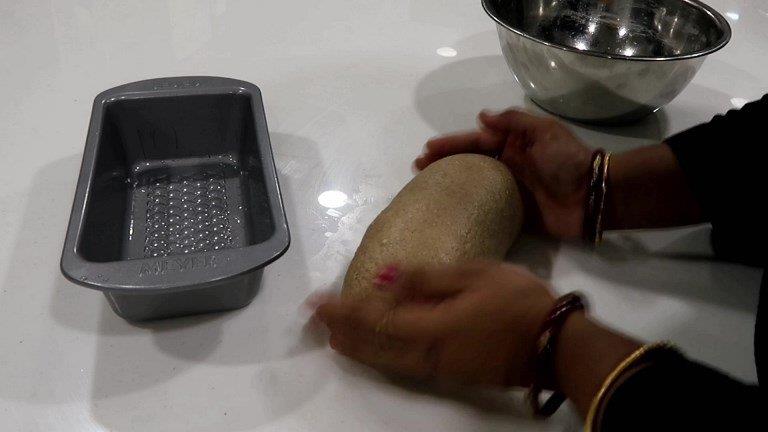 Pin
19)Place it in loaf pan and leave to rise for 45 mins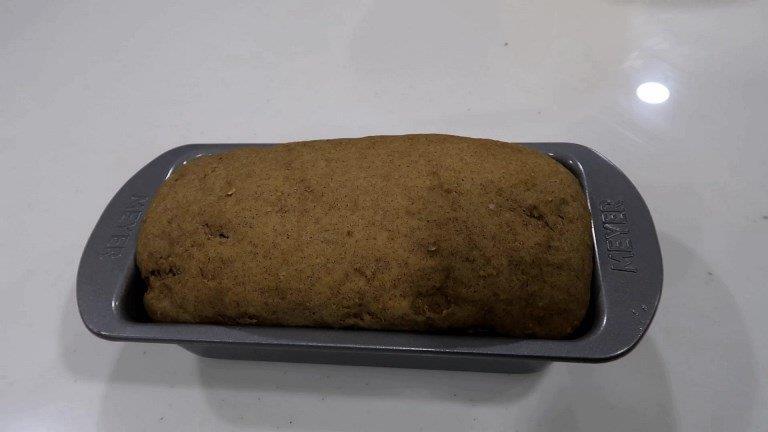 Pin
20)Brush top with milk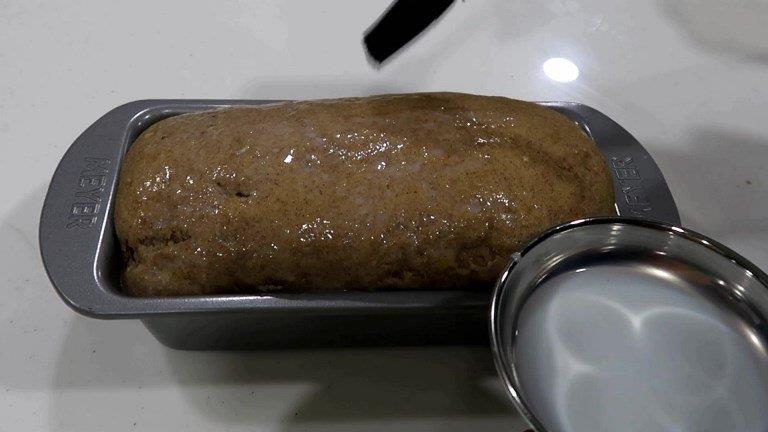 Pin
21)Sprinkle top with sesame seeds and oats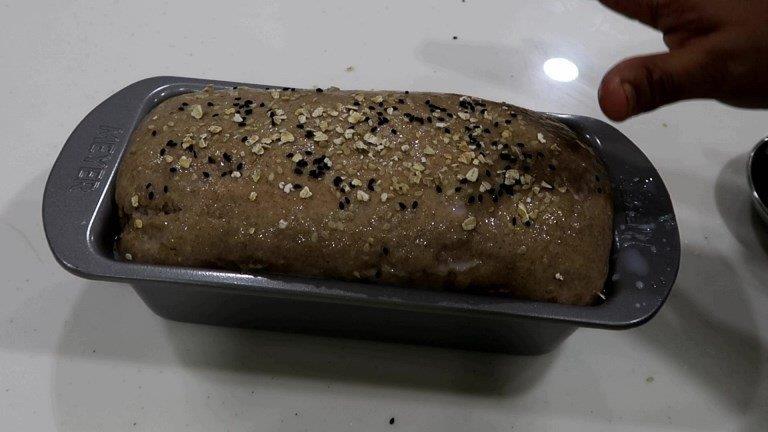 Pin
22)bake till done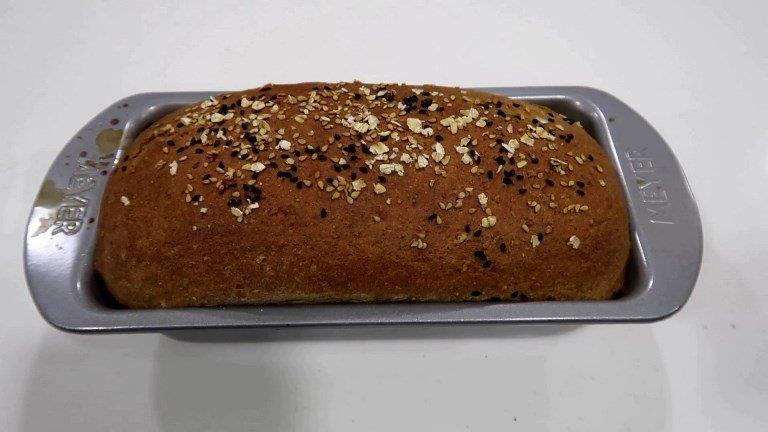 Pin
23)Slice and serve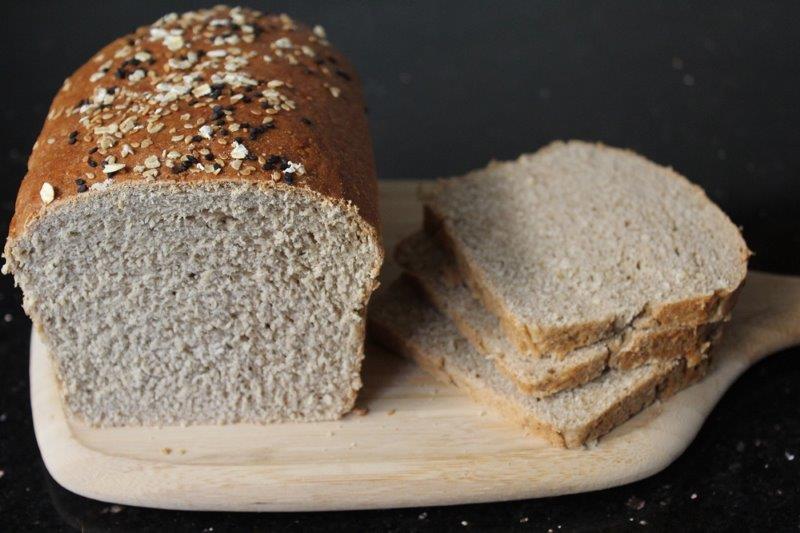 Pin
Frequently Asked Questions
Is multigrain sandwich healthy?

Your digestive system will benefit from the fibre in multigrain bread. As long as the bread is made entirely of whole grains, multigrain bread has many advantages. According to the Cleveland Clinic, eating whole grains can reduce your risk of developing conditions like heart disease, diabetes, and stroke.
When was sandwich bread invented?

The history of the sandwich indicates that it was invented in England in 1762. The majority of food historians concur that John Montagu, also known as "the 4th Earl of Sandwich," invented the sandwich. Montagu had a reputation for being a problem gambler who would spend a lot of time at the cards.