Quail Egg Roast is an easy side dish you can make for rice. It goes well with rasam, sambar or any kulambu. This taste so delicious.
1) Take all your ingredients
4)Boil this for 4 mins
5)wash it with cold water
6)One eggs are cold peel the skin
7)Done
8)Set aside
9)Heat oil and add in whole spices.
11)Add in onions and chillies
12)add in salt
13)Saute for golden
14)Add in ginger garlic paste
15)saute for a min.
16)Add in spice powders
17)Mix well
18)Add in tomatoes
19)Mix well
21)Mix well.
22)Mix well.
24)Mix well.
25)Serve
Version 2: Quail Egg Pepper Roast 
Version 3: Quail Egg Onion Roast
We were roaming around our favorite supermarket, Suddenly I stopped in front of a small fridge kept on the way..There I found these small packets..I was wondering what it is, since it was the first time I ever saw this.. I called hubby for the answer, he told that it is kaada muttai(quail eggs). In addition to that he told that he has tasted it in a restaurant and it was not that good, But I don't know how you will make it..I wanted to take that, but wondered how it will taste like.
But later confidentally tooked a pack and reached home..That night I made a simple egg fry using this, I treated it like normal eggs…The result was awesome and hubby loved it a lot..He told that we should buy couple more packets on our next shopping.
The taste was pretty much like normal eggs, but tasted so good..I loved the way it looked like tiny morsels which I think is so cute..I am damn sure that kids will love these…Hope you will give these a try and tell me how it turned out..
Ingredients for Quail Egg Onion Roast
Quail Eggs / Kaada Muttai - 12
Onion - 1 medium size sliced thinly
Curry leaves - 1 spring
Chilli powder - 1 tsp
Salt to taste
Oil- 1 tblspn
How to Make Quail Egg Onion Roast
Take quail eggs in a sauce pan and cover it with water. Bring it to boil and cook it for 5-7 mins. Remove from heat and peel off the skin.Keep this aside till use.
Heat oil in a pan. Add in curry leaves and saute them for 30 sec.
Add in onion and cook for 3 mins till they turn slightly translucent.
Now add in salt and chilli powder and mix well.
Add in the cooked eggs and toss well in the masala.
Fry this in the masala for 3 mins.
Remove this to a bowl and serve with rice.
Pictorial: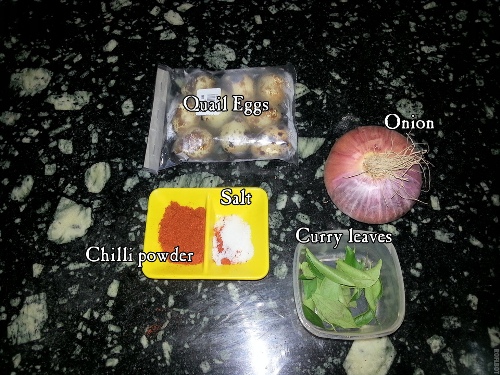 Take all your simple stuffs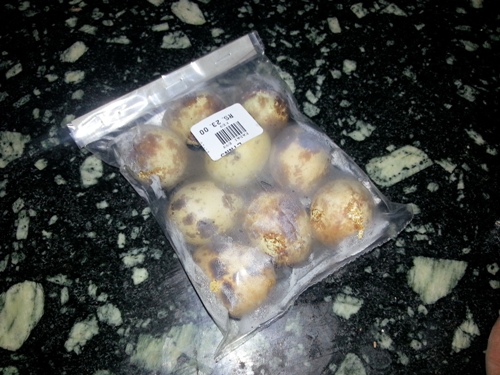 You need some fresh quail eggs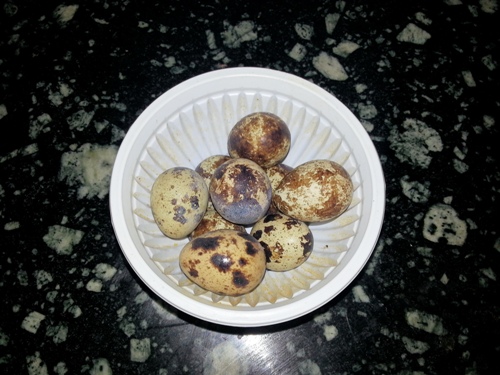 For those who are like me, seeing these eggs for the time..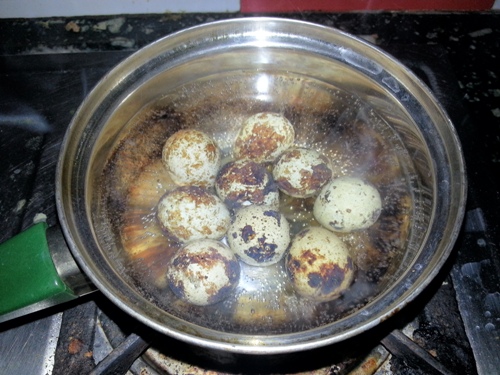 add eggs in water and cook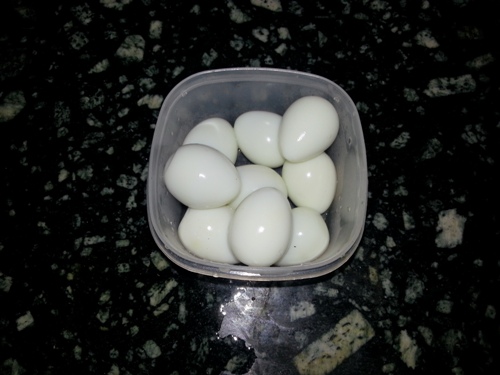 Peel the eggs ans set aside..Aren't they cute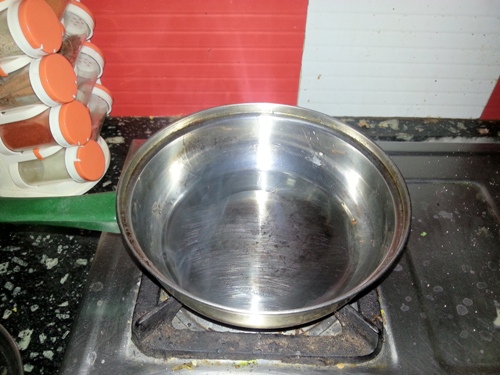 No time to saute...heat some oil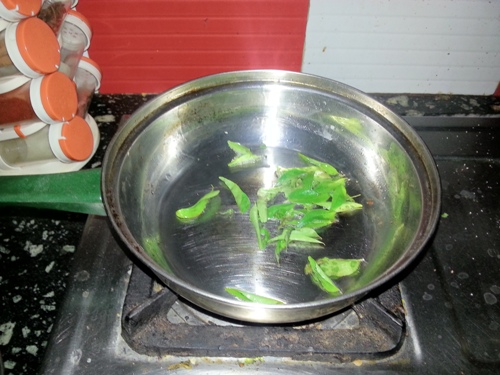 add curry leaves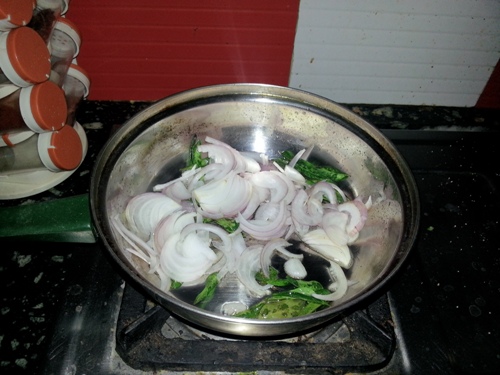 and onions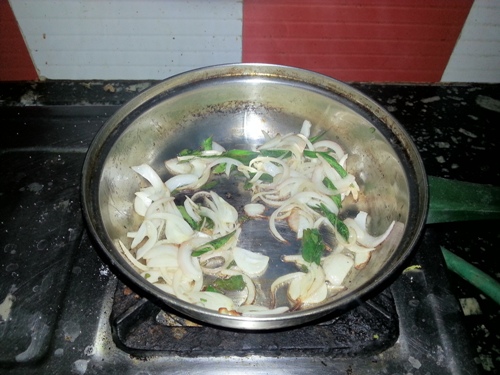 saute till the onions turn translucent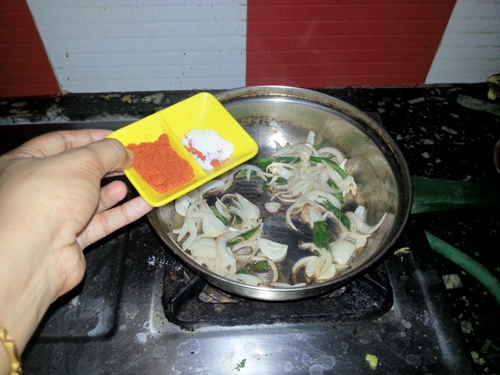 add in salt and chilli powder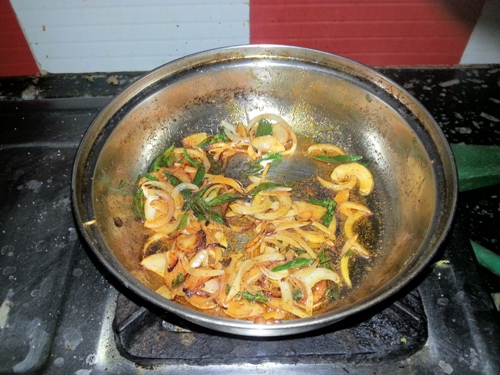 toss well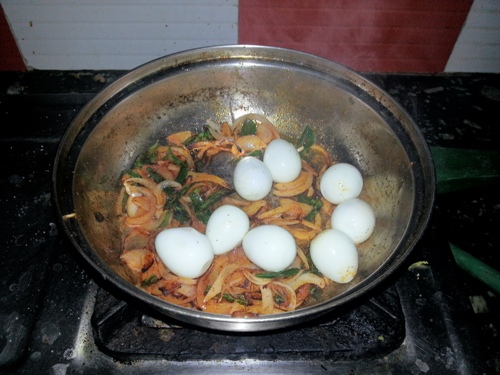 now add in the tiny cute eggs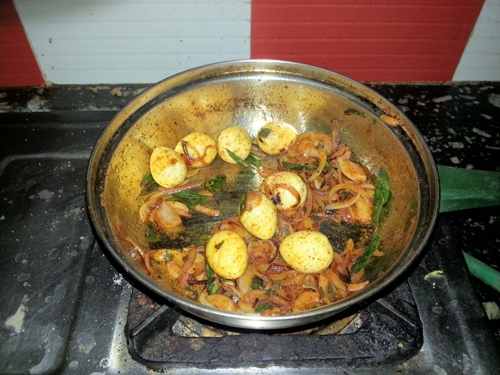 and toss well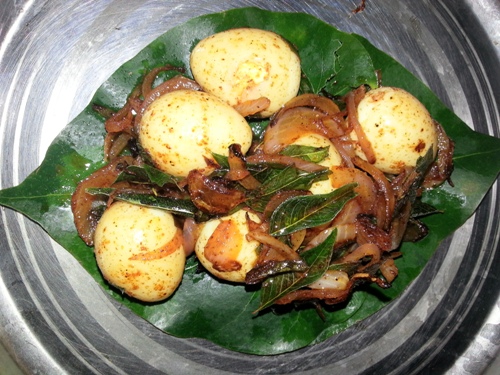 Serve hot..