Raw Banana Skin Kootu Recipe with step by step pictures. Raw banana chips can be made with the fruit. You can use the skin to make the kootu,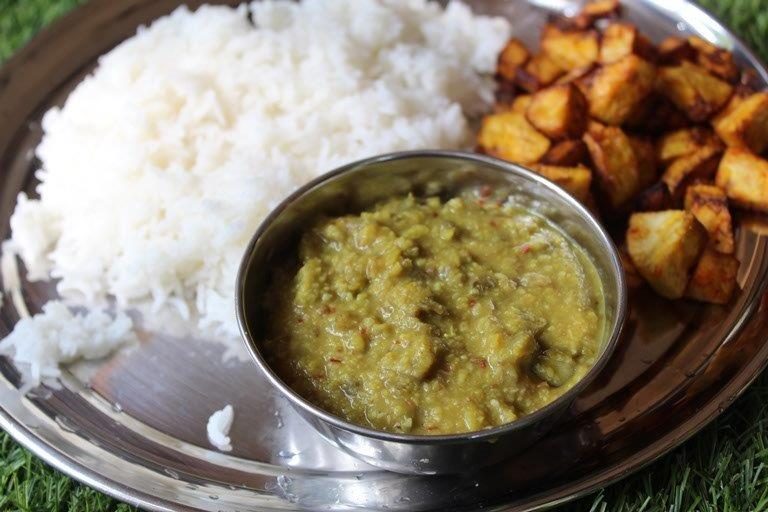 Pin
Raw banana kootu is super easy to make but taste so delicious. This particular recipe is from my grandma. She gave me the recipe and i made it immediately the next day. It tasted very similar to raw banana kootu and even better.
The banana variety used in this recipe is nendran banana, It is also called as kerala banana. This banana variety is used in making chips. Check this link for banana chips recipe.
Raw banana(nendran) skin has so much meat and less fibrous texture than regular banana. So you can chop them and use in recipes. You can make thoran using the same method too. But use less water and cook till moong dal is just cooked so it is not mushy.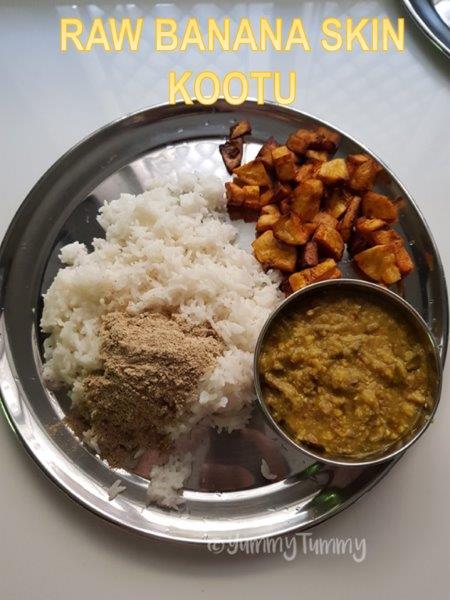 Pin
Hope you will give this a try and let me know if you try it.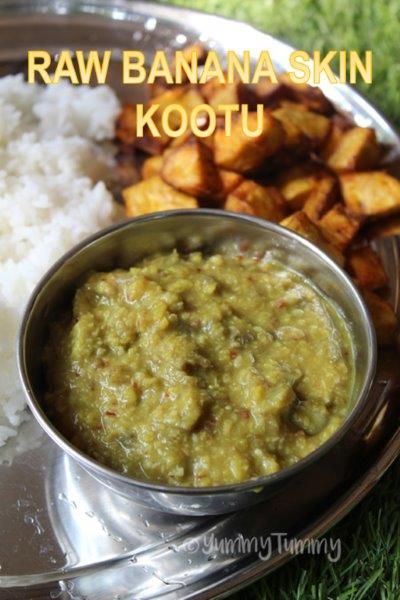 Pin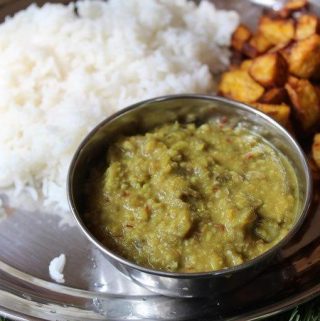 Raw Banana Skin Kootu Recipe
Raw Banana Skin Kootu Recipe is a traditonal recipe. I got this recipe from my grand mother and loved it. It goes well with rice.
Ingredients
Raw Nendran Banana - 2

Salt to taste

Turmeric Powder - 1 tsp

Yellow Moong Dal - ½ cup

Water as needed
FOR GRINDING:
Coconut - ½ cup

Garlic - 2 cloves

Dry Red Chilli - 3

Cumin Seeds - 1 tsp
Instructions
Make slits on the raw banana and peel off in sections. Now chop it into small pieces.

Take dal, raw banana peels, salt and turmeric powder in a kadai.

Add water and cook till soft and tender.

Grind coconut masala to a coarse mix.

Add it into the raw banana mix and mix well.

Cook for 2 more mins.

Serve.

Pictorial:
1)Take raw banana, You need nendran variety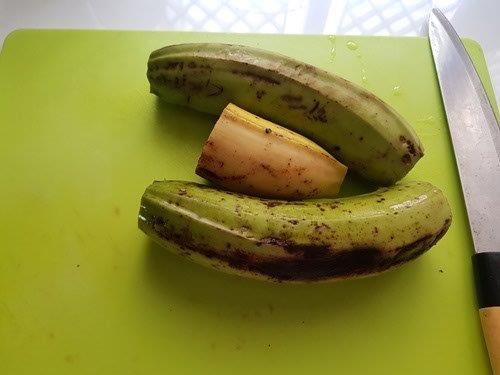 Pin
2)Remove the skin alone and chop it finely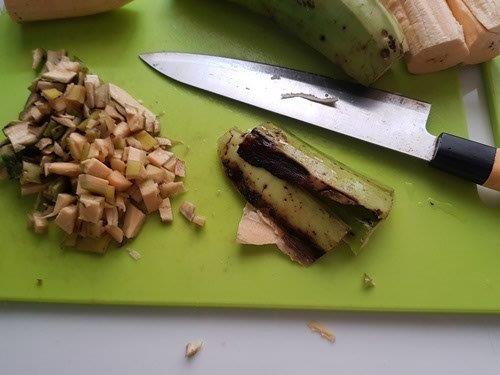 Pin
3) Take moong dal in a kadai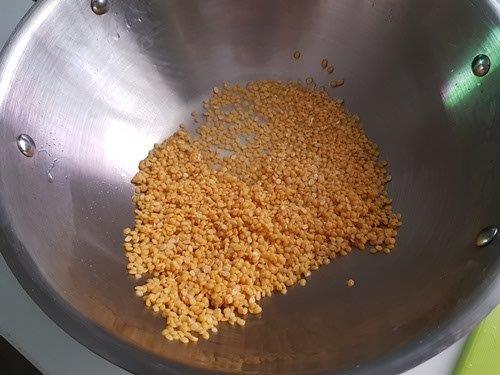 Pin
4)Add in raw banana skin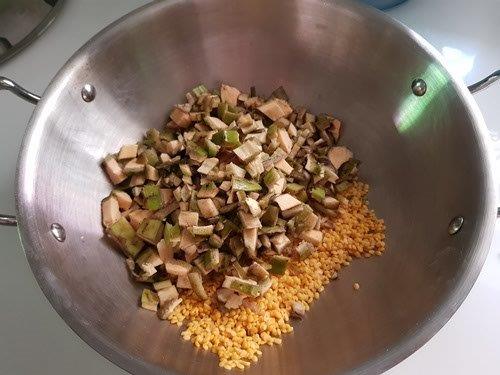 Pin
5)Add in water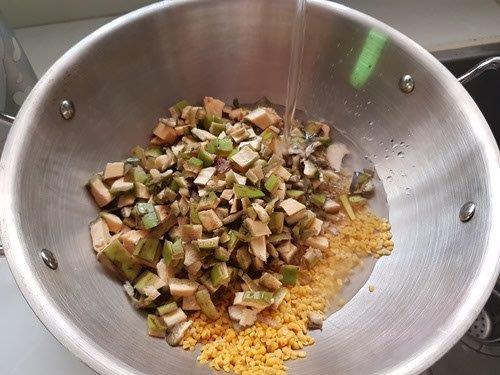 Pin
6)Mix well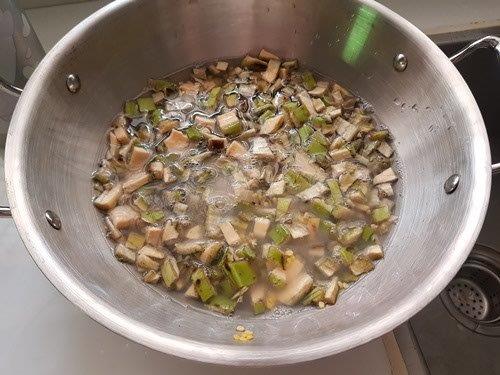 Pin
7)Add in turmeric powder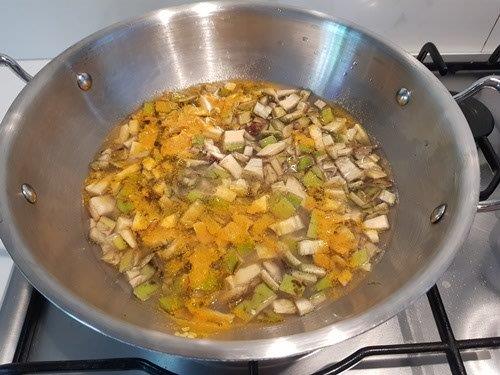 Pin
8)Add in salt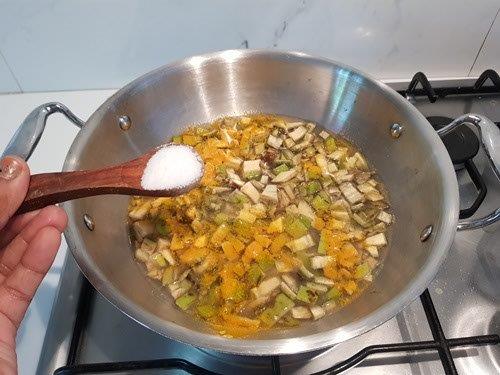 Pin
9)Cook till done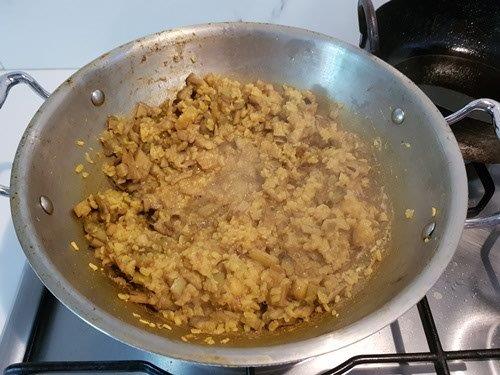 Pin
10)Grind coconut, chilli, garlic and cumin seed in a blender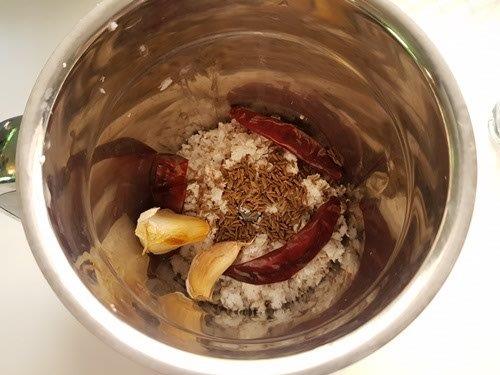 Pin
11)Grind to a coarse mix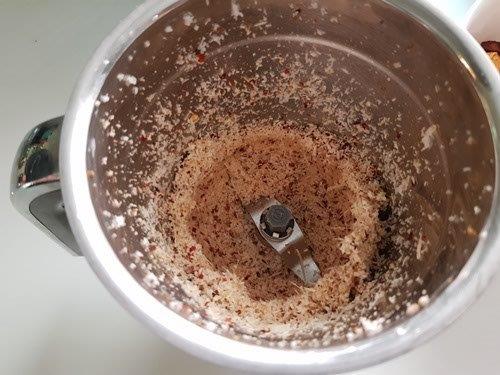 Pin
12)Add it into the dal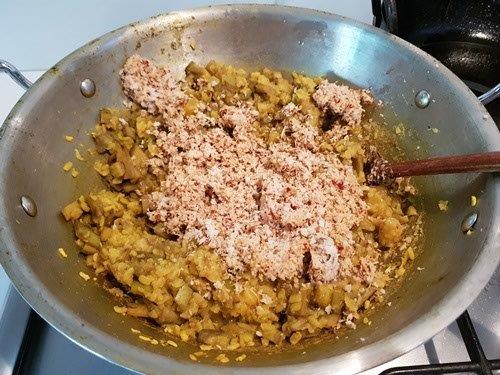 Pin
13)Add water as needed. Simmer for a few mins.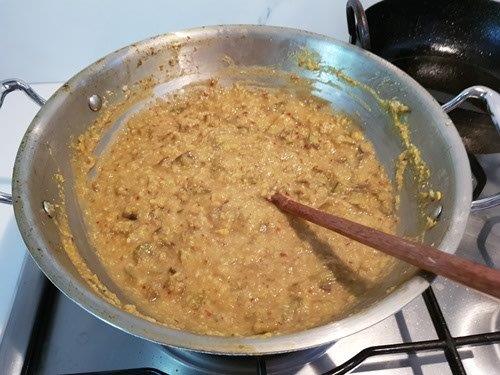 Pin
14)Serve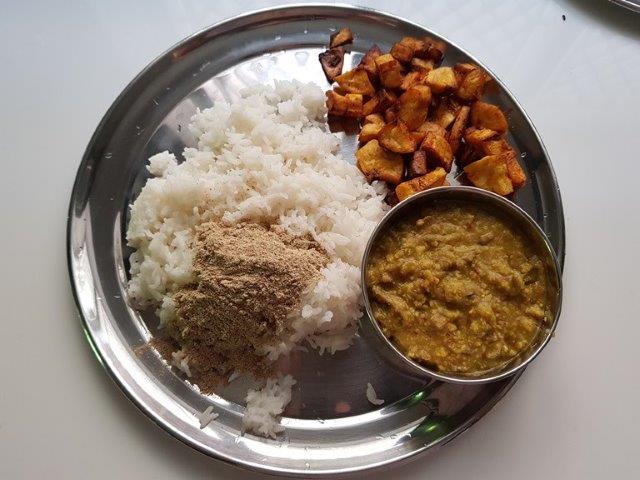 Pin
Similar Recipes,
Papaya kootu
Snake gourd kootu
Tapioca Kootu
Spinach Kootu
Mixed Veg Kootu
Chow Chow Kootu
Sorakkai Kootu
Pumpkin Cow Peas Kootu