Tawa Egg Burger Recipe with Step by Step Pictures. Tawa egg burger is a simple breakfast or brunch recipe. This lipsmackingly delicious burger is too good to resist. You will love this for sure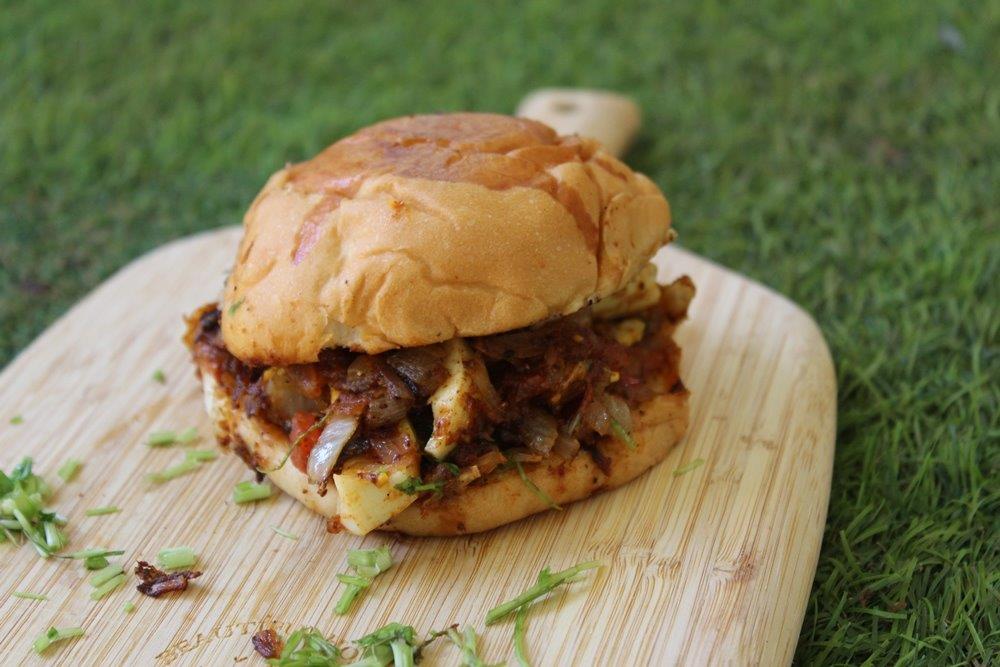 Pin
Tawa Egg Burger is a simple yet delicious burger which is made using basic ingredients. This burger is lip smacking delicious and taste absolutely yum.
About Tawa Egg Burger Recipe
A burger is a food that consists of fillings such as a patty of ground meat, usually beef, that is placed inside a sliced bun or bread roll. Hamburgers are frequently topped with cheese, lettuce, tomato, onion, pickles, bacon, or chilis, as well as condiments such as ketchup, mustard, mayonnaise, relish, or a special sauce, which is often a variation of Thousand Island dressing, and are served on sesame seed buns. A cheeseburger is a hamburger patty topped with cheese.
If you are looking for breakfast option or brunch recipe then this recipe comes handy. All you need is few onions, tomatoes and eggs. The pav bhaji masala added in them makes this super duper delicious.
Some pav bhaji masala has salt added in them, mine did. So i didn't add any salt in my filling. You could taste and adjust the seasoning as you wish. You could even add cheese in this.
Similar Recipes,
Massive 35+ Sandwich Recipes
Tri Colour Grill Sandwich
Triple Club Sandwich
Veg Mayo Sandwich
Grilled Potato Sandwich
Roasted Pepper Sandwich
Grilled Soya Kheema Sandwich
Spiced Potato Sandwich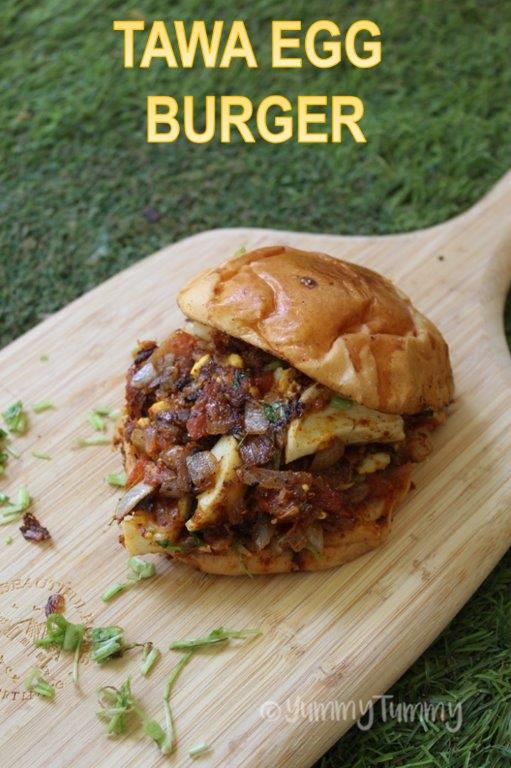 Pin
Ingredients For Tawa Egg Burger Recipe 
Burger Buns 
Typical burger bun ingredients include flour, sugar, eggs, yeast, and butter. While sweet bread was traditionally used, a variety of whole wheat and savoury varieties are now available. A burger bun can be long and skinny, short and round, or any other shape or size.
Tomatoes
Tomato flavour is frequently described as sweet, tart, tangy, or well- balanced. Tomato flavour is also known as classic tomato flavour or old-fashioned tomato flavour in some cases. Some tomatoes are described as having a mild or bland flavour.
Onion
Onions are considered a basic ingredient or the foundation of Indian cooking and are used to make any gravy, curry, or bhuna dish. The flavour and aroma of onion transforms any ordinary dish into a mouthwatering and delectable one.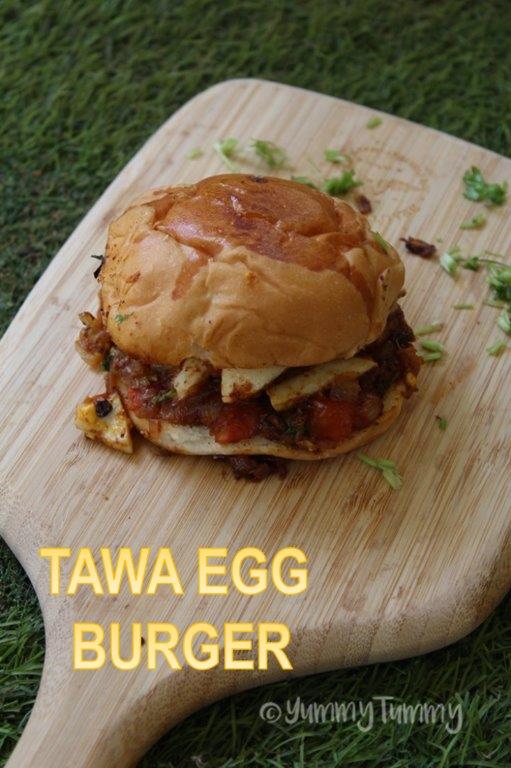 Pin
If you have any questions not covered in this post and if you need help, leave me a comment or mail me @[email protected] and I'll help as soon as I can.
Follow me on Instagram, Facebook, Pinterest ,Youtube and Twitter for more Yummy Tummy inspiration.
IF YOU MAKE THIS RECIPE OR ANYTHING FROM YUMMY TUMMY, MAKE SURE TO POST IT AND TAG ME SO I CAN SEE ALL OF YOUR CREATIONS!! #YUMMYTUMMYAARTHI AND @YUMMYTUMMYAARTHI ON INSTAGRAM!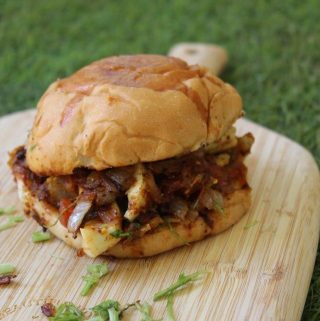 Tawa Egg Burger Recipe | Egg Masala Burger Recipe
Tawa egg burger is a simple breakfast or brunch recipe. This lipsmackingly delicious burger is too good to resist. You will love this for sure
Ingredients
Burger Buns - 2

Eggs - 2 boiled

Oil - 2 tblsp

Onion - 1 large chopped finely

Ginger Garlic Paste - 2 tsp

Tomatoes - 1 chopped finely

Pav Bhaji Masala - 1 to 2 tblsp

Tomato Ketchup - 2 tblsp

Coriander leaves for garnishing

Butter - as needed
Instructions
Heat oil in a tawa.

Add in onions and tomatoes and cook for a min.

Add in ginger garlic paste and saute them well.

Add in pav bhaji masala and ketchup and mix well.

Add in boiled eggs and crush them well.

Add coriander leaves and mix well.

Toast buns in butter.

Fill buns with this filling and serve.
Tawa Egg Burger Recipe Step by Step Pictures
1)Heat oil in a tawa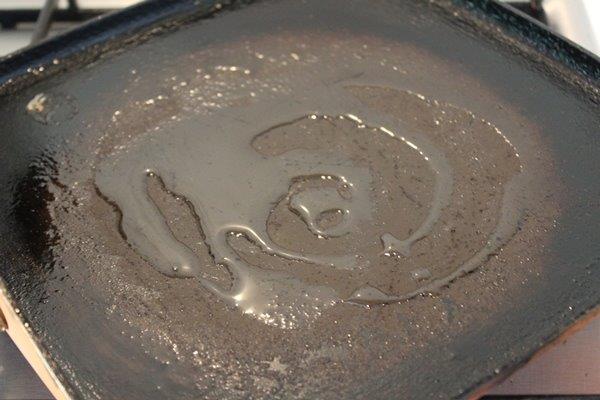 Pin
2)Add in chopped onions and tomatoes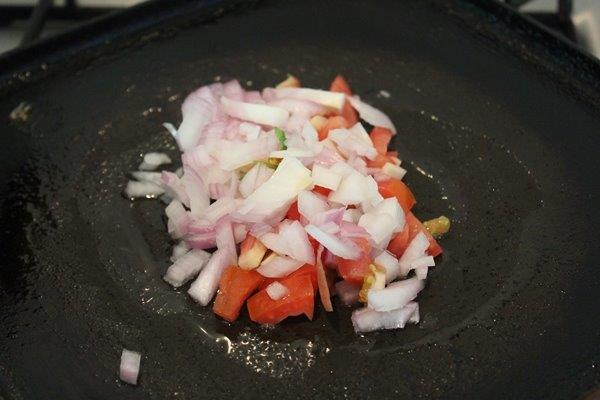 Pin
3)Saute for a min, then add in ginger garlic paste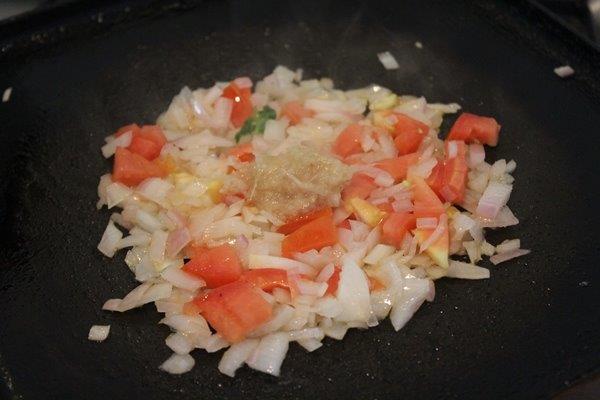 Pin
4)Stir fry for a min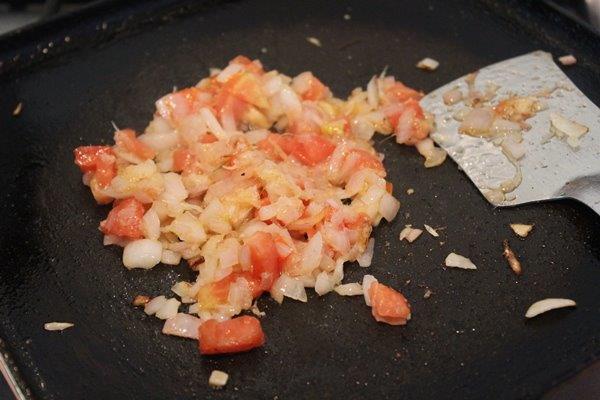 Pin
5)Take pav bhaji masala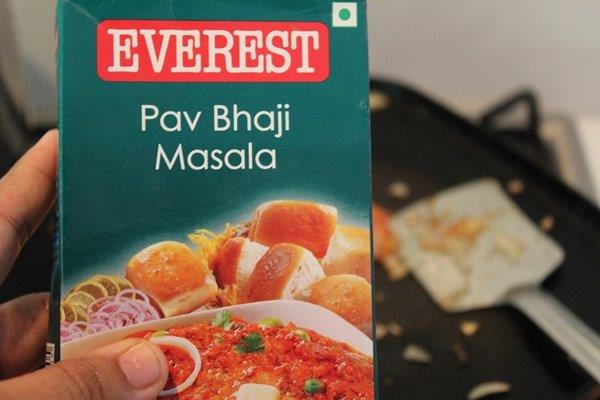 Pin
6)Add them in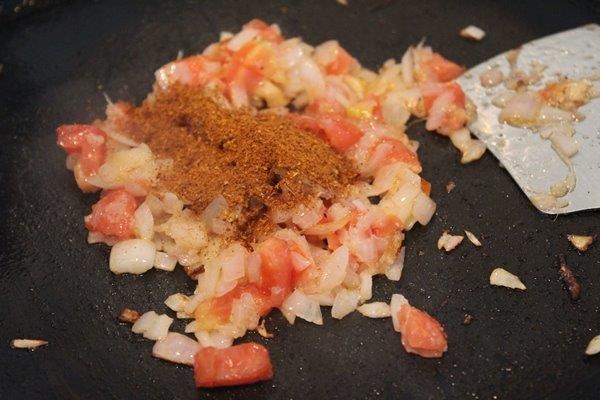 Pin
7)Stir fry for few mins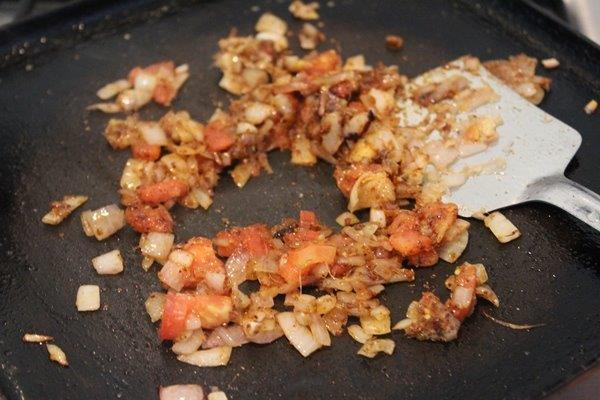 Pin
8)Add a dash of ketchup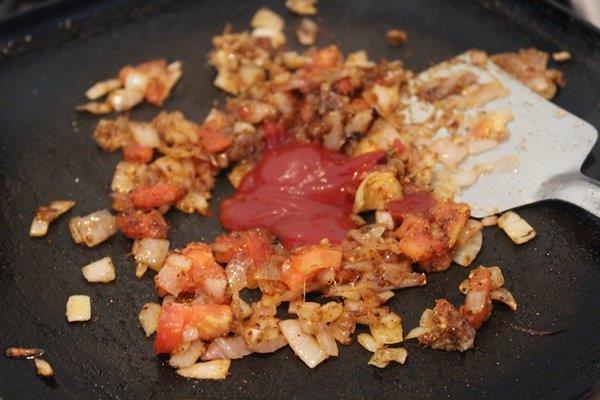 Pin
9)Add in a boiled egg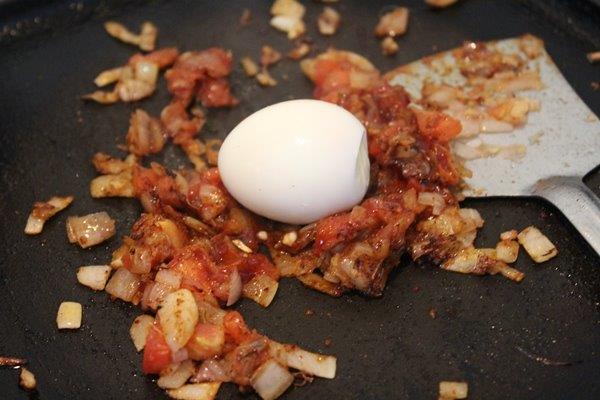 Pin
10)Crush them into the masala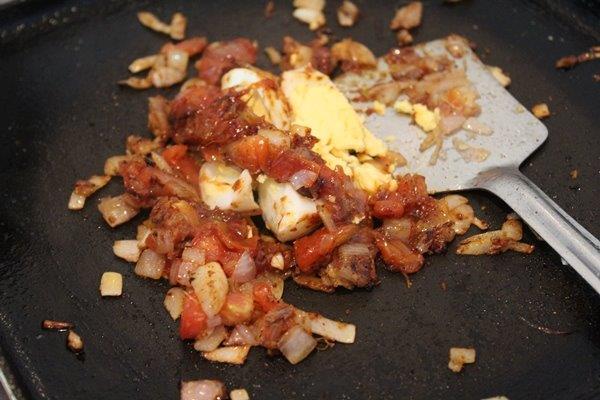 Pin
11)Add in coriander leaves. Toast buns in butter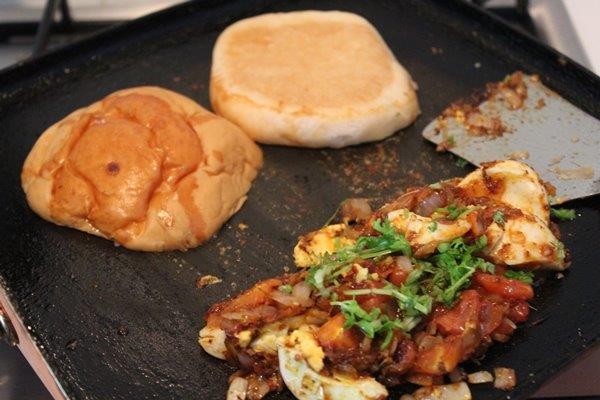 Pin
12)cook till golden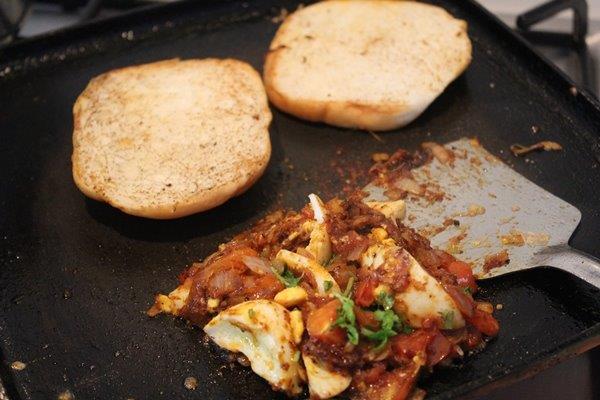 Pin
13)Stuff buns with the egg masala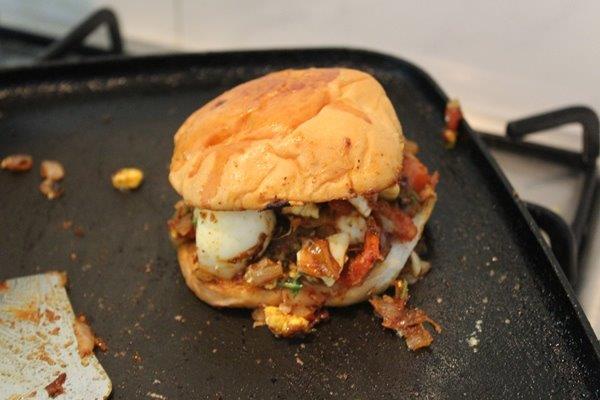 Pin
14)Serve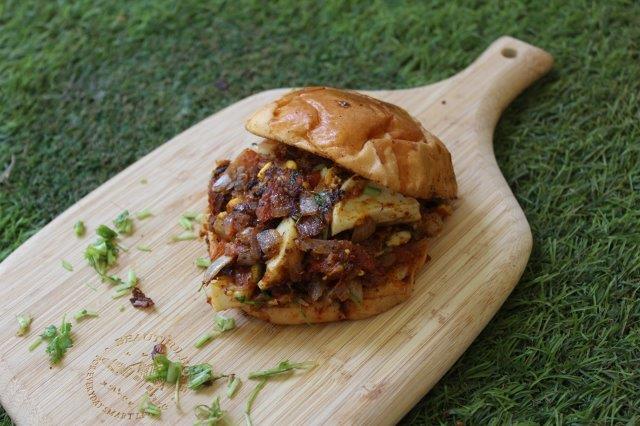 Pin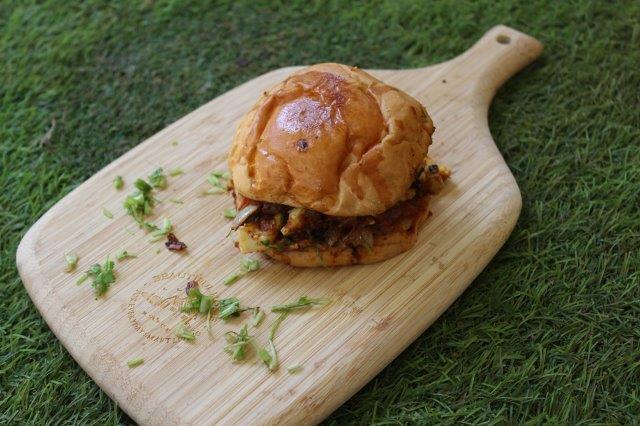 Pin
Frequently Asked Questions
When was the first burger created?
In 1885 Mr.Nagreen, affectionately known as "Hamburger Charlie," apparently squashed a beef meatball between slices of bread so his customers could walk around eating what he claimed was the first hamburger.